Hello Everyone…!!!
---
---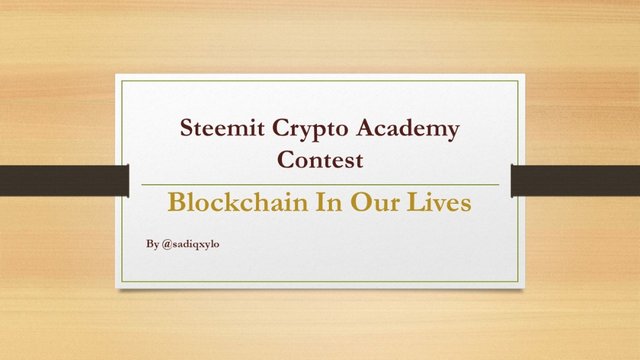 ---
---
It's the season 2 of week 3 of the steemit engagement challenge and I'm here to express my views on the topic in question, "Blockchain in our lives"
---
---
Blockchain is changing everyday life for everyone, what is your opinion on the matter?
---
---
Ever since the initiation of Bitcoin in 2008 as the first digital ledger, there have significant improvements in the life of humans in several aspects like the financial sector, health sector, governance, in smart contrast and many other sectors helping to ease the activities of man. Blockchain technology is raiding the world as all of the human life aspects stated indulge it function.
Blockchain technology though has rapidly gain acceptance in some part of the world, it is still limited in some areas of the glob due certain selfish reasons by government. Many parts of the country see the blockchain technology as away of eliminating the traditional centralized technology which will hinder their selfish benefits and so do anything in their capacity to prevent its implementation.
Despite this hindrance, blockchain technology has aided a lot in the financial sector, where transactions are carried out between two individuals without interference of third parties (peer-peer-peer). The amount of fees we usually pay during process of transactions has been eliminated in the peer-to-peer feature of the blockchain technology.
We can now travel the world without carrying cash due to transaction make with digital currencies. This has aided in fast transactions and safety of all persons. Blockchain technology made it easier to transact with cryptocurrency, where the receiver just send his unique address to the sender for funds to be transferred.
Many developed countries now have free and fair elections due to blockchain technology. Cryptography technology is used to encrypt messages preventing powerful parties to hack in to the system to channel the election price in their favor. Transparency of the blockchain network also bring fairness in the election process as all parties and individuals monitor the election process through digital ledgers which are immutable.
Sports have been an interesting aspects which has also adopted blockchain technology. Clubs has native token in a form of cryptocurrency of which transfer fees of players and order transactions are paid. Non Fungiable Tokens are NFTs are created in the image of classic players.
---
---
What are the main advantages and disadvantages, of adopting the use of blockchain in everyday life?
---
---
Blockchain technology has several advantages and disadvantage in our everyday life and I will express these in terms of its features.
Advantages
---
Security: this has been a key advantage to aspects in life that has adopted blockchain technology. Blockchain uses cryptography technology to encrypt and decrypt transactions or messages between the parties involved. After transaction is being verified, it's recorded and stored in blocks which are link by chain using cryptography technology, making the previous block to have access to the data stored on the preceding blocks. This prevents altering of data in a particular block making almost impossible to hack. This idea is used in our general and local election to bring fairness and transparency.

Transparency: Transactions or messages are stored in blocks which are public ledger making it possible for every block to have access to the messages or transactions stored in other blocks. Blockchain technology provides transparency to its users in away that every individual can see the activities carried out in the system and no one gets the chance to alter anything after it has be recoded.

Immutability: aspects of life that has adopted blockchain technology enjoy feature of immutable, ie. when transactions or messages are being verified and recorded on blocks, there are no political or external power to manipulate or alter the transaction or message recorded on the blocks.

Good Production Rate: blockchain technology the ability to process millions of transactions in few seconds due to its high scalability. It also allow the peer-to-peer transactions thereby eliminating intermediaries and reducing the cost of fees paid during this process.
---
---
Disadvantages
---
Immutability is a great advantage and also a disadvantage in aspects of life that has adopted blockchain technology. When a transaction is being processed and stored on block, it is permanent and can't be altered. So in a case where wrong address is issue for the transaction, funds will be lost and can't be retrieved. In recent days a man mistakenly transferred funds into a wrong address of which they were able to retrieve the funds, which makes me question the immutable feature of blockchain technology.

Blockchain Technology required technical knowledge. Most part of the world especially Africa still lack technology know how on how to use blockchain technology, which limit its functionality in such areas.

Volatility of Blockchain technology: like the volatile cryptocurrency market which fluctuate every seconds compared to the traditional market which is stable. Though volatility can bring a lot of profit during high market demands but we can also experience great depreciation in value of our funds in low demands.

Sudden crush of blockchain network: like the LUNA network crush recently, a lot of users lost their funds and some committed suicide bringing a great drawback to blockchain technology.
---
---
Discuss the future of blockchain, and how this technology is impacting the world.
---
---
As I mentioned earlier, blockchain technology is raiding the world as many centralized sectors are now adopting blockchain technology. The invention of Bitcoin in 2008 as the first blockchain network has created hundreds of other blockchain networks within that small time period which tell us how important blockchain technology it to our everyday life.
We have seen a great effect on the global economy ever since the adoption of blockchain technology, transaction process has become easier than before and we can now even initiate transactions during odd ours without any questions or interference. Unlike the centralized sectors where process of transaction is not possible when the central system isn't operating.
In our political election blockchain technology has help to maintain the free and fair elections we have been singing for years. Blockchain technology provides transparency and immutability for every individual in the election process. I always use my country Ghana 🇬🇭 for an example. We still use the traditional system of voting which always bring loss of lives in every general election, and as well the election results is declare in the law court. Several countries that has adopted blockchain technology in their election process has not experienced such difficulties and I hope by we will as well adopt it to safe a lot of lives.
The election process also take several hours to accomplish in the traditional system, with the adoption of blockchain technology, scalability of the blockchain networks allow for the process of millions of transactions or vote cast within few seconds which leads to efficient use of time.
Many centralized systems has complained a lot about cyber attacks and their confidential data is being published to the general public. Blockchain technology uses cryptography technology which keeps data confidential between the parties involved. For instance, drones in the United State were hacked by the Iranian in their recent misunderstanding and their security technology was exposed to Iran 🇮🇷. This wouldn't have been possible if the American system was blockchain technology.
In our education sectors, many universities has adopted the blockchain technology where every student has the power to take part in decision making, and both students and tutors has to come into consensus before implementing anything concerning the welfare of the institution.
---
---
What is your opinion about the implementation of blockchains in the health sector? Has the implementation been positive or negative? Explain a use case.
---
---
Blockchain technology in the health sector has done a lot of good to patients, health professionals and even to the economy. Below are my reasons.
Tracking of health products: at every public hospital, drugs and medical equipments have frequently been distributed from the main source. Several leaders of the public hospitals channel these products to their private clinics rendering the public hospitals useless. When blockchain technology is used to monitor the distribution of these products, every hospital will be equipped with medical products which will be given to patient when the need arises. These safe the economy from unnecessary spending and safe lives at the hospitals.

Electronic Medical Record: patient records instead of written in documents and carried along always has be made easy with blockchain where medical records of patients are stored in blocks and can be access by medical professionals when the need arises. This prevents lost of medical records by patients and only medical professionals gets access to these data. These data can't be altered and can easily be referenced to when needed.

Link between health professionals: transparency of blockchain technology allows for every medical professional to have access to each and every patient medical records. Professionals attending to patients with same health issues can share ideas and bring a quick solution.
---
One user case I will talk about is Supply Chain Transparency
---
The distribution of medical products globally has always be a major problem. Blockchain based system will be use to keep track of medical products from manufacturing state to each phase through supply chain which allows patients to have full transparency of the products they are paying for.
Several fake products distribution has caused thousands of deaths in the health sector as a result of poor monitoring of health products from supply.
MediLedger is a blockchain protocol that has ensured that product being supplied globally is authenticated from manufacturing phase through supply companies to consumers and as well check the expiry date of each product.
---
---
CONCLUSION
---
---
Blockchain technology has improved our daily life in every sector and has made life very easy and affordable for everyone. Though blockchain technology has several benefits, there certain drawbacks that still limits its implementation in several parts of the world and when these drawbacks are solved, blockchain will eventually take over the centralized system.
---
---
Thanks For Your Attention