link to my origin post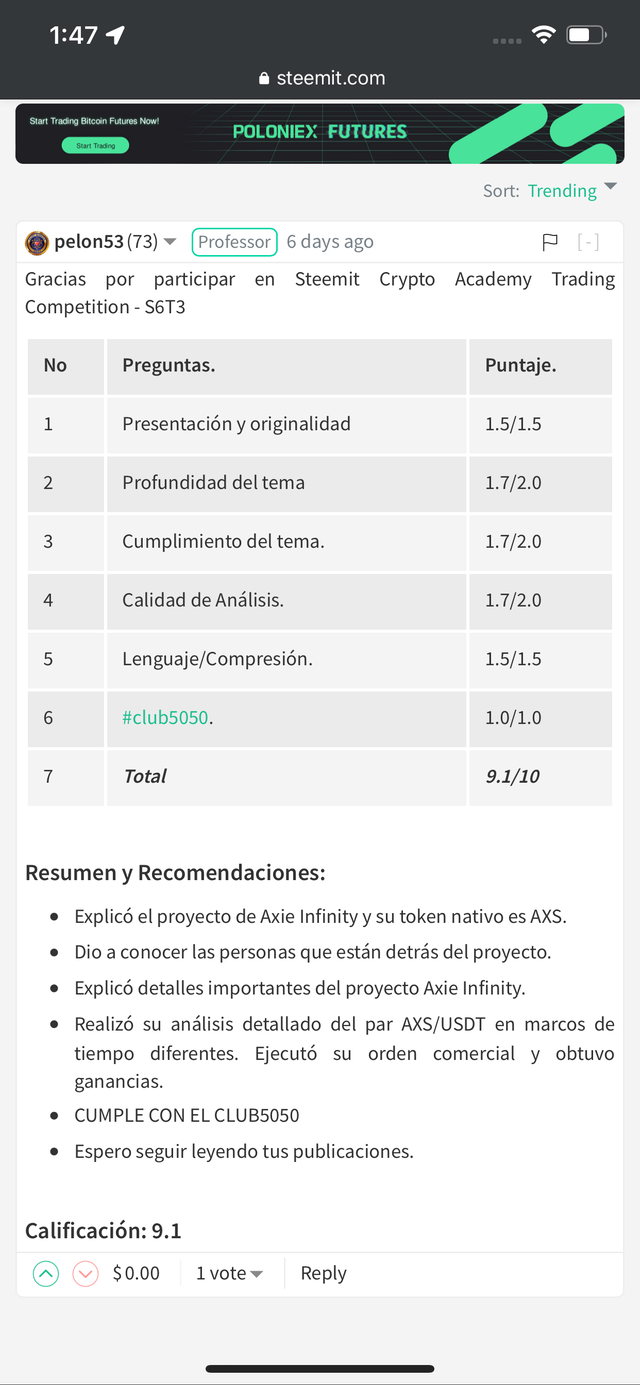 Hello Everyone...!!!
It is the third week of the Crypto Academy Trading Competition, which enable us to implement the knowledge acquire from various professors' lesson in our crypto trading. This is a very good initiative as it will boost our confidence in trading and our ability to take risk. For week three of this competition, I have joined team, The Team Investors with professor @pelon53.
---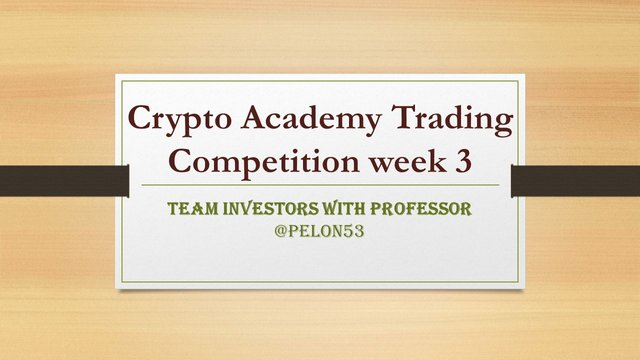 ---
---

Introducing the token for the day

---
Axie Infinity (AXS)
---
Axie Infinity is the only blockchain platform that is partially own and operated by its players. In Axie Infinity game is inspired by Pokemon game series, players receive a Axies, digital pets which are represented by non-fungible tokens (NFTs) of which they breed and sell, and sometimes deploy Axies against others in battle. The Axies can be of different forms like beast, birds, bugs, reptiles etc. of which they all possess different attributes and strength. There are over 500 different Axies.
As of August 2021, Axie Infinity is currently the number one Ethereum-based gaming DApp by weekly on-chain volume. It is also one of the top three most popular gaming DApps by user counts — with over 100,000 unique weekly users
The Axie Infinity network like other blockchain has its unique governance token, AXS. This gives users the opportunity to participate in key governance votes and also monitor how funds in the ecosystem is spent. AXS can also be stake by users to earn rewards.
Though AXS is the native token of the Axie Infinity ecosystem, it's an ERC-20 token of the Ethereum network and so can be traded on many Ethereum networks.
A technology-focused game developer, Mavis, develop Axie Infinity in 2018 with a team primarily based in Vietnam. The project was co-founded by Trung Nguyen and Aleksander Larsen with Trug Nguyen being the current CEO of the platform.
AXS though is a gaming token is listed on many exchage platforms like the populae exchange Binance, gate,io, KuCoin, Bitstamp, Poloniex, Bitstamp, OKX, Binance TR etc.. I will be trading AXS with my Binance exchange account as it is the most popular and reliable exchange with low trading fee.
---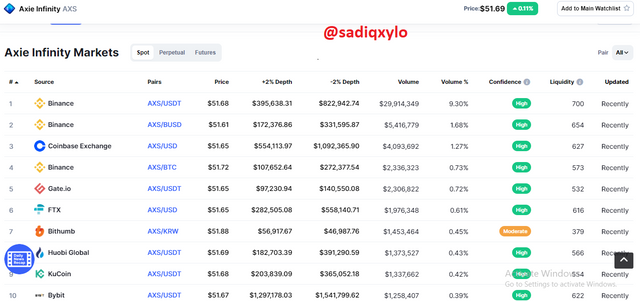 screenshot from coinmarketcap
---
---

Why am I optimistic about this token today, and how long do I think it can rise?

---
The project has initiated a new feature which allow holders to breed and stake in the future if they upgrade their AXS and SLP, and it can be done on the Axieinfinity.com.
AXS is a utility token for the popular play to earned gaming metaverse Axie Infinity which leverages element of NFTs and has gained a significant rise last year. This give more future to AXS as it is a reward token for the metaverse.
With proper technical analysis we can spot good trading opportunities with AXS as it is a very volatile token.
---
---
AXS Statistics
---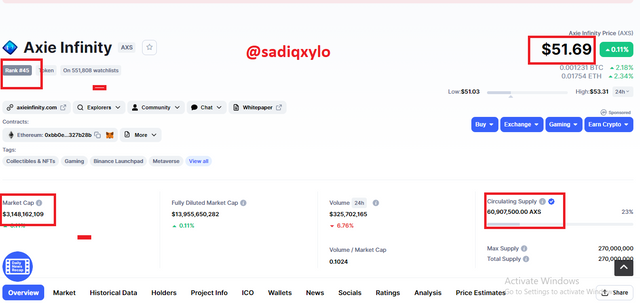 screenshot from coinmarketcap
---
From the screenshot above, we can clearly see that AXS has a Circulating Supply of 60,907,500 AXS, Market Cap of $3,148,162,109, ranked #45 and have a price of $51.69 at the time of writing this post.
---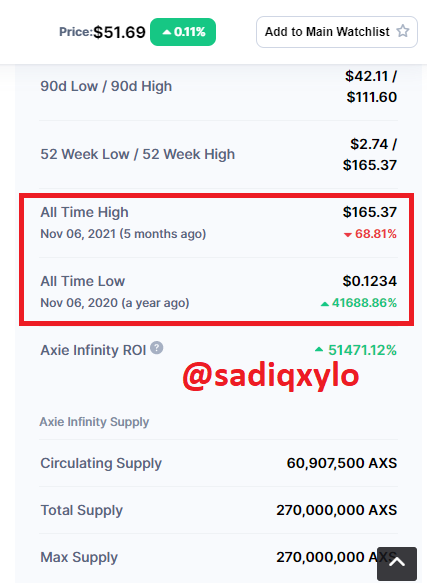 screenshot from coinmarketcap
---
Also, on the screenshot above We can see that AXS has attained an all-time high price of $165.37 which was on Nov 06, 2021 and all time low at $0.1234 on Nov 06, 2020. With regards to the current price, AXS has an increment of 41688.86% from the all-time low and 68.81% decrement from the all-time high price.
---
All tine price chart of AXS
---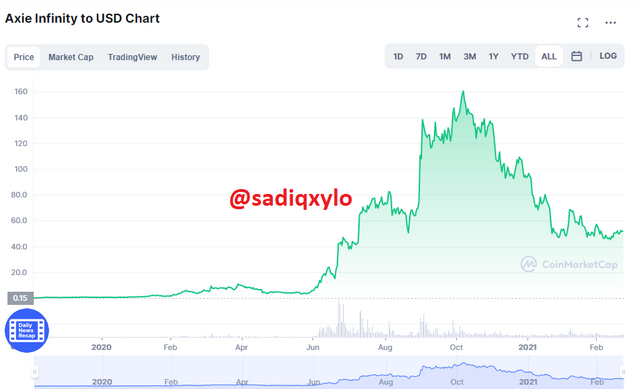 screenshot from coinmarketcap
---
AXS is not around the all-time high price and still at the dip with low circulating supply, which means that it has a great potential of growing in future like BTC and ETH. AXS token creates a volatile market for scalpers to spot good trading opportunities in order to make profit.
I am very optimistic about this coin gaining a great value this year since the NFT market is gaining stand in the crypto market and a lot of traders now are onto games. AXS will be a great invest for this year.
---
---

How to analyze the token?

---
I will Analyze this coin using the AXS/USDT crypto pair on TradingView. I have applied the Japanese candlestick chart which connect sensitive information like opening and closing price, high and low swing points. I have also added EMA crossing strategy and RSI to help identify direction of trend and spot entry position.
First of all, I will be doing a scalping trade and to identify the general trend I have used different timeframes of 30 and 15 minutes.
---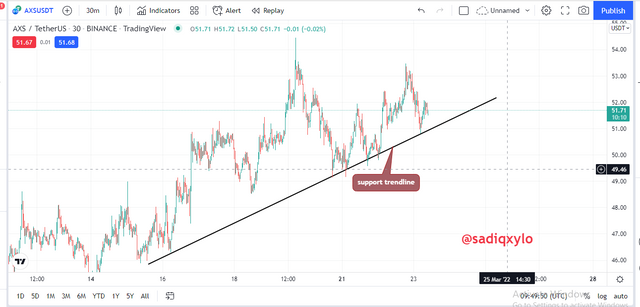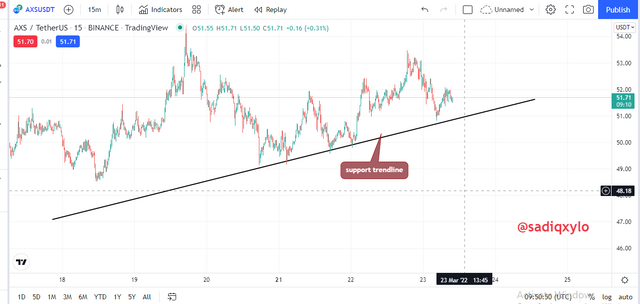 chart from TradingView
---
The charts above are 30 and 15 minutes AXSUSDT chart. On both charts, we have seen that three lower points are identify and a support trendline is drawn through these points. Price rebounded on the support trendline several times and bounce upwards for bullish trend continuation. The general trend was identified to be bullish by different timeframes.
---
The trade I chose here is a scalping trade so I have selected 5 minutes time-frame and as well marked resistance and support levels.
---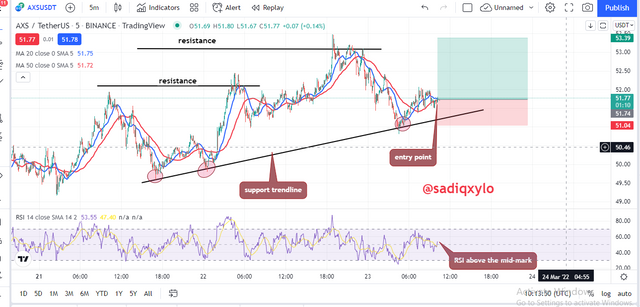 chart from TradingView
---
On the chart above, as price was making higher-highs pattern, the EMA crossing strategy was employed to identify direction. 20-period EMA (blue) crossed above 50-period EMA (red) indicating the presents of bullish trend. From the RSI indicator, a confirmation was seen when the lined bridged the mid-mark upwards. I marked my entry point at this region.
To further confirmed signal, I added the Ichimoku cloud indicator to the chart.
---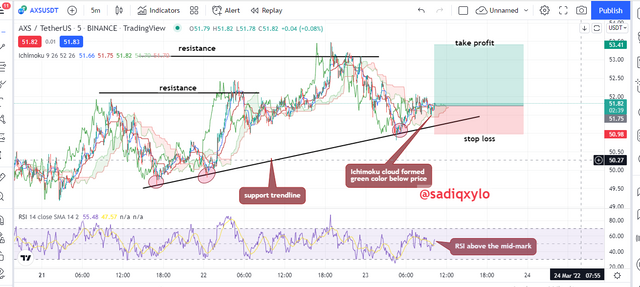 chart from TradingView
---
On the same chart above, we saw that Ichimoku cloud was trading below price and formed green color along, given a confluence to RSI and EMA crossing for bullish trend and confirming my entry position. I marked a take profit level at $53.41 little above the previous resistance level and stop loss level at $50.98 just below the support trendline.
On my Binance exchange, I open a spot limit order for AXS at $51.84. Afterwards, I placed an OCO order to target my take profit at $53.41. and stop limit at $50.98, of which my take profit level was hit. Below are my order details.
---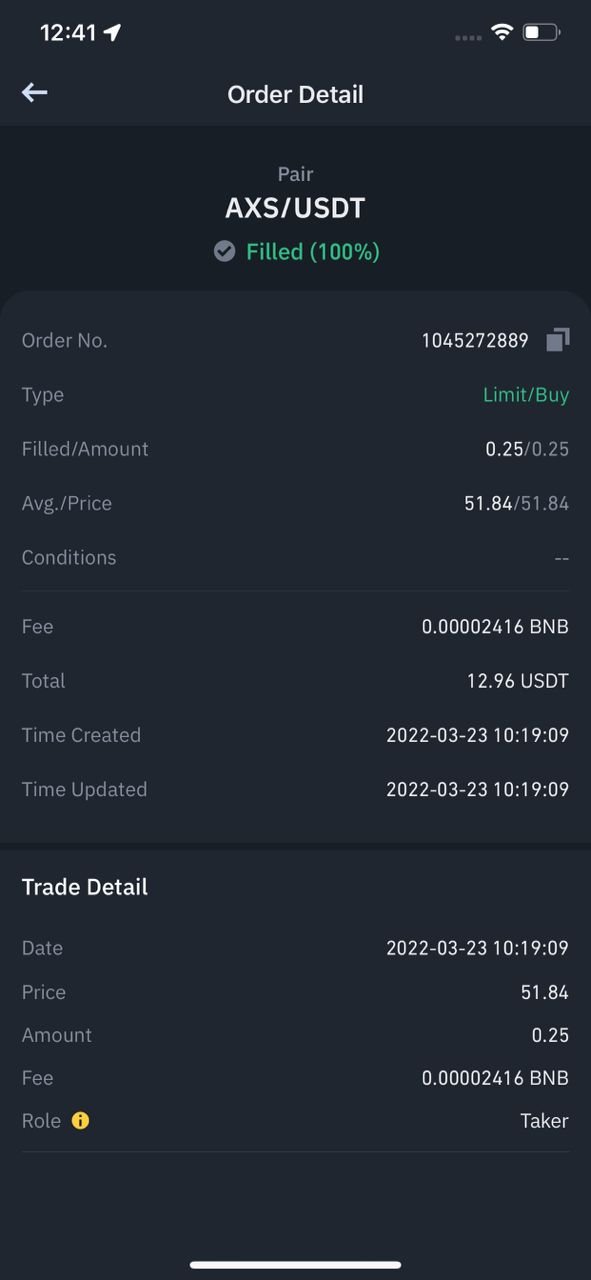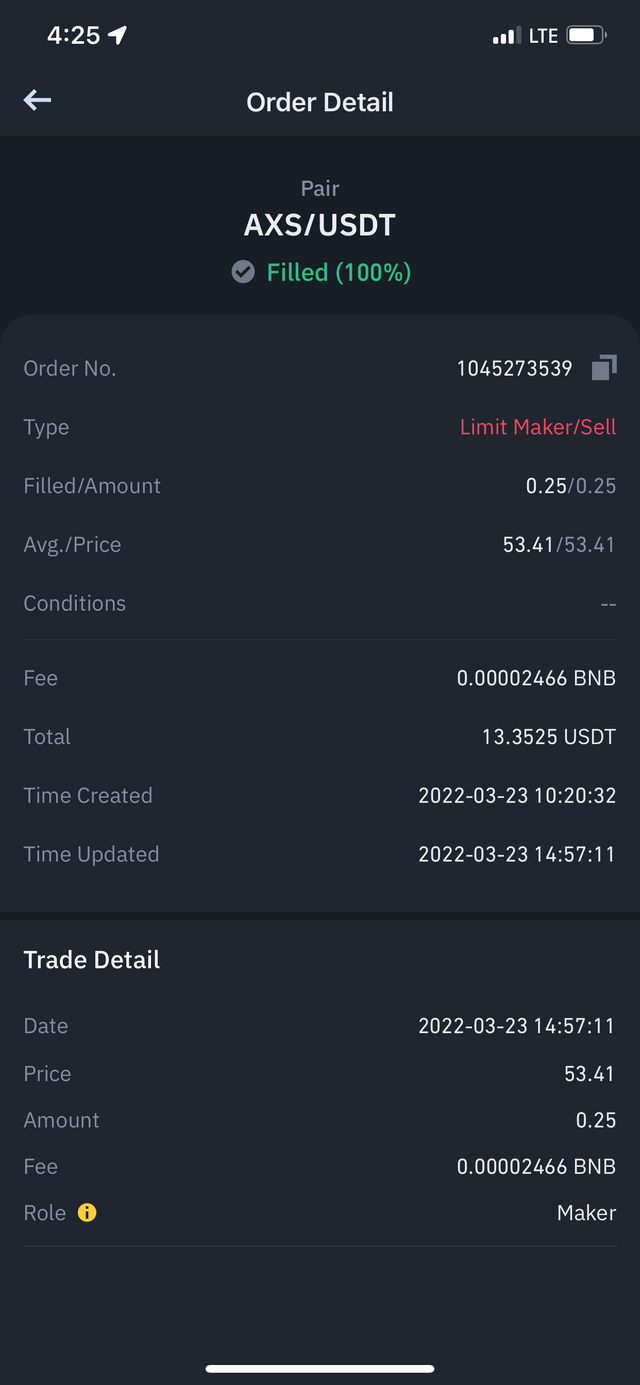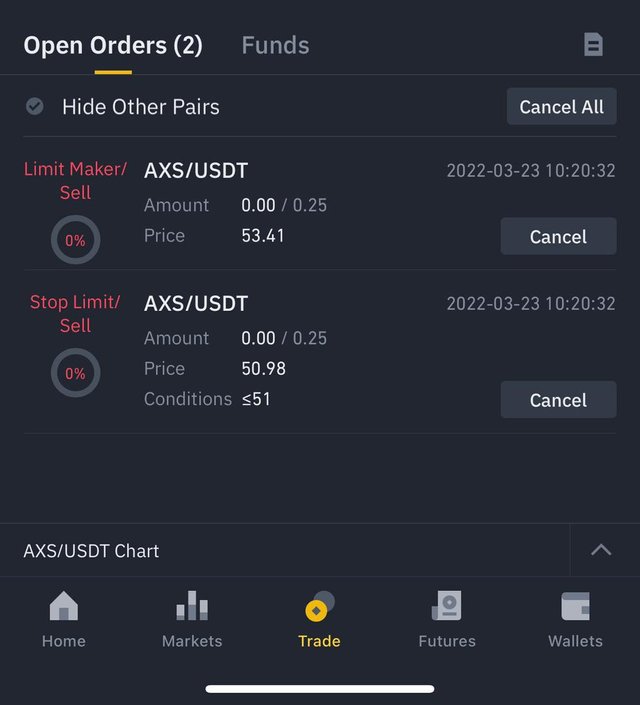 ---
Order details from my Binance exchange account
---
---

My Plan to Hold AXS long or Sell

---
I have marked take profit level and stop loss level on the chart above, this is scalp trading and I will exit the market should in case my take profit level is attained or stop loss level is hit. I don't have any intentions of holding on to the coin for long term but in case there is trading opportunities in future, I scalp again to make profit. AXS has a promising future which makes it a good potential investment.
---
---

Would I recommend people to Buy AXS

---
Yes.! I will recommend others to buy AXS. AXS is an in-game of the Axie Infinity metaverse and has gained a significant increase since it was initiated. Axie Infinity is a major Ethereum DApp and AXS is and ERC-20 token of the Ethereum network, which makes it a great project to rely on.
AXS has a low circulating supply which means that it has a great potential of growing in future and this is a good time to enter the market as its still bullish and dip.
With a proper technical analysis traders can find scalping trading opportunities with AXS and make enough profit as the market is still bullish for AXS.
---
---

Other Information about the Token

---
Axie Infinity network has several social media platforms where we can find the latest news and updates for the project.
---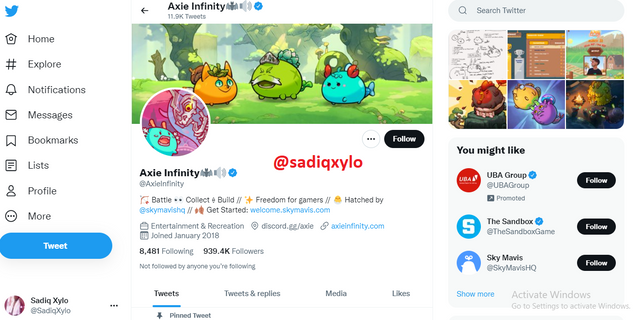 Twitter handle
---
The above screenshot is taken from twitter, from the Axie Infinity project account about the latest update of the token
---
Below is also the official website of the Solana blockchain where users can play to earn, buy, sell and deploy Axies.
---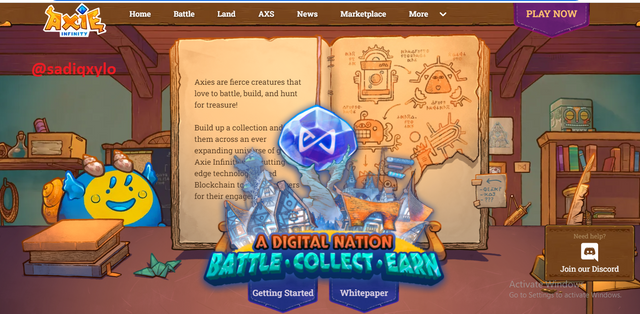 ---
---

CONCLUSION

---
For the third week of the trading competition, I have selected and traded on AXS/USDT as my second trade of the week after carefully making my own analysis about the token.
---
---
Thanks For Your Attention