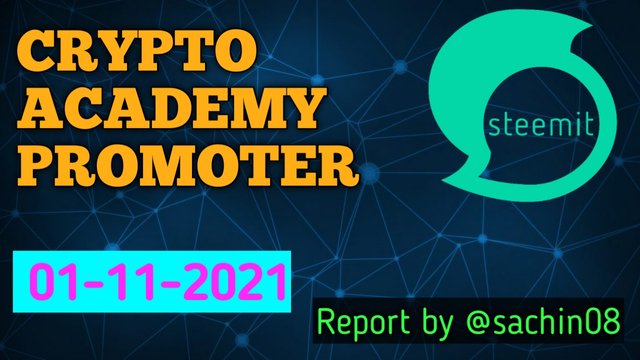 Introduction

This Week was amazing. Another two of my Invitees have joined Academy This Week. They are able to meet the minimum requirements for participating in Crypto Academy Fixed Courses. They have successfully achieved 50+ reputation and 150+ SP.

Users Who have Joined Academy

Well, There are now total 4 invitees who have joined the academy.
There Username are -
• @axone
• @suraj22
• @ayushverma12
• @ankushtyagi

Summary of @axone's Courses

He has done total of 3 Fixed Courses this Week in which 2 Courses has been graded and 1 is remaining.
---
He has done total three Fixed Courses and there grades are 4.5 and 6.8 respectively and third course has not been graded yet.

Summary of @suraj22's Courses

---
He has done three Fixed Courses in which Has has got 8.5 marks in his First Course and Rest two courses has not been graded yet.


---
He has done only one Fixed Course this Week which has not been graded yet.


This user has done two Fixes Courses this Week in which He has got 5.8 marks in one course and Second course has not been graded yet.

All my Invitees have done a great work this Week. They are improving a lot as they have work hard in understanding the courses and they have given time and the results are also in their favour.
In the last week, they even received marks less than 5 but Now, they have received good marks in their courses which shows their hard work.

Strategies this Week

This Week, I have guided my all four invitees who have joined Academy about Presentation Style and deep explanation of topic.
Likewise In my last Week, some Courses of my Invitees were graded low because of their poor presentation style. So, This week I have guided them about proper presentation style and Now they are getting proper marks for their presentation.
I also promoted Steemit Crypto Academy on Telegram Groups and Facebook Crypto Groups and I am also able to invite some users this Week.

My Invitees this Week


Targets for Next Week

I will guide all my Invitees who have completed their some Achievement post. So, I will guide them to complete upto Achievement 4.
I will continue promoting Steemit Crypto Academy on various Platforms and will work hard to invite more and more users to Crypto Academy next Week.
Some of my Invitees have already completed their Achievement 4 but not received much support and hence, they have not met minimum requirements to participate in Fixed Courses and they are also participating in diary Game.
So, I will guide them to post diary entries regularly and to participate in some contests.

Conclusion

This Week was amazing for me as Two more invitees have joined Academy and I am happy that 4 invitees have joined Academy till now and I will work hard to introduce more and more users to Crypto Academy.
All my invited users are doing good in Fixed Courses as they are receiving good marks in their courses.
---