Hello! I am Sachin Jadaun from India. I am here to present my Application for the role of Steemit Crypto Academy Professor.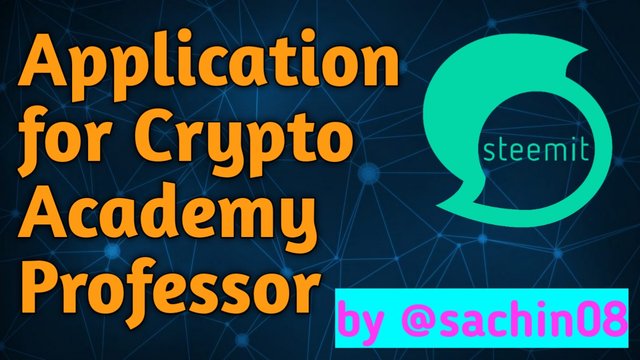 Summary of my experience on Steem, and other blockchains, and other relevant off-chain experience
---

I have been on Steemit Platform for around 18 Months and In this time, I have gained 67+ Reputation and I have constantly participated in Crypto Academy Courses.
I have been in Crypto for around 3 years and My Journey started in Crypto from Binance Exchange where I started with Spot Trading.
I also do strategic trading using TradingView platform which is very helpful in identifying the upcoming trend or getting buy/sell signals.
I am actively participating in Crypto Academy Courses from Season 3. I have also completed all my Achievement Tasks in Newcomer's Community and through Crypto Academy, I have also learned much about Crypto.
---
Experience on other blockchain
---
Before Steemit, I was a Moderator on Cryptotalk. Interesting thing about this Platform is that It was also provide information and knowledge about Crypto to it's users.
Any User can post topic on that Platform if they want to ask something about Crypto, So When they post their questions or topics, Moderators check them firstly and then allow crypto related topics.
Then, All the users on that Platform have to comment on that Topic and answer about that topic in more than 50 Words and then they will get paid per useful comment.
I have gained a lot of knowledge about Crypto on that Platform and I also have taught users of that Platform.

Why I think I would be suitable to become a Steemit Crypto Professor?
---

I have been into crypto for more than 2 years and I think I can deliver the topics in such a way that anyone can understand it. I am able to explain my topics to others in very easy understandable manner. I am very active and I'll be available in the academy most of the time.
I have enough knowledge about Crypto, Trading, and trading charts. I think Reading Charts of Crypto is the most important thing nowadays. Through Charts, We can Predict the next move of the market and I wish I could explain all about the charts to all the crypto Academy participants.
I am participating constantly in Intermediate and Advanced Courses every week of Crypto Academy from Season 3. I am also trading on a daily basis using different different indicators.
I always wanted to spread knowledge and information about crypto to many persons and I can do it through Crypto Academy.
I have seen Many traders have joined VIP Groups of Crypto Influencers and they only follow these vip group signals which should not be happen. Through Crypto Academy, Each and Every trader can learn about crypto and then they can trade by their own. And I will definitely help and guide all the users of Crypto Academy.

An Outline of the topics I would cover in a sample 5 Week Course
---

Now, Let me tell you about the topics I would cover -
1 - Introduction to Wave Principles
• Wave Pattern
• Wave Mode
• Wave Extension in Bull and Bear Market
---
2 - Trading With Beam Indicator
• What is Beam Indicator?
• Buy/Sell Signals
---
3 - Specific Trade Setups for Today's Market
• Cradle Trade
• Impulse Buy and Sell Trade
---
4 - Trading with MYC Indicator
• What is MYC Indicator?
• Buy/Sell Signals
---
5 - Events of Cryptocurrencies
• How to know about upcoming events of altcoins
• Benefits of upcoming Events

My Three best Crypto related post on Crypto Academy
---


Regards,
@sachin08