Hello everyone this is Rita from India hope you all are doing great . So today I will be doing the homework given by our professor @yohan2on related to Blockchain Technology in Healthcare Industry.
So let's start with today's Questions.

Research and Discuss the potential applications of Blockchain in the Health care industry

There is a great saying Health is Wealth which is very true. Without health there is nothing in this world so health is a person's greatest wealth. From past year where the whole world was suffering from Covid -19 and many people lost their lives and their loved ones we suffered a lot of damage as there was no availability of beds and oxygen cylinders in the hospitals the patients died lack of proper medical treatment.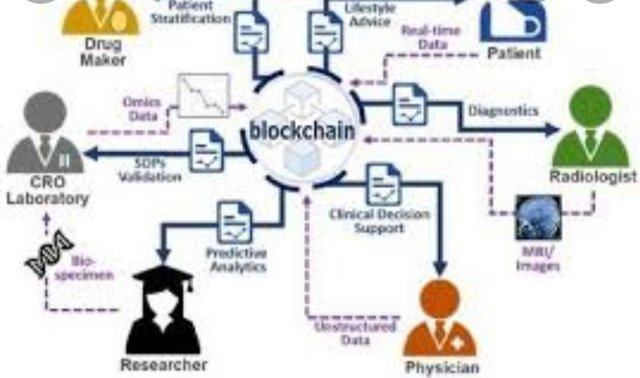 src
This Pandemic taught us a lot about the importance of health and the healthcare system . We also learnt about the problems which needed to be tackled with with more care which depicted the limitations of the health care sector.
We are aware of the uses of blockchain technology in different fields in this growing world , now let's look at the use of blockchain technology in the field of health care industry we will be also be focusing on the points where addition of blockchain technology in health care industry proved as a blessing for the patients.
There are many countries who have adopted blockchain technology in health care industry and have got lots and lots of benefits and great results .
Countries like Russia , UK and Europe has adopted blockchain technology for health care system and has ledger based health informations.

Blockchain Technology for Securing Patient Data and Patient Care

One of the major issue is securing a patient's data and keeping them safely and this problem is easily solved with the help of the blockchain as all the data of patients are kept incorruptible and transparent manner by the blockchain applications in addition to blockchain has one more ability of keeping the patient's identity private and surety of the protection of medical data .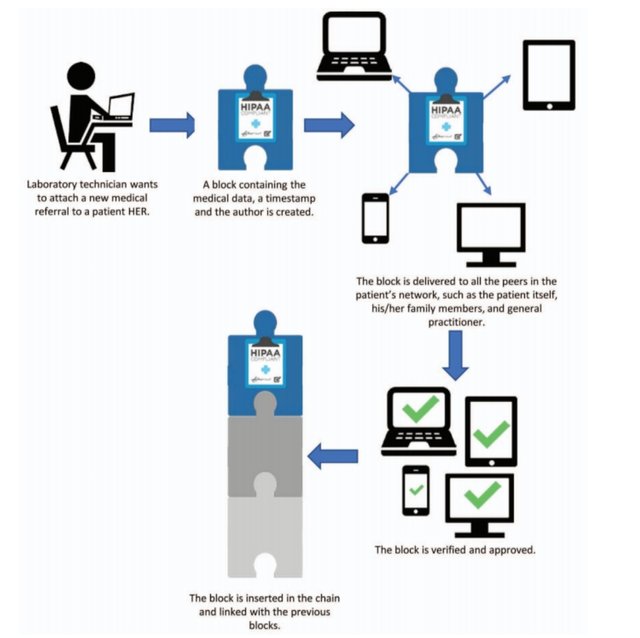 src
using blockchain in healthcare may help ease the pain in the following ways :
• Patient-centric electronic health records which is Electronic medical records (EMR) helps in solving the problem of incomplete view of medical history and also helps in and also helps in maintaining the security of the patient data which not only includes the reports but also the personal information like address , contact number , bank account number etc.
• Blinding becomes easy with the help of blockchain technology as it deals them in a proper manner and the trial results are transparent , and the selection of the drugs are done on the basis of randomisation which helps the patient to deal properly and improves the health care system.
•Development of smart medical equipment with the usage of internet i.e smart contracts and these medical equipments are indeed very helpful as they with the help of signals detects blood pressure heart rates etc. Moreover with the health of blockchain technology health professionals interact with patients all over the world and are taking the health benefits.


Blockchain technology can be used to fill the existing loopholes


Earlier according to a survey by built in 176 million patients data breach was recorded information like credit card and account numbers was stolen which in turn caused heavy damage . But with the help of blockchain technology in health care industry it's helping to protect patient health data when transporting it and transfers it in a secure manner.
Moreover with the help of blockchain technology patients can now share there information with the health experts and take the advantage of best health care in comparatively low costs which in turn is also time saving as the technology has quick access.
Benefits of blockchain for health professionals.
With the growth of this revolutionary world blockchain technology provides benefits to the Health Professionals too by promoting the fields of research and making the research touch great heights by providing them with proper information about the surveys etc. Blockchain is also helping the professionals to reach their patients with online mode easily and making them available not only to a certain area but across the globe.
---
Blockchain Technology in the Healthcare Industry in My Country India
In 2017 government drafted a policy which is National Health Policy (NHP) the goal of which will be to provide universal access to good quality health care and is creating a digital technology platform of health care for the ease of patients and their benefits.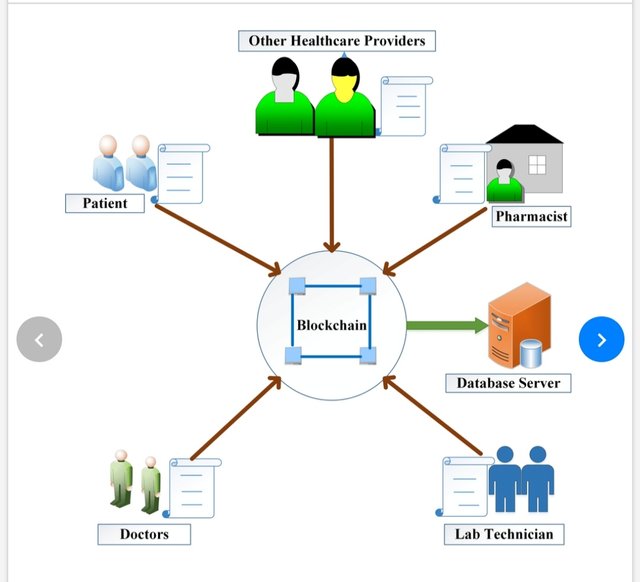 src
Moreover DISHA ( Digital Information Security in Healthcare Act) was also drafted in the same year for the protection of patients privacy and security and soon a blockchain technology for health care will be adopted as a developing country India still has energy deficit compared to other developed countries which is a barrier as blockchain technology requires high processing power but adaption of blockchain technology in health care industry will take place soon .


Conclusion
Coming onto the conclusion of this homework I would like to say that this topic was indeed a great topic as the technology of blockchain plays an important role in the advancement of the society and making things easier for the people.
Through this homework by doing the research work I came to know that blockchain plays an important role in the healthcare industry which in turn is a blessing for we people but still some developing countries need to take the advantage of this blockchain technology in the healthcare industry.
As blockchain as the safe and secure way to keep the personal information and data of the patients moreover it is also less time consuming cost effective everything can be done from place.
Now I would like to thank professor @yohan2on opportunity to learn something new about blockchain technology through his homework.