Hello family, I am grateful to partake in this week's interesting lesson.
Below is my presentation.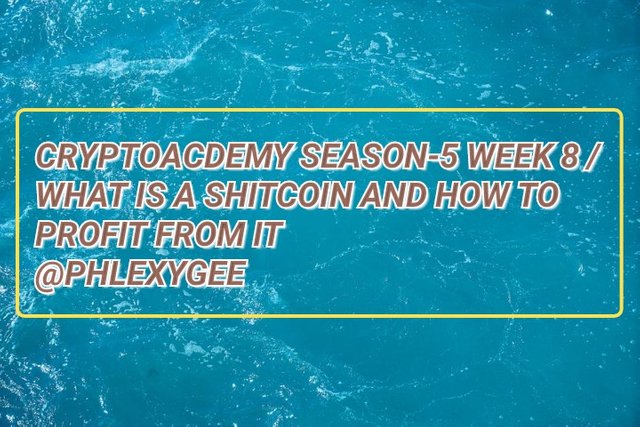 Made with iMarkup
---
1. Explain your understanding of what a Shitcoin is.
---
Shitcoin
---
Cryptocurrencies were created with the main goal of eliminating the challenges people encounter with intermediaries, in terms of accessing financial services, but it turns out that as time progress, there came the emergence of other cryptocurrencies that lacks real purpose and projects to back them up in the crypto arena.
There is no single undisputed definition for Shitcoin, since others consider it as any cryptocurrency that emerged after Bitcoin, some people also see it to be any coin that lacks a stable project to depend on, whiles others consider it as a scam coin that lacks real value.
To my understanding, a Shitcoin is any cryptocurrency that lacks a real value, purpose and can easily be used to scam investors.
The term Shitcoin popped up after the introduction of Bitcoin (2009 afterwards), and it became popular in 2017/18 in the crypto scene, due to the cryptocurrency boom that occurred.
Examples of popular coins considered as Shitcoins are Dogecoin, Dogelon Mars, Shiba Inu etc.

2. Do you think it is possible to profit from investing in Shitcoins?
---
First, I will submit that anything is possible in the crypto arena, since there exist high volatility level of prices.
It is possible to gain profit from investing in such crap coins, but the possibility or probability is low, since the value of most of these Shitcoins are moved by mere speculations.
To me, I think investors have a minor possibility of winning from investing in these coins.
A well renowned and technology guru known as Elon Musk made several positive tweets about one of these Shitcoins (Dogecoin) in last year which led to its increase in demand, supply and value.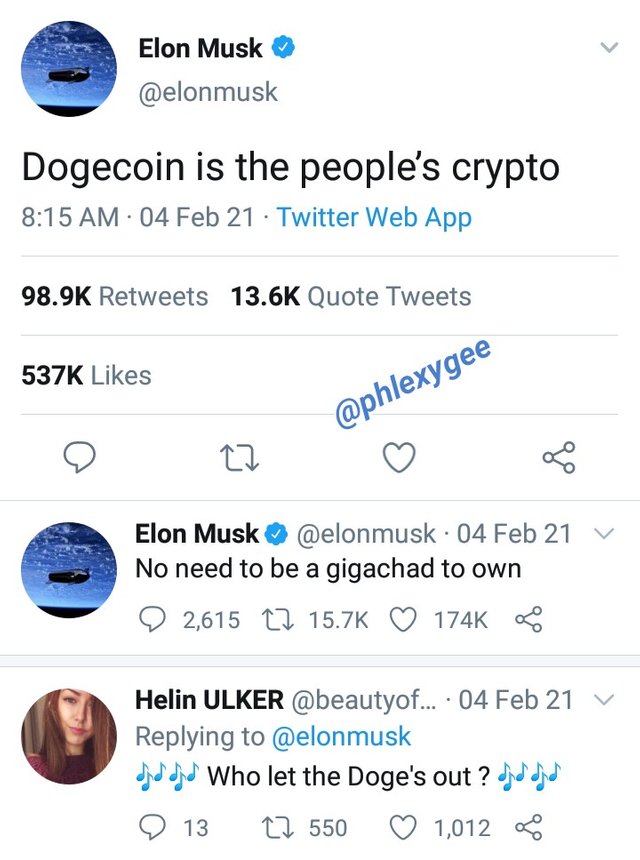 screenshot taken from Elon Musk's official Twitter page
Dogecoin rose 682%, from $0.0078 on 27 January to $0.0610 on 29 January just because of a Dogue magazine cover he posted.
Also, on 15th May there was an increase of 523.61% ($0.1224 - $0.7630) in just 23 days period and this was because most people were curious about the token and wondered why such prominent person will make a tweet about the token.
Dogecoin has been a stepping stone to the success of many Shitcoins such as Shiba Inu, Dogelon Mars (Elon), MonaCoin etc. of which all of them have made an impact and keep on progressing in the cryto market in terms of rank, marketcap, supply, price, uses etc.
Within January and May 2021 many Dogecoin holders and traders made some level of profit from it, therefore this gives evidence of the possibility of making profit from investing in Shitcoins.

3. List advantages and disadvantages of investing in Shitcoins.
---
Now, I will ponder on some advantages and disadvantages of investing in Shitcoins.
Merits
---
Shitcoins have the potential of making investors rich within the blink of an eye, due to its extreme volatility level. There is a massive percentage of profit that can be made from investing in Shitcoins, and this is due to how speculations or trends controls the value of such assets. A practical example is Shiba Inu that had a huge increase in value within a period of time, in this case, investors of Shiba Inu had the opportunity to gain from their investments.

Investors with small capital can purchase more Shitcoins with their capital, of which they can gain more profits for the small capital they invested. Shitcoins such as Dogecoin, Shiba Inu and Dogelon Mars don't cost much to invest in.

Investing in Shitcoins helps to keep the crypto market on its toes, by ensuring high liquidity and marketcap in the market.
Demerits
---
There is a high probability of running at a loss, since these coins don't have a real purpose, value and a stable project to depend on. The concept of pump and dump normally happens with these coins. Investors with large capital come into the market, help to increase the value of a Shitcoin and then leave the market bearish after making profits, which in turn negatively affects average investors by leaving them worthless assets.

Most of the Shitcoins turn out to be scams, therefore leading investors in huge loss. Investors without thorough research skills can invest in these types of coins and lose all or most of their funds at the end of the day.

The fact that they are termed as Shitcoins makes any investment that is made in them looks shitty and insecure, without any hope of investors making future gains from such investments.

Most of these Shitcoins lack real life usages, therefore leaving investors stranded in terms of utilizing their assets.

4. Of at least 3 examples of Shitcoin that have been a scam, also explain what they consisted of.
---
There are numerous of Shitcoins that turned out to a scam, but I will ponder on these four Shitcoin scams that have already taken place.
Milf Token, Squid Game Token, Save the Kids and Paycoin.
1. Squid Game token (2021)
---
The Squid Game token was created in 2021 based on the hit Netflix series, but the irony of the scam is that, CNBC, Forbes, Business Insider, and other media covered the Squid Game token, which made the value of the token to increase from a few dollars to about $3,000 within some few weeks. Many people believed the token was legit since the above-mentioned press coverage made its publications, not knowing that even the token creators were not authorized to use the name Squid Game to base their token on, in the first place.
Most of the investors and traders who rushed to buy the token were not able to sell them afterwards because the creators of Squid Game token created an anti-sell-off mechanism right into their cryptocurrency which made the token impossible to be sold.
Of course, it was a pump and dump scheme that enriched its creators and their buddies, leaving behind the well-meaning retail investors with massive losses.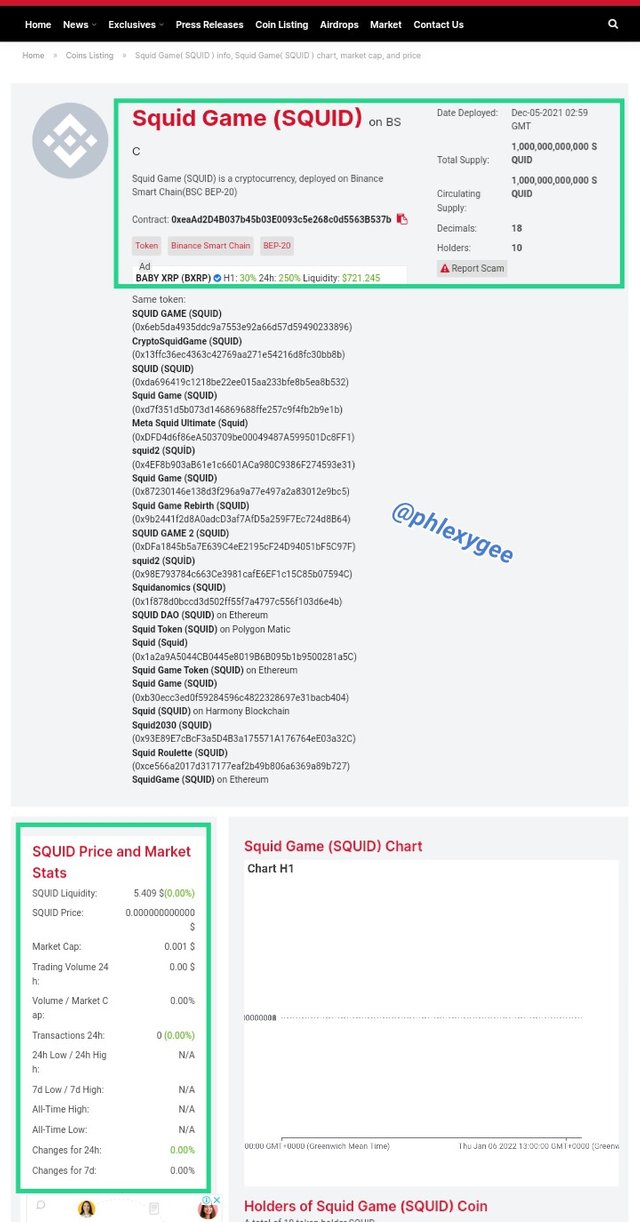 source
The above image serves as a prove to the scam allegations.
---
Milf Token (2021)
---
In May 2021, Adin Ross who is a popular Twitch streamer with millions of followers on the platform, came into the cryptocurrency world by promoting a Shitcoin called MILF token.
He was paid in a huge sum of dollars to stream himself whiles going through the buying process of the token, and in few weeks later, Ross brought up different message with regard to the investment opportunity.
Ross later returned to tease his fans who he succeeded duping, by saying he was paid to do the buying process, and he hoped no one actually bought it.
At the time he published such information, the MILF token has already lost approximately 98 percent of its value from the period it was promoted by Ross, meaning all those who made investment in the token were left stranded with huge losses.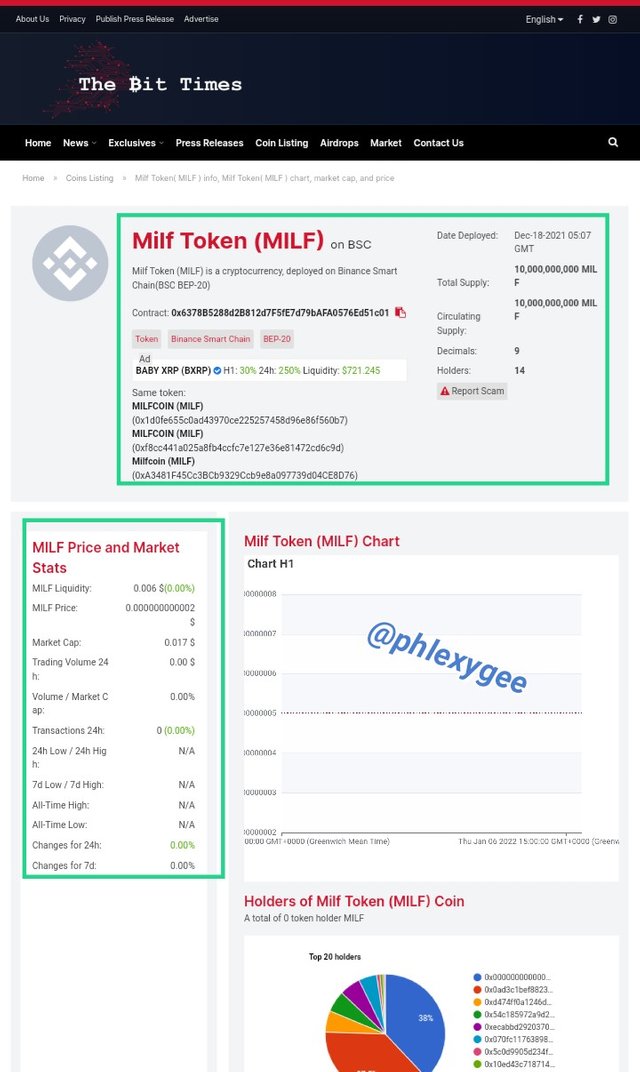 source
The above image is an evidence to confirm the scam.
---
SaveTheKids (2021)
---
In June of last year the members of FaZe Clan, thus Kay, Teeqo, Jarvis, and Nikan, together with a YouTuber called RiceGum, started the promotion of a supposed charity-based token with the name SaveTheKids.
These influential people made a couple of tweets and shot promotional videos in addition and gave out their images to the SaveTheKids website.
They claimed the token had a connection to the biggest Esports brand on the planet, and the project will help also help to raise money for children's charities.
After the official launch of the SaveTheKids token, the price of the token experienced a serious bearish trend, due to how majority of the initial holders of the token flooded the market with the sales of the token.
Thus, the SaveTheKids token became worthless after it went public.
YouTubers like Coffeezilla, SomeOrdinaryGamers, and Barely Sociable later found a tangled web of deceit that pushed FaZe Kay to promote the scam and participate in the creation of the token as well.
The scam saga finally led to the suspension of some FaZe members, including FaZe Kay.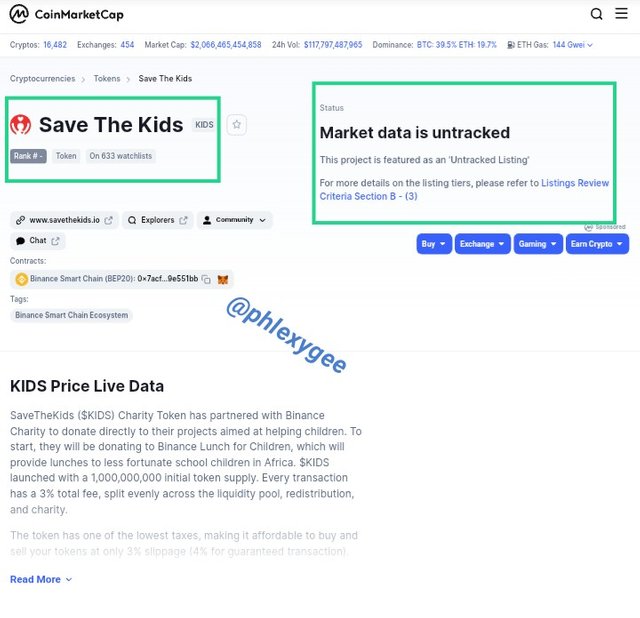 source
The above image serves as a prove to the scam allegations.
---
Paycoin
---
In 2019, the PayCoin founder Homero Joshua Garza was sentenced to 21 months in prison, and he was ordered by court to pay restitution after he created his own cryptocurrency and offered it to investors with the assurance that his company had a financial reserve of $100 million that they would use to prop up the price of PayCoin in order to ensure that it never fall below $20 per unit, and he also claimed partnerships with major corporations like Target and Amazon, meanwhile the corporate partnerships never existed and there was no $100 million reserve, and the value of PayCoin quickly plummeted.
Garza succeeded in defrauding many people worldwide with the sales of his worthless token of a sum of $9 million.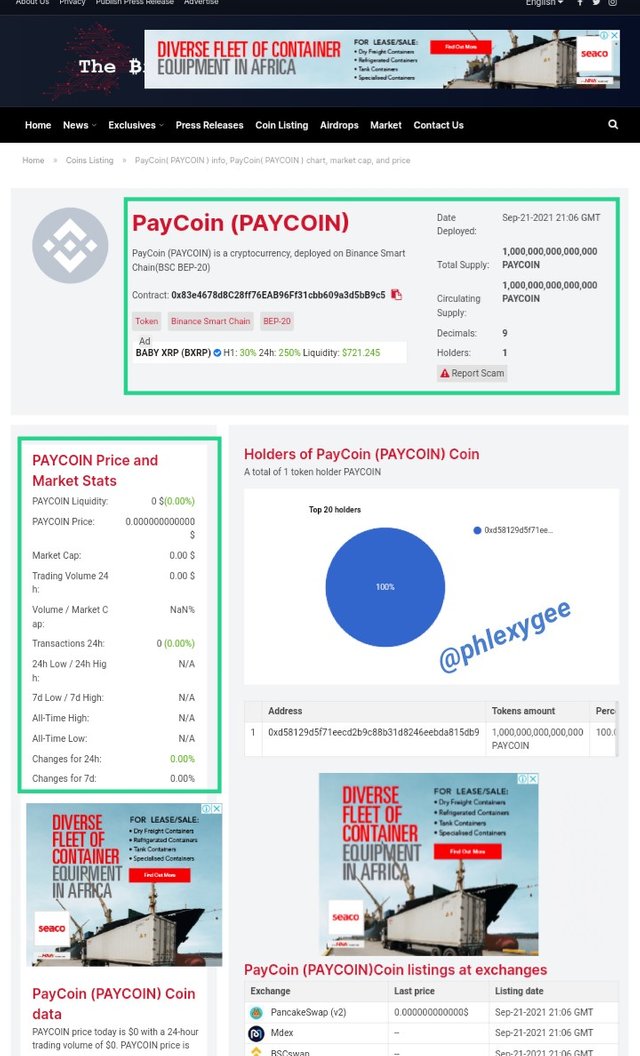 source
The above image serves as a prove to the scam allegations.

5. Explain at least two examples of Shitcoin that have been successful and are currently keeping it. (Other than Dogecoin or Shibainu.)
---
Upon the flaws of Shitcoins, some have witness a success in the crypto world, and have still been able to keep that spirit high.
I will base my explanation on Dogelon Mars, MonaCoin and Samoyedcoin as examples of Shitcoins that have been successful and still keeping such morale.
Dogelon Mars (ELON)
---
Dogelon Mars was created by Elon Musk with the aim to help people reach the Mars together with him and to relieve them from scam tokens.
Dogelon Mars is a dog-themed Shitcoin that is based on the Ethereum and Polygon blockchain, and It is inspired by other Shitcoins such as Dogecoin and Shiba Inu.
The name Dogelon Mars emanates from Dogecoin and Elon Musk.
Not withstanding the fact that, Dogelon Mars has been able to build a relevant community, which entails more than 300,000 Twitter followers, as well as more than 84,000 followers on Telegram.
Dogelon Mars is currently listed on Exchanges such as OKEx, Huobi Global, KuCoin etc. and this is also a sign of its relevance in the crypto arena.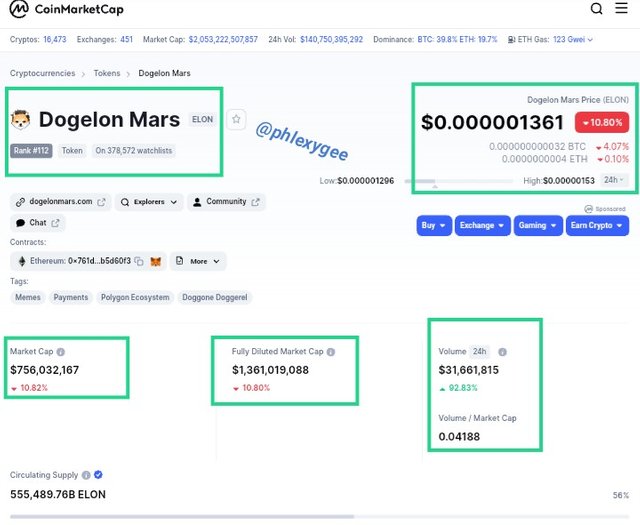 source
The images above gives relevant information of the Shitcoin.
MonaCoin (MONA)
---
MONA is known as an open source peer-to-peer blockchain payment network that came into the crypto limelight when it was featured on WBS TV Network, Tokyo, which had a report about a man who purchased a plot of land in Nagano with MonaCoin.
Monacoin was launched in the year 2013 by an unknown developer, namely Mr. Watanabe.
The MonaCoin even creates blocks faster than that of Bitcoin, and it has been approved by the Japan's regulatory authorities for the use in daily transactions and therefore, it is predominantly used in Japan.
Monacoin is currently available on the following Exchanges bitFlyer, Global, Bittrex, Finexbox, ProBit and CoinEx.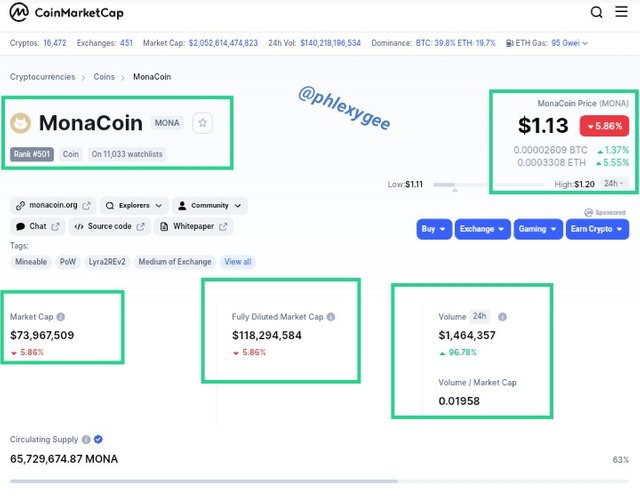 source
The images above gives relevant details of the Shitcoin.
Samoyedcoin (SAMO)
---
Samoyedcoin is Solana's memecoin which aims to be community-owned and fun.
Its existence was inspired by Dogecoin's Sam Bankman-Fried and Anatoly Yakovenko, a co-founder of Solana.
The Samoyedcoin aims to help grow Solana's ecosystem by appealing beyond its core, mostly composed of highly technological coins.
The Solana ecosystem has become strong with the help of SAMO, and the coin appeals to people who are not even interested in cryptocurrencies. This is to submit that Samoyedcoin has the most adorable dog in the crypto scene.
Samoyedcoin is a fun cryptocurrency to trade with, and possesses all the positive sides of the Solana blockchain, thus high scalability, high speed and low fees.
Samoyedcoin can be traded on Exchanges like OKEx, Gate.io, Bitrue, MEXC etc.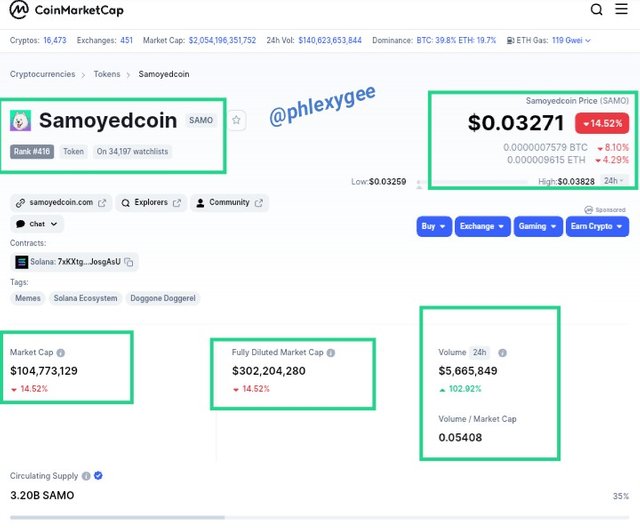 source
The image above showcases the performance of the Shitcoin.

6.Perform a historical analysis of the prices of any of the cryptocurrencies that you chose for the previous question. (Use screenshots.)
---
I will make a brief historical analysis of the prices of MonaCoin since its Introduction in the crypto market.
My analysis is based on coinmarketcap.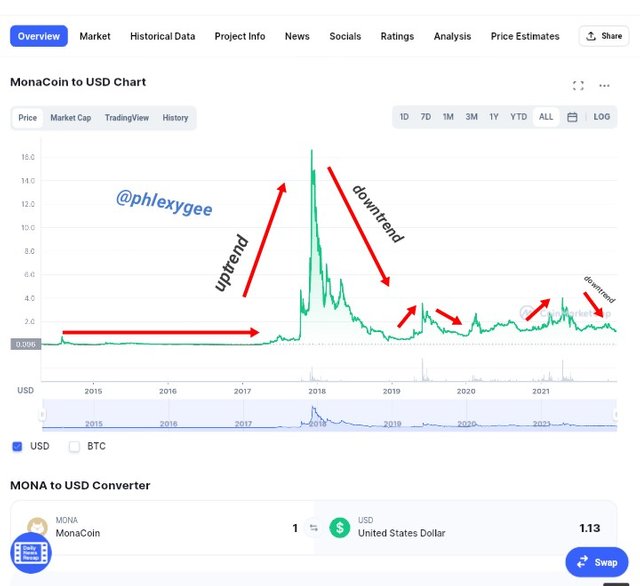 source
On 28 March 2014, the price of MONA was at $0.096, the price went to a bearish ranging afterwards and a significant bullish trend took place on 6 October 2017 from a price of $1.2 to $16.61 on 6 December. The price reached an overbought, and a bullish trend reversal took place.
During the bearish trend, there were some retracements and the price finally fell to $0.4358, so sad.
A bullish trend occurred again on 25 May at a price of $3.7 and bearish followed. There have been some minor uptrends and downtrends within 2020 and 2021, but the last remarkable uptrend happened on 17 April 2021 at a price of $4.0293
Since then, the bears have dominated the market by dropping the price to $1.13 which is the current price.
According to coinmarketcap, MonaCoin has an all time high price of $20.23 and an all time low of $0.0196, although there is a contradiction between what I came across on the chart.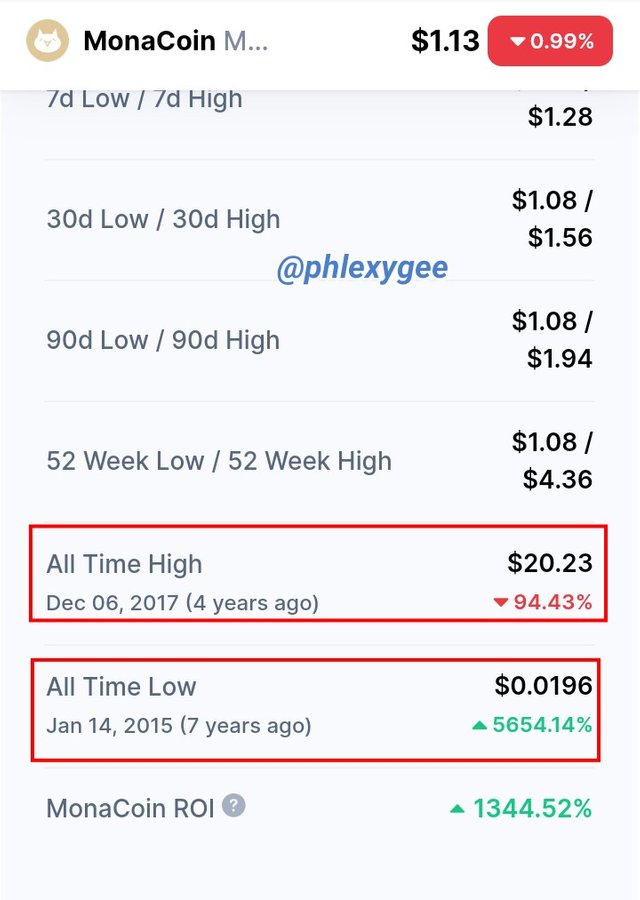 source

7. Based on your previous analysis, what do you think will be the development of the price of the cryptocurrency for this year? Be creative when explaining.
---
Upon my analysis on MonaCoin, I really think the price will experience an increase, although it might not be that huge, but it will surely increase.
I have noticed that each time the price of MONA falls, it bounces back within a period of time, therefore there is a possibility of the price witnessing an increase after this bearish trend.
I am expecting the price to hit at least $2 within this year, although it is currently at $1.13
Although the token didn't start well in the crypto market, but with its usage in Japan, there's a probability the price will not fall below $0.5, but increase, because high demand lifts an asset's value.

8. Conclusion
---
Shitcoins are cryptocurrencies that are normally introduced in the crypto arena without any concrete foundation which makes them to lack value.
Their success mostly depends on speculations, and therefore they are highly risky for investors to invest in, since their value can diminish within a blink of an eye.
Well some investors can choose to invest in them, but I think thorough research should be done with regard to one's interested Shitcoin, and the capital to use for the investment shouldn't be a capital that in case of loss can really damage the investor, so an investor should invest what he or she is willing to lose, just like the policy related to the normal cryptocurrencies.
Actually, I prefer to call them crapcoins instead of Shitcoins, because the word shit sounds shitty 😀
Thank you Prof. @nane15 for bringing us to the end of the season with this interesting topic.