Hello comrades,
I wish you a happy new year.
Today marks the 7th week of season-5 of the steemit cryptoacdemy and
I am happy to join the Intermediate level.
Here is my presentation for Prof. @imagen.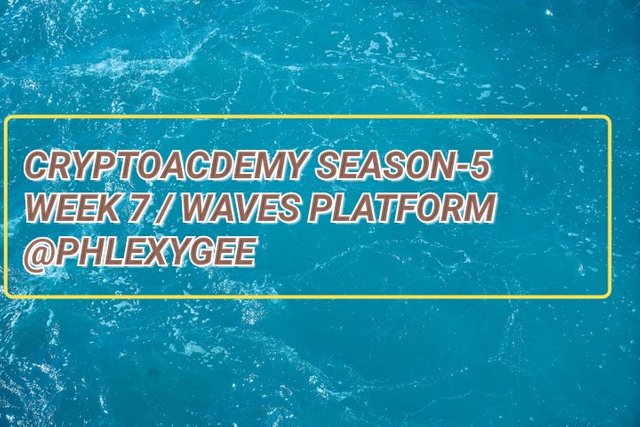 Made with iMarkup
---
(1.) Describe the Leased Proof-of-Stake (LPoS) consensus mechanism. What are the differences with Proof-of-Stake (PoS)?
---
Leased-Proof-of-Stake
---
LPoS is a new way for people to gain from mining without having to mine by themselves, but lease their assets to full nodes for a while in order to get rewards from the nodes in accordance with the amount of their leased assets.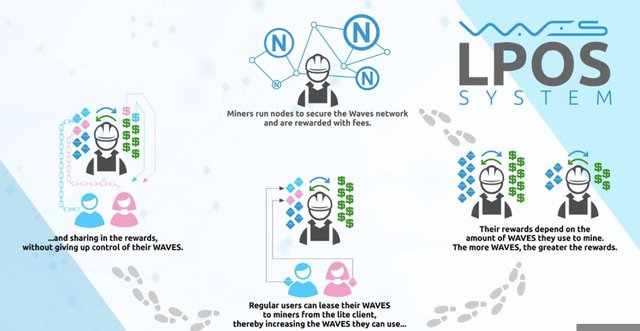 source
The Leased-Proof-of-Stake (LPoS) consensus mechanism was fully introduced in May 2017, and it is a modified version of the Proof-of-Stake mechanism, in the sense that it enables token holders (users of the Waves lite client) to lease their assets (WAVES token) to full mining nodes in return for passive rewards according to their leased token's value and the income the mining node receives.
LPoS is used by the EDC blockchain, and mining in the system do not add any tokens to the network, which means the number of tokens are fixed and leasable.
During the leasing process, the leased WAVES are locked in the leaser's account, and they cannot be transferred or traded, but yet still the tokens remain to be under the full control of the account holder, of which the leased token can be canceled or declined at any given time by the leaser.
With the Leased-Proof-of-Stake Consensus mechanism, only a small proportion of the Waves community operates on nodes, since most users delegate their tokens to few mining nodes for block generation rewards. Therefore, the token holders don't have to be online 24/7 in order to claim block validation or mining rewards.
The leased tokens to a mining node helps to increase the stake weight of that miner, which in turn increases the chances of the miner to validate the next block.
The forger nodes don't have ownership of the tokens, but a right to use them, and this right can be curtailed at the discretion of the token owner in any given period.
Currently, the Waves platform supports LPoS.
Merits of LPoS
---
Enthusiast validators with fewer tokens have the advantage of being chosen by accepting lease from other users.

LPoS helps users with small amount of tokens to earn some proportional passive rewards by leasing their assets to full node owners.

Leasers can unlock their leased assets at any given time for spending, and this means leasers have total control over their funds.

LPoS use less energy consumption, since a lease transaction can be initiated using a phone instead of using multiple nodes that requires huge computing power.

LPoS has high transaction or processing speed, since few nodes validates a transaction.
With all this advantages, conversely there might be a case where most members would lease their assets to a single node that will gain dominance over the other nodes. The LPoS is a new technology as well, therefore is opened for other challenges.
Differences between Proof-of-Work and Leased-Proof-of-Stake
---
Now let's consider the differences between Proof-of-Stake and Leased-Proof-of-Stake
| PoS | LPoS |
| --- | --- |
| Users need to stake a minimum of 32ETH before they will be eligible for block validation | A minimum balance of 1000 Waves is required to operate a full node |
| Abreviation of Proof-of-Stake | Abreviation of Leased-Proof-of-Stake |
| No involvement of token leasing | Tokens are leased to full nodes by leasers for passive income |
| Random validation of blocks by wealthy users or nodes | Minor token holders somehow partake in block validation, since they lease their tokens to the full nodes |
| Only nodes have the opportunity of gaining validation rewards | Leasers get a portion of validation rewards based on their contributions. |
| It is used by Ethereum blockchain | It is used EDC blockchain, and it is supported by the WAVES platform |

(2.) Login and explore Waves.Exchange. Indicate your functionalities or options. What are the investment modalities that you offer to your users? Show Screenshots.
---
Waves.Exchange
---
I signed up on Waves.Exchange, since I am now exposed to it through this lesson, and I will submit that the platform had a nice interface. After I logged in I came across options like Buy Crypto, Trading, Pools, Investments and Wallet on the top section of the page, conversely I saw other options like SUPPORT, TOOLS, GATEWAY and LEGAL at the bottom section during my exploration.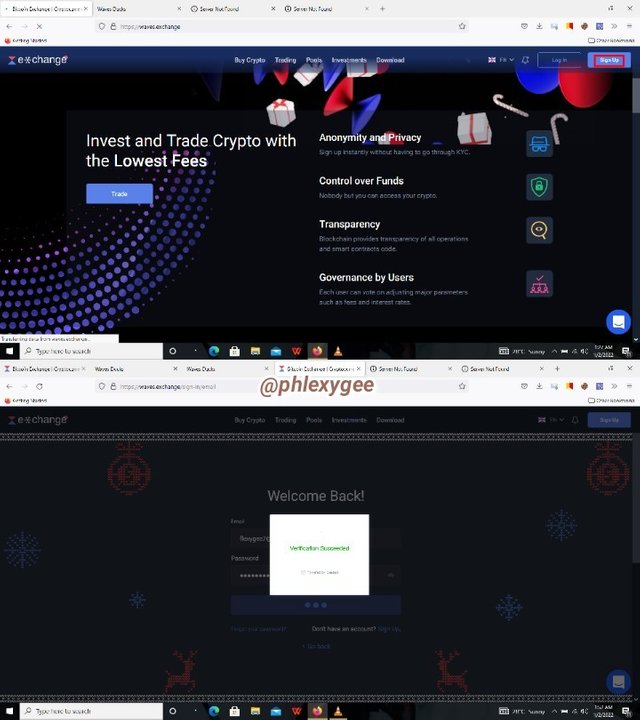 source
---
Buy Crypto
---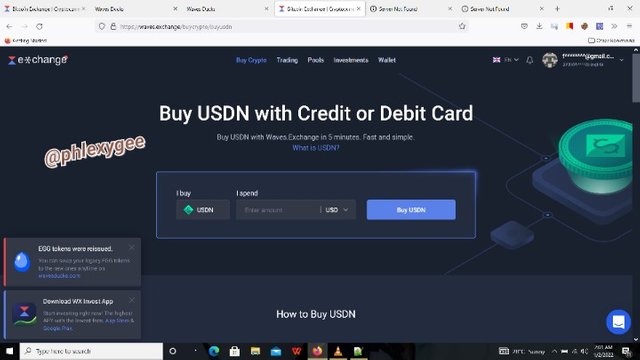 source
The Buy Crypto option is the first among the options at the top section of the page, and it offers users the opportunity to buy assets crypto using their credit or debit card.
Assets such as USDN, Bitcoin, Waves, EGG, and OTC are basically displayed in the Buy Crypto section.
---
Trading
---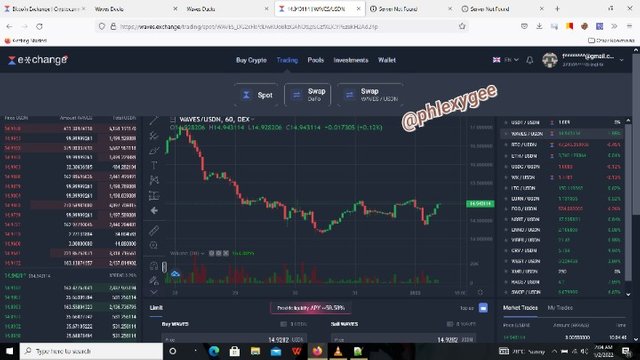 source
The Trading section which is the Second tab enable users to trade in the crypto market with their capital or WX token. This section offers users with crypto charts together with indicators of which a trader can capitalize on to place orders in Spot.
---
Swap
---
Within the Trade section, there are swap features whereby users can capitalize to swap their assets.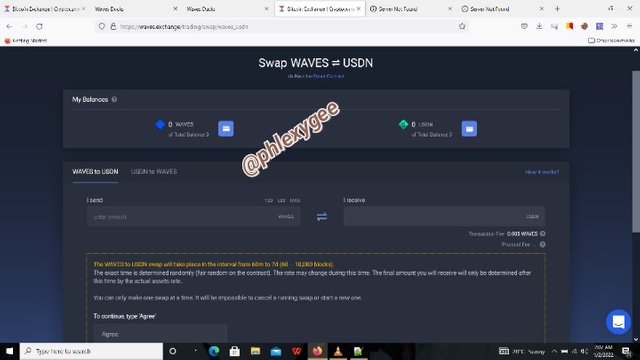 source
---
Pools
---
In the Pools section, users can lock or stake their WX tokens and earn interest according to their stakes. The pools differ and an investor can choose based on his interest and the interest rate.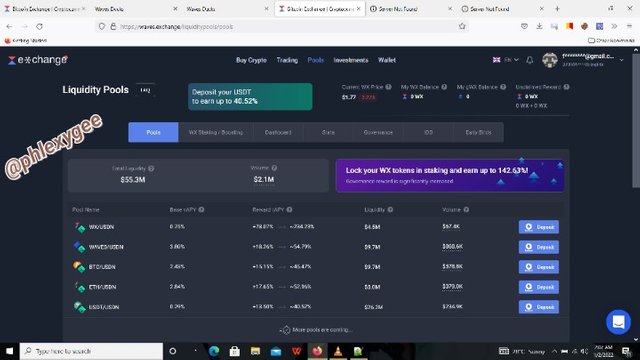 source
The Pools section also includes subsections such as, WX Staking/Boosting, Dashboard, Stats, Governance IDO and Early Birds.
---
WX Staking/Boosting
---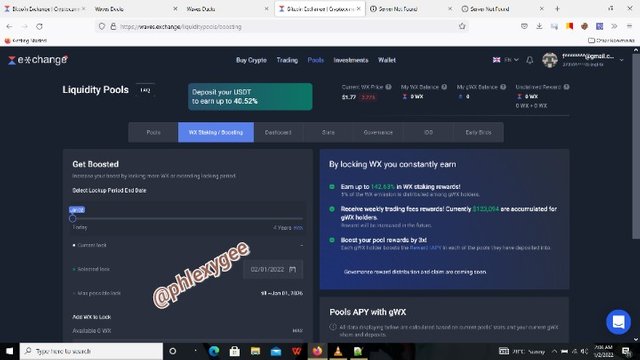 source
Over here, an investor boost his interest rate by adding some WX tokens and extending the locking period of his or her assets (WX).
---
Dashboard
---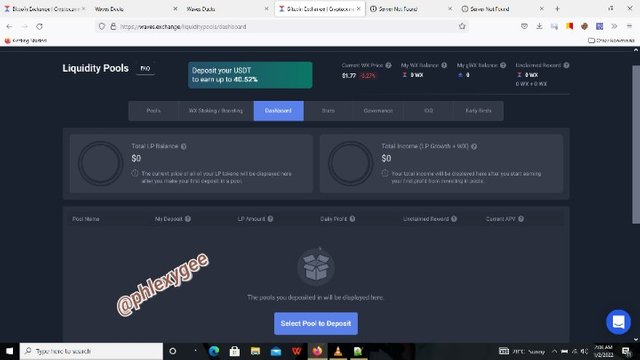 source
The Dashboard entails all the details with regard to one's stakes. Thus, it displays information such as LP Balance, Total Income, Daily Profit etc.
Investors can similarly deposit their pools in the Dashboard section.
---
Stats
---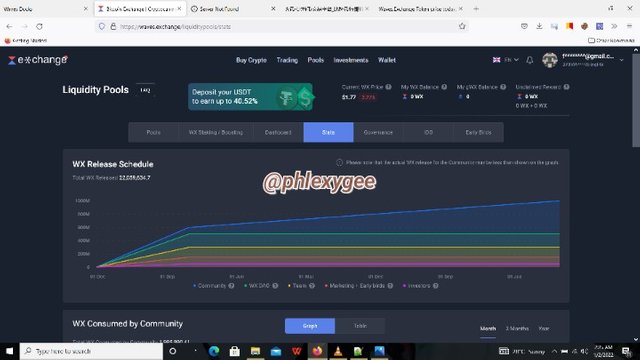 source
The Stats option displays the status of the Liquidity Pools, including the WX tokens released for the community. The stats are indicated in colors, and each color represents a relevant information.
---
Governance
---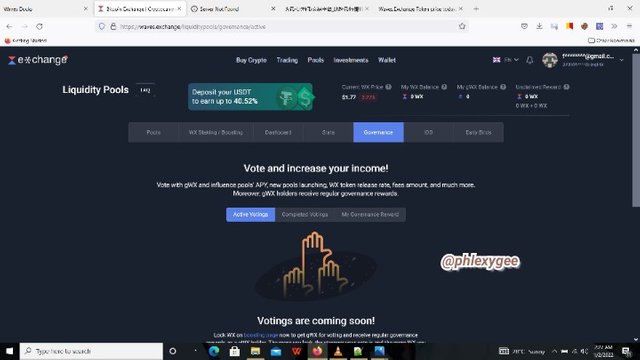 source
WX holders have the opportunity of participating in the system's government, and they do so in the Governance feature, of which they earn rewards for partaking.
---
SUPPORT
---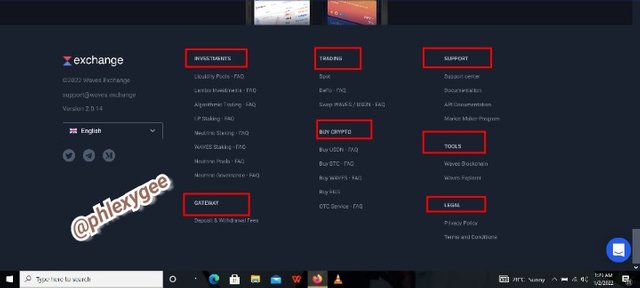 source
It entails support center, Documentation etc. which helps the users with regard to the platform.
---
TOOLS
---
The tool section comprises Waves Blockchain and Wave Explorer, which offer users the opportunity to know about the Waves blockchain and also explore Waves blocks.
---
GATEWAY
---
Users can check deposit and withdrawal fees on this section.
---
LEGAL
---
Waves.Exchange users get the opportunity to review the privacy policy and the terms and conditions of the platform.
What are the investment modalities that you offer to your users? Show Screenshots.
---
The Waves.Exchange platform is one of the amazing platforms because it offers its users the opportunity to invest in order to gain future profits.
The investment modalities it offers so far are; Liquidity Pools, Lambo Investments, LP Staking, Algorithmic Trading, Waves Staking, Neutrino Governance, Neutrino Pools and Neutrino Staking.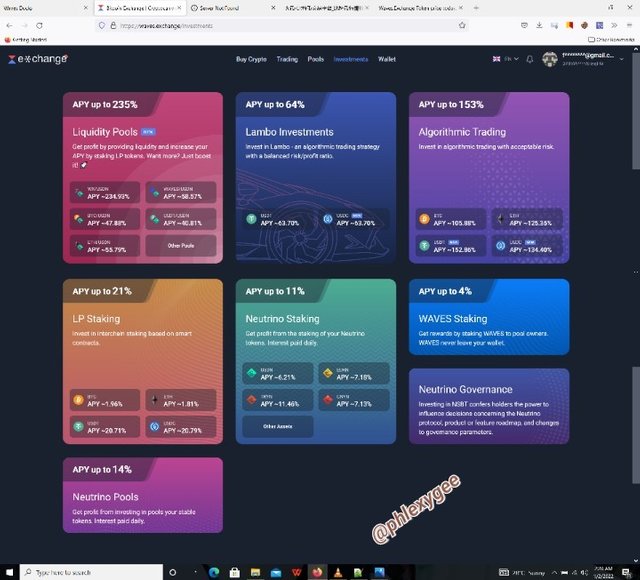 source
---
Liquidity Pools
---
As mentioned earlier, the liquidity pools offers the zealous investors to stake their LP tokens in return for a maximum of 256% APY rewards, and this gains depends on their staked amount and period.
---
Lambo Investments
---
This investment tool has a balanced risk/profit ratio and that is why the APY is only up to 64%
---
LP Staking
---
For the LP Staking, Investors stake and get rewards of based on smart contracts. There is a maximum of 21% APY.
---
Algorithmic Trading
---
Algorithmic Trading is one of the investment modalities that offers APY up 153% to Investors.
---
Neutrino Pools
---
Investors get rewards for investing their stable to in the pool. There is APY up to 14%
---
Neutrino staking
---
Neutrino Staking offers investors the opportunity to gain profit from staking their Neutrino tokens. It has a maximum APY of 11%
Investors get daily profits for staking their Neutrino tokens and the APY is up to 11%
---
Waves Staking
---
An important mode of investment that can't be looked down upon on the platform. Investors get rewards by staking their WX tokens to pool owners. It has a maximum APY of 4%
There are also IDO and Early Birds that allow investors to earn WX rewards by providing liquidity to the pools, but unfortunately these two programmes are finished for now.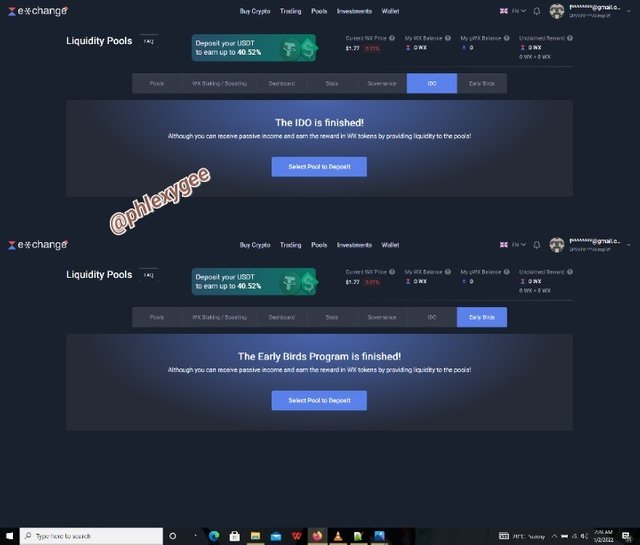 source

(3.) Make from your account a purchase of WAVES for an equivalent amount of 10 USD from an available exchange (Binance is not allowed). 3.1) Describe the process. Show screenshots. 3.2) Show how the process is carried out to transfer the asset to the official Waves platform. (The demonstration is mandatory but the transfer is not)
3.1) I logged into my Huobi account.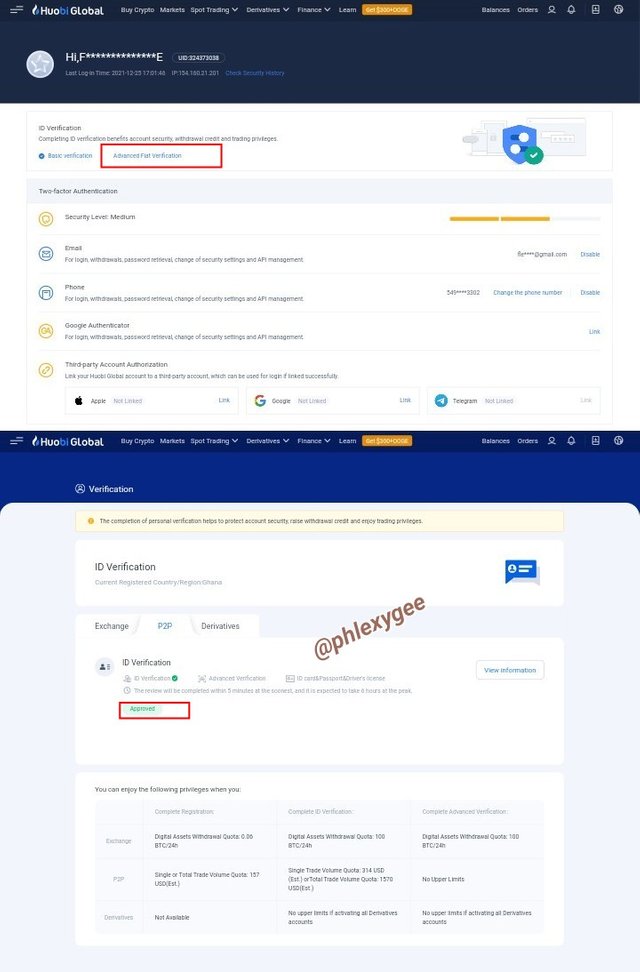 source
I went to the market and placed a buy market order of Waves/BTC pair. I bought 0.7539 with 0.00023360 BTC which is equivalent to $11.21 USD on the Huobi Exchange platform.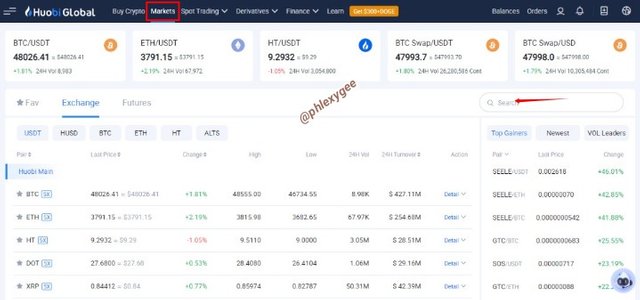 source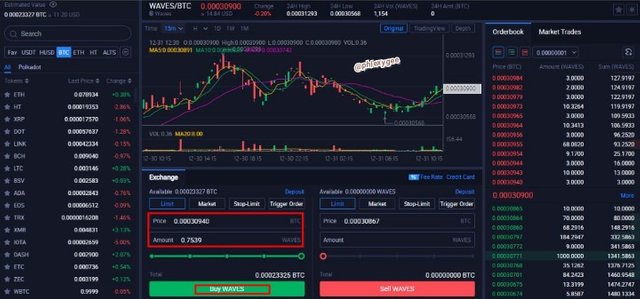 source
3.2) To transfer the asset to the official Waves platform, you have to login in your Huobi Exchange account (Exchange) and clicked on withdraw after finding your asset.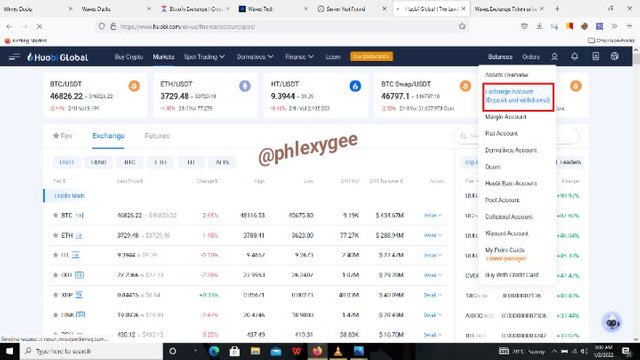 source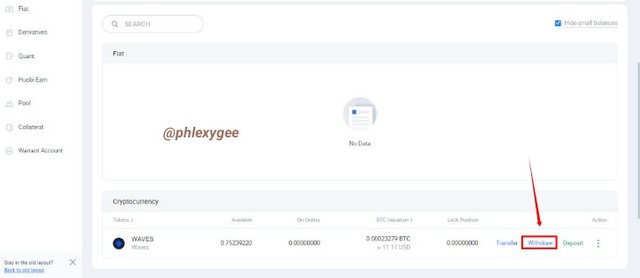 source
Switched back to Waves.Exchange, select wallet and click on the Deposit & Withdraw option.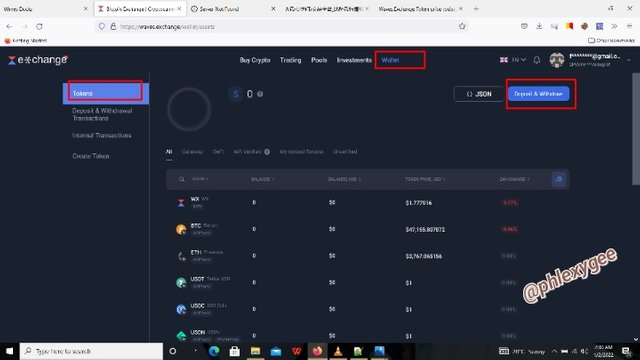 source
A page will be opened, click on deposit and search Waves in the select asset section. Select Waves as the network or deposit method and copy the address.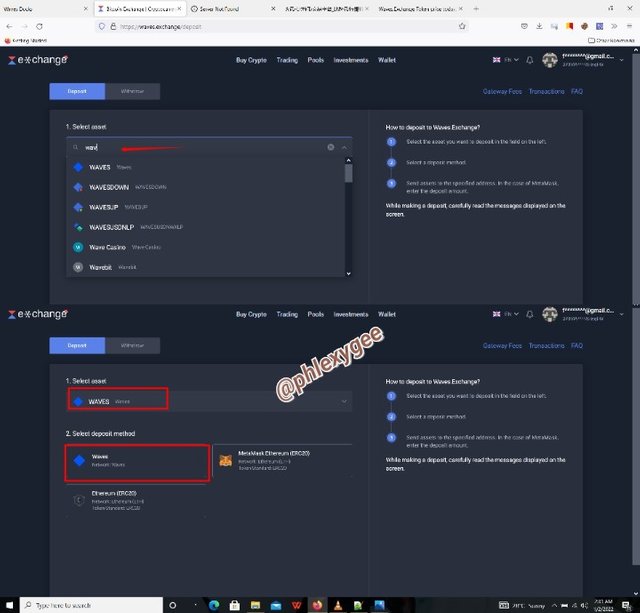 source
You will then paste the deposit address copied from Waves.Exchange
to the withdrawal address in Huobi at the address section. You will input the amount of Waves you want to withdraw to Waves.Exchange and withdrawal fee will be displayed. After inputting the necessary information, click on withdraw and your Waves token from Huobi will be displayed in your Waves.Exchange wallet within a short period of time.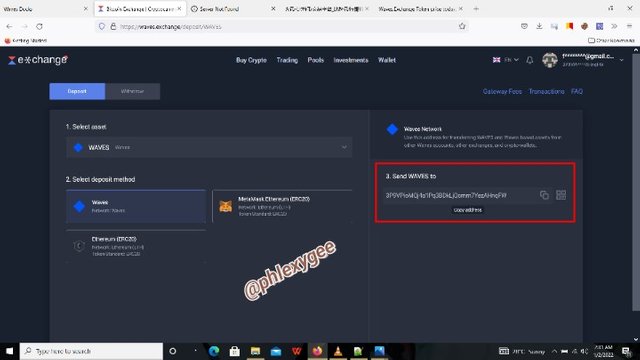 source

(4.) What is the WX token? What are its functions within the Waves ecosystem? What is your value and Market Capitalization at the time of writing your post? Show Screenshot.
---
WX Token
---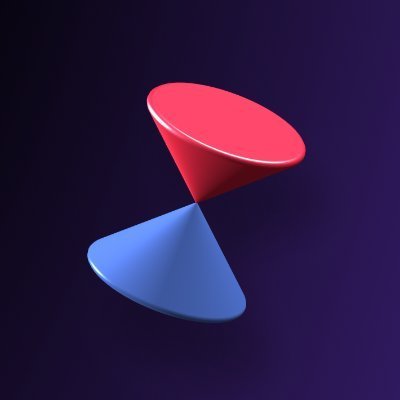 source
The WX (Wave) token is the native token of the Waves ecosystem, it has eight decimal values, and it is non-reissuable. The token was introduced in November 2020, with the aim to achieve a greater degree of decentralization in the Waves.Exchange ecosystem.
There are approximately 1000,000,000 original WX tokens issued, and they are locked on a contract, meanwhile only a part of the total issued amount is released into circulation (during 2628000 blocks or about 5 years) in small portions according to release rate, whiles a part of the amount is burned. The release rate of the token is based on community voting, therefore the users can decide on the amount of WX token to be released into circulation and the amount that should be burned.
Functions of WX token within the Waves ecosystem
---
The value and functions of the WX token within the Waves ecosystem cannot be underrated, and below are the reasons.
It Is used to invest by staking the WX token in the Liquidity Pools for rewards, as explained earlier.

The WX token is used to pay trading fees in the Waves.Exchange platform at affordable rate.

The token is used within the system to trade other relevant cryptocurrencies.

WX can be locked on a contract to gain gWX boost in return.

It is used to participate in the system's governance, whereby investors receive gWX as rewards which helps to boost their interest level on their stakes.
The Value and Marketcap of WX at the time of writing my post.
---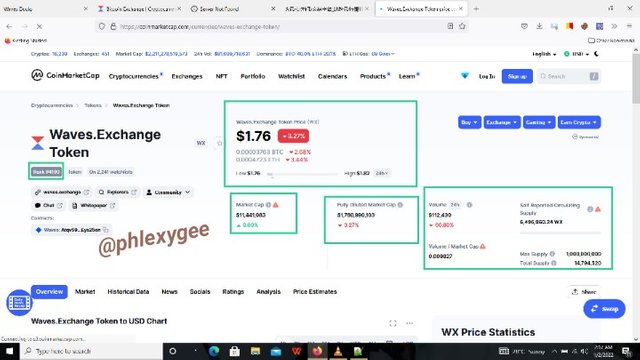 source
The screenshot above displays the value, marketcap and other relevant information about the WX token.
The screenshot was taken from coinmarketcap.com and the current price of WX is $1.76 ,whiles the marketcap is $11,441,083

(5.) Describe Waves Ducks What is this project about? How is it accessed? Be as explicit as possible. Show Screenshots.
---
Waves Ducks
---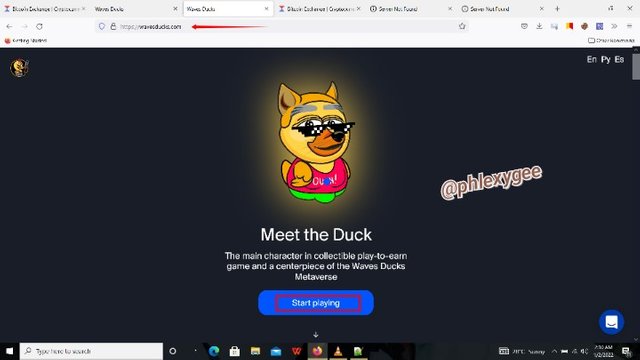 source
Waves Ducks was introduced in May, and it is a decentralized gaming project that is based on the Waves blockchain network, and the gamers earn EGG the Wave Ducks native token as rewards in game playing.
Waves Ducks is an all play-to-earn NFT game in which during the game, the players use different game strategies in order to earn in-game eggs (EGG tokens) which can be used to buy NFT ducks.
Ducks are the main characters of the game, and more ducks lay or give more EGG tokens to buy more ducks.
The game's economy is based on EGG token, and the players develop their duck farm by purchasing more ducks or eggs.
In simple terms, Waves Ducks is an NFT (Non Fungible Token) game of breeding ducks together with other duck games, whereby the gamers receives eggs (EGG Tokens) as passive income that can be used within the game or to satisfy financial needs.
The game is among the top 10 NFT games in the world based on monthly sales, thus $30 million per month, and the most expensive duck in the game was sold for $325k
How to access Waves Ducks.
---
To access Waves Ducks, first, you need to sign up on Waves.Exchange, and secondly visit the official website at www.wavesducks.com or visit www.dapprader.com to open the page. Waves Ducks is ranked 124 in the games section of dapprader.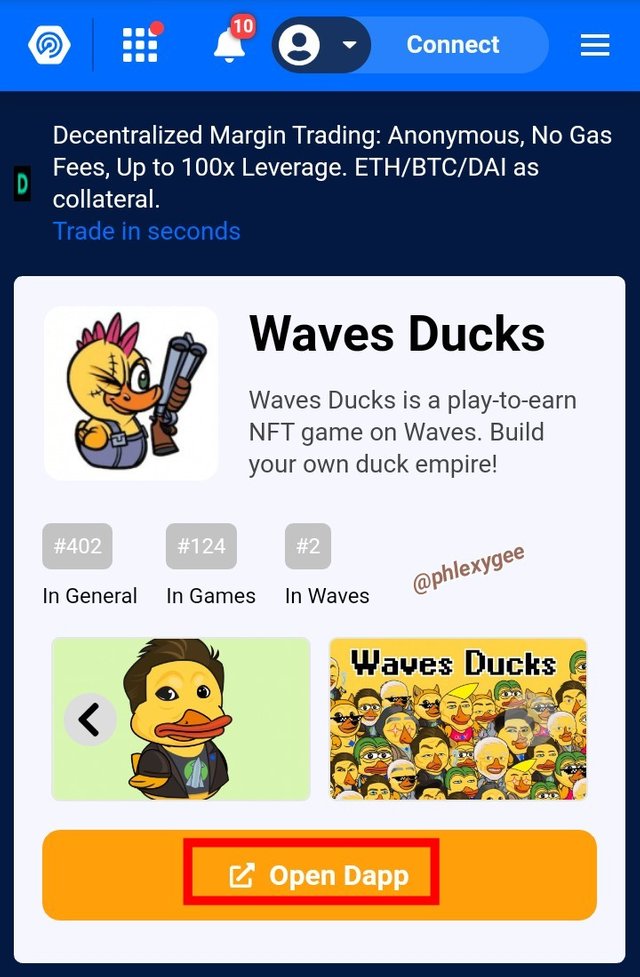 source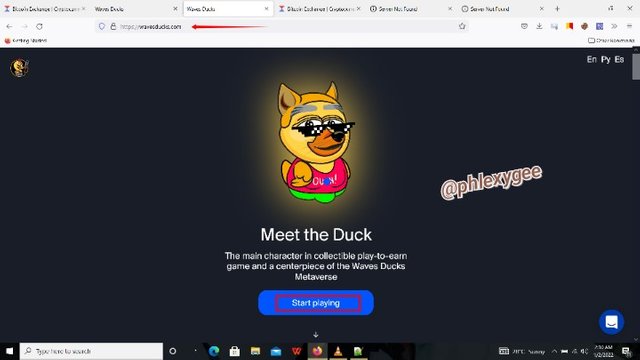 source
After opening the page, click on start playing and login with your Waves account details, and you be eligible for the Waves Ducks journey.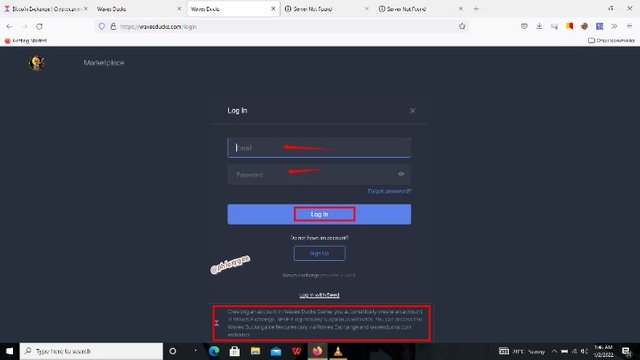 source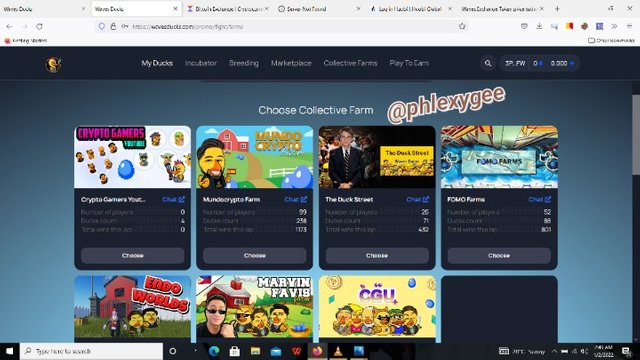 source

(6.) Conclusions
---
LPoS is a good consensus mechanism, whiles the Waves ecosystem is very amazing, therefore they should be embraced.
I have really explored for this lesson which has helped to broaden my horizon, with regard to consensus mechanism, NFT and the Waves ecosystem as a whole.
I will consistently visit waves.Exchange, since it has much to offer.
Thank you, Prof. @imagen for this week's interesting lesson.