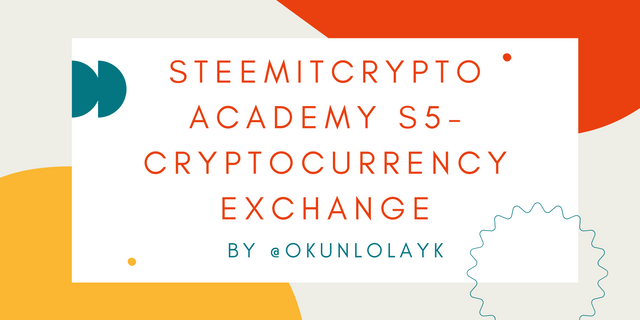 Image self created on Canva
(3) Explain in your own words what an Exchange is. Differences between a Wallet and an Exchange. Mention the advantages and disadvantages of DEX and CEX. Have you used an Exchange before? tell us about your experience
---
Cryptocurrency Exchange
A Cryptocurrency Exchange is a platform that facilitates the buying and selling of digital assets such as Cryptocurrency. An Exchange serves as as a market place where the buyers meet the sellers to trade or exchange digital assets. Cryptocurrency exchange especially a centralised one, supports the exchange of cryptocurrencies such as Bitcoin and other Altcoins for Fiat money as well all as a Cryptocurrency for another cryptocurrency. For example, a seller who has a Cryptocurrency (e.g Bitcoin) can exchange with a buyer who holds a fiat currency (e.g USD) who wish to own Bitcoin. Alternatively, the seller having Bitcoin can choose to exchange with a buyer who holds another cryptocurrency. This system can be seen as a barter trading system and the exchange represents a broker that provides the facilities and and tools needed to bring about a smooth exchange between the two parties involved. The Cryptocurrency exchange providing this service charges a fee for the transactions executed using their facilities. This fee serves as a profit to the company behind the Exchange and for maintenance of the platform.
The Cryptocurrency Exchange is built in accordance to support the listed cryptocurrencies and their background technology. It opens market for exchange of varieties of cryptocurrency tokens. A market consists of a number of cryptocurrency pair that can be traded on the platform. A Cryptocurrency pair has two digital currencies that are matched for an exchange in a two way direction. That is, a pair of Bitcoin and Tether (BTC/USDT) can be traded in two directions. You can buy Tether by selling out your Bitcoin and in opposite, you buy Bitcoin by selling out your Tether. The exchange also provide a ledger that registers the buy and sell orders and this is used to determine the market price of these pairs.
The Cryptocurrency exchange, in order attract patronage provides competition features that gives their users a smooth trading experience. For example, some Exchange supports direct deposit of fiat currency directly to their wallet using commerce intermediary like PayPal, bank transfer or credit cards. Some provide a pool system where you can invest to earn return or reduce the cost of your transaction fee as well as providing a peer to peer exchange system.
Differences between a Wallet and an Exchange.
A Cryptocurrency wallet can be likened to a normal wallet that holds our money but technically a crypto wallet doesn't hold cryptocurrencies.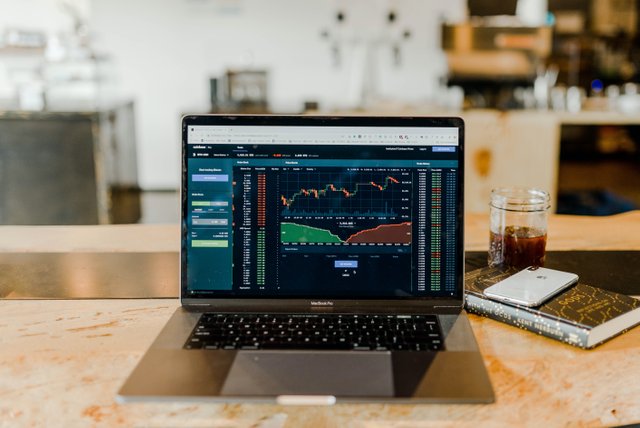 Source: Unsplash
In a layman language, we can say a crypto wallet is a device or technology that stores crypto assets. This is because we can see the actual amount of such asset we hold in our portfolio. In a more technical sense, a crypto wallet stores the public and private keys. These keys provides ownership and grant access to the asset you hold.
An exchange on the other hand is a platform that provides the facilities that aids trading of cryptocurrencies between parties. An exchange can be Centralised (CEx) or Decentralized (DEx).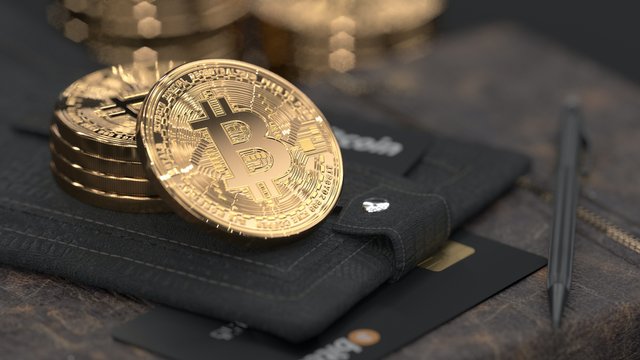 Source: Unsplash
A centralised exchange has an inbuilt wallet features in such a way that users don't need to have a wallet for their assets. The company owns the wallet and has the Private Key to the asset. Using a centralised exchange the trader has no obligation to look after a wallet or its security, this is done by the exchange itself. A Decentralized Exchange keeps no asset or its keys but only provide an exchange service and leaving its user with the obligation of holding and securing their assets. However, to use a Decentralized Exchange one must have a Decentralized wallet.
For example, Centralised Exchanges such as Binance, Coinbase, Houbi or Kraken would require no external decentralized wallet. Whereas, using a Decentralized Exchange such as Airswap, Uniswap and Pancakeswap would require using a wallet like metamask or trust wallet that secures your assets.
In summary, a wallet holds the Cryptocurrency while the Exchange provides an intermediary service that enable trading such cryptocurrencies.
Advantages and Disadvantages of DEX and CEX.
A Centralized Exchange is a type of exchange platform that functions as a third party between between the buyers and the sellers. This exchange oversee the private keys as well as monitor transactions that are being executed. A Centralized Exchange would demand KYC (know your customer) which are personal and contact details of the users. Examples include Coinbase, Poloniex, Kraken, Binance, Bitfinex etc.
Advantages of CEx
Reliability: CEx is reliable as there is a management body behind the scheme. This makes people believe they are entrusting their asset to someone and not just dealing with the virtual world. Many CEx has a customer service response unit where users can lodge complaints and resolve issues. For example, password can be retrieved if lost or forgotten.

Security: CEx provides a kind of safety in trading. The details of the people trading on the platform are known to the exchange and thus reduces the chances of fraudulent activities between traders.

Speed: Transactions on CEx are very fast. This is due to the fact that such trading transactions are not done directly on the Blockchain but rather on the exchange database. This reduces the load on the Blockchain and as well deliver instant execution of transactions.

User-friendly Interface: CEx being a profit based service usually try its best to serve its customers well so as to attract patronage and remain relevant against its competitors. Due to this CEx continually develop a user friendly interface that aids a stress free transaction for users.
Disadvantages of CEx
CEx are regulated by external bodies such as government or organizational factor. This regulations can restrict the exchange and its users to some function.

CEx are prone to hacks. Its feature of holding assets in its custody attracts hacks which can definitely lead to bankruptcy of the exchange and loss to its users if successful.

CEx are self controlled and decisions can be made to affect all its customers trading. Here, Traders have no full control of their assets

CEx has high trading fees due to platform management and development cost as well as profit target of the organization.
A Decentralized Exchange is a type of exchange that functions without a third party involvement in trading. In this case, there is no third party organization that oversee transactions on the platform. The decentralized exchanges are built as Decentralized Applications with smart contracts that automatically execute trades when certain conditions are met. The buyers and sellers meet here and the exchange their tokens on the Blockchain with out a third party. Examples of DEx includes Airswap, Uniswap, Sushiswap, Juatswap, Pancakeswap etc
Advantages of DEx
Anonymity: one of the good reason people chose to go by DEx is its Anonymity feature. Traders do not provide details of their identity and so no one know who is trading with who.

Asset Security: DEx has no risk of losing funds to hackers. The traded assets are not held in the exchange and as such are not accessible through the exchange. Crypto assets are held originally in the traders decentralized wallet and thus users have full custody of the assets, its keys and its security.

Low Transaction Fees: DEx has very little or no transaction fees as they are not delivering profit to a third party organization nor paying to regulatory bodies.
Disadvantages of DEx
DEx are slow to execute transactions. This is because they work directly with the Blockchain and the original order book.

DEx usually do not have sophisticated user support features compared to the CEx counterpart.
Have you used an Exchange before? tell us about your experience.
I have used both Centralized and Decentralized Exchanges for trading. My Experience with a Centralized Exchange is on Binance. Binance has been helpful to me for instant and quick trading. I use the mobile app which provides features such as overview of market performance, privilege to mark out favorite market pairs, providing trading chart and other trading indicators, spot trading options such as Limit, Market, Stop-loss and OCO, Price Alert, Futures, Peer to Peer trading and so on. These features gives the platform a user friendly functionality. To use Binance, one has to provide personal details for KYC and get verified to access some features.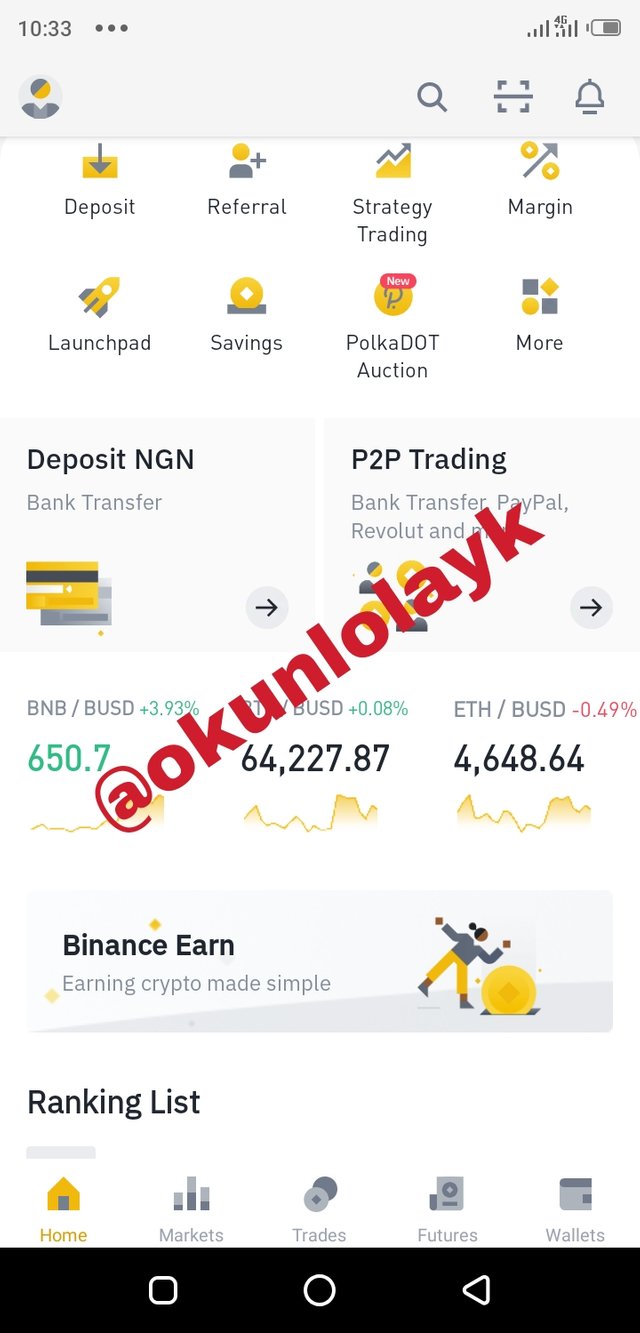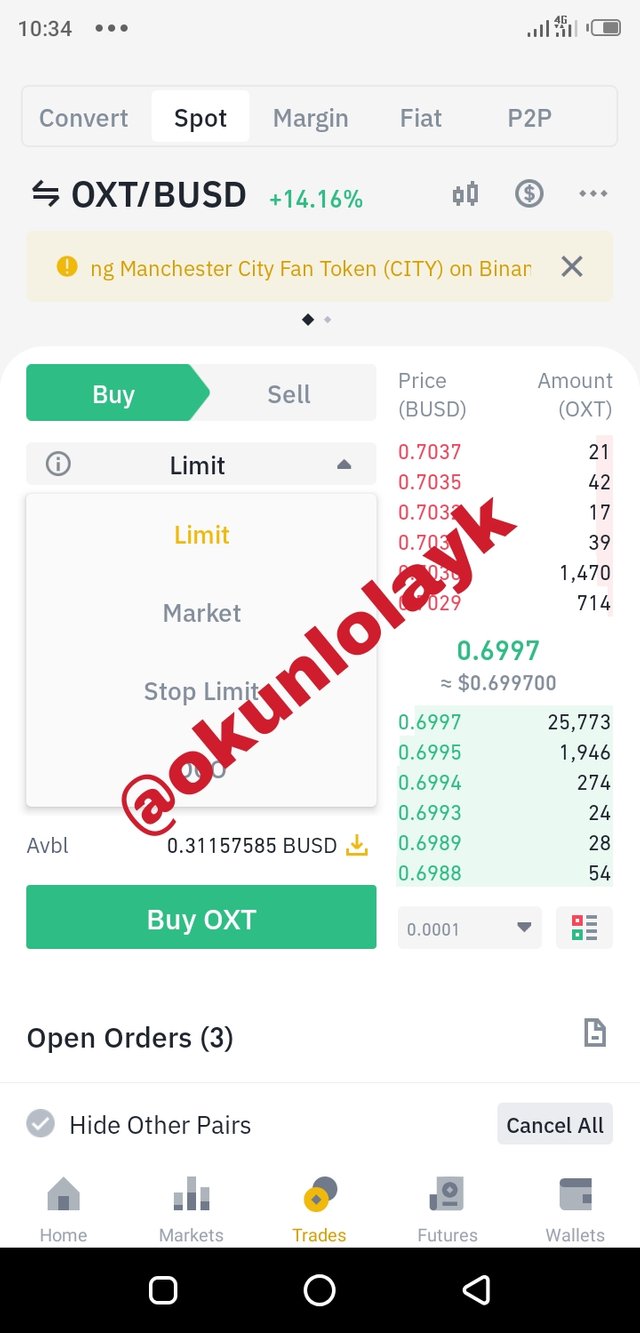 ---
My Experience with the Decentralized Exchange is using the Pancakeswap. The Pancakeswap is a Decentralized Application built on the Binance Smart Chain Network. It runs on smart contracts to execute transactions. Pancakeswap needs to be connected to a Decentralized wallet, and in my case I use Trustwallet. For a transaction to go through one would need to approve fund release from the wallet. Pancakeswap also have other features such as liquidity Pool where investors can lock up their assets to earn reward. Transactions on Pancakeswap are very fast as well. This is due to the Liquidity pool feature. This enables traders to trade instantly without having to wait to match orders. Gas fee are paid for transactions on Pancakeswap with Binance Coin (BNB).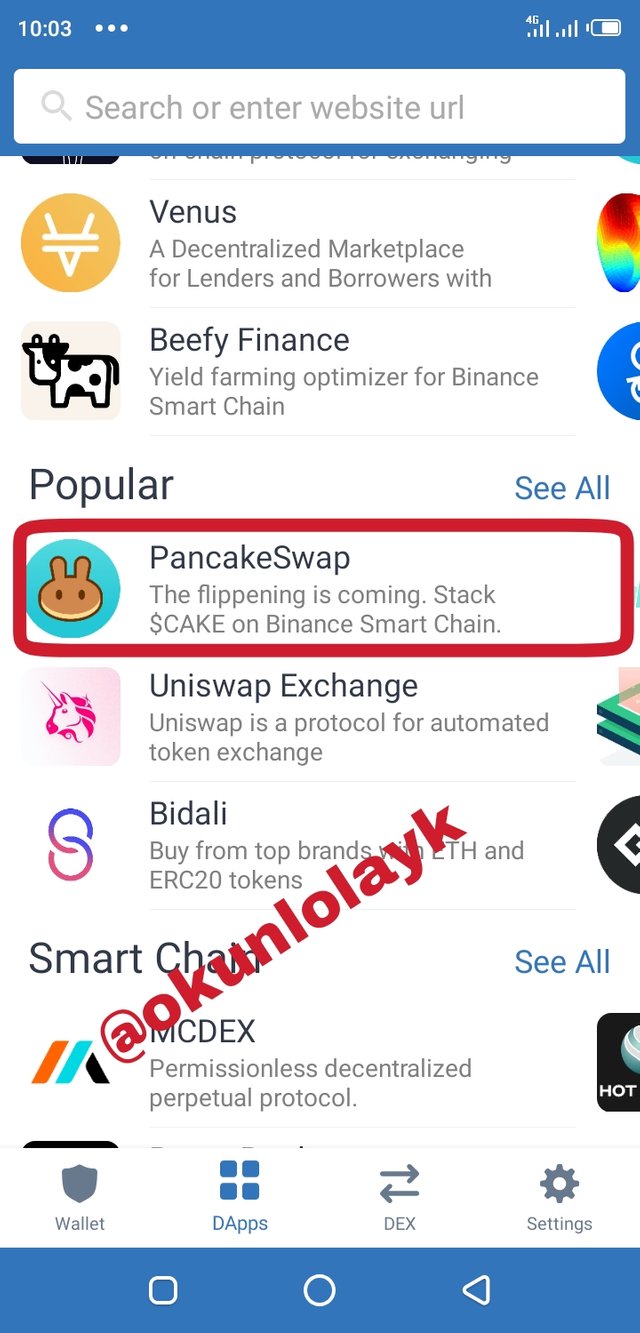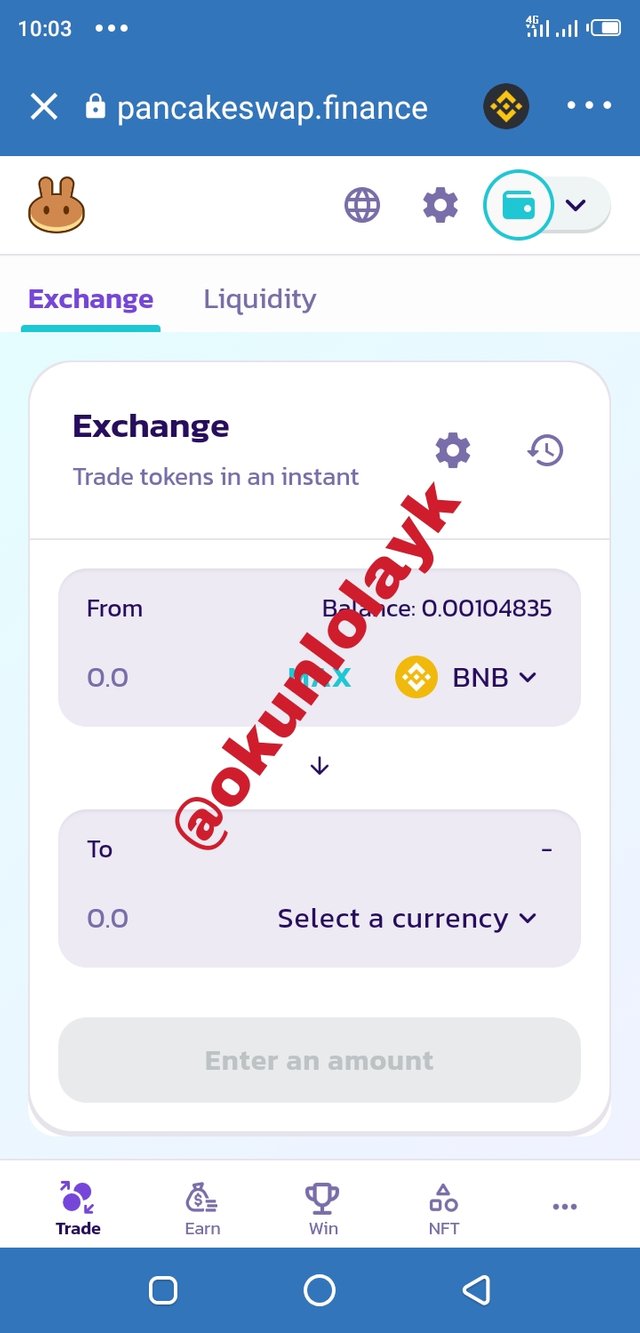 ---
Conclusion
Cryptocurrency Wallets, Centralized Exchanges and Decentralized Exchanges all have their relevance in the cryptoverse. Decentralization has been at the center of blockchain technology and it has continue to expand its reach since its inception. DEx and CEx both have their pros and cons and which one is most suitable is a judgement of personal discretion. Many organizations that have pride in centralised Services are also expanding their features to incorporate decentralization.
---
---
Thanks for taking your time to read through, it's fascinating having an audience. if you find this helpful and interesting kindly take a fraction of your time to UPVOTE and leave a COMMENT. Thank you.
Best Regards!!