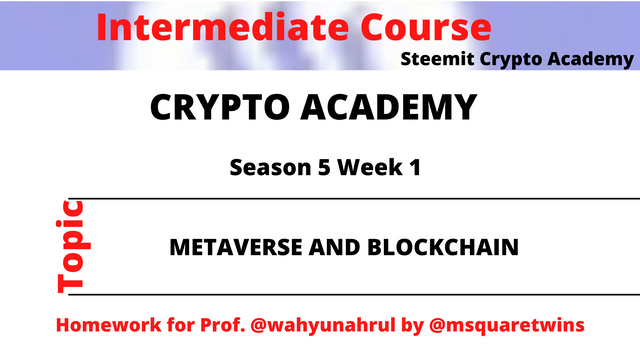 Image Designed by me on Canva App
---

Introduction

Hello Crypto Lovers,
I welcome you to week 1 of Season 5 in Steemit crypto Academy. I hope you enjoyed yourself and had a great moment during the break. This season shall favour you all. I am Kehinde Micheal and my username is @msquaretwins. In this post, I will be answering the questions posted by Professor @wahyunahrul in the homework section of the intermediate course "Metaverse and Blockchain"
---

1. Do you think the Metaverse is "the next level of Future Technology"? Explain your personal opinion by showing some evidence.

The world is changing and so is everything in it. The technology has revolutionized the world so much so that every sector can feel it impact. Who can ever imagined the world of Technology in creating not only interaction between people but one that is considered to be real irrepective of distance. Metaverse! That is what the future of Technology is looking like as we speak.
Firstly, what is metaverse? The word Metaverse was coined by a man called Neal Stephenson in the year 1992, which he meant to be the world of computer. This is believed to be a virtual universe where people would meet to play game, have meeting, share idea, work and do social activities. Therefore, Metaverse brings what is called virtual reality. I.e. A reality where people can feel the internet with their senses as they play game, work or socialize on the internet.
Few months ago, one of the Tech expert, Mark Zuckerberg the CEO of Facebook company declared that the name will be renamed to Meta. To this fact, he posted a video on YouTube from his Meta account to declared to the public the reason for the change of name and the importance of Metaverse.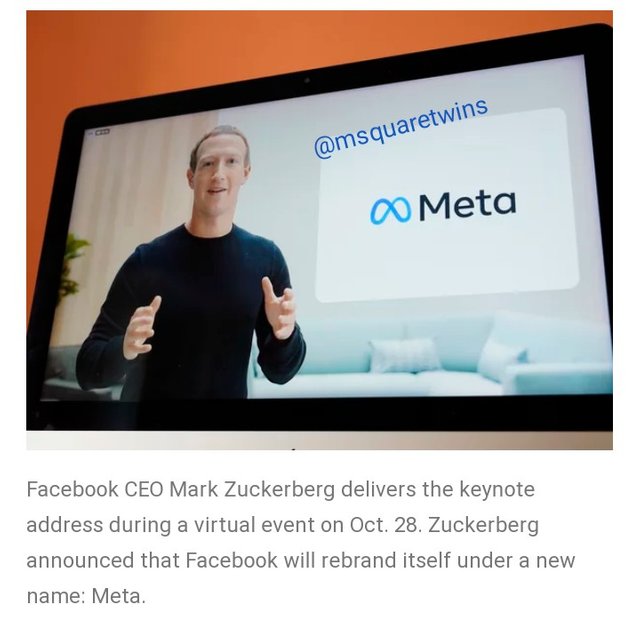 source
---
In addition, Microsoft company has also put her leg in Metaverse as the company announced the plan to build metaverse for enterprises which will their customer to feel the internet like never before.
source
---
It is therefore of no doubt that Metaverse is the next future of technology. In fact, Fortnite and Minecraft, which are online gaming application have been developed by Microsoft company which of course can serve as foundational platform for the proposed Meta enterprise by Microsoft company.
More so, so many gaming companies will be able to benefit from the metaverse virtual world because it would be possible to build large computing power which will increase the number of players that play on the server concurrently.
Considering the number of social media and the number of audience Facebook company is controlling, like Facebook and it users, Instagram and it users, WhatsApp etc, I believe the adoption of Metaverse by the general public will not take to much time. More so, many Tech gurus and experts all over the world have started adopting Metaverse technology, it is therefore an indication that the world of metaverse is limitless.
It is therefore indubitable that Metaverse is the next level of technology development.
---

2. Explain why Metaverse and Blockchain are compatible technology pairs.

Having discussed the benefit of Metaverse above, we know how powerful the Metaverse Tech can be. Metaverse has also find it unique importance in blockchain technology. As already discuss, Metaverse is useful in my areas. For instance, we already have Non Fungible Tokens which is a Blockchain token designed to reward the owner of collectibles, the artist and creators. The development of Metaverse will slso be enhanced by Blockchain Non Fungible Token. For instance, users would be able to buy virtual items like land, characters element and this will help players or users to claim full ownership of their characters, element etc.
Therefore, with the huge benefits presented by Non Fungible tokens, it is believe that cryptocurrency may be a legal token used to enhance the operation of Metaverse.
Not only that, the metaverse technology will also require identity of it users that are permissionless, exchanges that are very fast and secured and financial services. This is where blockchain technology will come into play. Blockchain technology has solution to all the aforementioned elements that metaverse may require. Also metaverse would also use digital currency.

source
---
Metaverse itself is not a stand alone tech, it is being developed by using blockchain technology and decentralized system. This therefore means that both Metaverse and blockchain work simultaneously.
---

3. Choose a Blockchain-based Metaverse project and do a fundamental analysis of the project (Don't choose projects that have been discussed in the discussion above). (Screenshot Required)

Many blockchain Metaverse projects have been developed. In this question, I will be doing fundamental analysis of a Project called decentral.games
Decentral Games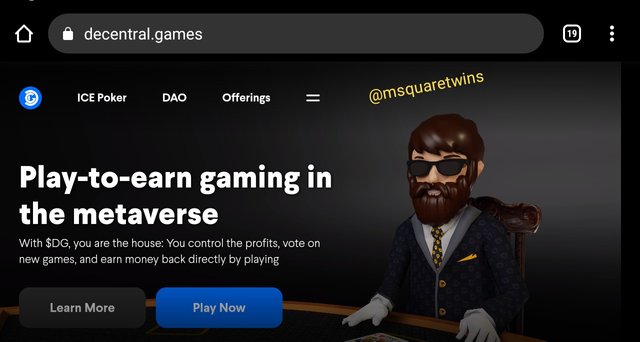 source
---
Decentral games is a metaverse blockchain based game where users play and earn reward. There are many games user can play on decentral games, they can play poker, blackjack, roulette, and slots. Decentral games is built on Casino ecosystem and it is governed, owned and powerfully sustained by its users through what is called (DAO) Decentralized Autonomous Organization
It is a 3D casino online game that leveraged the use of Ethereum blockchain.
This platform ensures that it user have access to control their system while maintaining the rule and any issued is solved through the used of Decentralized autonomous organization.
The game leverage on two blockchains platform. The first one is decentraland and this helps user to produce their contents, have better experience of the platform and then establish the legal tender of their work. The second blockchain that the project leverage on is Matic network of ethereum network which help the project to achieve fast transaction and of course giving cost effective transaction.
History of decentral.games
The decentral game was launched simultaneously with decentraland. It was launched publicly on February 20th, 2020. It was founded by Miles Anthony, Scott de Taboada, and Steve Becerra. Mules Anthony is the current CEO of the company, Steve Becerra is the current CTO of the comany, the technical lead is Scott de Taboada and Ryan de Taboada is the COO of the company as at the time of writing this task. The company is based in San Jose, Costa Rica.
Decentral Games Ecosystem
The interaction of every element on decentral games ecosystem is achieved through the native token of the platform which is $DG Token. The interactions occur in a casino fund house called dgTreasury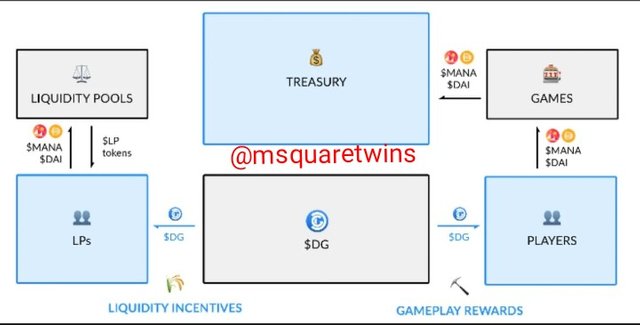 source
The treasury serves as power house that distribute funds to all games across the network, this means that for the system to keep working, there must be sufficient funds in the dgTreasury. Fees are collected from the players inform of $MANA and $DAI and then kept in the dgTreasury. The reward is paid from the dgTreasury as well to the winners.
Players can also stake their assets and the reward for staking is paid in $DG token. By staking, dgTreasury get enough funds to distribute and funds all games.
The $DG token
$DG Token is the native token of decentral game. It is ERC-20 utility ethereum based token which find it operation on decentral game platform. This token can be used in three different form on the platform. It can be used as governance token, liquidity mining, and as a gaming rewards.
It can be used as governance token in the sense that those who hold the token can put forward an opinion on the ecosystem and vote for future development or elements on the platform.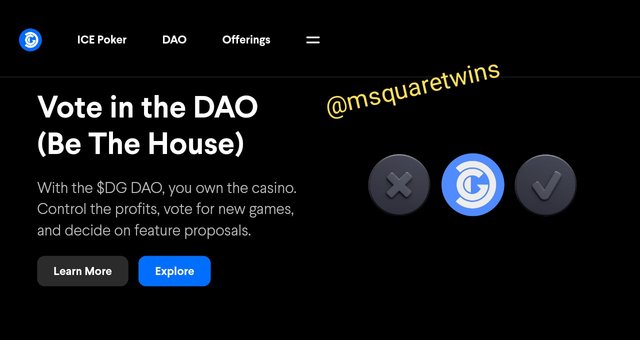 source
---
Also, for liquidity mining, $DG token can be used as staking mechanism which help user to earn more rewards.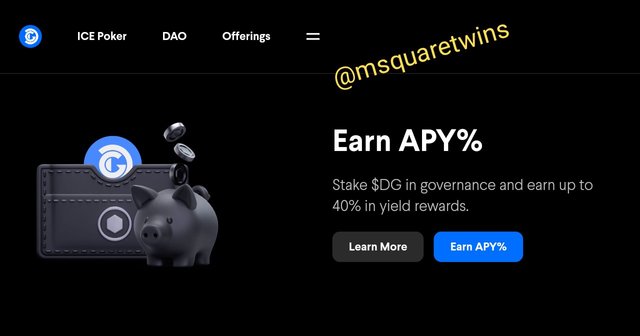 source
---
And finally, it is earned as a reward when user play game with $DAI and $MANA.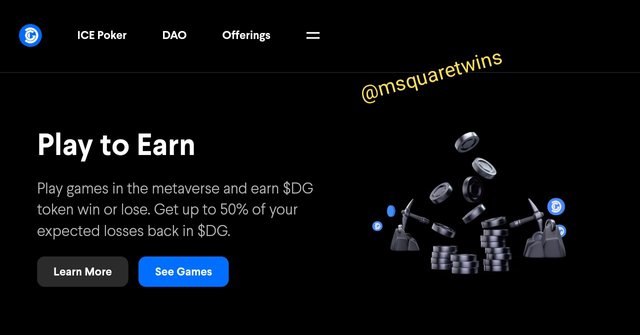 source
---
$DG Allocation
1 million $DG token was put forward to be distributed in 6 years. 62% of this total will be given to the entire community and 20% would go to the team behind the development and the remaining 18% would go to the early birds with 2 years vesting period.
The chart of the allocation plan is uploaded below.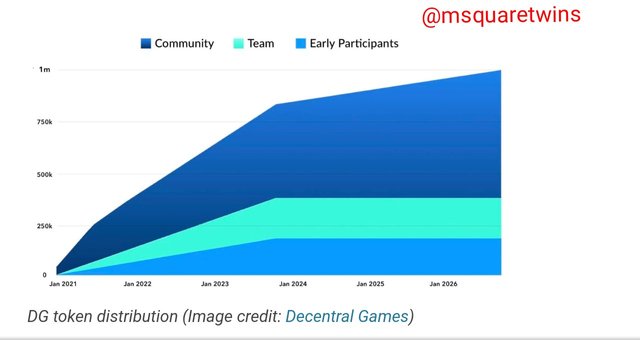 source
---
** Decentral Games also Partnered** with so many business and company like Polygon, C+C, Binance, AU21 Capital, cluster, hashkey group, GBV, digital currency group and so many others. The list of it partners is uploaded below.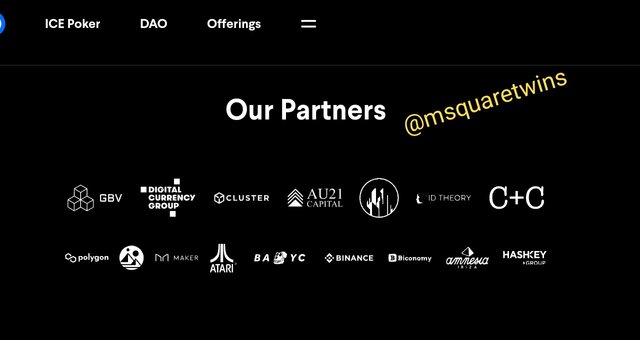 source
---
Financial Metrics of Decentral Games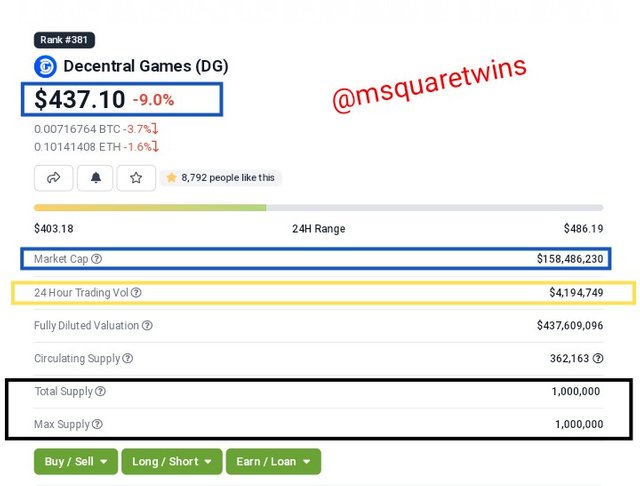 sources
According to coingecko, the current price of $DG is $437.10 as indicated by a blue box in the screenshot above, and the Market capitalization is $158,486,230. The Total supply and max supply of $DG is 1,000,000 and the circulating supply is 362,163 with the trading volume of $4,194,749
Ochain Metrics of The $DG
The onchain metrics of this project can be viewed on https://etherscan.io.
The maximum supply of this token is 1,000,000 DG and the number of users that are currently holding the token is 2,633 as indicated in the screenshot below by a blue box. There are 63,424 transfers that have been done successfully as indicated by a red box.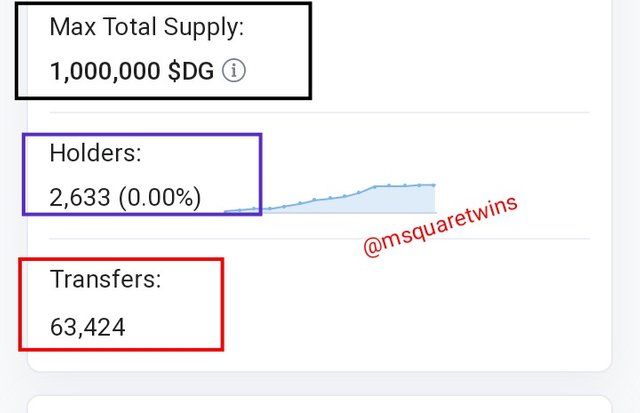 source
---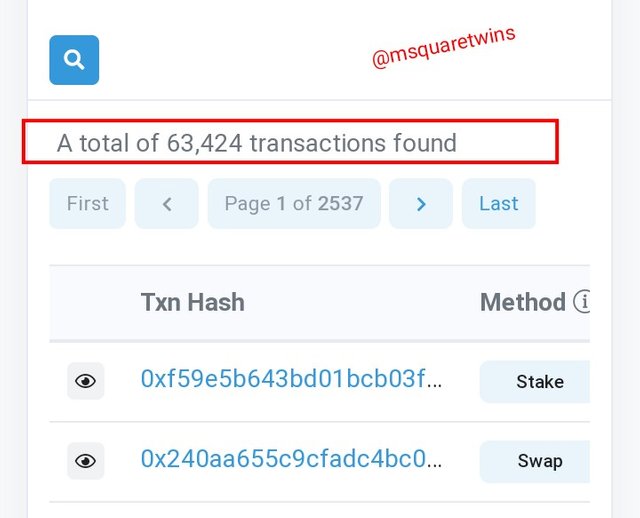 source
---

4.Explain the steps for connecting a crypto wallet with a Metaverse project that you chose in question number 3. (Screenshot Required)

For Decentral games metaverse project, I will explain the steps to connect crypto wallet, Metamask to it.
• Firstly, we go to decentral.games and then scroll down a bit and click get started as indicated by a red box below.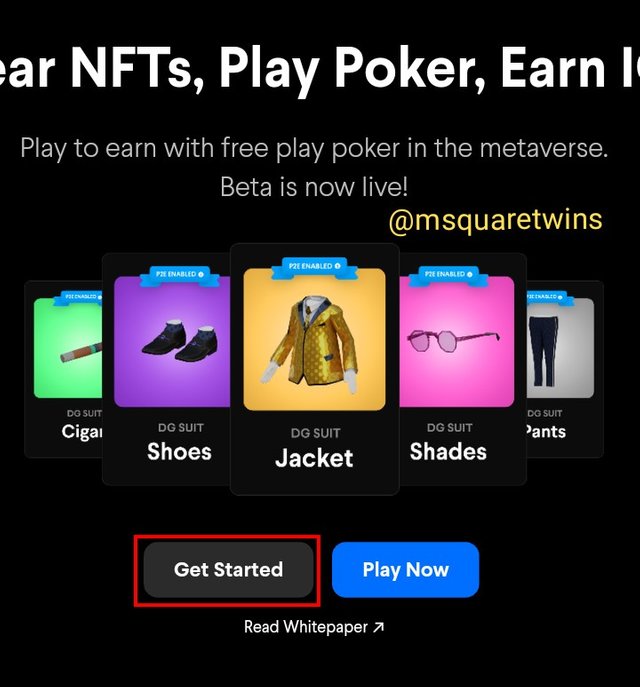 source
---
• After the above step, a page will appear as displayed below. As at today, we can only add browser extension to connect wallet on this platform. Therefore, I will be adding chrome extension. Then click chrome icon as indicated by a red box in the screenshot below.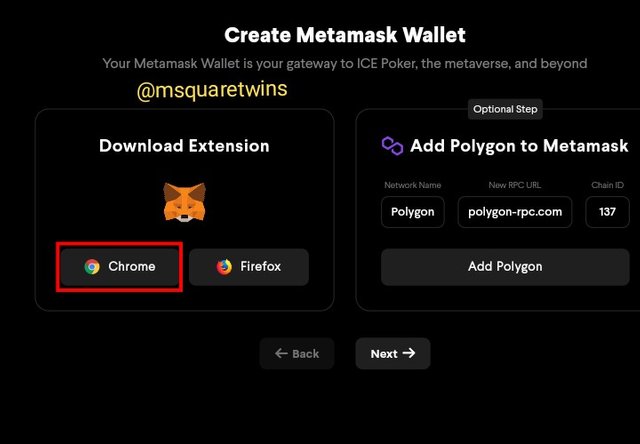 source
---
• Then a page will appear as seen below. Then click Add to chrome to download the extension.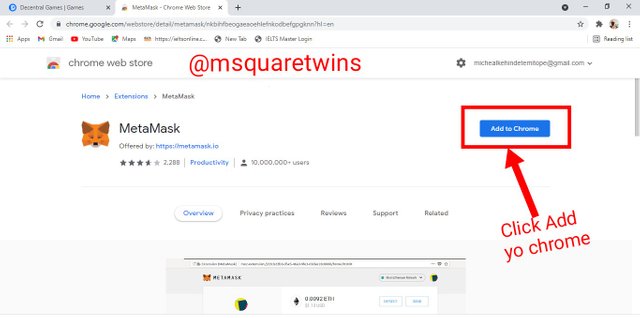 source
• Then, we will see welcome to metamask as uploaded below. I click get started as indicated below by a red box.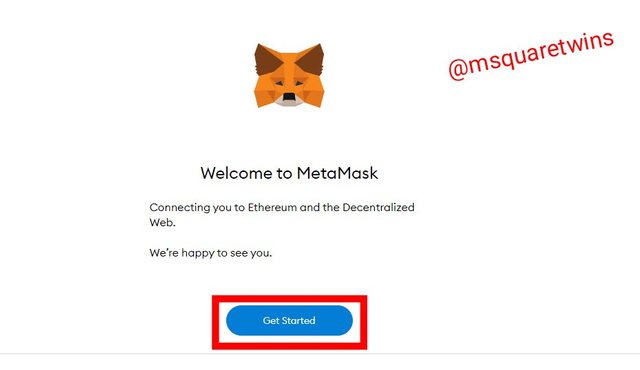 Screenshot from Chrome Extension Metamask
---
• I then clicked "import wallet" and write my recovery phrase seed and continued. For those that have not created metamask before, they will have to click option 2 which is "create anew wallet"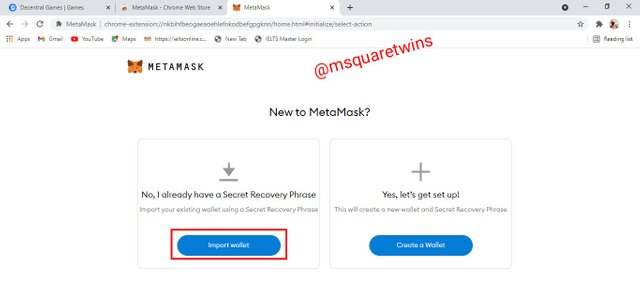 Screenshot from Chrome Extension Metamask
---
• Then I saw a congratulatory message as displayed below and clicked all done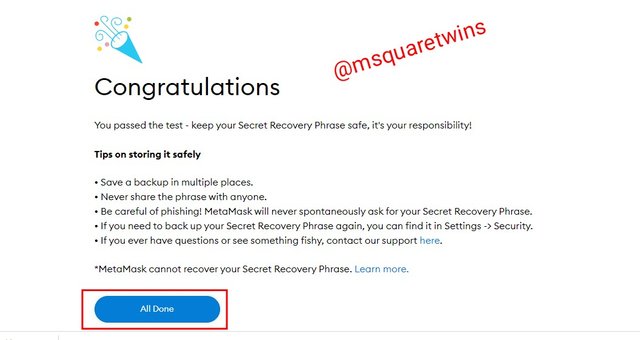 Screenshot from Chrome Extension Metamask
---
• Then I went back to the decentral games platform to connect wallet. I clicked continue with wallet as indicated by a blue box in the screenshot below.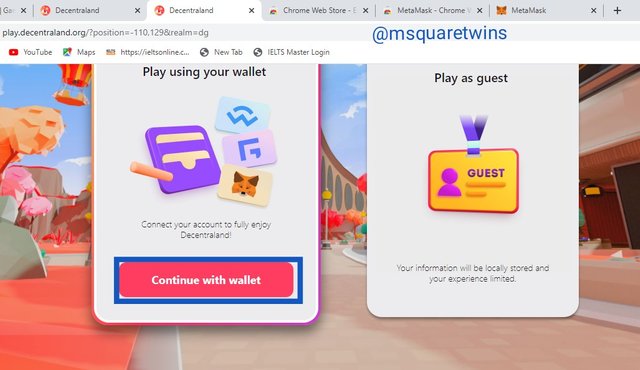 source
---
• Then another page appear as displayed below and I clicked metamask as indicated by a red box.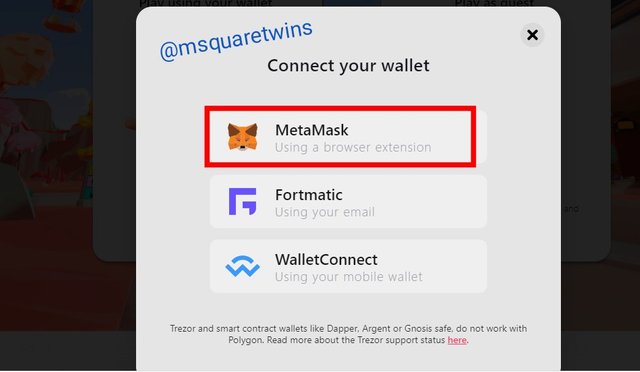 source
---
Then another page came up and from here I clicked next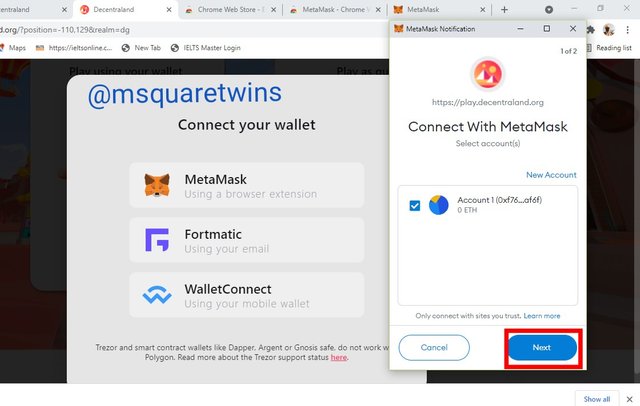 source
---
Then the connection required my signature and I signed the message as displayed below.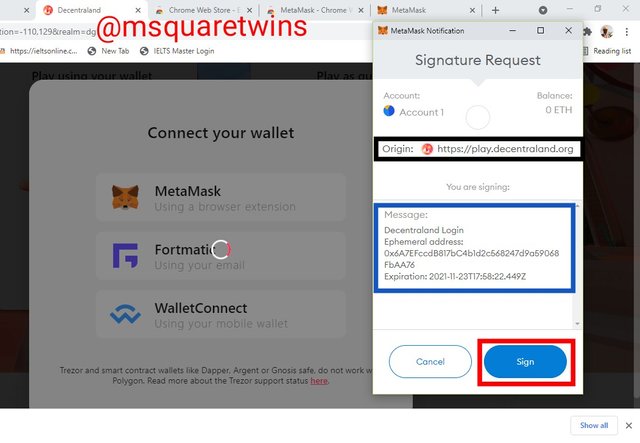 Screenshot from Chrome Extension Metamask
---
Then the crypto wallet, metamask successfully connected to the decentral games platform. The picture below shows that decentral games has been connected to the metamask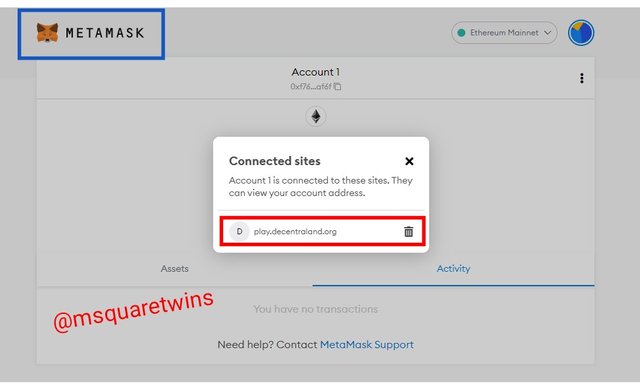 Successful connection of Metamask wallet with Decentral Games
---

5. Explore the Metaverse of your choice and show the various features, advantages, and other unique things of the Metaverse project. (Screenshot Required)

In this question I will be exploring decentral games platform. decetral.games platform.
There are 3 main features of on the platform, they are: ice poker, DAO and offering as indicated by a red box, blue box and yellow box in the screenshot below respectively.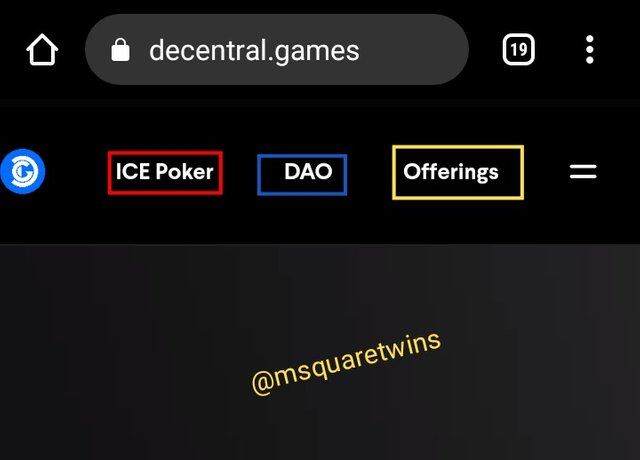 source
---
The ICE Poker has sub features as indicated in the red box below. The sub features are, home, get started, market place, Leaderboard, Claim ice reward, account and upgrade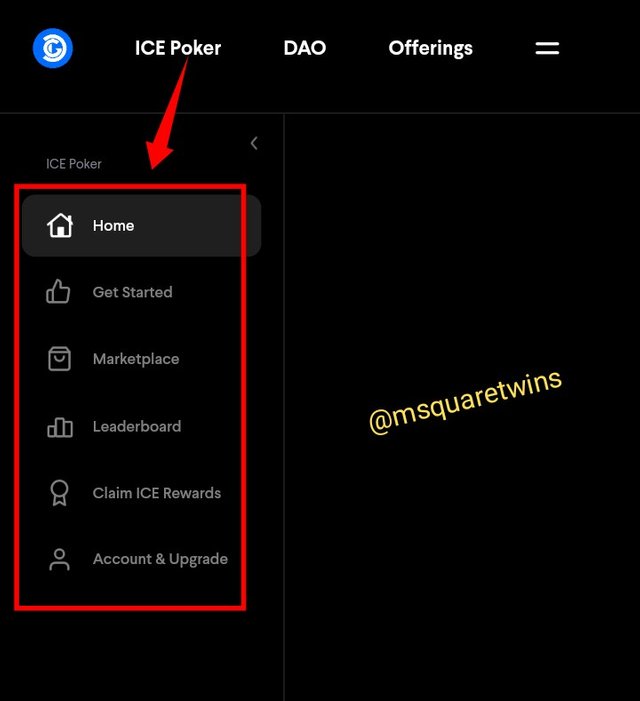 source
---
• The home page sub feature of ICE Poker is uploaded below.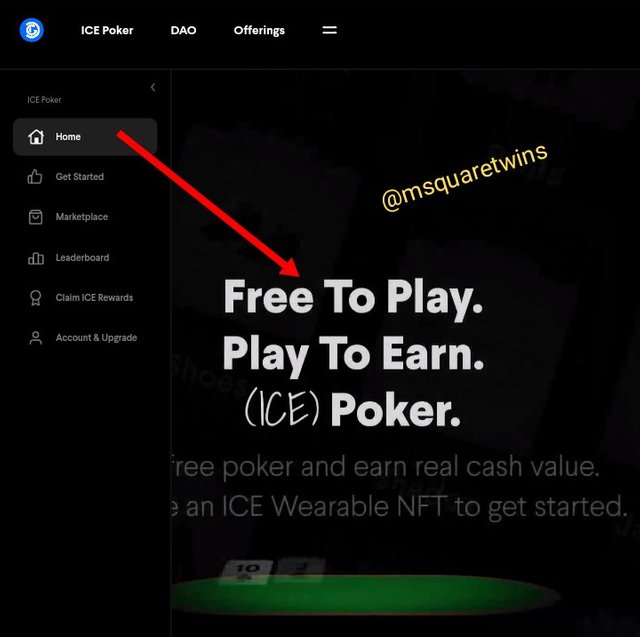 source
---
• In the get started of the ICE Poker is where one can add chrome extension on the platform. It is uploaded below.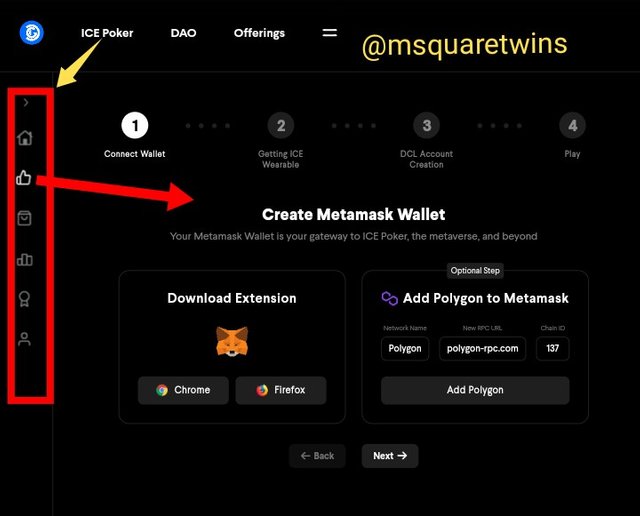 source
---
The next sub feature under ICE Poker is marketplace. In this place, user can buy slippers, smoking jacket etc. Next to this feature is Leaderboard where we can see the top players or leaders on the platform. The next feature is Claim ICE reward, this sub feature allow users to claim reward. The last sun feature is account and upgrade. This helps users to upgrade and do modification to their account.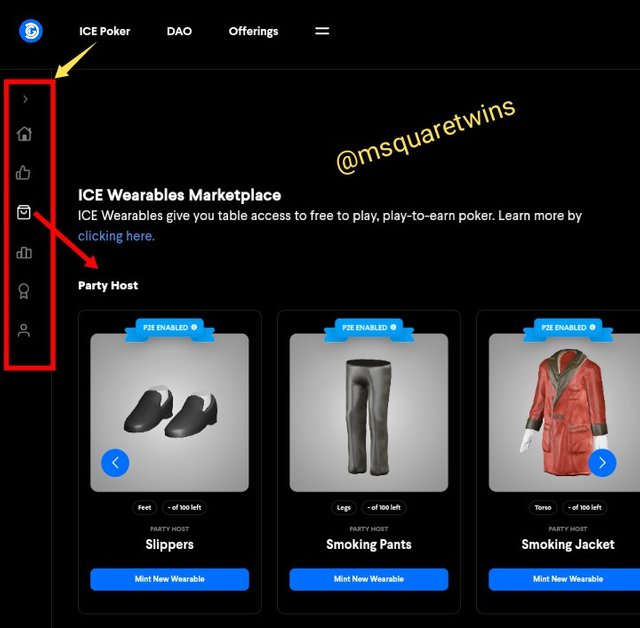 source
---
The second main feature is DAO and it has five sub features which are: Overview, Treasury, governance, Gameplay reward and Liquidity Provision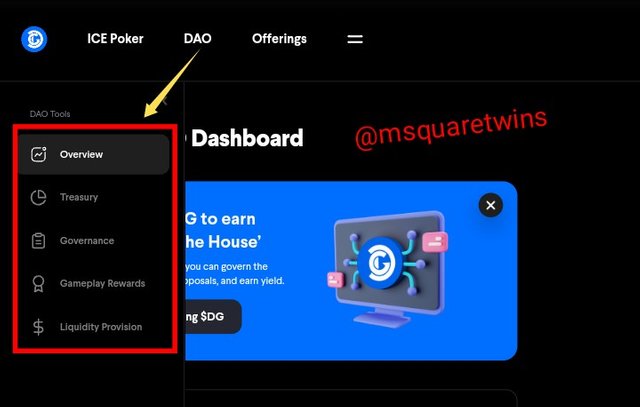 source
---
The overview is where one can see all what is happening at once in DAO features.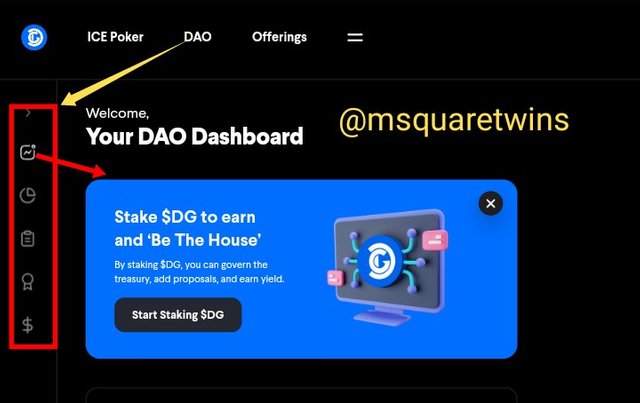 source
---
The next sub feature under DAO is treasury. In this place, one will have access to many data, like game profit, $DG wallet, liquidity provided in the market etc. The next sub feature is governance, this allow users to put opinion forward on the platform and to vote for future development on the platform. For gameplay reward sub feature, user claim their reward from the wins in this place. The last subfeature under DAO is liquidity provision,, and this is where users provide liqudity.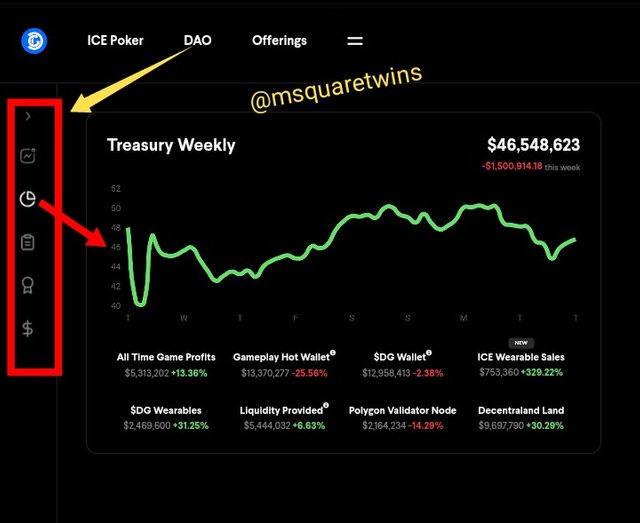 source
---
The last main feature on decentral games is offering and it has five sub features, namely: Games, Scenes, NFTs, Shop and Leaderboard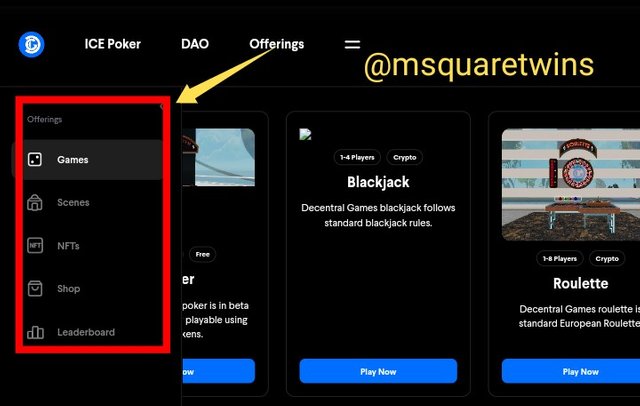 source
---
The first sub feature which is games is a place yo see all games available in decentral games. The games available are poker, blackjack, roulette and slot.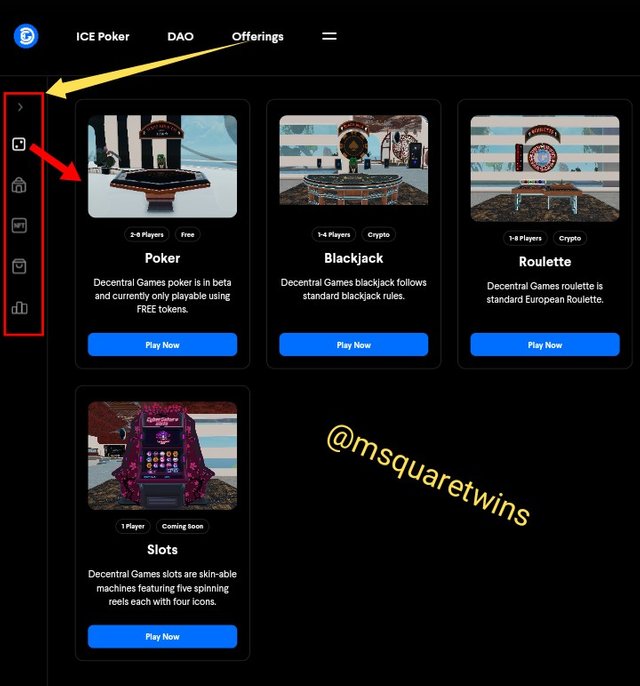 source
---
• The next sub feature under offerring after games is scenes. Here, players Choose scenes to play on.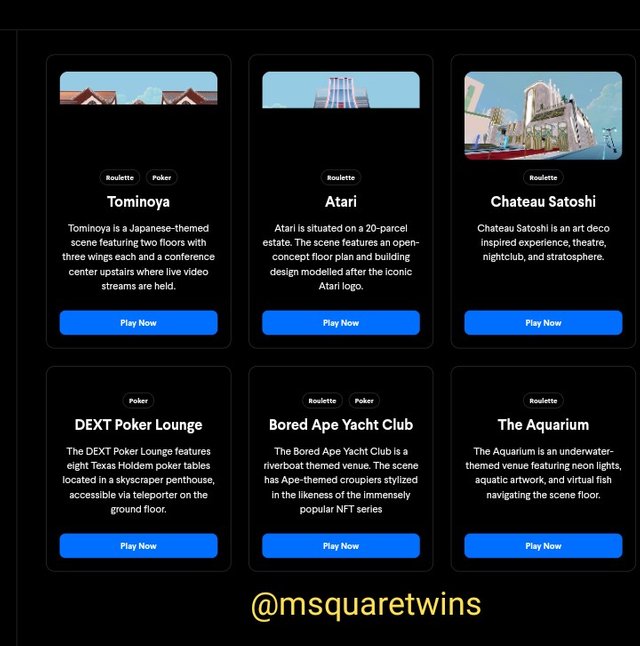 source
---
The next sub feature is NFTs. This features allow players to see all available NFTs.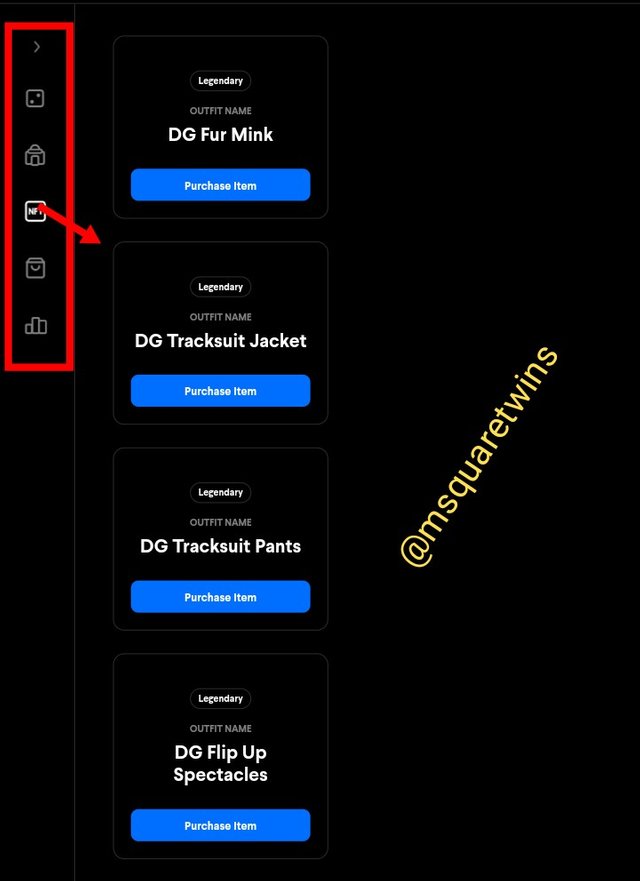 source
---
The next one is shop and players use feature to shop for NFTs.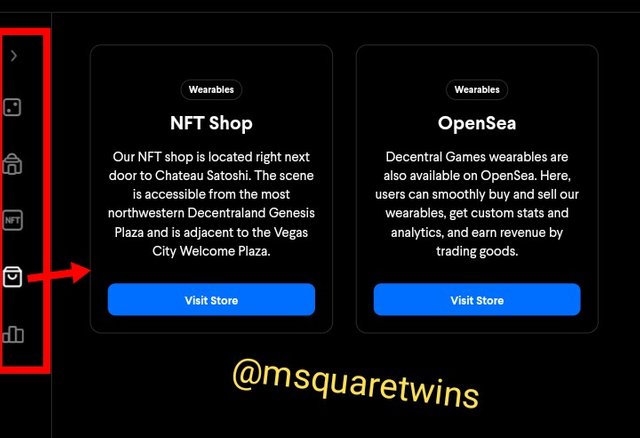 source
---
Apart from the main three features, there are also three unique features on the platform. The features are: Event, blog and news and Docs This is displayed below.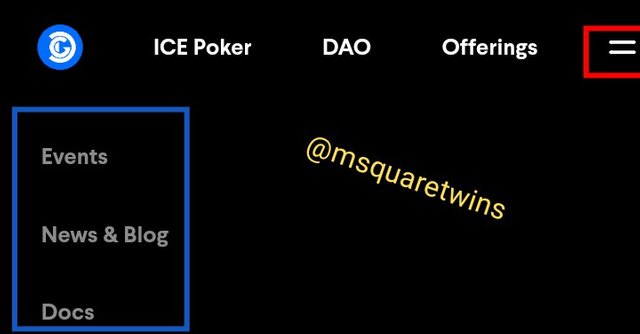 source
---
In the event section, the upcoming and the past event on the platform can be viewed.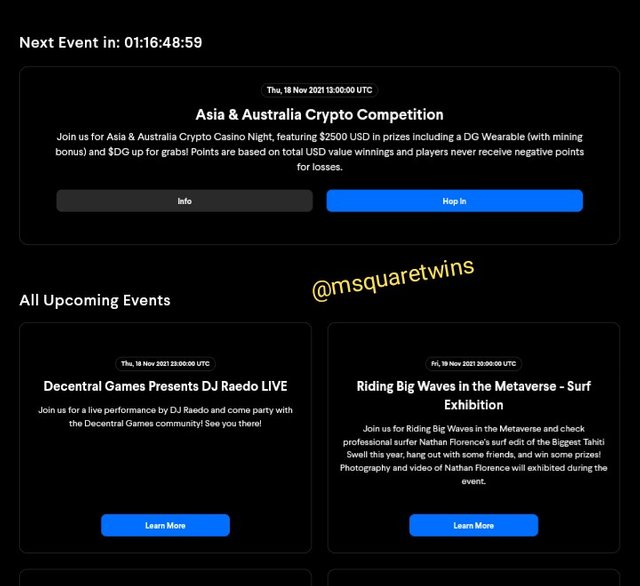 source
---
The blog and news section allow user to stay updated with the project amd any development on the platform.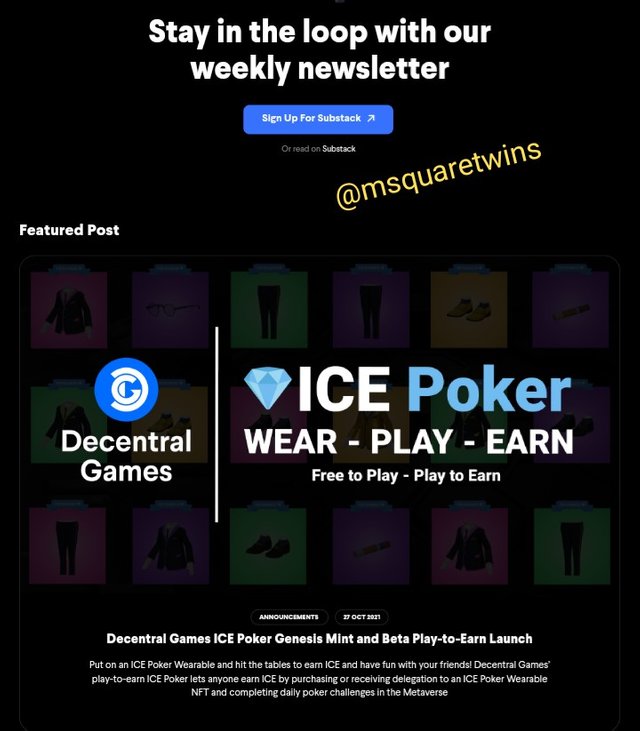 source
The Docs section is where users can read about the project and get to understand it.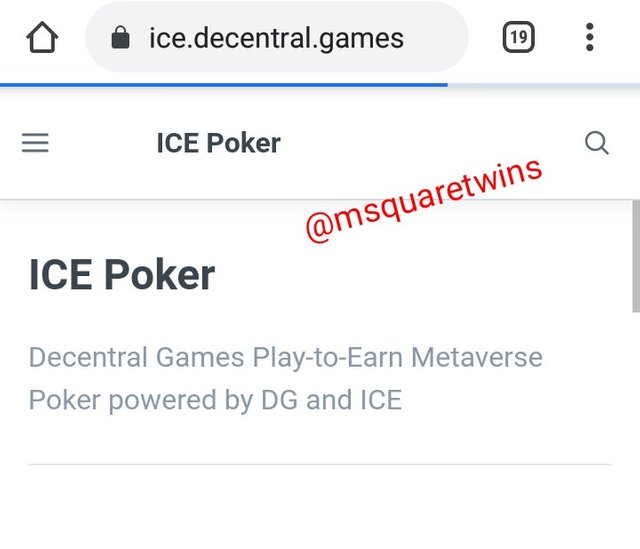 source
---
Advantages of Decentral Games
• There are many games on Decentral games platform and as such users can select any game they are cool with to play. Another benefit of the various game on the platform is that users can play varieties of games. If they are tired of a game, they can switch to another game, in that case, they won't be bored by one game.
• Users can earn reward not only by playing games but also through staking mechanism provided by the platform. This means, users who don't have time for games can also earn.
---

Conclusion

The world of Metaverse is a universe of virtual reality that is still undergoing development. Although many blockchain projects like game project have started using this tech but many projects are still in progress.
With the development of metaverse technology, adoption of blockchain technology will increase rapidly in the coming years. This is because many Tech companies and Tech gurus and experts like Mark Zuckerberg, Microsoft company etc from different part of the world are already considering metaverse and this is an indication that there will be great adoption of metaverse and consequently, there will be more adoption of blockchain technology because metaverse can not function without blockchain technology.
In conclusion, the world of Metaverse and blockchain technology have just started. Special thanks to Professor @wahyunahrul for this great piece of information he shared with us this week. I hope to participate in your next class Prof.
Thank you for reading
Written by : @msquaretwins
Cc : @wahyunahrul