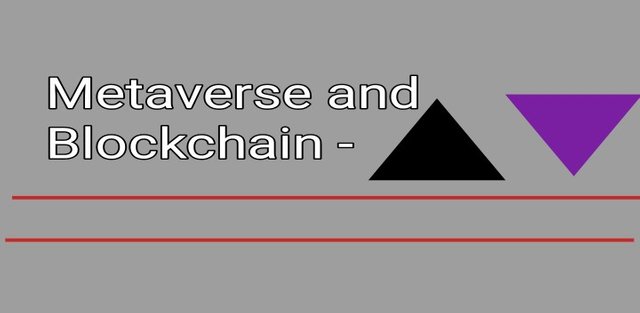 1). Do you think the Metaverse is "the next level of Future Technology"? Explain your personal opinion by showing some evidence.
OPINION ABOUT METAVERSE.
Before stating my opinion about metaverse, let me briefly hint on the concept of this now trending topic on social media and beyond. Ever since Facebook C.E.O announced the change of the companies brand name to meta, metaverse has generated much enthusiasm from people globally.
What really is This concept ? Put simply, the word metaverse was coined by Neal Stephenson in his 1992 science fiction novel called "Snow Crash" in which a lifelike avatars where able to connect and interact together as done in real life. Following that fictional story lots of developers has built on the concept with Facebook ( now known as meta) making it all the more pupular.
What Then Is Metaverse?
As envisioned in the the fictional science tale, metaverse is the idea of a digital world of it's own, mimicking real life interaction. It is a place where people connect and interact just like in the real world using 3D lifelike avatars. Using metaverse, people can hold conferences, play, acquire assets, do business, and explore variety of platforms, digging through environments similar to today's internet.
To create a real metaverse is yet a dream. Making metaverse a reality will involve a whole lot of stuffs which definitely may take some time if ever. For example, there will be need for online virtual world incorporating augmented reality, virtual reality (VR), 3D holographic avatars, video and several other means of communication. On the good side, we already have some of the features of this new virtual world already in existence which is a good sign that the project may be achievable and the technology might be the tech for tomorrow.
Let's just use some examples.
1• Decentralization. One of the features of the mataverse is it's use of Blockchain technology. Happily, this tech is already in use for cryptocurrencies and other relevant Blockchain related tech. The use of Blockchain is actually creating a shift in how things are done. The lack of decentralized nature and the massive adoption of the technology may equally be among the things behind the inspiration to move known brand like Facebook to metaverse. The fact remains that as decentralized systems gains more adoption, centralized systems suffers. We do not likely know if centralized systems will maintain the competition, we will only wait and see.
2• Holograms "Microsoft" a known tech and software company already makes use of this technology. Currently, Microsoft is developing what they call Microsoft Mesh platform. This platform combines the real world with argumentative reality and virtual reality. As a plan for 2022 year, Microsoft has already announced plan of bringing mixed-reality which will include holograms and virtual avatars to it's team. Another development of Microsoft is the xbox . Millions of video game lovers are connected via Xbox globally.
3• Games
Many games now feature a concept of the metaverse. One vivid example is the NFt games on Blockchain where users can raise and breed animals with absolute ownership to these. The world of NFTs verses has generated much enthusiasm since 2020 and early 2021. User's can build a digital character and monetize it. Football clubs, notable and public figures now adopt these NFTs. Other centralized games like Minecraft allows users build characters and personalities of choice and can use it to interact like in the real world
Summary
Metaverse is yet a dream, it's actualization is possible but could tech time. Parts of the metaverse features are already in use and it makes it's realization possible. Metaverse can change the way we interact in the future.

2). Explain why Metaverse and Blockchain are compatible technology pairs.
The compatibility of metaverse and Blockchain are the Decentralization feature. In fact going by the decentralized nature of metaverse, it is very likely to resemble a Blockchain project. There are many outstanding compactibilities between blockchain and metaverse.
Having a Digital proof of ownership: The decentralized nature of Blockchain allows members to prove ownership over digital goods and assets like fungible and non-fungible tokens. This feature is equally required in the proposed metaverse.
Digital collectibility: Collectibles are a prominent feature of the metaverse since users will need to do similar things done in the real world virtually. In Blockchain we have NFTs as virtual collectibles.

Transfer of value: In the proposed metaverse, there will be need for transfer of value from an individual to another, such features are already a feature of Blockchain.
Other compactibilities includes interoperability, accessibility- where it is easy for anyone to create an online presence and more .
Building a true metaverse like the one proposed by Zuckerberg will definitely rely on Blockchain technology. As I mentioned in the previous chapter above, for metaverse to be a reality, it will rally around already existing technology and Blockchain is such a technology.
Summary.
Metaverse propose to be a Decentralized virtual world connecting humanity to their virtual self and performing the every day interaction done by man.
The compatibility between metaverse and blockcahains is that most capabilities of Blockchain are needed in the metaverse. Metaverse will need Blockchain and other related technologies to make the dream a reality.

3). Choose a Blockchain-based Metaverse project and do a fundamental analysis of the project (Don't choose projects that have been discussed in the discussion above). (Screenshot Required)
ALIEN WORLD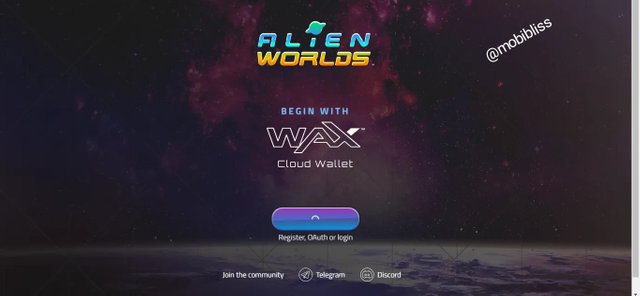 source
Alien Worlds is a DeFi based play and earn exploration game, allowing players to acquire and play with unique collectibles. All items are individual owned and can be sent off and sold outside the metaverse. The game tells a story of a world ravaged by pandemic, and as humans scamper for safety, they will need to discover some habitable planets or worlds. Exploration of these worlds are different from our planet and will need Trillium (TLM) to interact with it.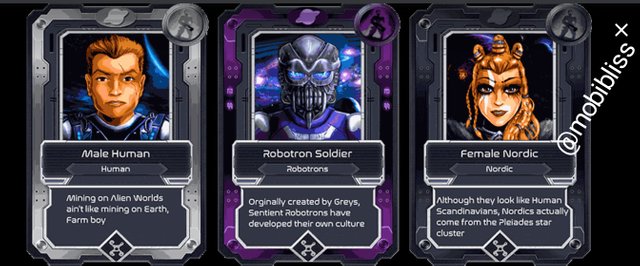 source
In alien world metaverse, players can engage the platform through activities like mining, voting for planetary governance, renting of lands and more.
Alien world metaverse was founded by a group known as Dacoco GmbH group. This team was instrumental in the launch of Eos blockchain, and equally played an important role in the launch of 2018 popular eosDAC airdrop.
The alien world operates on and are compatible with two Blockchains - Ethereum and Wax. While the token trillium (TLM) is built on Ethereum, wax blockcahain is the Blockchain for the NFT game. We can therefore say that the platform operates on two consensus algorithm since Etheruem uses the proof of work (poW) while wax uses delegated proof of stake. (Dpos)
Alien World Token Trillium (TLM)
The token TLM is the based token of Alien world metaverse. The token has a cross-chain feature, running on Etheruem chain, Binance smart chain and Wax. The token is Erc-20, bep-20 and equally Wax token. Trillium TLM acts as the main resource of this metaverse.
Trillium (TLM) token has lots of uses. All the the in-game purchases, like land, swords, tools and more are done using the TLM token. With the same token, users can participate in voting for governance and staking.
Ever since alien world metaverse launch in December 2020 till this summer of 2021, the game has had more than 2.5 million players. The multiple and fast growing adoption for this game I another thing to watch.
ON-CHAIN METRICS.
As at today, the price of TLM is $0.253204
It's Market Cap is $316,707,674
24 Hour Trading Vol $64,772,094
Fully Diluted Valuation $2,553,120,092
Circulating Supply 1,240,473,079
Total Supply of TLM token 5,135,726,585
TlM is ranked #256 in Coingecko.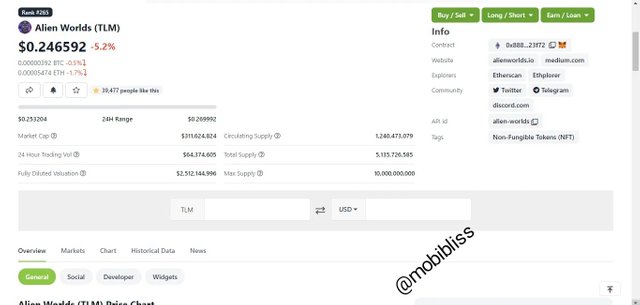 source
Using block explorer, we can ascertain the internal health of alien world metaverse ecosystem.
Last transaction was done few minutes ago and there are over 18,600 transactions as the time of this analysis, giving evidence that the platform is active.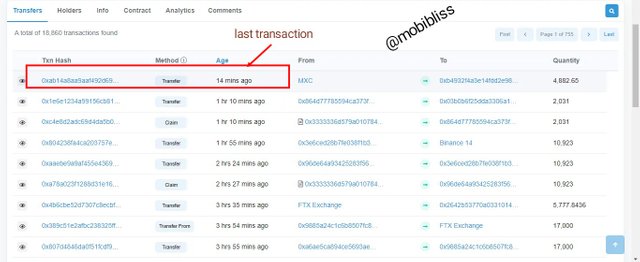 source
There are equally many holders of the TLM token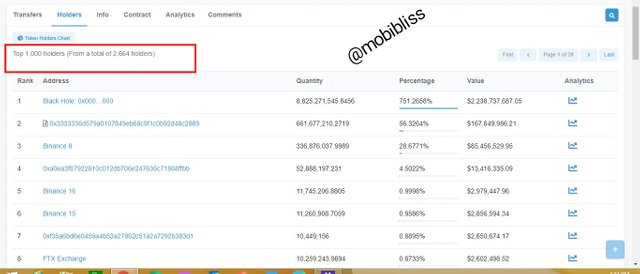 source
A little glance at the technical data shows that the token reached a peak as at July and ever since has been on a downward movement. We are seeing the accumulation phase of this token.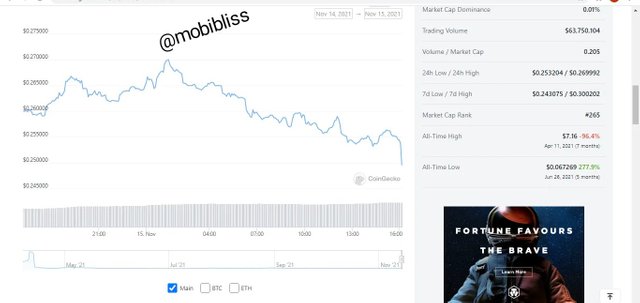 Summary.
Just like other metaverse Blockchain gaming platform, alien world and it's token TlM holds high potential. The token being a cross-chain token and the token for interaction and transaction for the game shows it's possible capability to be a good investment.
4). Explain the steps for connecting a crypto wallet with a Metaverse project that you chose in question number 3. (Screenshot Required)
To connect alien world to a wallet we need to connect to wax cloud wallet and then to metamask. All these are simple and easy exercise.
USING MOBILE TEMPLATE.
Step 1:
In the the alien world window, locate " teleport".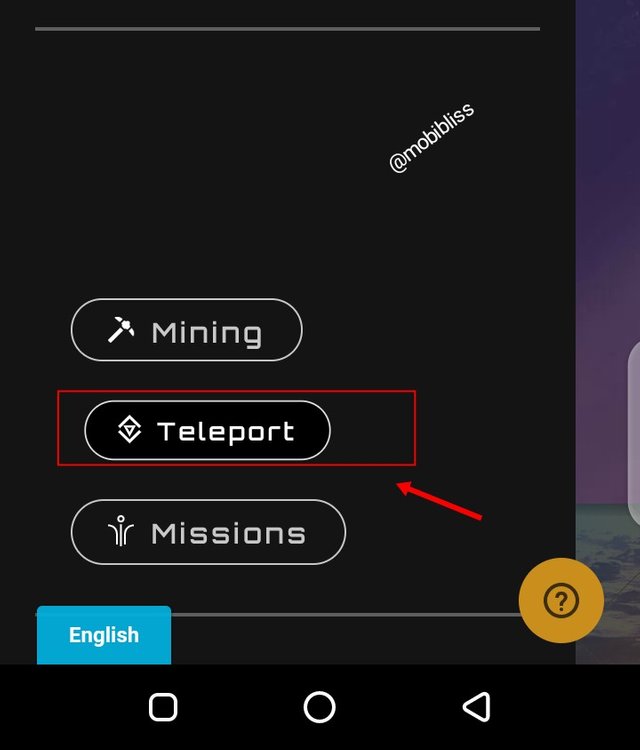 Next it will direct you were to connect your wallets.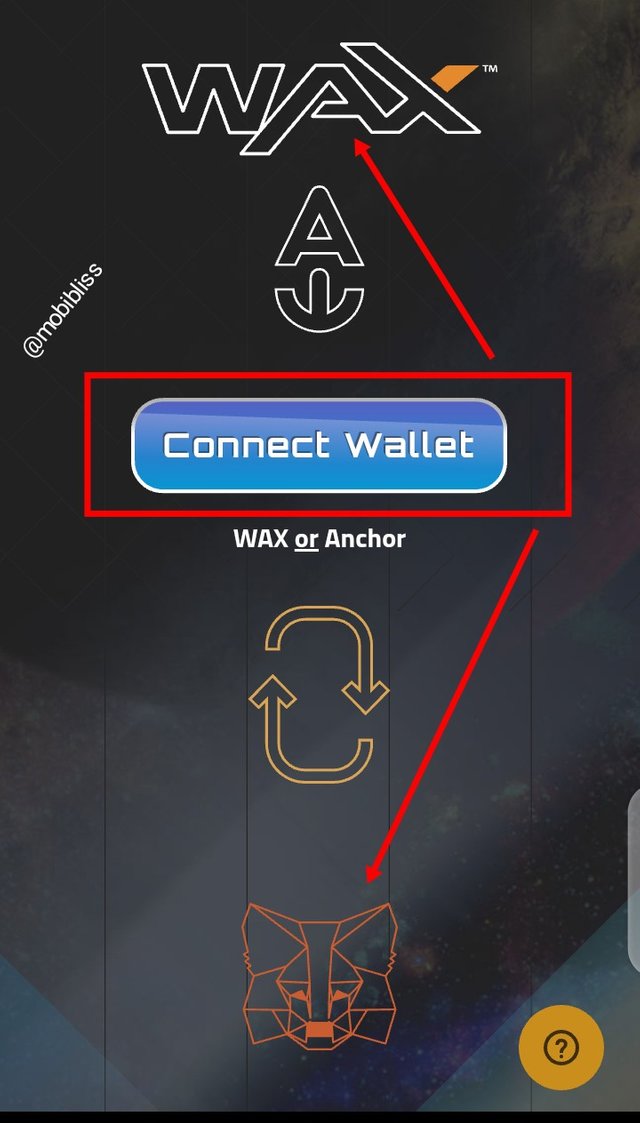 Step 2:
Connecting to Wax Cloud wallet
You will need to log into your wax cloud wallet first and keep it on before connecting to metamask.
To login to wax cloud simple need our email and password. See below image.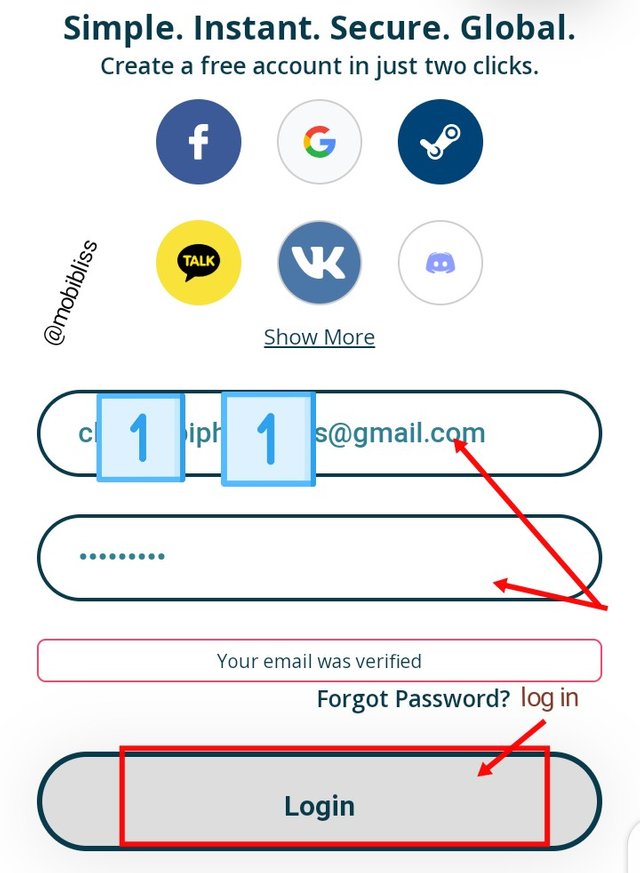 In case you do not have a wax account, simple sign up by inputting your email and creating your personal password. Afterwards you may need to verify your email for your account to be active. Once done, we are ready to sign in.
Next, accept terms and condition and that will be all.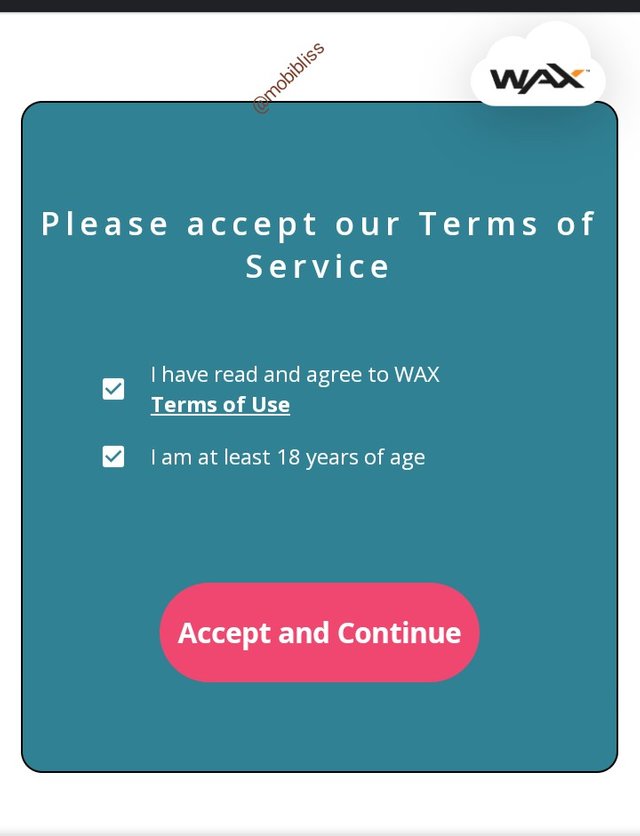 Connecting metamask.
Once signed in to our wax cloud, we can follow simple step to connect metamask. On the connect wallet screen from teleport, below gives you the option to connect metamask.
Before doing this exercise, it is assumed that we have created our metamask wallet first.
Step
Just click on connect wallet, list of wallet in your device should appear, then choose metamask.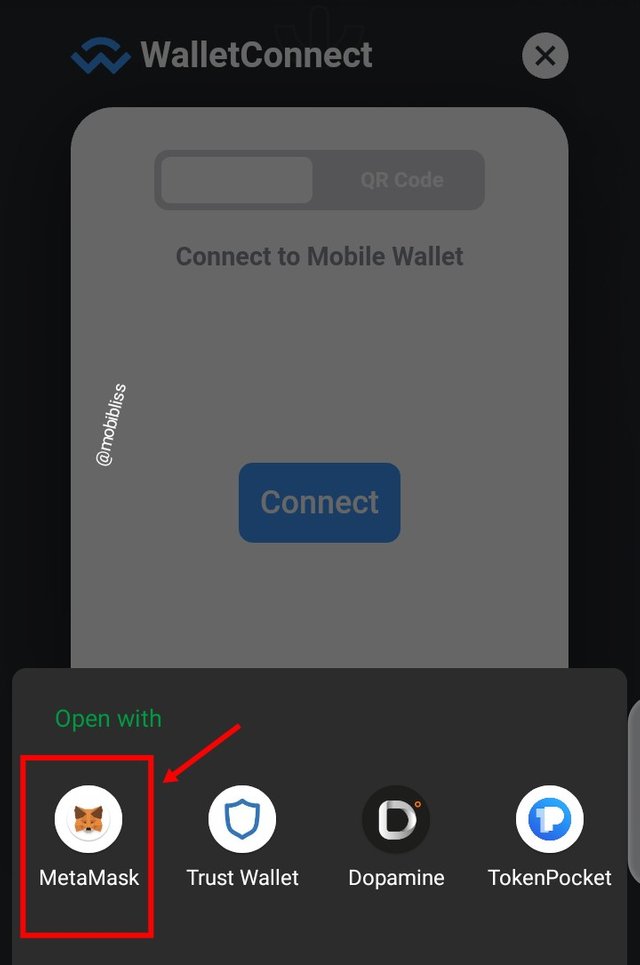 If it was done successfully, we should see the wallet this way.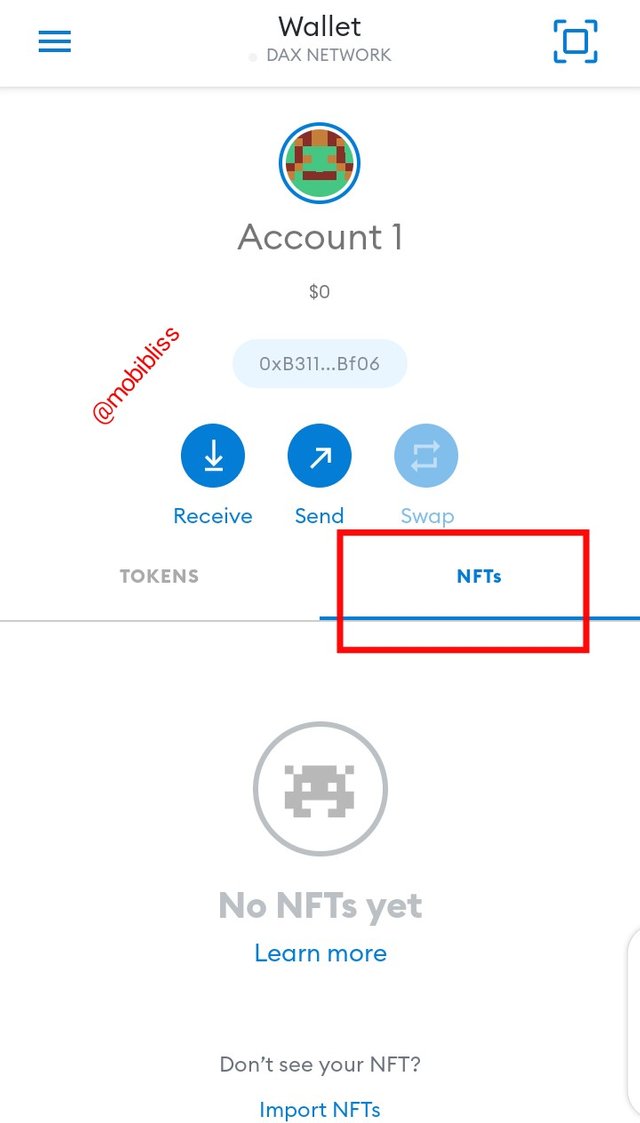 USING DESKTOP TEMPLATE.
We will follow same procedure as the mobile template, but the image may appear differently.
Step 1.
Download metamask desktop extension and create an account.
Sign up to wax cloud wallet in the steps pointed above.
From the teleport window, sign in to wax and metamask.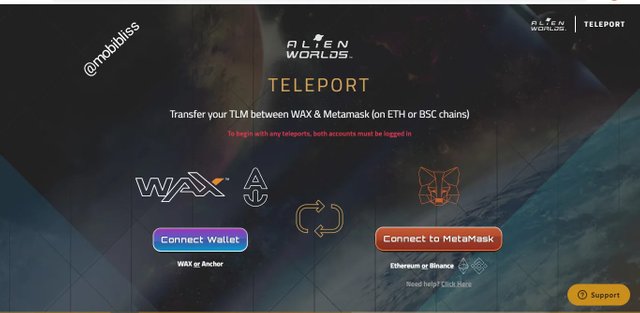 Connecting wax cloud wallet.
1• click on connect to sign in. Input your email and password as shown in the mobile sign- in procedure, then log in.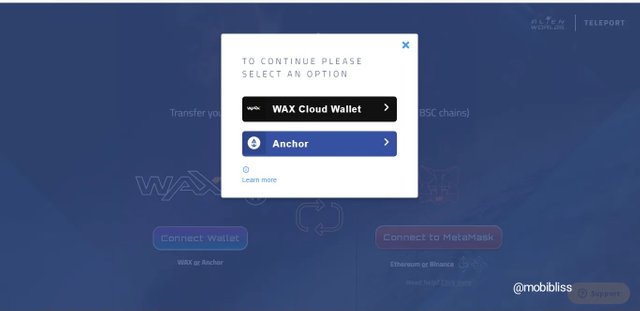 The next screen will be for you to approve the transaction.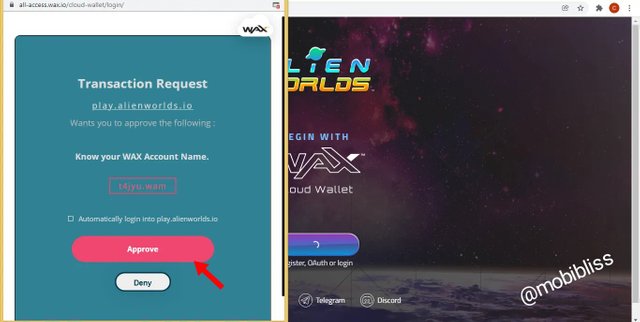 A confirmation code will be sent to your email, input the code and that will be all.
Connecting Metamask follows same procedure as the wax. Simply click on connect metamask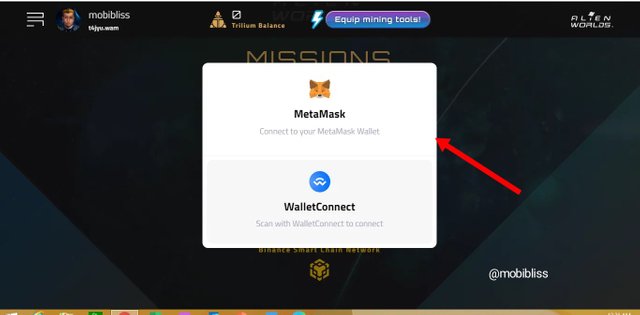 Next, log into your metamask wallet using your personal email and password.

5). Explore the Metaverse of your choice and show the various features, advantages, and other unique things of the Metaverse project. (Screenshot Required)
Having connected to our wallet, to play the alien world metaverse, we need to create our personal avatar. Once the avatar is created, we will then have access to the rest of the platform.
To create your avatar requires choosing a desired username and then input your email. Click to show that you are up to 18 years and then agree to the terms and conditions.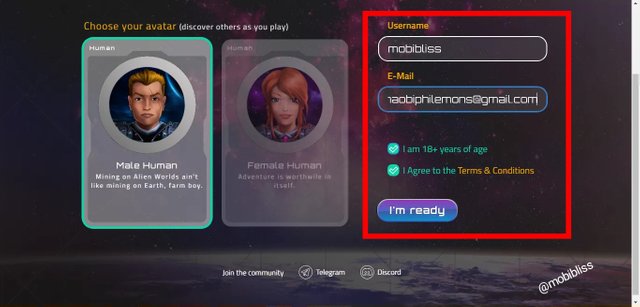 With the avatar created, you now have a presence in platform. Now let's look at some features.
The image below shows the basic features.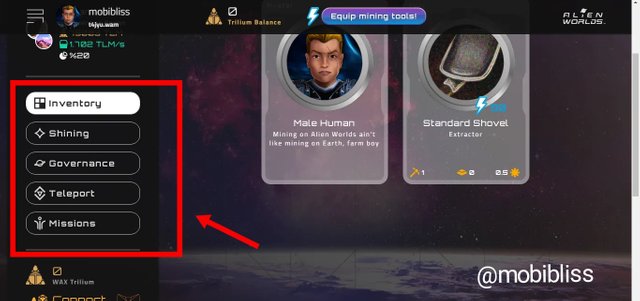 INVENTORY.
The first feature we can see is the inventory feature. This feature allows you to choose who explores your verse for you. As seen above, you can contract a male explorer.
SHINING
This feature allows one to acquire a tool to mine in the metaverse. Available tool seen on the platform is a shovel.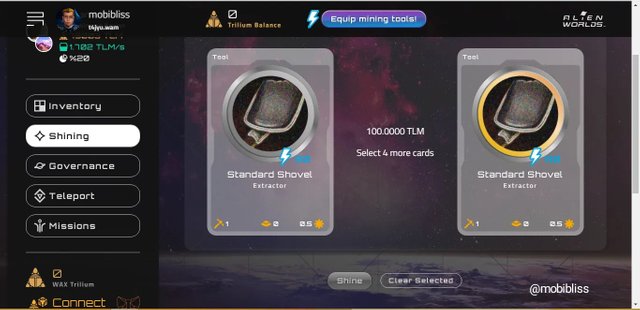 GOVERNANCE
Next is the governance feature which allows participants to partake in the governance by staking on the TLM token.
TELEPORT.
This is a feature to connect wallets.
MISSIONS
The last feature here is the missions feature. To go to the missions one need to log in and interact with Binance smart chain. Happily this was done when we signed in to metamask.
Now let's look at the available missions.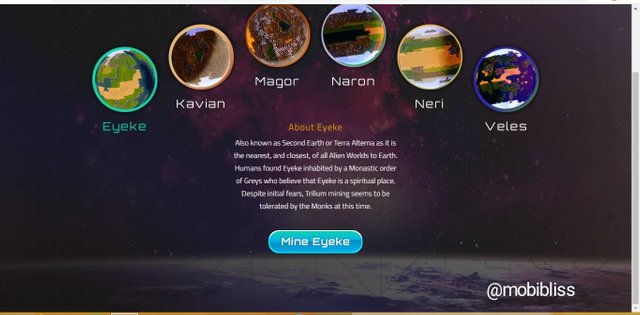 The above images shows different alien world which can be mined, to mine on this worlds one need to acquire a land. Paying for land can be done using TLM token. Exploring on these worlds requires tools such as the one mentioned above.

CONCLUSION.
In this review, we have taken a look at the possibility of the metaverse to become a reality. While the process is yet a dream, there are possibilities of it's success due to current technologies already in place. These technology includes the Blockchain technology, holograms and Virtual realities. (VR).
Blockchain shares great compatibility with the proposed metaverse. Ranging from user ownership, collectibles, ease of access to data and more.
Although Facebook has adopted the name metaverse, there are lots of big tech firms with same vision including popular Microsoft. Other smaller tech firms has equally succeeded in building their kind of metaverse.
The interest in the metaverse is overwhelming, we are waiting to see the turn out of events.

please note: images without source are drawn from "alien world" game site. See source