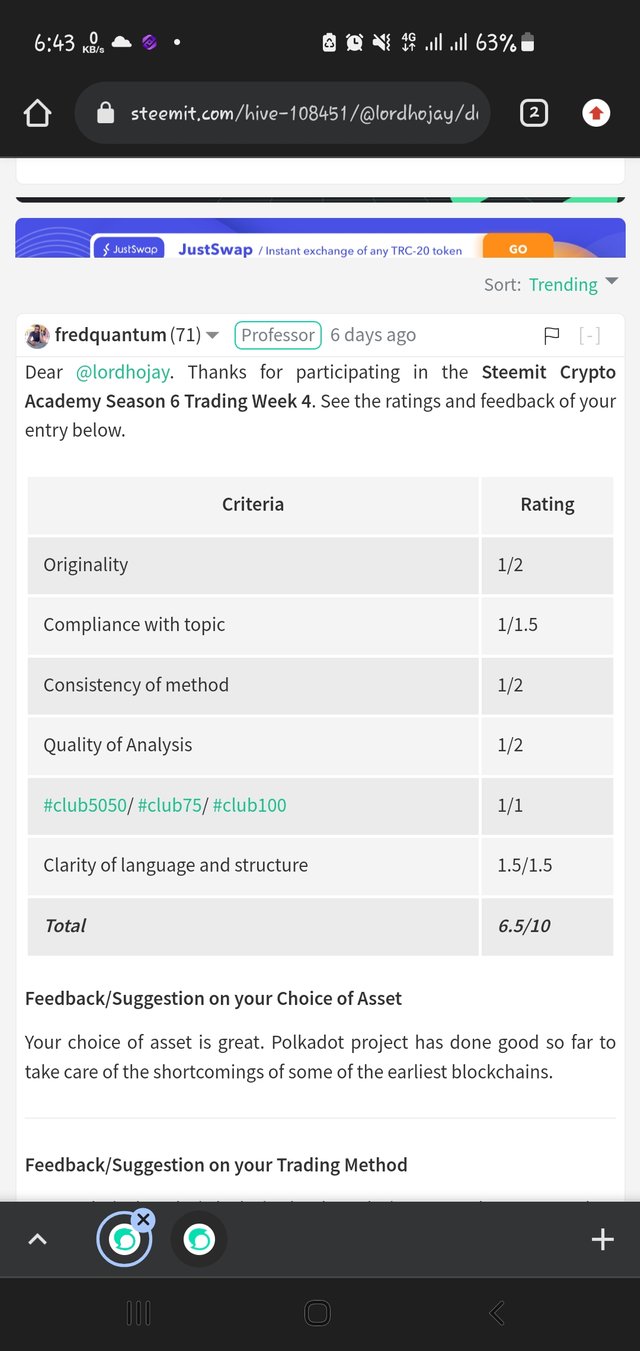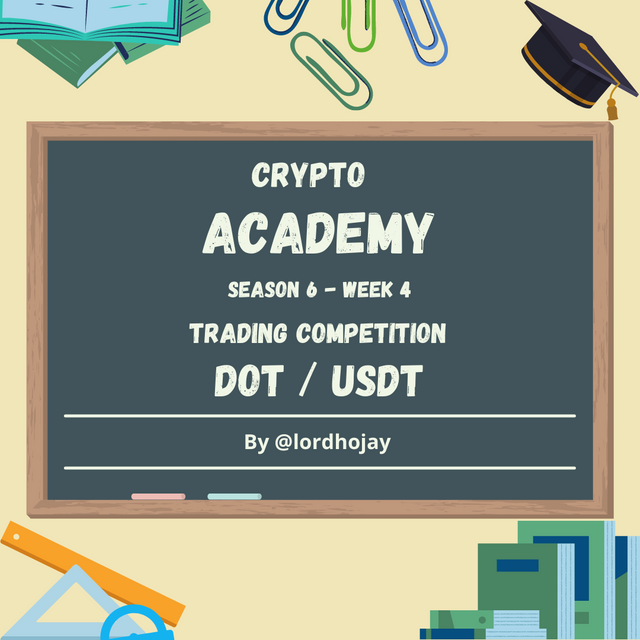 History of Polkadot

The Polkadot network's primary digital currency is the DOT token. The Polkadot network is a blockchain that allows various platforms to communicate with each other. It was founded in 2016 by Gavin Wood, a co-founder of the Ethereum network.
Polkadot is a sharded blockchain, which means it connects a few different chains into a single entity, allowing them to handle trades equally and share information without sacrificing security. Polkadot was created with the intention of establishing a decentralized web of blockchains known as Web3.
The DOT token cannot be mined since the Network requires a Proof of Stake consensus to attain block validity. The network's distinguishing feature is that it is quick, scalable, and adaptable to other networks.

DOT Fundamental Analysis

DOT token is currently ranked 11th on coinmarketcap, with a price of $22.23 and a market capitalization of $21,958,161,667 DOT has a circulating supply of 987,579,314.96 DOT, a 24 trading volume of $1,240,101,426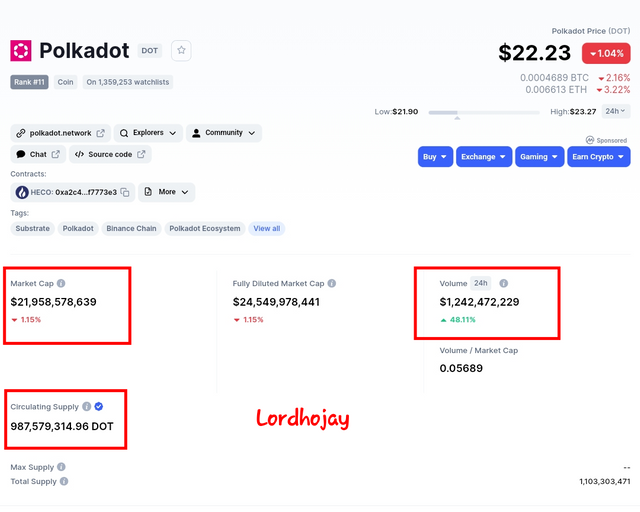 Screenshot From Coinmarketcap
The DOT token reached an all-time high (ATH) of $55.00 last year on Nov 04, 2021 and an all-time low of $2.69 on Aug 20, 2020 (2 years ago)

Screenshot From Coinmarketcap

Exchanges DOT can be traded

Polkadot may be traded on a number of exchanges, which are mentioned below in order of the most popular exchanges where the coin has been traded.
• Binance • KuCoin • Coinbase • Huobi Global • Kraken • Poloniex etc.

Why am I optimistic about this token today, and how long do I think it can rise?

My confidence for the Polkadot token stems from the fact that it is backed by a legitimate enterprise, which has led me to feel that Polkadot is a good investment with a future growth in value to be expected.
We can see that the token's trading volume is $2,150,438,825 which is fairly significant when compared to any crypto asset. The currency is also rated 11th, which is excellent enough for any coin at its level, therefore I feel this gives me the advantage of the Polkadot token's optimism today.
I also feel that the Polkadot coin is here to stay, and that the coin's future increase is assured, since some analysts anticipate that the DOT will reach $50 in two years.

Technical analysis

The DOT/USDT trading pair has a 3 minute timeframe. I'll use the Donchian Channels in conjunction with the RSI indicator to execute my trade.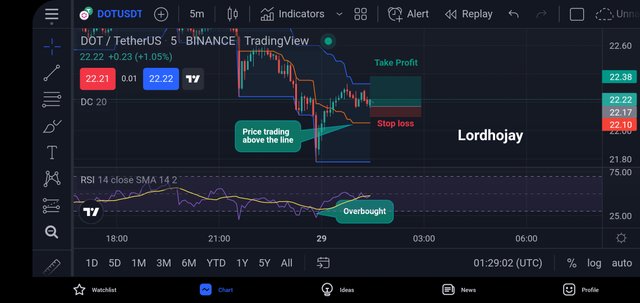 Screenshot From TradingView
Donchian channels are made up of three lines that assist traders figure out how volatile an asset is at any one moment. Not only that, but it can also identify a trend reversal or a trend break. When the middle band crosses the price and the price begins to trade above the band, a bullish trend is signaled. A negative trend is established when the price chart trades below the middle band.
On this time period, the asset is now in a downturn, as seen on the chart. However, the price of this asset retraced and breached the middle band at one point, as shown in the chart below.
When the price broke through the middle band and began trading above it, the RSI signaled an overbought condition.
At the end of this candle, an entry was made, giving us an entry.
Take profit: $22.38
Stop loss: $22.10
---
Market Buy Price: $22.21
Filled Amount: 0.58
Asset used for purchase: 12.88180000 DOT
Fee: 0.00058000 USDT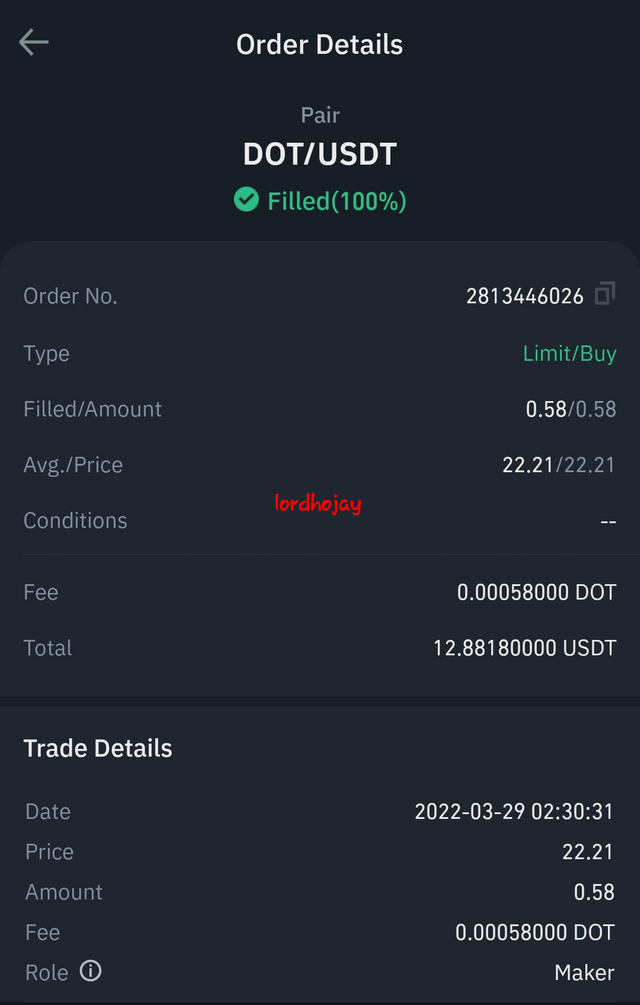 Screenshot From Binance
A sell position was executed after the price hit the Take profit but I was unable to sell all my assest.
Market Sell Price: $22.38
Filled Amount: 0.57
Total Asset: 12.75660000 USDT
Fee: 0.01275660 USDT
Loss: 0.1252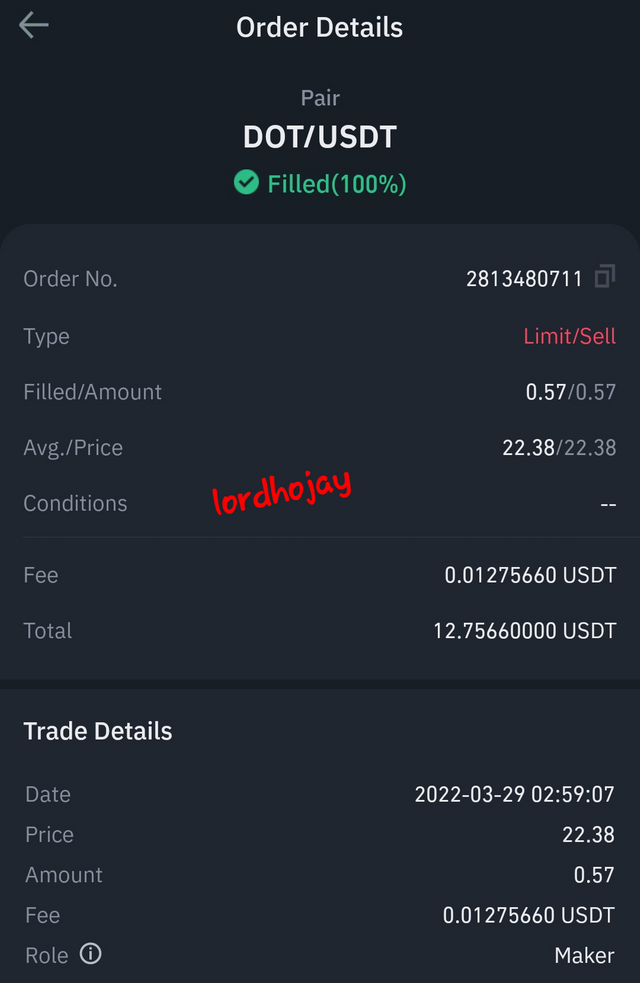 My Plan to hold it for a long time or When to Sell?

No, I won'tbe holding. Based on my research, the market is unstable, thus I'll be selling at my take profit.

Recommendation for everyone to buy this token

The Polkadot cryptocurrency is a genuine investing platform that can communicate with various networks. Yes, I would advise everyone to purchase the token, particularly now that the price has decreased slightly. We should note that the Polkadot currency already achieved an all-time high of $55 in November of last year, hinting that it might do so again soon, but anything can happen in crypto.

Conclusion

Here is the end of my inquiry into the Polkadot network and its token; I was also able to gain a basic analysis of the DOT Token, indicating that Polkadot is a real investment into which one may put their money in the future due to the existence of certain significant partners.
Thank you professor @fredquantum and @kouba01 for the opportunity.