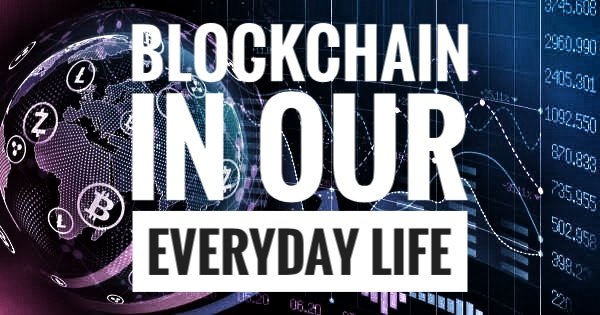 It's good to be back in our faces once again to participate in this week's contest. I love the way we are gradually progressing with this contest challenge. The topics so far have been interesting and engaging since the very first week. This week topic is what we can relate with. Thanks to the team for putting up this contest. Without taking much of our time,let's get into the business of the day.
Blockchain is changing everyday life for everyone, what is your opinion on the matter?
No doubt blockchain is really changing everyday life for everyone. Blockchain is still been adopted and not fully adopted but we can all see that it has been changing our everyday life for the better. A good case study is in the area if finance. It has really changed that sector in no small way and many of us today are beneficiary.
Who would have thought that he can single handedly take care of millions of dollars if not for the advent of blockchain which championed the use of cryptocurrency. Now with crypto you can be the your own banker and also have a very reliable source of record for yourself which shows you every transaction carried out using your bank which in this case is referred to as your wallet.
The innovation that blockchain technology has brought is generic and this makes it easy for it to work in any sector it is introduced. It doesn't matter what sector you want to integrate it into,it will still give you a very reliable output. We have seen a very huge success in the area of finance, we are also seeing a remarkable progress in the health and phamaceutcal sector, it's also playing out well in the insurance and commercial industry and many more.
Human being wants anything that will bring them comfort and efficiency. Permit me to say, blockchain technology is that very comfort and easy that human being had always longed for. The more we discover it hidden potential which has been revealed to a degree,the wider the level of acceptance and adoption even in other areas.
What are the main advantages and disadvantages, in adopting the use of blockchain in everyday life?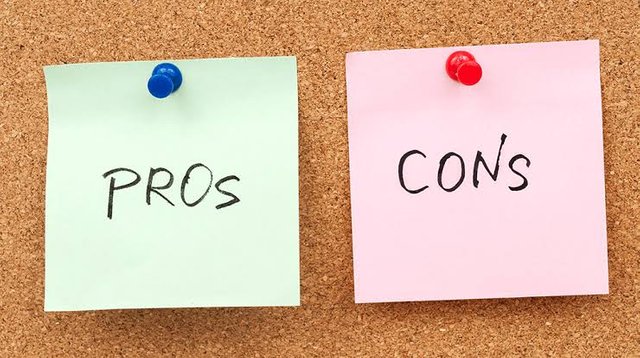 source
In this section,I will be discussing the advantages and disadvantages of blockchain in our everyday life,but it is important to mention that it advantages far outweighs the disadvantages and that is why it's being adopted.

Adavantages

This is the overall goal of the blockchain technology. It has really introduce ease and convenience into things that were done with alot of effort and man power before it advent. A very good example is in the area of finance. Financial Transactions use to be a bit difficult before the blockchain system brought it a better solution i.e smart contract, p2p etc.
Elimination of middle men
Since the blockchain system hope to make life a lot easier,it ensured that the need for middlemen or third party is eliminated. Middlemen like bank are being sidelined when it comes to transaction between two individual or party. Smart contract has really helped in this area,P2P has also been doing a lot of good in this area. In the music industry, we have very wonderful blockchain platform called audius which help music artist get in touch with their audience and also promote their content without promoters,especially the greedy ones who don't mind eating into your profit in the name of promoting your work.
Blockchain is notable for it ability to keep record such that the smallest information you could ever think of can be traced and gotten if it was captured on the blockchain in the first place.It doesn't matter what sector you're in,in fact every establishment need some sort of record for growth and development and also for reference. So with this you can gain access to any information and you can be sure that information can never get missing.
Everything on the blockchain can be accessed by everyone, the information is not restricted to a particular set of people. It is also pertinent to note that it is not run or controlled by some authority. So just as the word implies,you don't need permission to gain access to any information on the blockchain.
This talks about the unchanging nature of the blockchain. Any information that finds it way into the blockchain become a permanent information that can never be edited,no one on the blockchain can alter it. Come to think of it,what would the government/ public sector look like if records were being stored using the blockchain technology and not paper work which can easily be altered...your guess is as good as mine many secret would have been exposed by default and it will also keep many in check even without being supervised because the blockchain itself will singlehandedly carry out the supervision via this means.

Disadvantages

Everything good comes with a price. It is very clear that the blockchain system has a lot of good to offer but it is also important to mention that it takes alot to get it up and running.The power consumption and resources needed must be put into consideration.
This is one issue that seems to be a major problem on the blockchain. Scalability talk about a blockchain's ability to carry out it activity with speed inspite of the increasing number of data it has to process. This has not been achieved by most blockchain.
Hacker are always on the look out to hack into any blockchain system for their own selfish interest and once an hacker can achieve a 51% control of the blockchain,he can successfully manipulate the blockchain to his advantage.
Once you loss your access which is your key in this case,then you have lost the information even though it still exist on the blockchain. The key is your access to your very important data on the blockchain.
Mistakes cannot be corrected
It's also important to mention that any information wrongly sent in cannot be alter anymore be it mistake or error. It can't be edited. This is the reason why you have to be careful with blockchain.
Since this system seems to be new,many people don't understand how it works and because of this they find it difficult to flow with this tide. It will require a lot to educate or sensitize many on how this system work. Sometime you might even need to give people some kind of incentive to encourage them to learn about blockchain just like the way platforms like Binance and coinbase are doing because they know it for our greater good. Ignorance is one of the reason why we are still behind in this things.
Discuss the future of blockchain, and how this technology is impacting the world.
The future of blockchain is really bright. We have seen how good this blockchain technology is and how much it has impacted the world so far. I will like to say that this is just a tip of the iceberg because we have not fully utilized it inherent potential
We are seeing adoption in different sections today because somehow it has been discovered that it has a lot to offer. I hope to see a massive adoption of the blockchain technology in the area of Governance, especially in the voting system. With Blockchain technology,accurate and precise vote count can be achieved. Although this has not being fully embraced by many nation but it will do us alot of good especially in countries or nation where there is high level of manipulation. I wouldn't mind if this is introduced in Nigeria in the forthcoming election where citizen will exercise their voting right even with their identity protected yet record will be free from all form of manipulation.
The use of blockchain technology has also helped in *Hospitality and Travel sector. With this system one could do all manner of booking and reservations around the world with just few clicks. This is already being implement by a very sophisticated organization called TUI, their aim is to connect people directly with the management of the hotel or relaxation places they hope to visit across the world. This is still being worked upon even as at this time.
The blockchain system can also affect commerce positively in that distribution of good and service can be monitored and tracked right from the warehouse to the final consumer. The truth is that there is really no sectors where the blockchain system can not be integrated into. You will get the same result it has been given to other sectors where it has worked.
Integrating blockchain into the banking system will be a major breakthrough but this might seem difficult. Athough this is already being practised by some prominent banks around the world and the resultant effect is that it ensure smooth transaction,permanent and updated record and transparency in the banking industry.
There are so many sectors that are being reorganized and rebranded by
The blockchain system,it is still being gradually embraced but am very sure that in years to come,blockchain technology will be the order of the day in every notable sector of the world and the reason is not farfetched,the benefits are obvious for all to see.
What is your opinion about the implementation of blockchains in the health sector? Has the implementation been positive or negative? Explain a use case.
This will be a welcome development in health sectors. Although this is already being implemented in some circles and the result has been good so far. Like I said earlier,every sector has a place for blockchain technology to come in.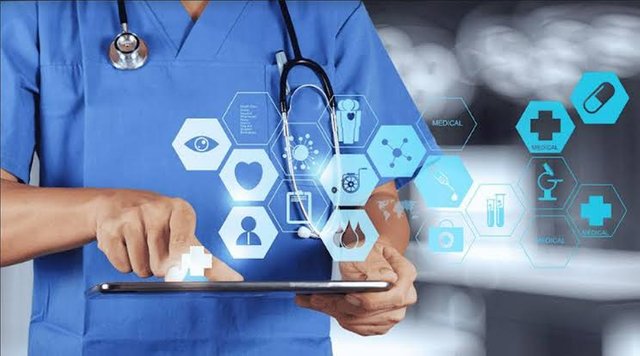 source
The implementation of blockchain technology in the health sector has really being beneficial.With the implementation of this technology, the health record of patience can be kept permanently on the blockchain. It simply mean you can trace the record of a patient right from inception and then a medical practitioner can carry out his or her duty dutifully on the strength of the information gotten about the patience.
You can also secure a users record on the blockchain such that it can't be altered or manipulated for any selfish reasons. We have seen it in the past how that documented record were altered by some unprofessional and dubious health workers. With the use of blockchain,this will be impossible because record are not easily manipulated.
Another beautiful thing is that it solves the problem of transiting medical history or records of patient from one location to the other physically since the information are stored electronically. This will prevent records from what we call loss in transit which is bound to happen if it is to be moved manually or physically from one location to the other in the case of transfer of a patient

Conclusion

Form my write-up,it is clear that we have the solution to many of our seeming struggles and problem in different sectors. In my opinion,the earlier we embrace the blockchain technology,the better for us. Let's us flow with the tide and enjoy efficiency and convenience. Thanks for your time. I will love to invite
@ruthjoe @jueco, @temitopef, @beckie96830, @steemdoctor1, @badmus-official, @olabillions, @tamighty, @ebunoluwani, @lhorgic and @mesola @beautybb @patjewell to participate in this contest.
Regards:
@lhorgic♥️