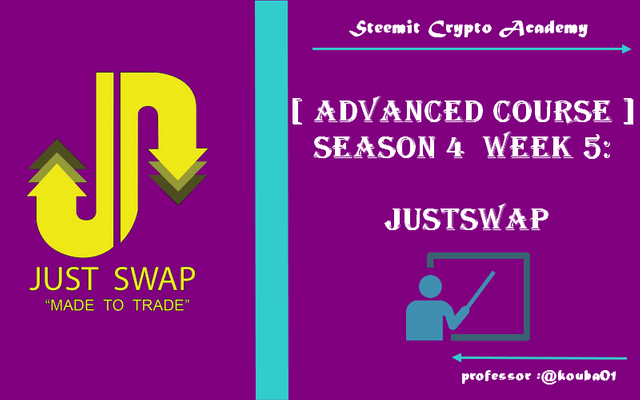 Its very attractive returns, up to several hundred% per year, and the maturity of several projects have attracted many investors. The value of its assets under management has grown exponentially, from $ 1 billion to $ 100 billion in less than four years. So, decentralized finance is the new buzzword in the blockchain or the revolution that the world of finance needs. In the article below, we will analyze in detail the JustSwap platform. So, what is JustSwap? What is the growth potential of JustSwap? Is using JustSwap beneficial for users?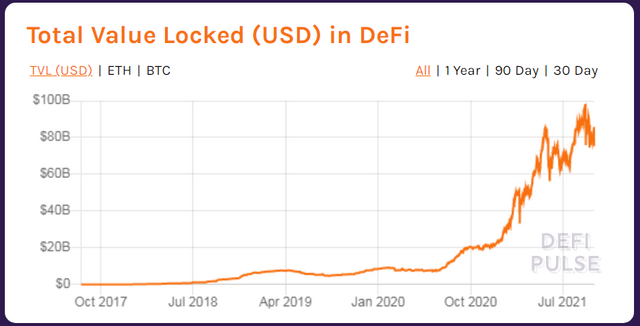 Fig 1 : Defi Pulse

The Just Swap platform is a decentralized exchange (DEX) based on the blockchain (TRX) which is created to exchange TRC20 tokens. On this platform, exchanges between pairs of TRC20 tokens are easy. All fees collected go directly to the protocol itself and its liquidity providers. This guarantees the security and decentralization of the Just Swap platform.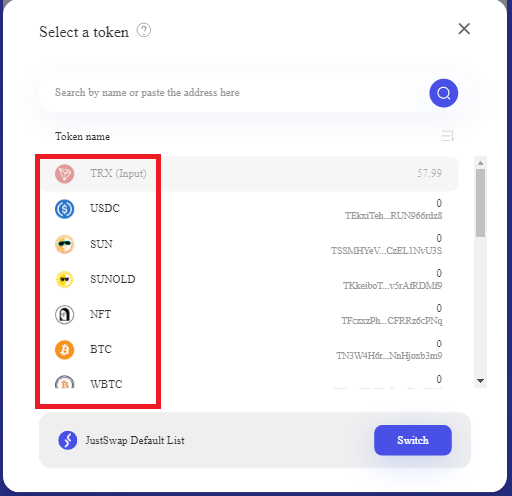 Fig 2 : List of TRC20 tokens in JustSwap

TRON is also known as the Chinese Ethereum Network. To expand their influence and compete with other expanding blockchains, TRON must find ways to diversify its offerings. JustSwap has the functionality to diversify the TRON system.
The main highlight is unlimited liquidity, giving full rights to users and developers. By participating in this model, players have the opportunity to earn high profits as they do not have to pay commissions and low transaction fees.
TRON is also in the process of developing its own cryptocurrency. To expand its influence, this network will need the strong support of JustSwap.
Immediately after the launch of JustSwap, TRON immediately embarked on expanding operations in the DeFi fragment. The launch of protocols like Pearl.finance, Salmon.finance, .. All encourage participants to create liquidity, deposit USDT and a few other popular tokens.

Just Swap Exchange is a protocol that automatically provides liquidity. No centralized institution or facility is involved in the transactions of this platform. The control and management of issues related to transactions, tokens, liquidity pools, increasing liquidity, etc. in this platform is done through smart contracts.
This platform uses the function X * Y = K to ensure the accuracy and validity of its transactions.
X: acts as the first token
Y: is the second token
K: is a constant constant
The number of replacement tokens must equal the number of original tokens. Since k is a constant that does not change, X and Y must alternately increase and decrease each other. That is, when X increases that much, Y will have to decrease that much and vice versa. In the Just Swap exchange, it is possible to swap tokens between TRC20 and TRX, as well as between them. Moreover, users can make a profit by providing money for cash pools.
To do this, you need to provide the liquidity of your desired pair of tokens between them and simultaneously. Each time a trade is made on the currency pair of your choice, you will receive 0.3% of that trade (commission) as a reward.

Although it has only been launched since August 2020, the JustSwap trading platform is gradually becoming more familiar to traders around the world. To collect trading participants, adding liquidity JustSwap pays special attention to balancing transaction costs. In addition, the exchange also actively added financial utilities to meet the needs of participants.
The JustSwap exchange helps traders to quickly trade between tokens designed according to the TRC2 standard. The swap speed appears to be instantaneous. Because it is not controlled by any intermediary, the seller and the buyer will work directly with each other. The profits are probably faster, without wasting time for both parties.
JustSwap provides regular service to hundreds of projects, countless participants
All cryptocurrency development projects, if they are to be successful, must ensure liquidity. It is only when liquidity is guaranteed that this project will attract a large number of merchants to participate and be accepted in major payment systems.
Currently, JustSwap provides regular services for hundreds of projects, countless participants. The liquidity of the project is completely unlimited.
Exchange without order correspondence
JustSwap is designed as a protocol to support automated trading. So, when trading tokens built to TRC20 standards, traders don't need to wait for orders to match. Thanks to this, the transaction speed on the ground has increased considerably.
Improve high profit traders
If you trade on JustSwap, traders don't have to pay any commissions at all
In most other exchanges, traders almost always have to pay commissions. These fees will increase or decrease depending on the total value of the transaction. However, if they trade on JustSwap, traders do not have to pay any commissions at all. As a result, the profit made by each trader participating in the JustSwap exchange is significantly higher than that of other exchanges.

Trading on the ground is extremely simple. Because users don't need to create an account or verify their identity like another DeFi exchange. As a result, traders only need to log into the TronLink wallet to be able to exchange tokens comfortably.
Step 1: Connect TronLink Wallet to JustSwap
To exchange TRC20 tokens on the JustSwap exchange, you must first connect the TronLink wallet. If you already have a wallet account, you need to log into the following account to access the JustSwap exchange by following the link .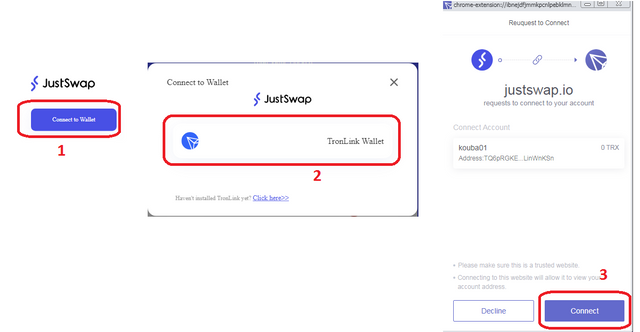 Fig 3 : Connect the Justswap wallet with TronLink
Then hide and select the "Connect to Wallet" button. This is the step to place the order to connect the TronLink wallet. Because it will successfully connect to the system showing the wallet address as well as your wallet balance. If you are using the TronLink mobile app, the connection process is completely similar.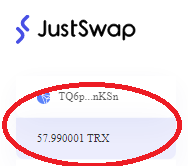 Fig 4 : Wallet balance after connection
Step 2: Select the token you want to exchange
On the main interface of the JustSwap exchange, swipe down on the menu bar to start selecting the token you want to exchange. On JustSwap, the pricing mechanism is fully automated. So if you want to trade, you need to enter the number of tokens you want to trade and choose the currency you want to get back.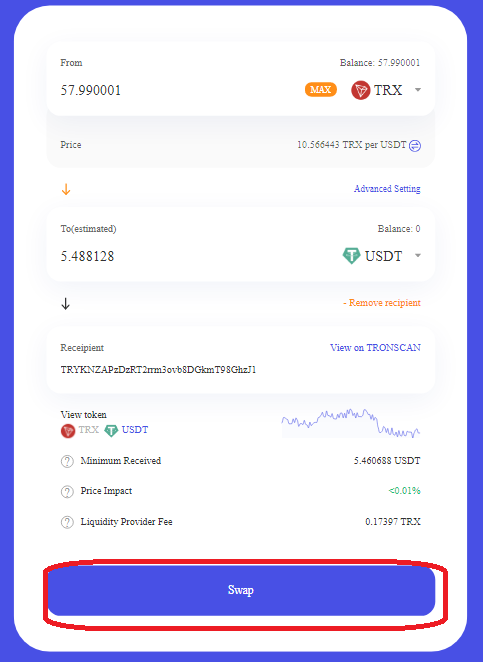 Fig 5 : Proceed to the selection of the token you wish to exchange
When selecting the token, if this is your first time doing a transaction, you must wait for system approval. This security measure is intended to ensure that traders do not mistakenly trade with tokens. From the second transaction, you just have to click on "confirm" to activate the link with the TronLink wallet.
Step 3: Token exchange
To exchange tokens, you need to choose the type of token you want to own and the token to exchange. The JustSwap system will then automatically calculate the amount corresponding to the value of the token, click on "Swap" to initiate the exchange.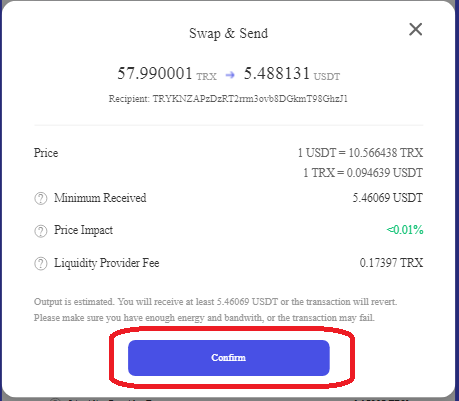 Fig 6 : Token exchange
Once you have confirmed the details of the exchange, select "Confirm Exchange" to confirm the exchange.
Step 4: Confirm the swap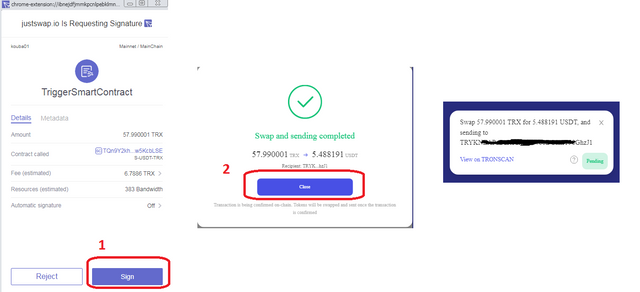 Fig 7 : Agree to provide current location
The JustSwap protocol generally requires traders to confirm their positions. At this point, you should select "Accept" in the window that appears. So you have completed the process of confirming the current location with the JustSwap system.
Step 5: Complete the transaction
If you see the message "Confirm" appear on the right side of the trade screen, it means your trade was successful. You can check your wallet balance to be sure.

Step1: Select a fund group and click on "Add cash". Or select the liquidity you have added in "Pool -> Your liquidity" and click on "Add".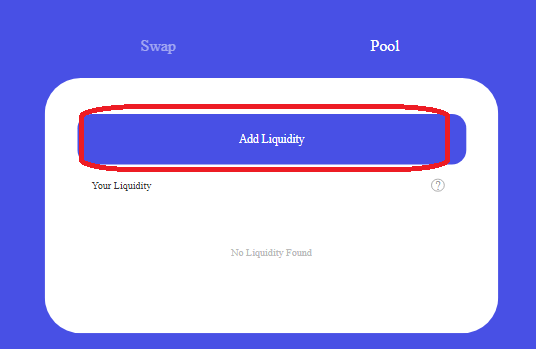 Fig 8 : Add Pool liquidity
Step2: Select the two tokens you want to add liquidity (one of them must be TRX) and enter the amount you want to add, then click "Supply".
Note: When you enter the quantity of one token, the platform calculates the corresponding amount of the other token based on the relative price of the pair of tokens in that pool.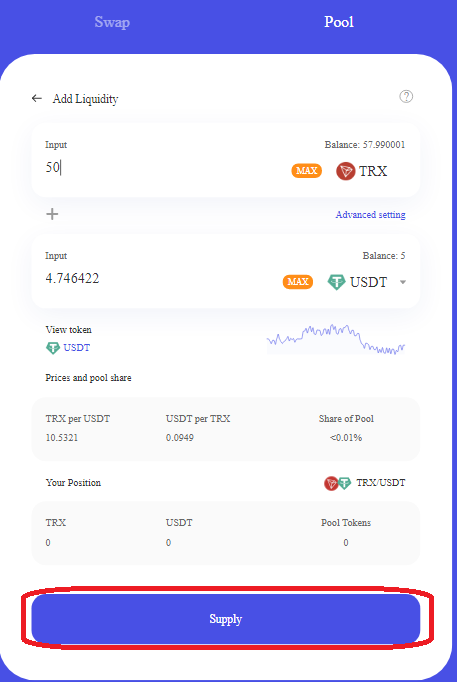 Fig 9 : Choosing Tokens to supply
Step3: Click on "Confirm Supply" in the confirmation window.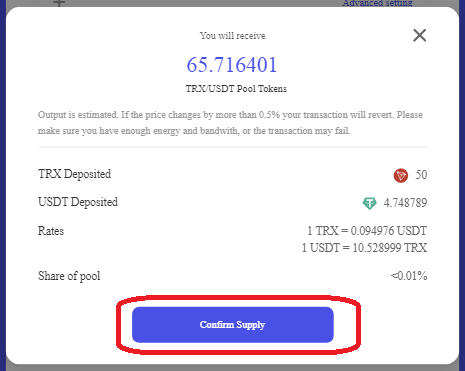 Fig 10 : Supply confirmation
Step4: Adding liquidity requires confirmation from your portfolio. Please click "Accept" in the "Request Signature" pop-up window.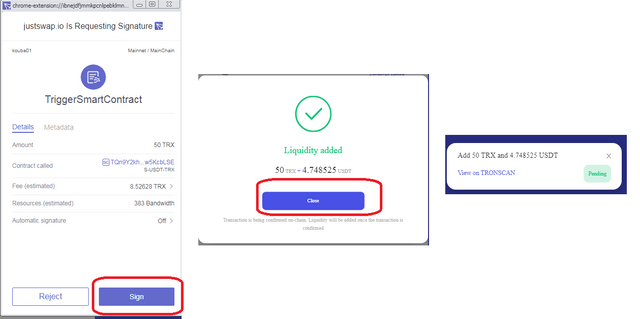 Fig 11 : Sucess of adding liquidity

The Just Swap‌ Liquidity Pool is a blockchain-based decentralized exchange (DEX) platform. Just Swap allows you to swap TRX tokens and all tokens built according to the TRC20 standard.
As you can see, the Just Swap platform is very easy to use and performs calculations automatically.
To trade, you can both trade TRX tokens with other TRC20 tokens and swap TRC20 tokens between them. To do this, you must select your token as well as its value. Then select the token you want to recover; Just Swap‌ performs this conversion automatically and you can easily withdraw the desired token.
To provide liquidity in liquidity pools, you need to provide two tokens together. Each time the trade is completed on your currency pair, you will receive 0.3% of that trade (which is a commission) as a reward.
You can also cash your own tokens into this pool. To do this, one pair must be TRX and the other your token.

1. Present the Just Swap platform in your own way, demonstrating its importance within the Tron ecosystem blockchain.
2. What tokens does JustSwap support trading? How is the price of a JustSwap token determined (how it works)? Use an illustration to explain it.(screenshot required)
3. How do I connect my wallet to JustSwap.io? Is there a mobile app? (Screenshots needed)
4. Include a real example of your interaction with Just Swap, demonstrate how you can trade on the platform. (screenshots required)
5. Include a real example of your interaction with Just Swap, explain How to add liquidity to JustSwap. (screenshot required)
6. Conclusion:

Try to read the lesson and the assignments carefully before you start editing.

You must write an essay that contains at least 600 words.

Make sure that you post your homework into the SteemitCryptoAcademy community.

Use copyright-free images with mention of its source, if possible, produce your own.

Plagiarism is forbidden in Steemit Crypto Academy, and its perpetrators may face serious penalties.

This homework assignment will run until 9th October'2021, Time- 11:59 PM UTC.

Include in your post among the first five hashtags #kouba-s4week5 and #cryptoacademy.

Users who are powering down will not be voted and considered excluded from participation.

Additionally, users with a reputation below 65 and/or haven't at least 600 SP in their wallet won't benefit from voting for their homework.



Cc:-
@steemitblog
@steemcurator01
@steemcurator02