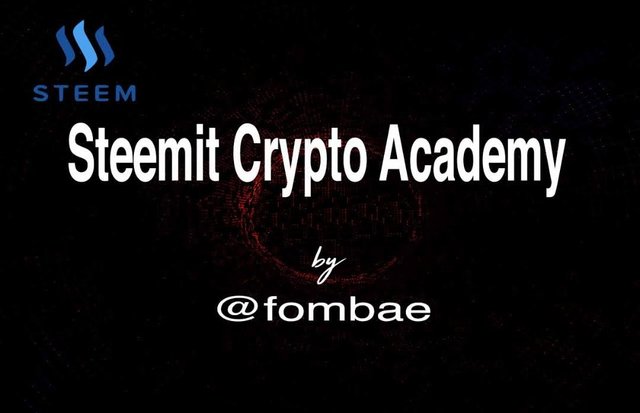 For the past couple of weeks, we have been looking at how cryptocurrency has shaped the financial realm. It's a gradual process to take over in the future. Next, we went ahead to look at how it can be adopted. I mention in my post, that crypto is like any other technology, which is being adopted. This week we are looking at how blockchain technology is changing our everyday life.

Blockchain is changing everyday life for everyone, what is your opinion on the matter?

Blockchain is not gradually but drastically changing everyone's everyday life. Blockchain has become a word that financial institutions can not avoid but find a way to implement and make a profit. As the foundation for cryptocurrencies, many have had the impression that it is a thing just for the FinTech sector. With the time involved, blockchain has gone beyond finance and crypto. blockchain is slowly injecting itself into almost every sector of our lives. I wish this post could touch every aspect, but I will bring common scenarios around us on how this technology is eventually or is already changing our lives.
Decentralized Social Platforms
Yeah, we are all familiar with the term decentralized social platforms. This is because of the Steemit platform, in which we had the opportunity to connect with friends from other parts of the world. Blockchain has by far surpassed the capacity of regulators to build platforms that invade our privacy and in turn threaten freedom of speech. Blockchain has taken off the censorship aspect of our content, and the possibility of our data being sold. Here we are in total control of our data, as blockchain provides us with top-level privacy and security of data. Decentralized Social Platforms allow end-to-end encryption of data interaction between users, giving the user control over what they do. Not unlike mainstream social media platforms, which exploit users' data for profit, I can say turning us into commodities to be sold to the highest bidders. LOL. Some of us who are on social media can see that blockchain decentralized social platform has just given us the opportunity to permanently save our content, without fear of deletion. Examples of blockchain-based social platforms are Steemit, Dtube, SocialX, Sapien, etc.
---
Immutable Digital Records
One of the main functions of blockchain is its ability to record a huge amount of digital data on the digital ledger. We know blockchain for recording financial transactions in a secured manner, protecting from any act of theft or abuse. Now we have institutions that have used this technology to securely store Property deeds, death certificates, birth certificates, insurance records, financial records, and other sensitive documents. The document can be stored in encrypted form on the blockchain.
---
There is another aspect of our lives, good health is a thing of every day. We visit health services at least twice a year and follow the ethics of the health person profession. Patient privacy is a major concern in most healthcare facilities. So with the ability of blockchain technology to provide health care services with privacy and security of patient data, this institution will function at top form. We will be comfortable that our data is immutable, protects transparent medical supply, less expensive and efficient patient care. Examples ProCredEx (medical credential verification system), MediLedger (Supply chain transparency)
---
It is a sector that will boost our morals to travel, as we can all be confused as to have lost our bags at the bus stop or at the airport. Blockchain has shown to be the perfect solution here, as booking errors can be reduced, and our personal information can be securely stored and tracked. Blockchain will take off the middleman when booking a transaction, secure sensitive information, and keep a record of our luggage. So you see, blockchain will reduce our travel costs while increasing security for our personal data.
---
What is being preached over the world now is democratic principles, which are backed by the voting process. The bad thing about it has been the fraudulent nature of the practices both by the player and the machines made, which can be hacked and unreliable. Blockchain can offer a platform that will be immutable, with incorruptible data to keep voting records safe. Note that blockchain works with an Id address, meaning voter information will not be tied to their personal profile. Every data will be encrypted and decentralized, making every single vote unique and concerning any possibility of a double vote or fraudulent identity.
---
Blockchain can be used to track the theft of intellectual and creative properties by putting together aspects like Registration, Distribution tracking, Evidence of first use in trade, Digital rights management, etc.
---
Self-Sovereign Digital Identity
We all know some of these giant tech companies have made huge sums of money just by having access to our data, or stolen user identity from a data breach. Our id and password are vulnerable to hack and theft, as we create a new account and we go-ahead to do a transaction online. These online platforms have our identity and password in their hands. Some users have become scared to use the internet, but with blockchain identity authentication solutions. We are able to safeguard our secured Ids without any interference from their party, giving us total control over our unique identity.
We can go on and on, but I will end as you can see blockchain is changing everyday life in almost every sector. No matter the sector, we will always want privacy, security, and transparent transactions.

What are the main advantages and disadvantages of adopting the use of blockchain in everyday life?

Advantages
Decentralization: This feature reduces cost and time on us users, as the intermediary has been taken off from every transaction. It is the backbone of blockchain technology as every process validation time reduces.
Network distribution: Here we are all owners of the network and have the same information. No one can be tricked, or passed on with wrong information. We are very sure that in case a node fails, our information is safe. Note that we all have a hand in every information that is verified and validated on the network, making it difficult for malicious data to be injected into the network.
Low cost: Blockchain will permit us to validate end-to-end transactions faster and secured with a reduced cost.
Disadvantages
Implementation cost: Blockchain implementation requires a huge amount of capital for the institution to apply to its day-to-day activities. This is one of the reasons for the delay in adoption and implementation.
Inefficiency: It makes no sense that severe users on the network will validate the same operation, and only one will receive the reward (from the mining process). For me, many people doing the same task are a waste of energy, which somehow show that blockchain technology is not environmentally friendly.
Storage: As blockchain operations are increasing, the number of users joining is increasing too. As more users are adopting the technology, I fear we will eventually exceed the capacity of the hard disk.
Anonymity: this is all about trust in the blockchain network by the user, but it has been used for illicit acts. It has made it difficult and practically impossible to trace transactions.

Discuss the future of blockchain, and how this technology is impacting the world.

Well. looking into the future with blockchain technology. It has been our nature to resist changes that have to do with the way we have been doing things. I see there is no way to slow down the speed the blockchain technology is taking, given the way many industries and individuals are putting an interest in its development. Every technology comes with the potential for abuse, so rather we try to fight blockchain technology. Let's embrace it, safeguard it from being used in malicious activities and save humanity. As I mentioned above, this technology can move the world to another realm with its enormous potential. This potential can improve lives, later eventually every sector. The world needs to mindfully steer blockchain technology for the greater good of humanity.

What is your opinion about the implementation of blockchains in the health sector? Has the implementation been positive or negative? Explain a use case.

Well. like we all know. Blockchain is good for tracking and recording data, easy access and transfer of data, identity and authentication of data, a real-time transaction in payment, etc. All this capacity of blockchain helps boost the health sector with the concern of patient privacy and the authenticity of the drug they buy. I think the health sector should not delay in completing the implementation of blockchain technology for supply chain transparency. With what blockchain can offer, implementation will be of a positive impact on the sector. Not turning around, I will look for a use case.
Used case
One of the challenges faced in the healthcare sector is the ability to confirm the authenticity of medical goods (drugs and equipment). Blockchain technology systems can be used to track the goods from the manufacturing point, following a step-by-step supply chain for customers to fully see the visibility and authenticity of the goods they are buying. It is a possible means to fight counterfeit medical goods in the market and can also give way for remote monitoring of patients.
MediLedger
MediLedger is a good example of a blockchain protocol that can give companies the ability to follow the drug supply chain to verify the authenticity of the drug. Here companies can follow up on the expiring date and other details about the drug. MediLedger is a link between trading partners, providing data alignment, validation, and transparent transaction between the customer and the product from the manufacturing point. This blockchain protocol provides clean/validates GPO membership rosters, customers identifier data, contract header, and pricing. As I mentioned, this data is aligned all through the network.
To conclude, Blockchain is moving fast and is providing useful solutions in various sectors. The health sector is not staying behind, as their innovation will help in preserving and securing patient data. Blockchain has the ability to be more accurate in identifying serious mistakes in the medical field, which will eventually save humanity.

---
---
Cheers
Thanks for dropping by
@fombae