TRON is a blockchain ecosystem that was developed by Justin Sun in March 2014. It is a decentralized blockchain that uses proof of stake as its consensus algorithm and also supports smart contracts.
TRON blockchain is made up of different layers and one of the layers is the application layer that help developer to interact with the ecosystem and the smart contract helps the blockchain to support the building of new application on the platform.
TRON based Decentralized protocols have been developed by JUST to provide different financial solutions to the users and some of the protocols are JustStable, JustLend, JustCyptos and JustSwap.
JustSwap and its importance in TRON Ecosystem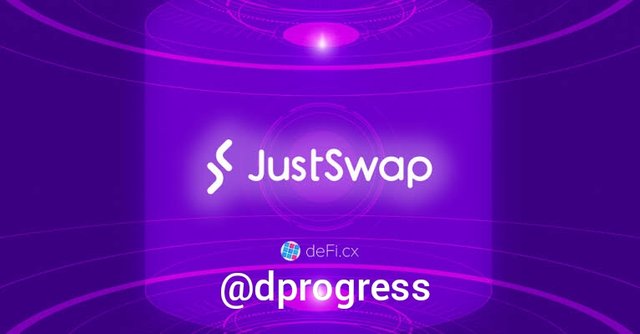 JustSwap is the first Defi exchange protocol on the TRON ecosystem use for instant exchange of TRC20 tokens by traders. It provides automated liquidity for traders and many applications thereby allow threshold-free profit among the traders. JustSwap is fast in execution and convenient to use when exchanging TRC20 tokens without delay of waiting for order match by the client and the protocol is easily accessible to all and guarantee good and high returns because users
can earn good mining rewards and trading fees on TRC20 tokens exchanges.
JustSwap makes it possible for the swapping of TRON token (TRX) to other cryptocurrencies which forward help to expand the influence of TRON in the cryptocurrency world.
Other importance of JustSwap on Tron ecosystem are
JustSwap make DeFi on the Tron ecosystem more affordable and credible.
It makes DeFi on Tron Ecosystem possible with reduced fee and more speed because of the instant execution.
JustSwap increase the possibility of market makers to earn more profit on Tron Ecosystem without any entry barrier.
JustSwap made unlimited liquidity available for thousands of traders on the Tron ecosystem which is very necessary for any crypto project.
It opens up a just and fair financial market on the TRON ecosystem because the platform is available to all and threshold-free.
The platform makes it possible for users to earn high return because the platform does not take commission rather share return among the Liquidity providers.
What Tokens does JustSwap Support Trading?
JustSwap support conversion of TRC20 tokens either to another TRC20 token or TRX.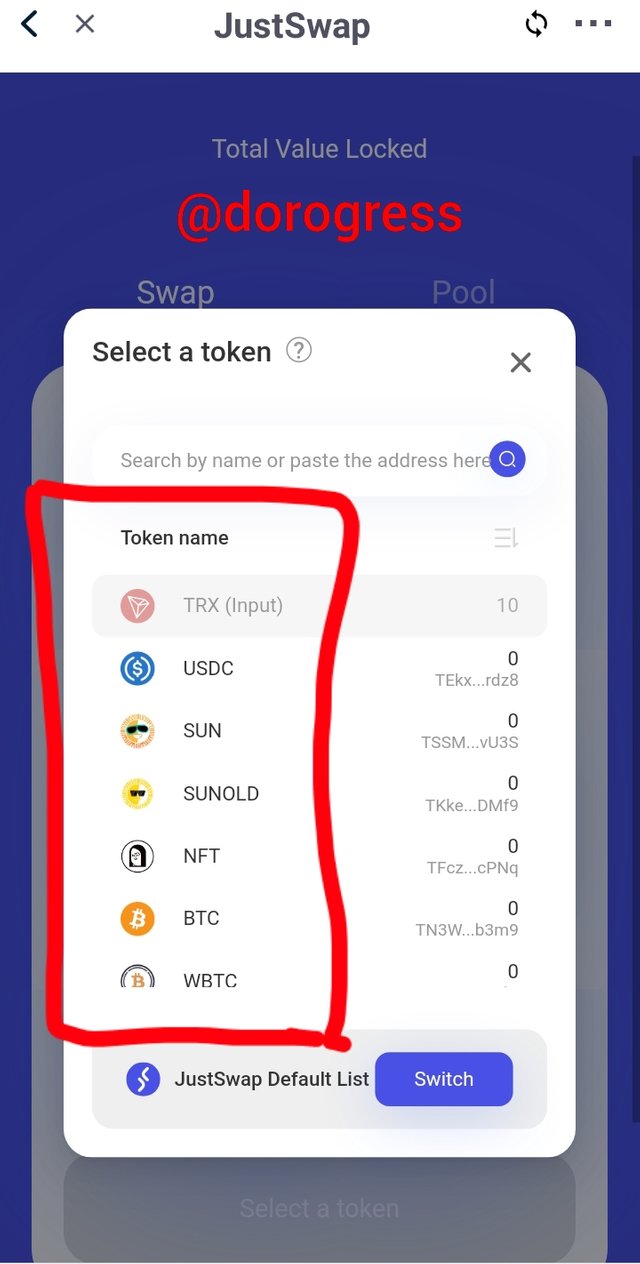 Some of the TRC20 tokens and their conversion with TRX are Tether (USDT/TRX), USDJ (USDJ/TRX), WINkLink (WIN/TRX), Lumi Credits (LUMI/TRX), Bitcoin TRC20 (BTCT/TRX), JUST (JST/TRX), Daisy Launch Pad (DAISY/TRX), 888tron (888/TRX), DEFFECT (DEF/TRX), Safe money (SafeMoney/TRX), KING OF DEFI (KODX/TRX), Klever (KLV/TRX), SeaDog Finance (SEAD/TRX), Zoe Cash (ZOE/TRX), Pallapay (PALLA/TRX), MegaCryptoPolis (MEGA/TRX), TTCRYPTO (TTC/TRX), DAPPCENTS (DPC/TRX), TAI (TAI/TRX), UMI (WUMI/TRX), CyberFM (CYFM/TRX), DEJAVE (DJV/TRX), Carrot (CRT/TRX), DICE (DICE/TRX) and many more.
You will see a list of 20 coins, and you can search for the coin that you want to trade with among the 20 coins shown on the Justswap.io page
How the price of a JustSwap token determined
The number of tokens in the pool is one of the major determinants when it comes to the price of a JustSwap token. The function K = X * Y where X is the first token, Y is the second token and K is a constant number is maintained in the smart contracts. When some tokens are replaced by another token and K remain constant, a swap had taken place and the balance of the tokens are updated accordingly causing the prices to changes.
How to connect my wallet to JustSwap.io
There is a mobile application called Tronlink Pro and in answering this question I will use my Tronlink Pro wallet app to illustrate how to connect my wallet to JustSwap.io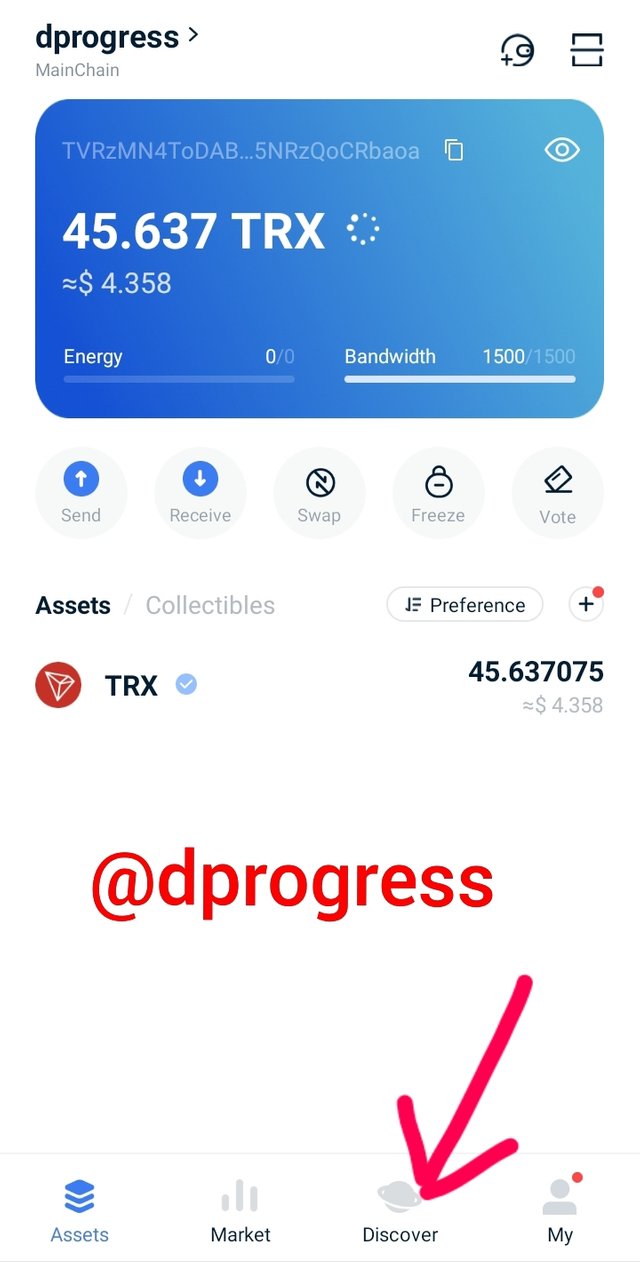 Step 1: I open Tronlink app, in my wallet here, I have a deposit of 45.637TRX. Click on Discover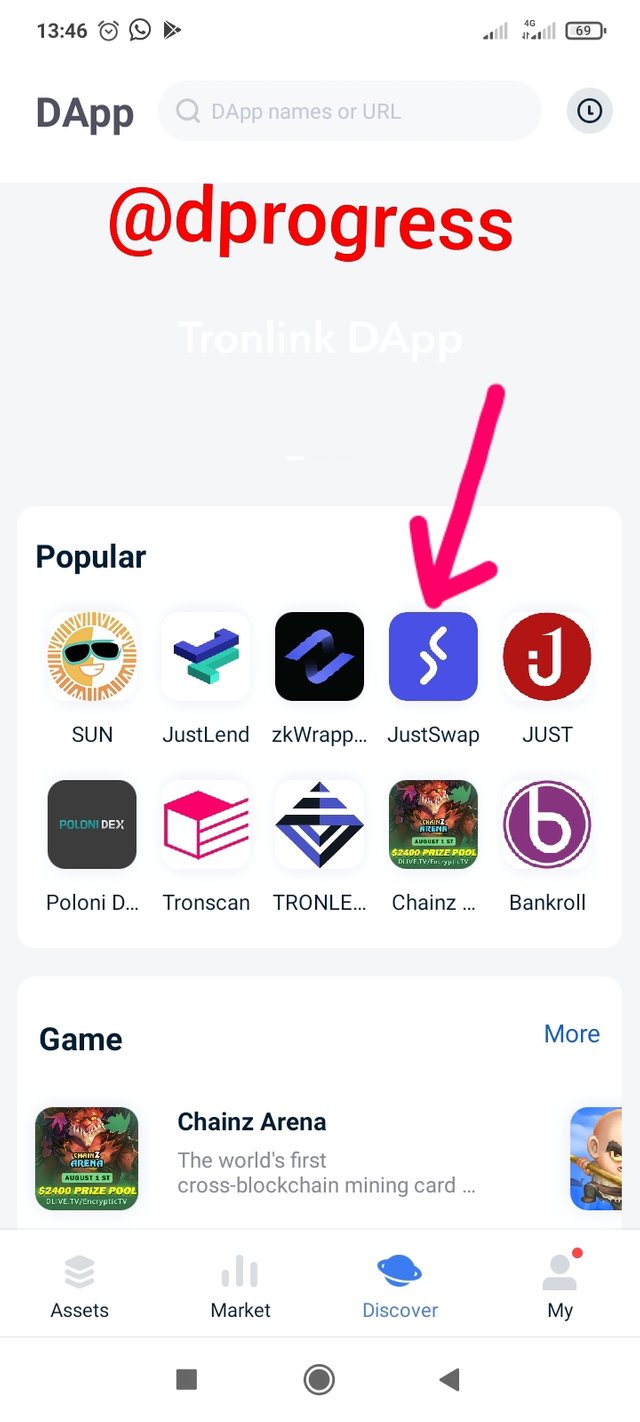 Step 2: On the discover page, you will see a lot of decentralized applications such as SUN, JUST, JustLend, Tronscan, JustSwap, Bankroll and so on. Click on JustSwap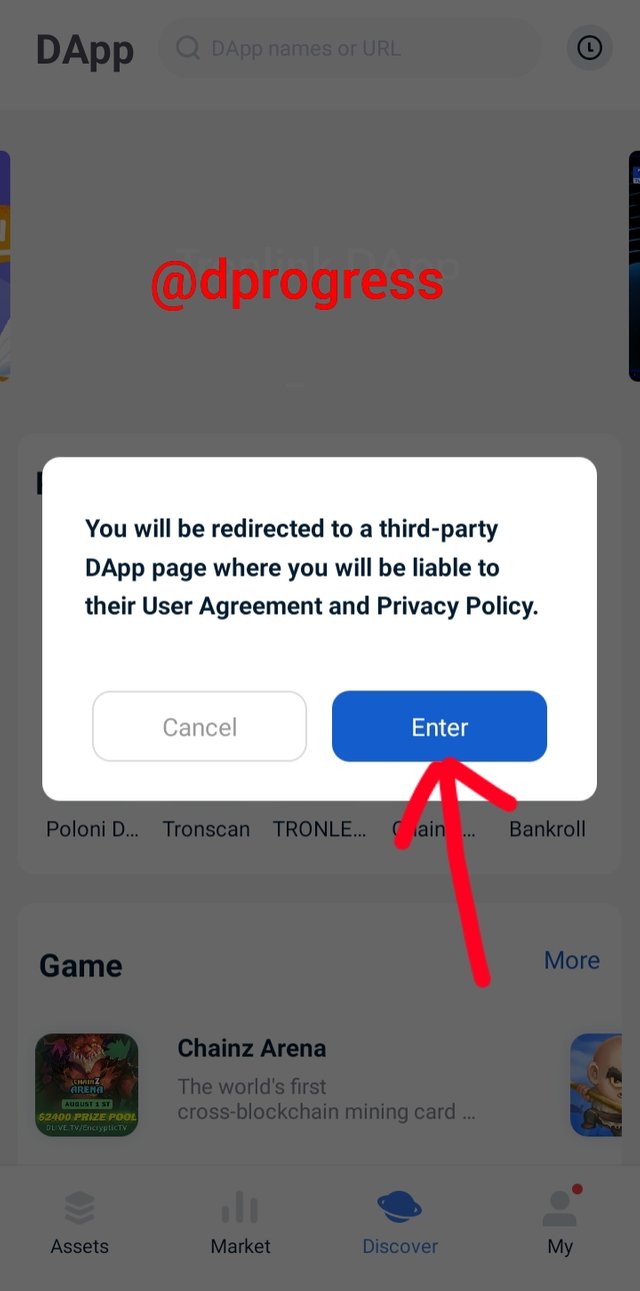 Step 3: click enter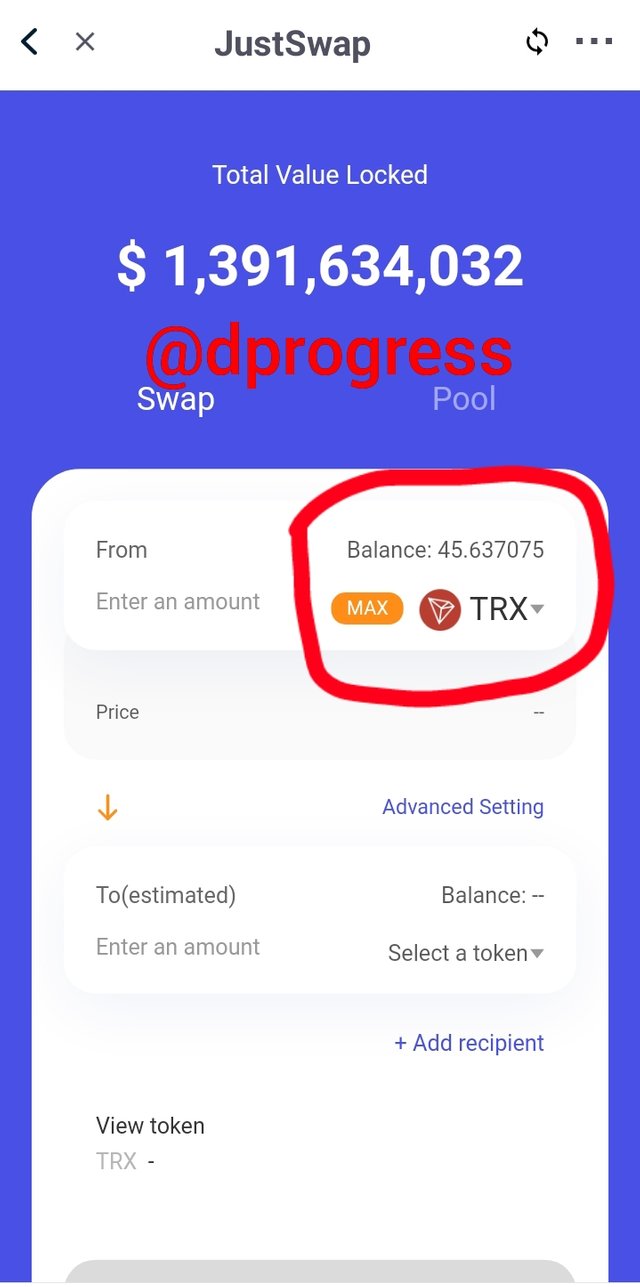 Step 4: it will load the JustSwap.io and connect my wallet to it. Now I can see my wallet balance on JustSwap.io page.
How to trade on JustSwap platform
In demonstrating this trading, I will trade my TRX to DICE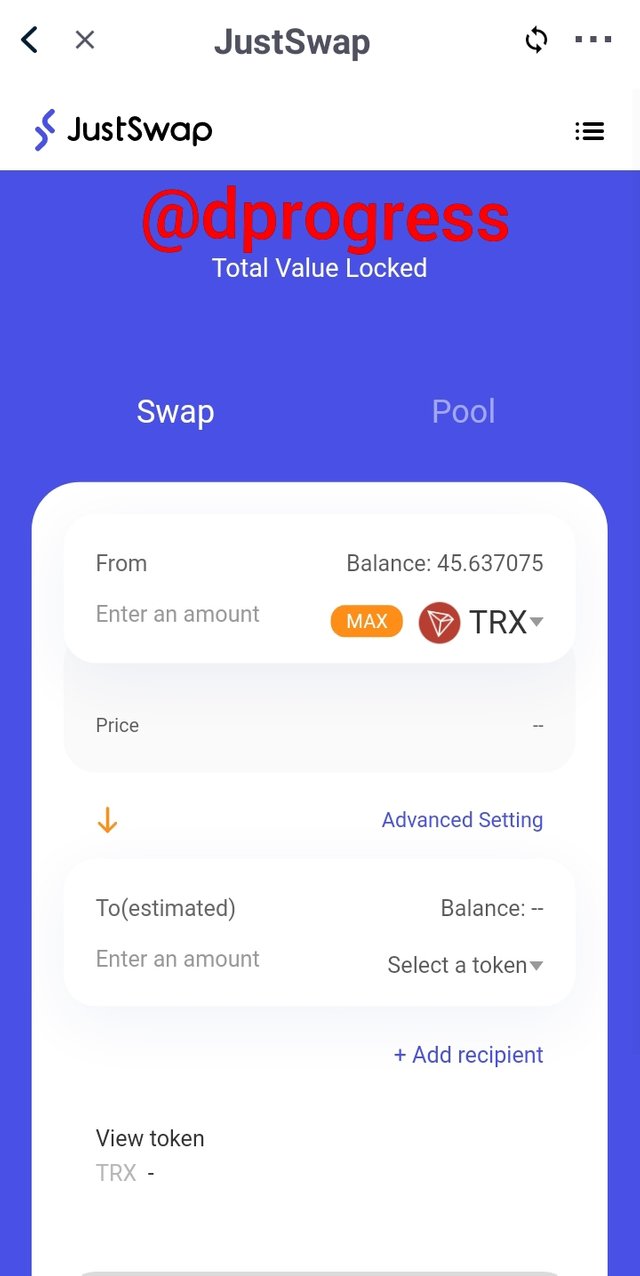 The is the page that shows my wallet account on JustSwap.io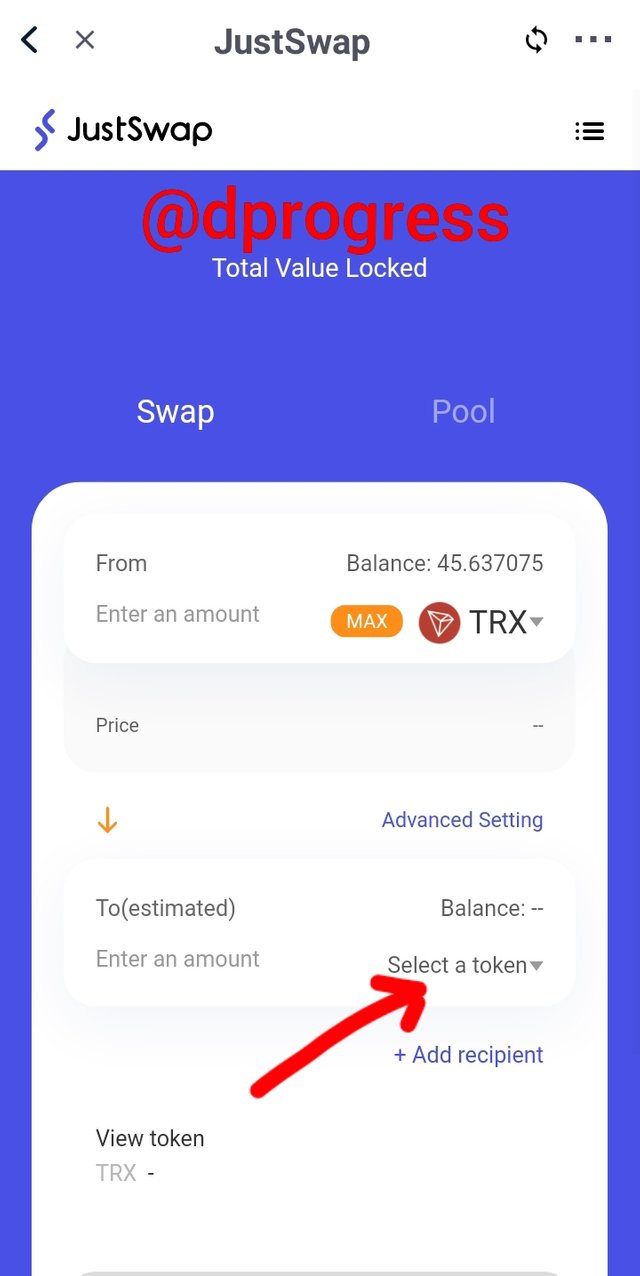 Step 1: The first thing is to select the token we want to swap our TRX to, now click on Select a token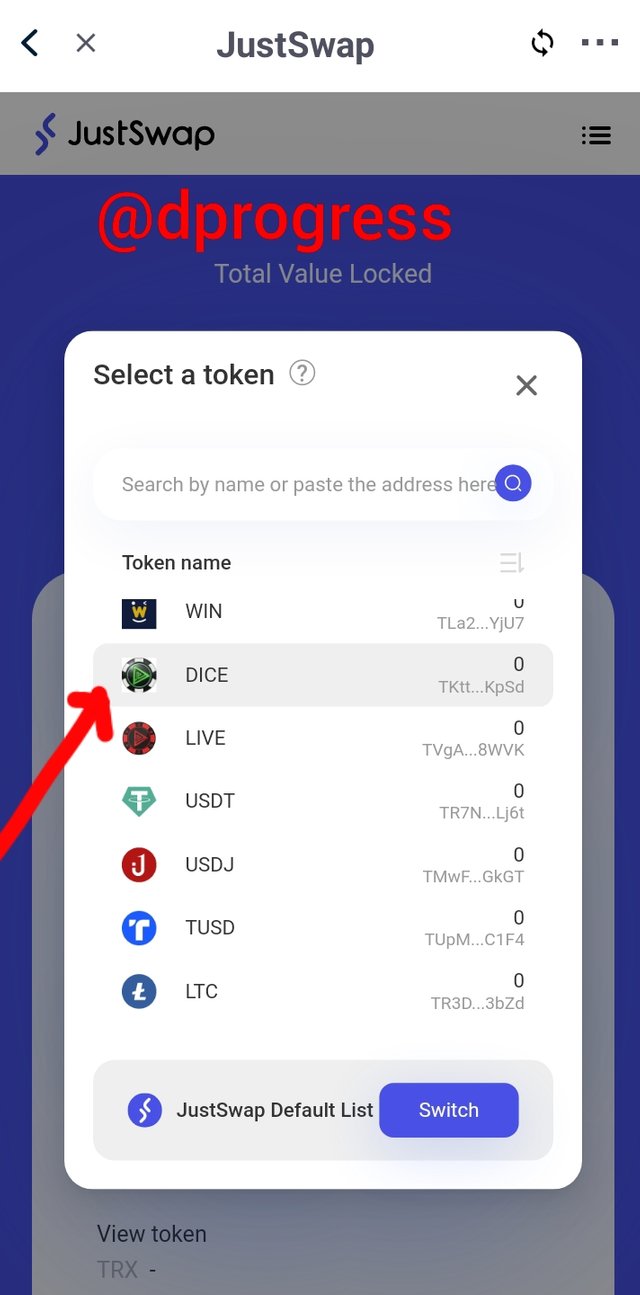 Step 2: A list of TRC20 tokens will be displayed, I select DICE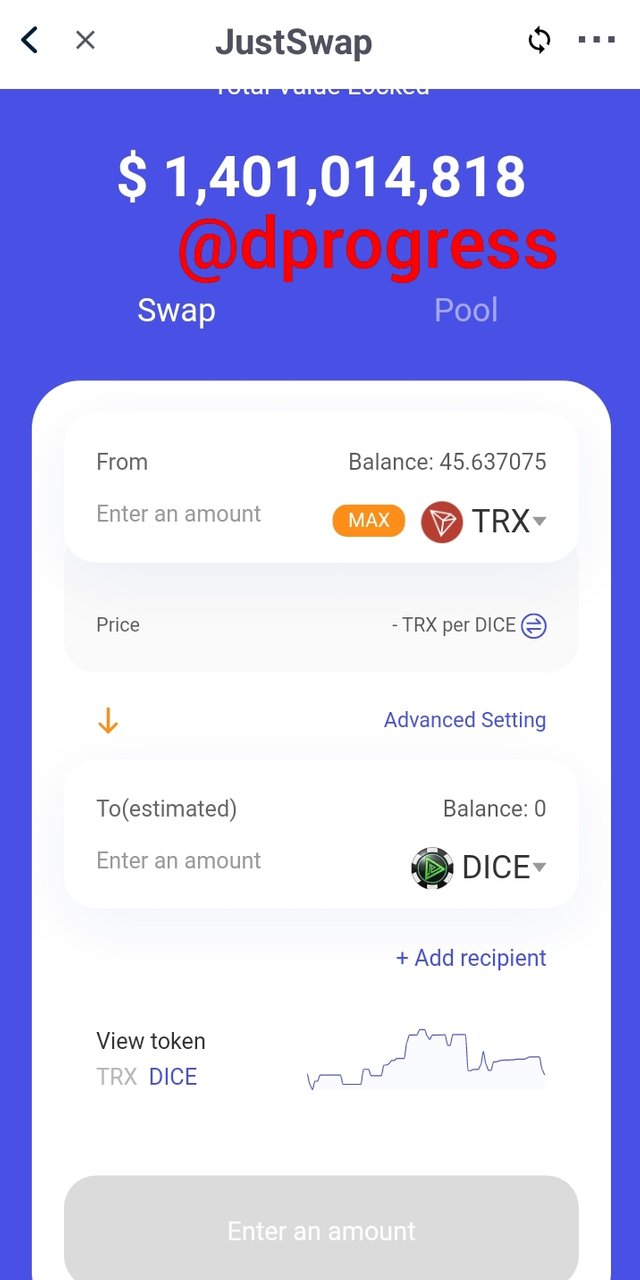 Now my DICE is selected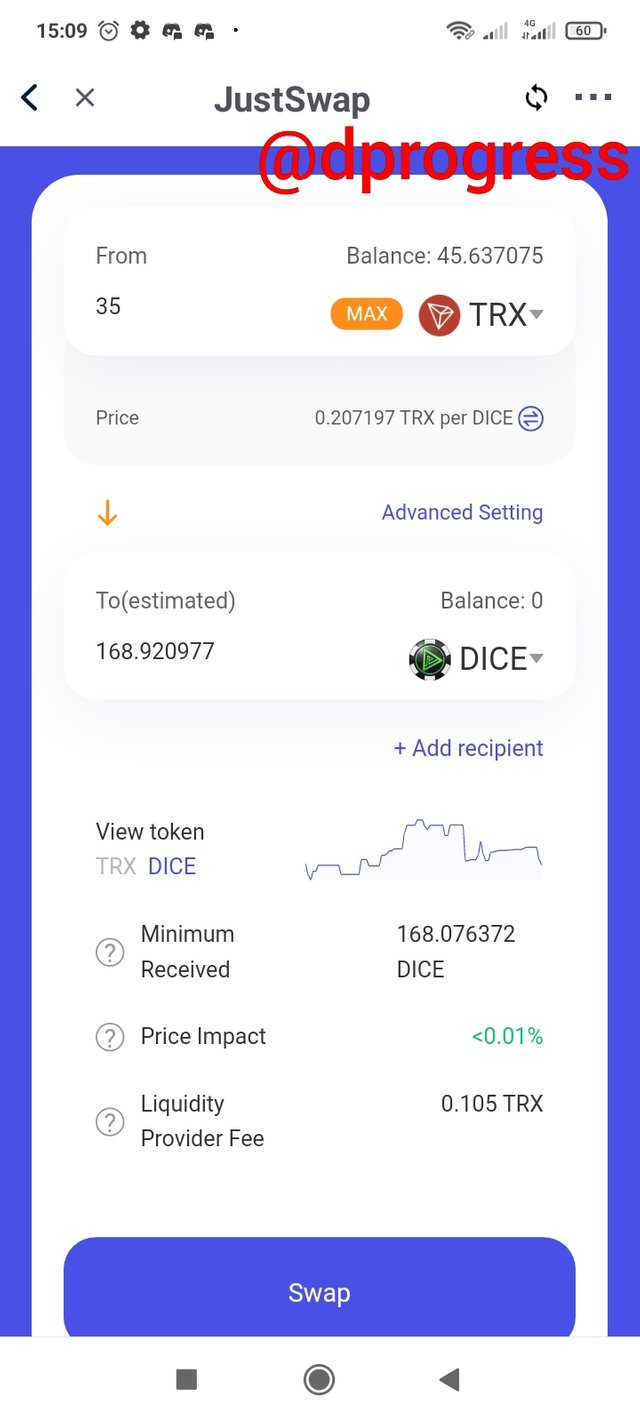 Step 3: The next step is to specify the amount of TRX I want to swap. For my Illustration, I will swap 35 TRX to DICE.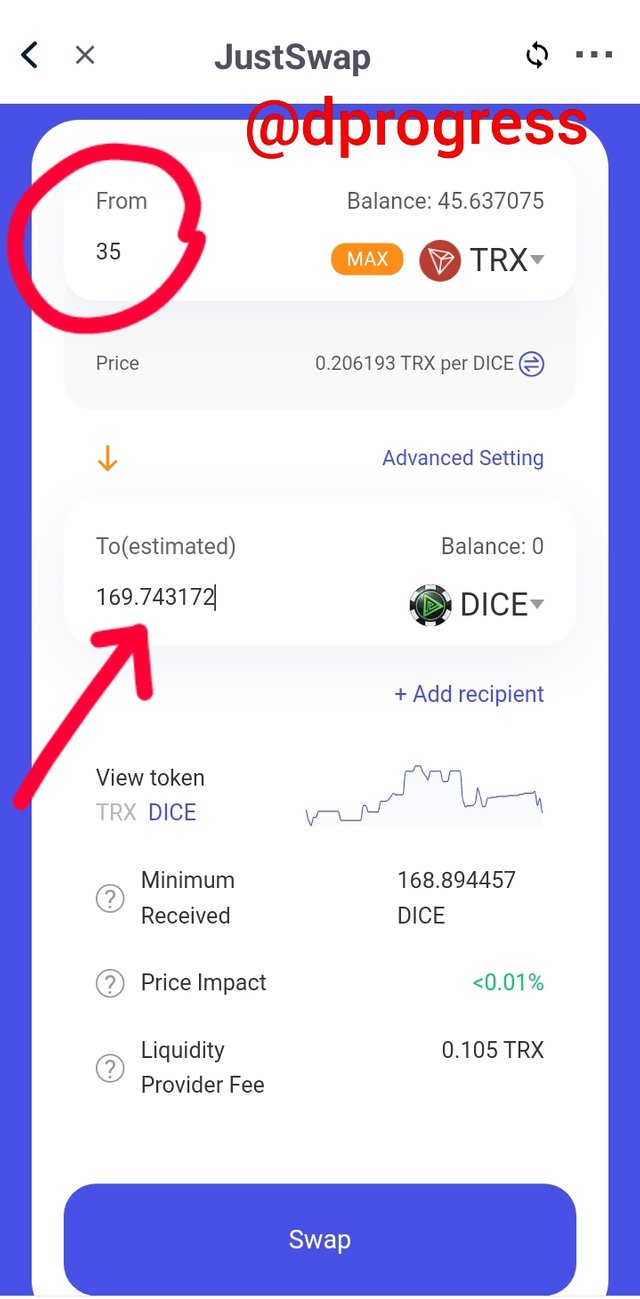 Step 4: Once I type in 35TRX it is estimated to be 169.743172 DICE and Minimum Received is 168.894457 DICE, Price Impact <0.01% and Liquidity Provider Fee is 0.105 TRX. Click on Swap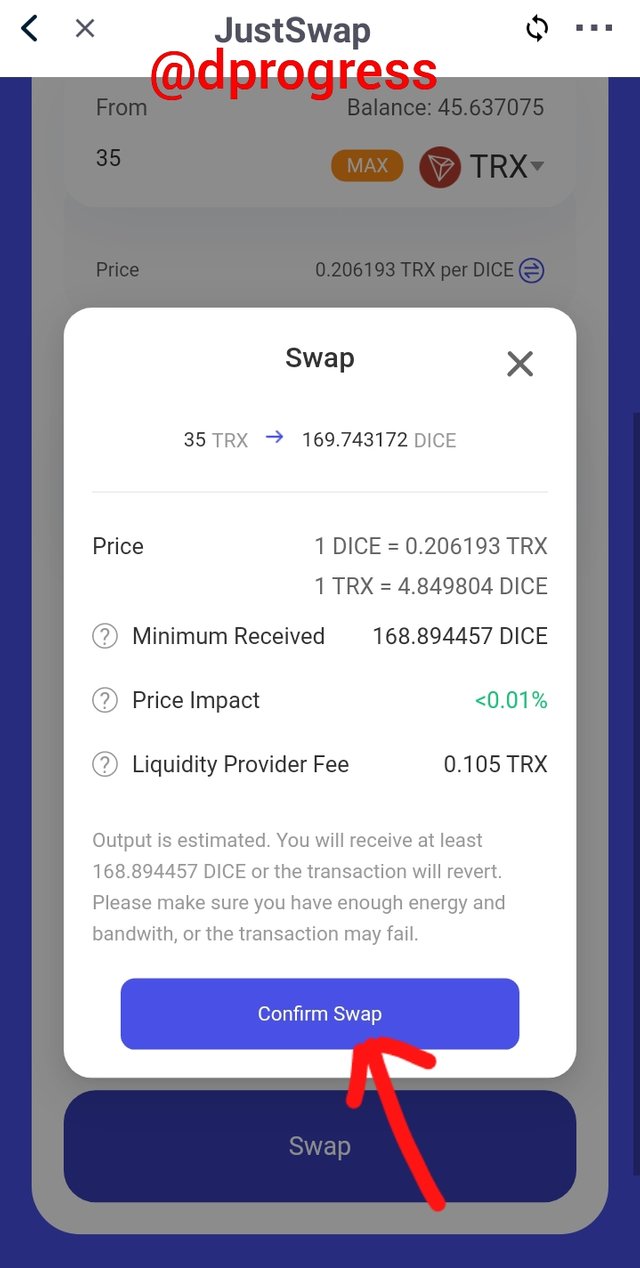 Step 5: Click on Confirm Swap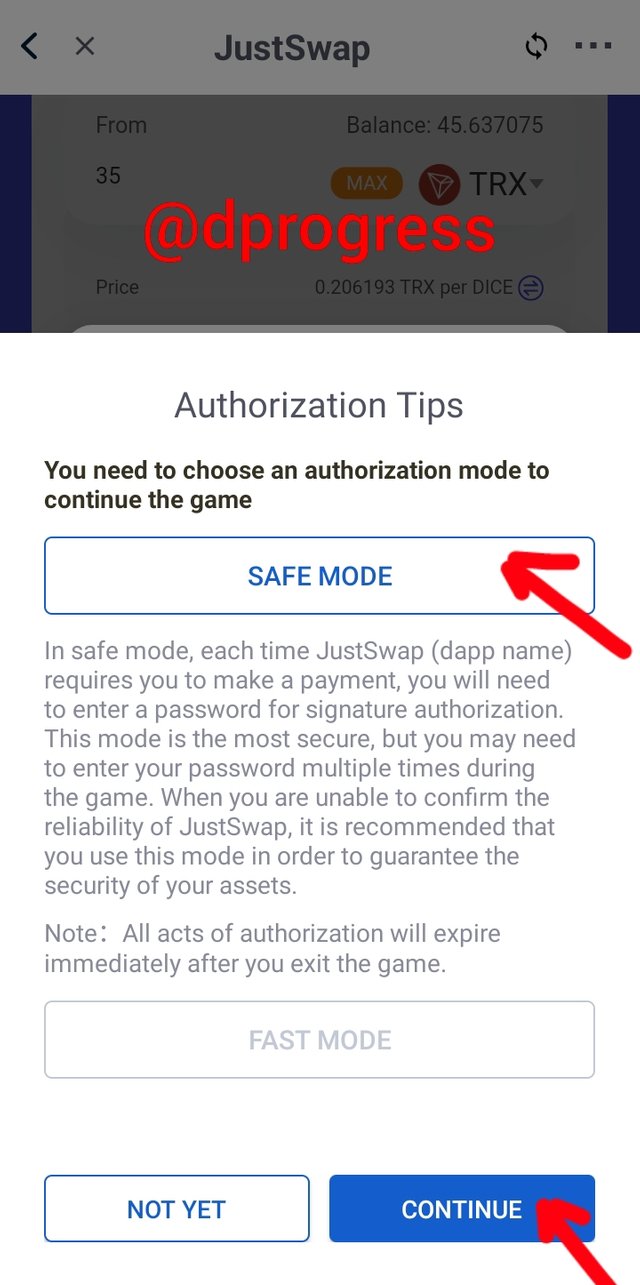 Step 6: It is advisable to select the SAFE MODE option then click on CONTINUE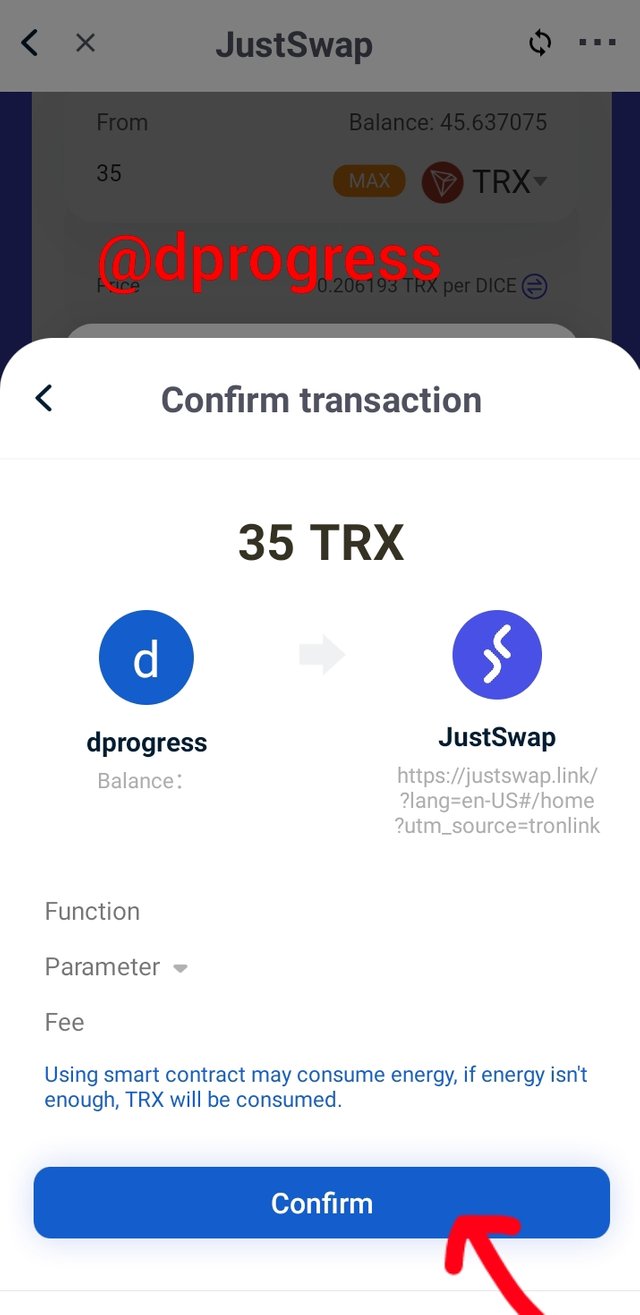 Step 7: A confirmation transaction page will be displayed, click on Confirm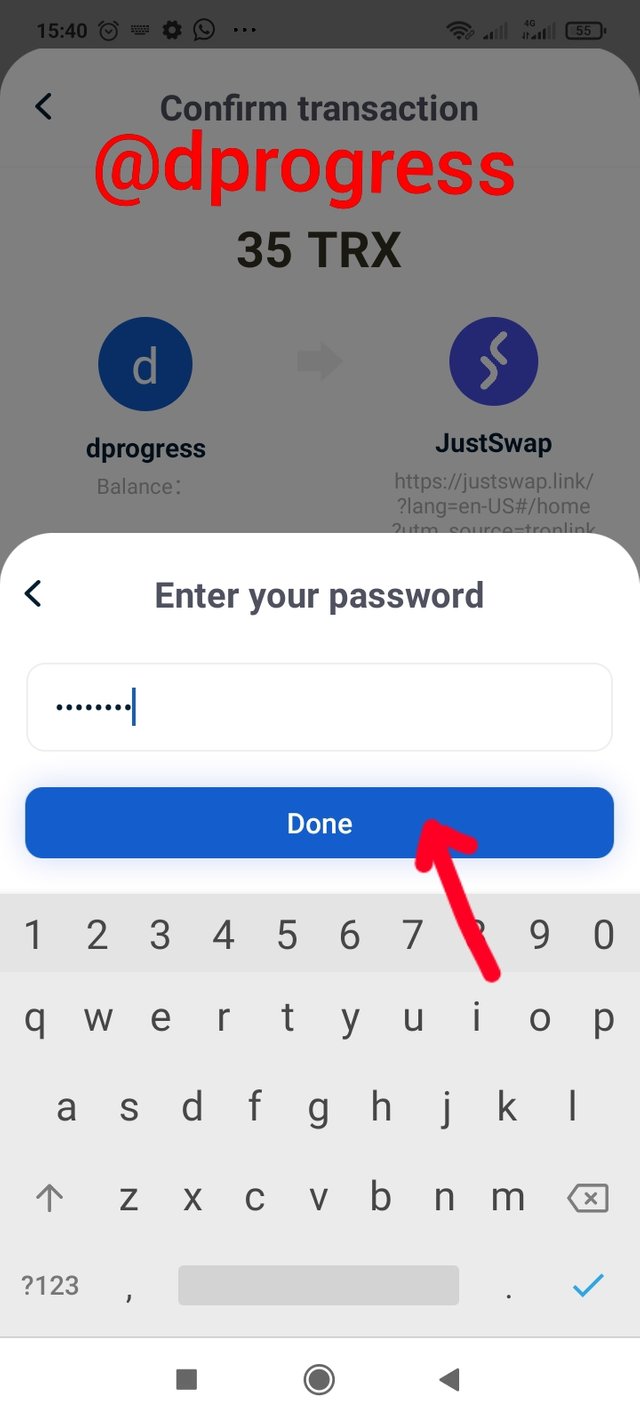 Step 8: You will be required to input your password; that is your wallet password. Enter it and click on Done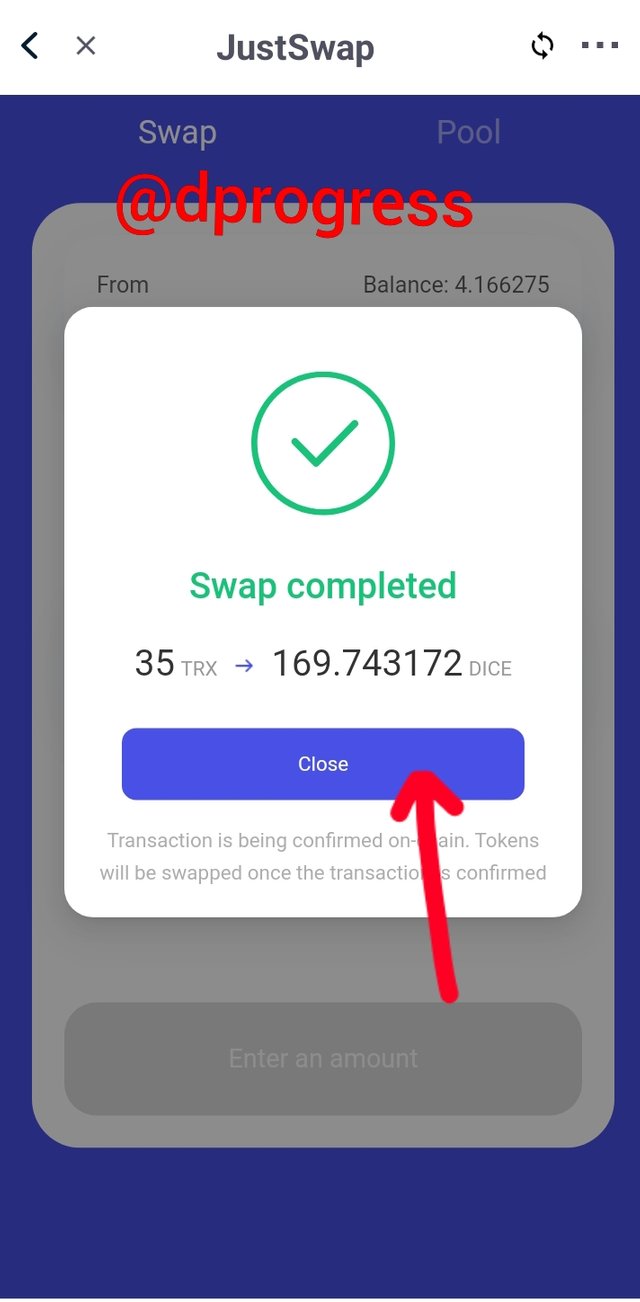 Step 9: Instantly it will swap the TRX to DICE then click on close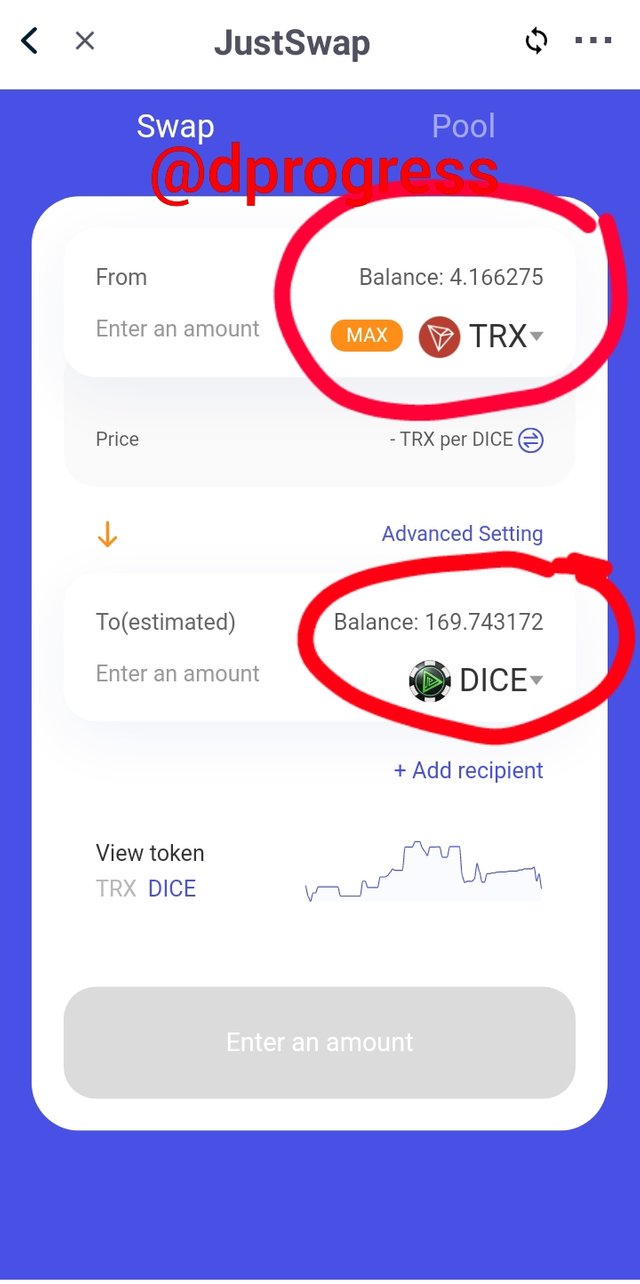 JustSwap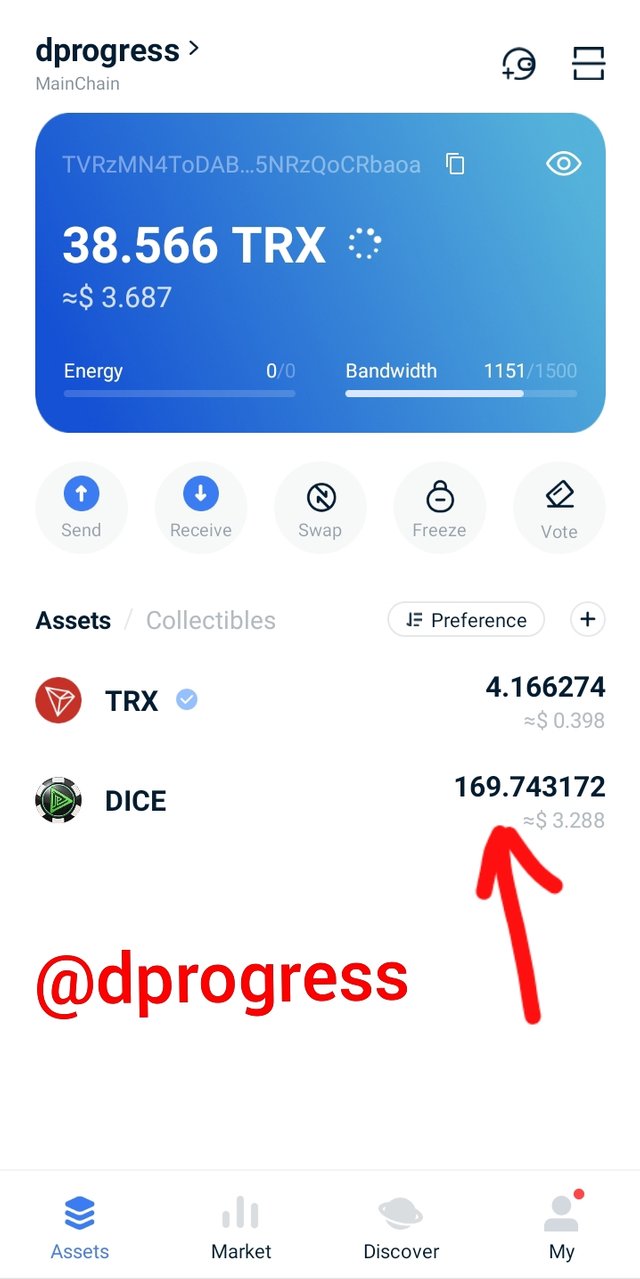 Tronlink Pro wallet
Now the amount of the DICE is showing in the balance on our JustSwap and also show in the Tronlink pro wallet.
How to add liquidity to JustSwap
To add liquidity to the JustSwap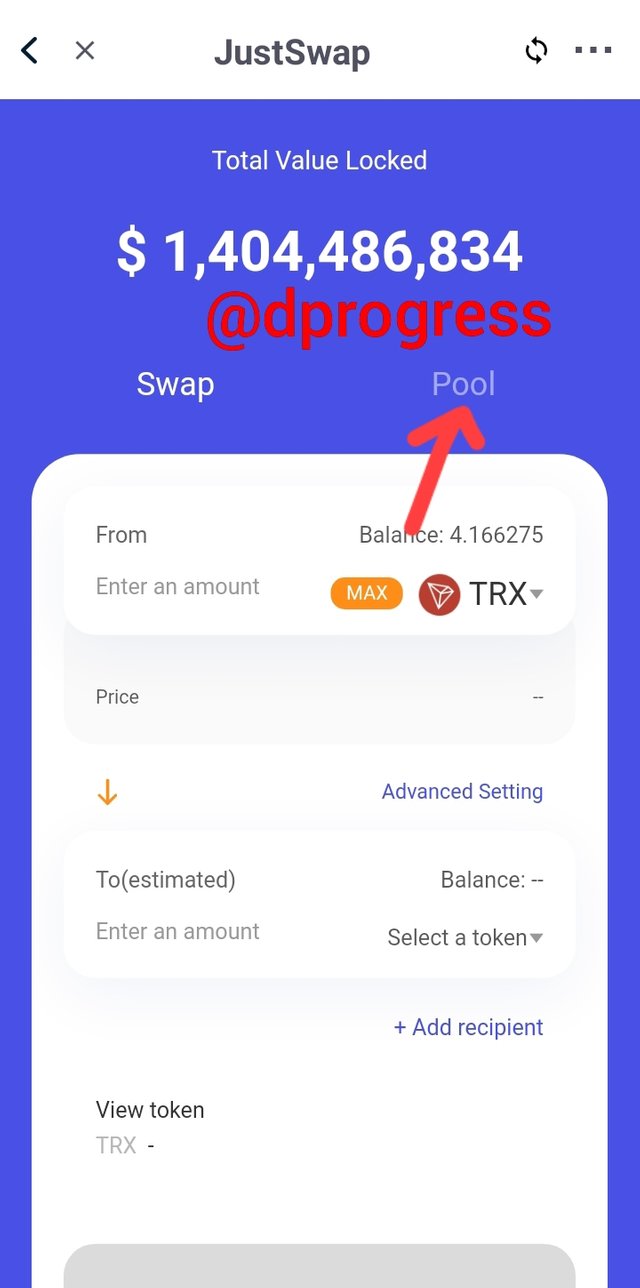 Step 1: on my JustSwap, click on Pool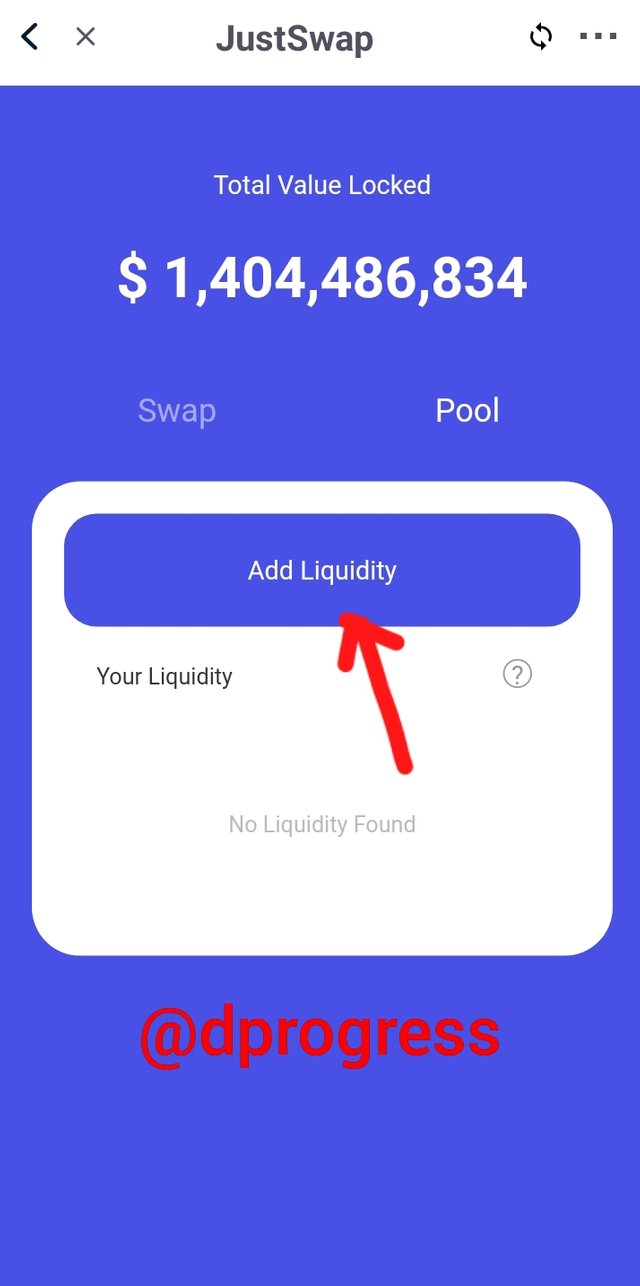 Step 2: Click on Add Liquidity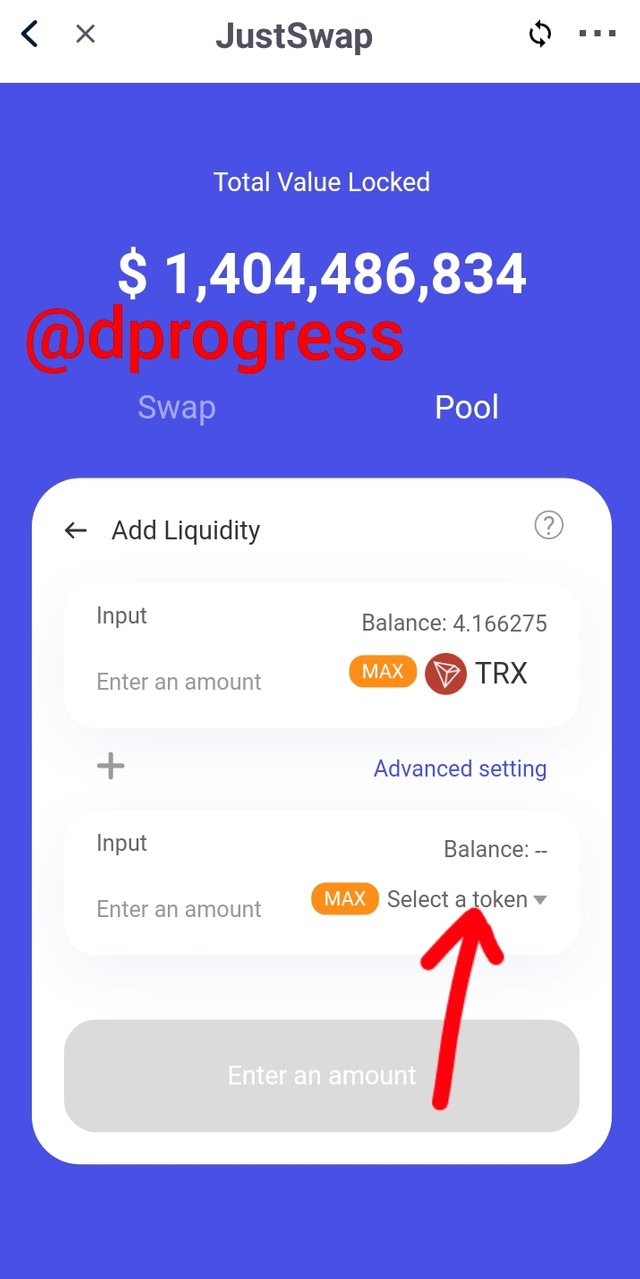 Step 3: Click on Select a token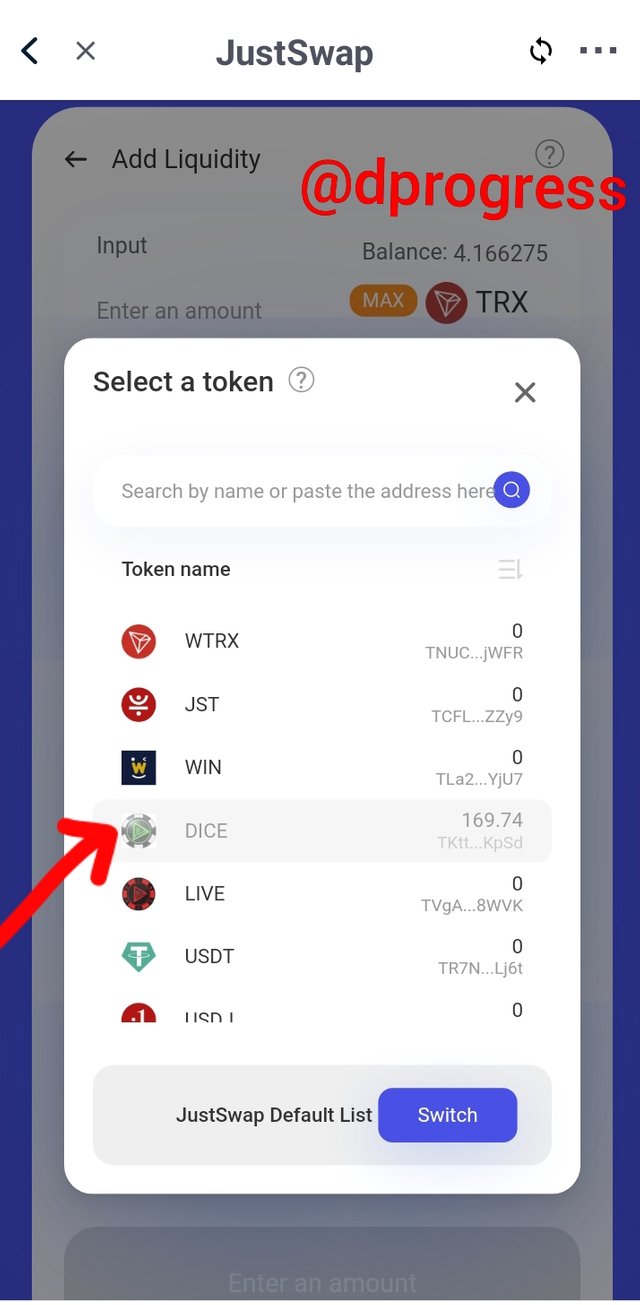 Step 4: I intend to use DICE so select DICE among the TRC20 tokens.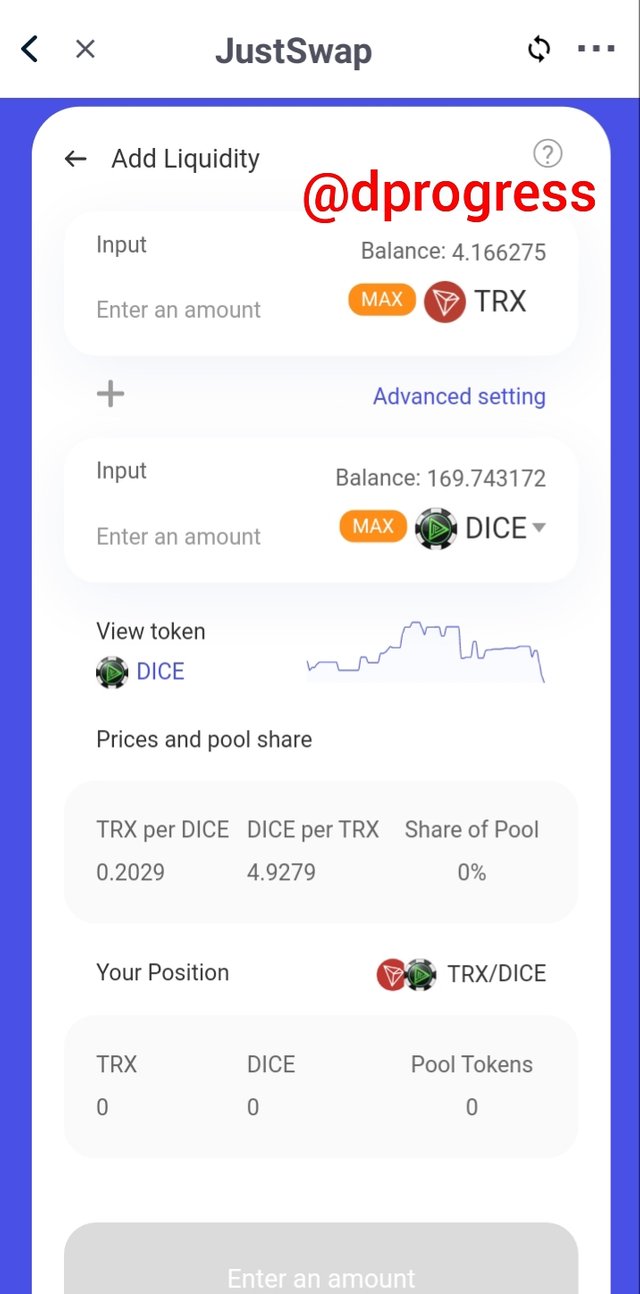 This page is displayed take note that TRX per DICE is 0.2041, DICE per TRX is 4.8981 and Share of Pool is 0%.
Also, note that one of the tokens should be TRX so I have two tokens which are TRX and DICE so we are good to go.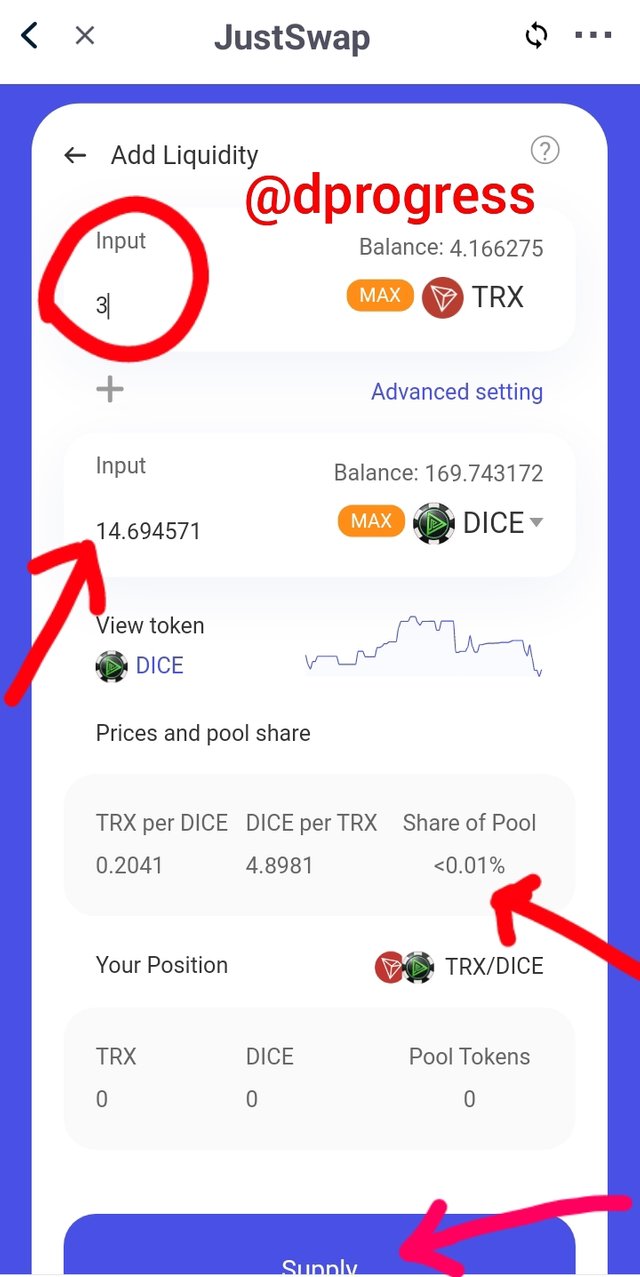 Step 5: Now I input 3 TRX and it produces an input of 14.694571 DICE. Take note my Share of Pool value has changed to <0.01%
Click on Supply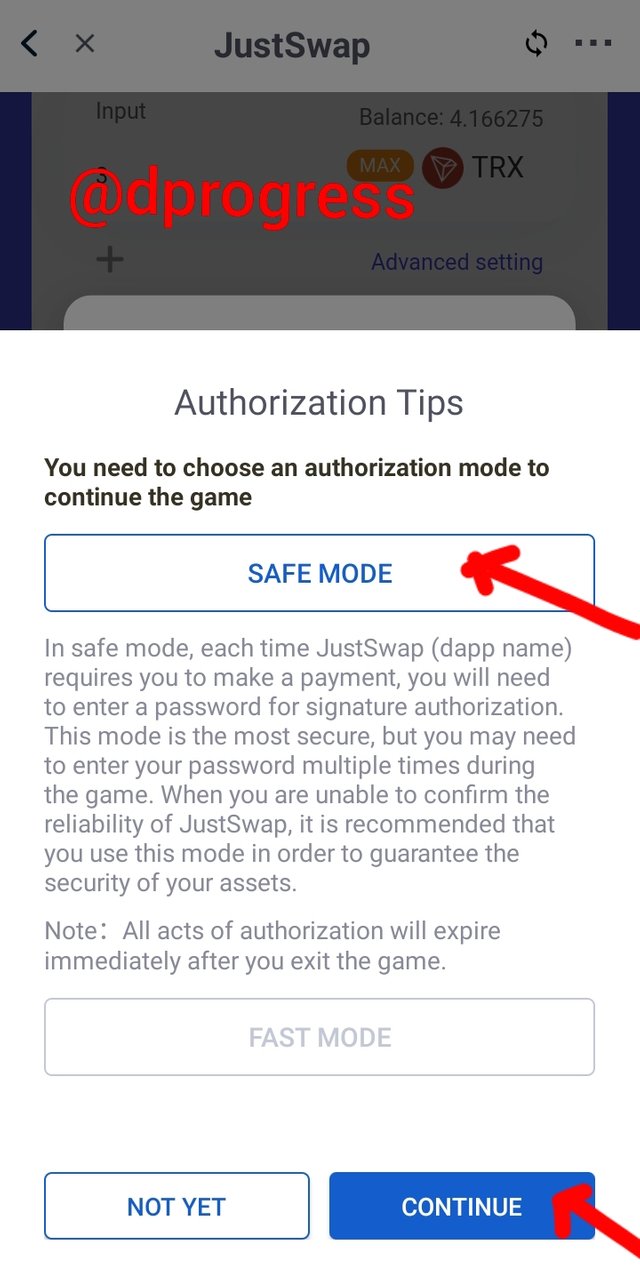 Step 6: Select SAFE MODE then click on CONTINUE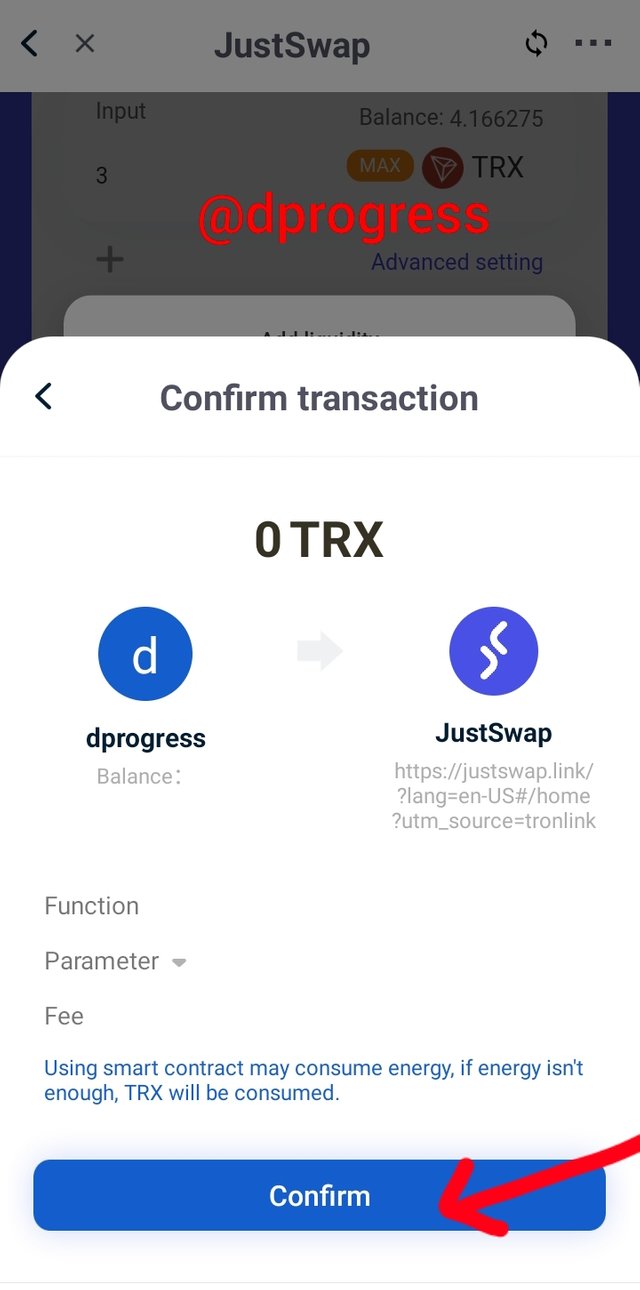 Step 7: Click on Confirm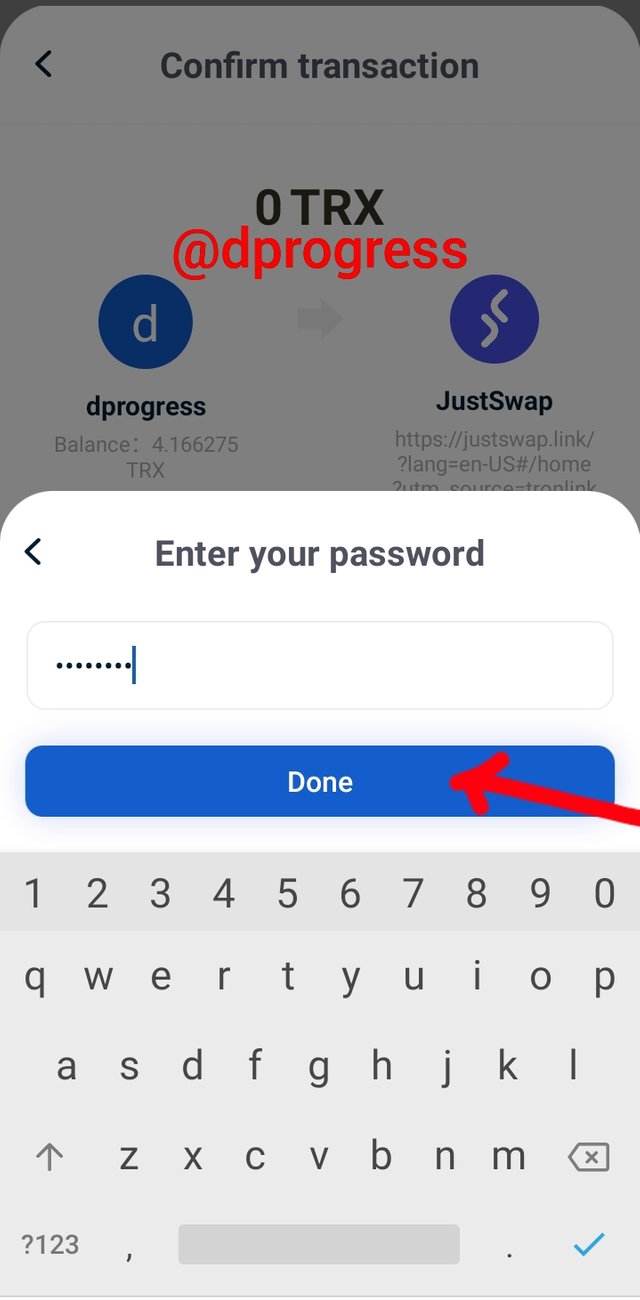 Step 8: It will require a password: input your wallet password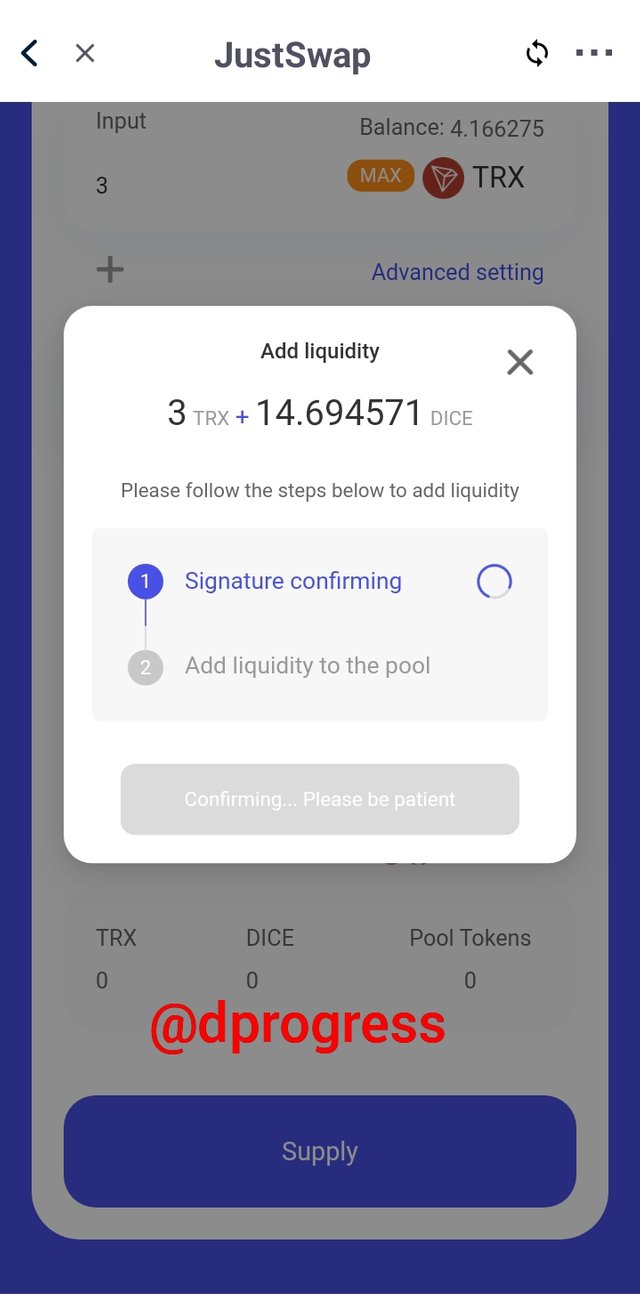 The signature is being confirmed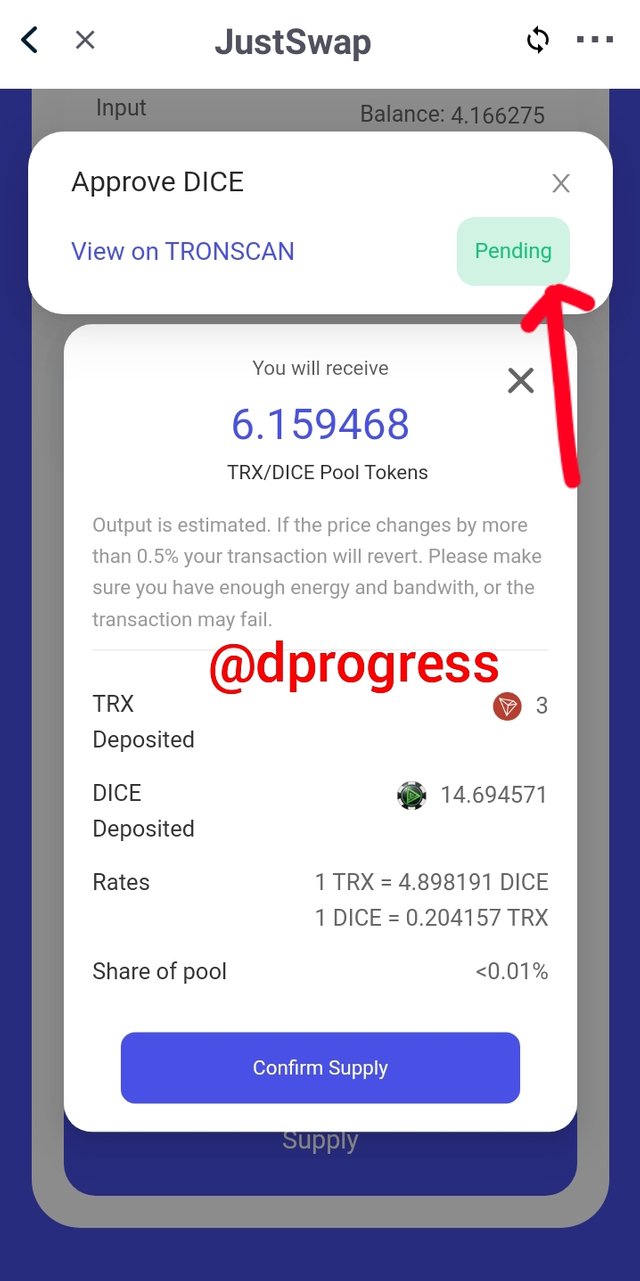 It going to show approving DICE pending just leave it for some seconds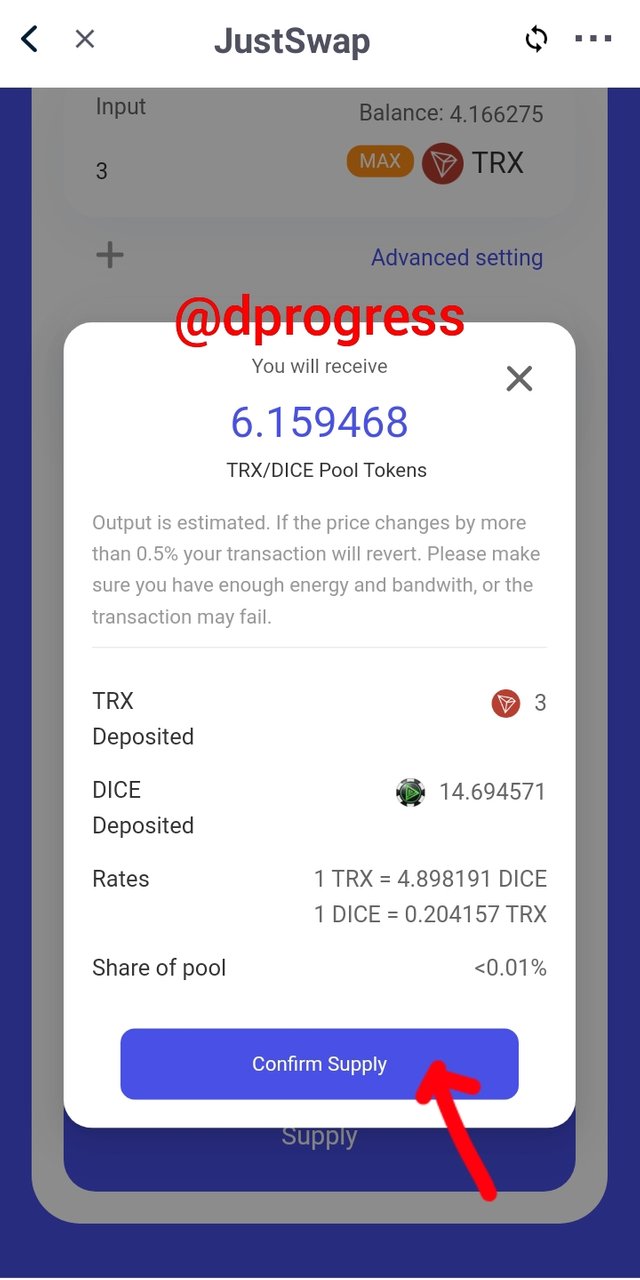 Step 9: Once the notification disappeared click on Confirm Supply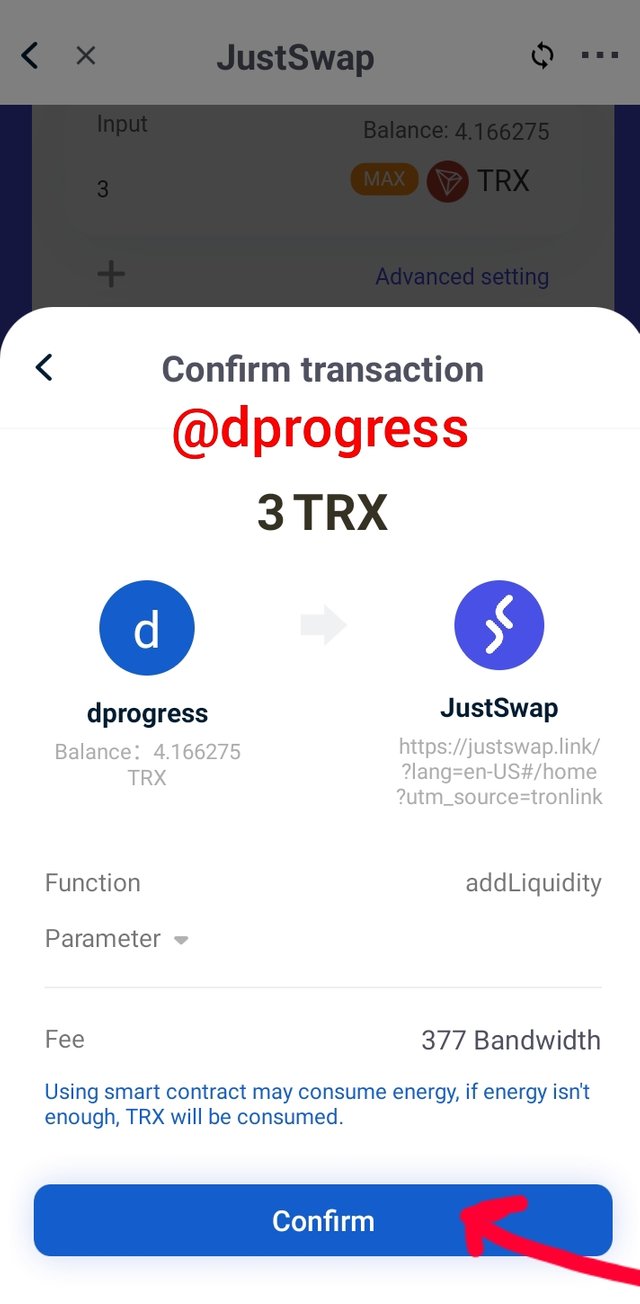 Step 10: Then I will be required to confirm the transaction from my wallet. Click on Confirm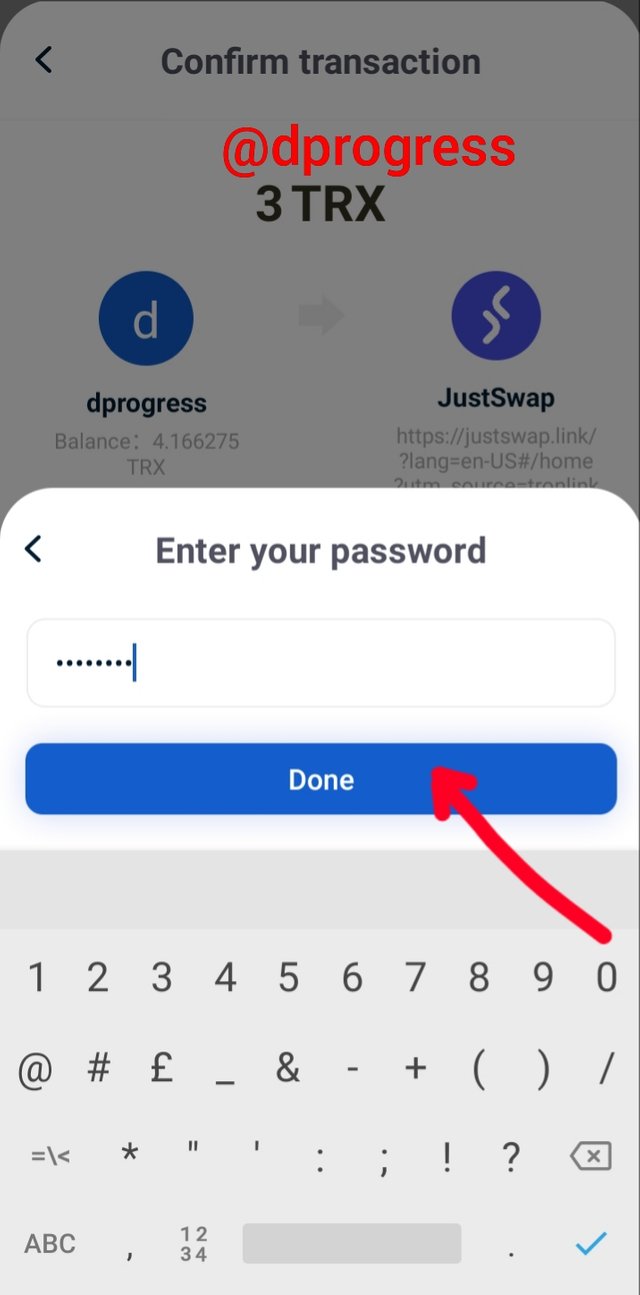 Step 11: Again I will be required to input my password: wallet password, input it and click on Done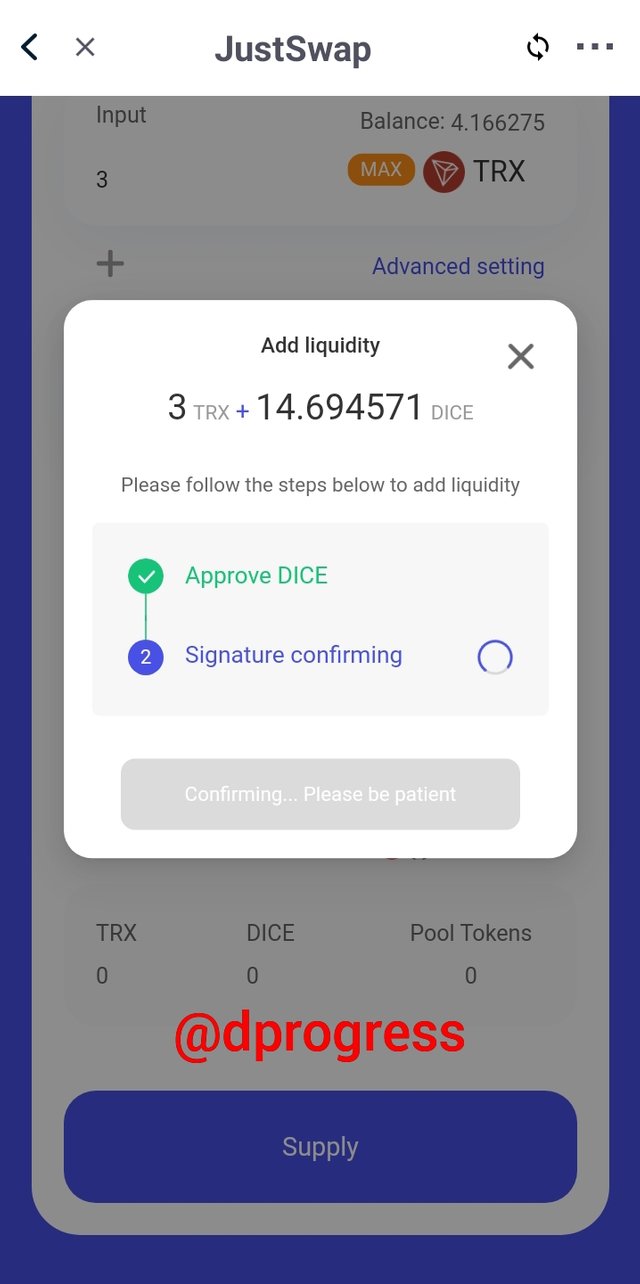 It confirming signature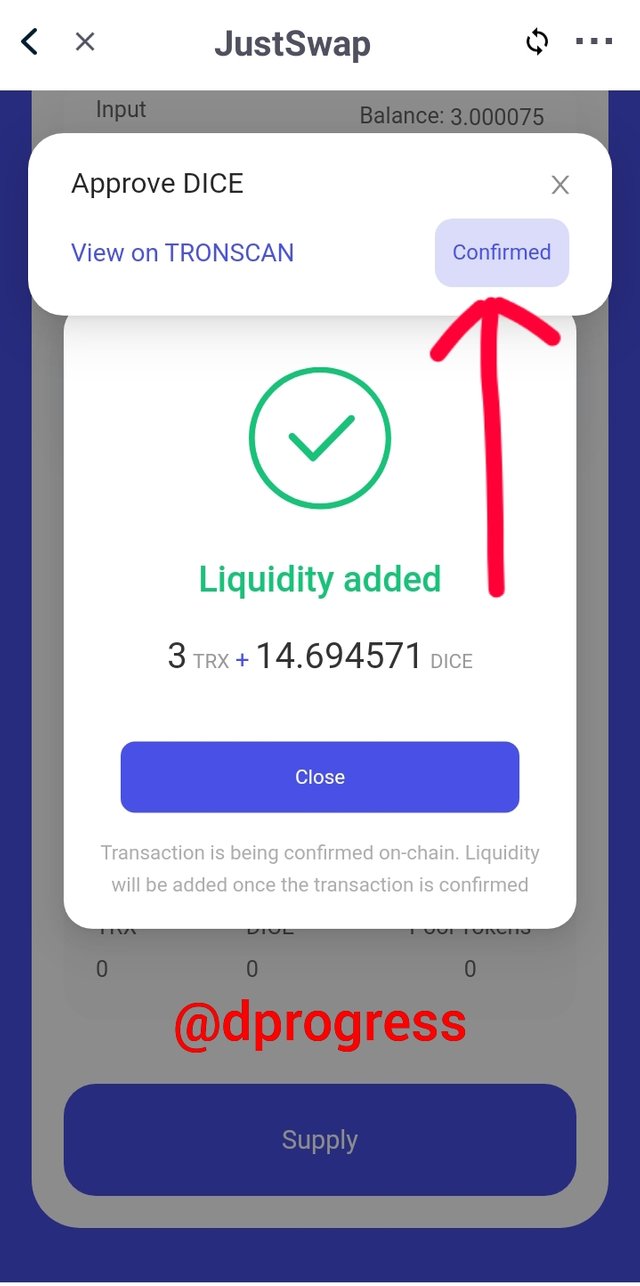 A notification showing that my Approve DICE is already confirmed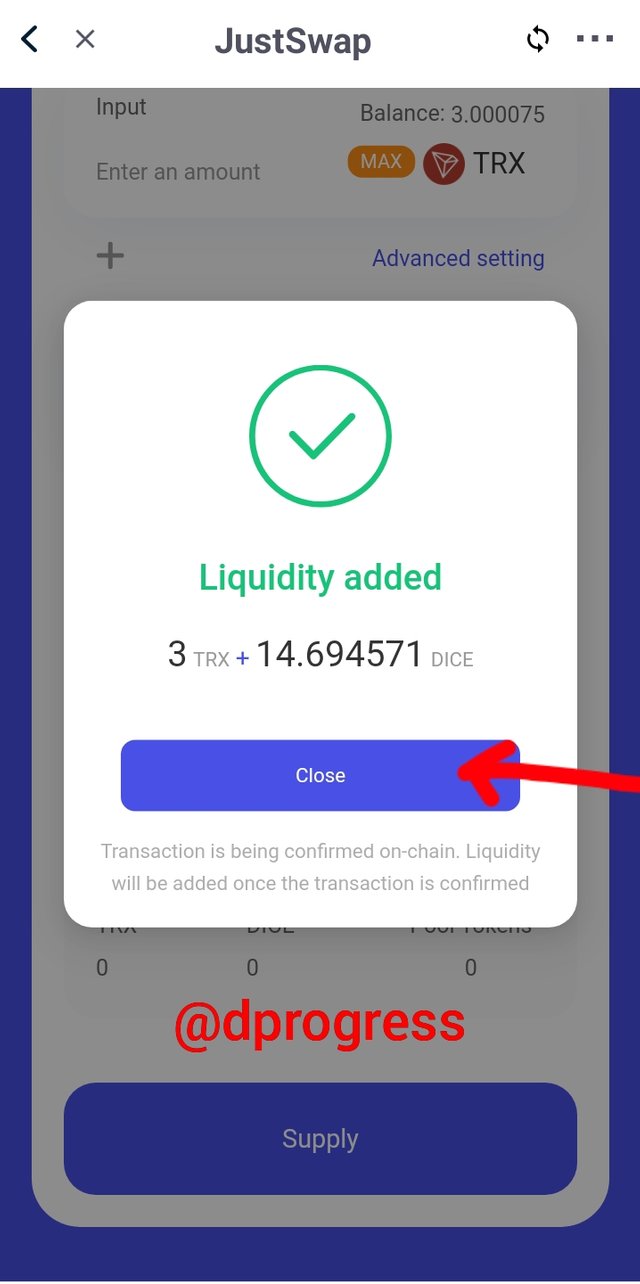 Step 12: Finally the notification disappeared showing that 3 TRX + 14.694571 DICE is already added to Liquidity. Click on Close
This is how to add Liquidity to JustSwap.
Conclusion
In conclusion, JustSwap had proofing to be a successful protocol since its launching, so far there are 43 coins on the exchange making available 247 trading pairs. The trading fees have been shared among the Liquidity providers and not the protocol itself make it attractive for traders to invest their funds in the protocol. The exchange fees charged on transactions is low when compared with other exchange platforms for example ethereum based exchange platform. And finally, JustSwap has increased the influence of the TRON blockchain.
Cc: @kouba01