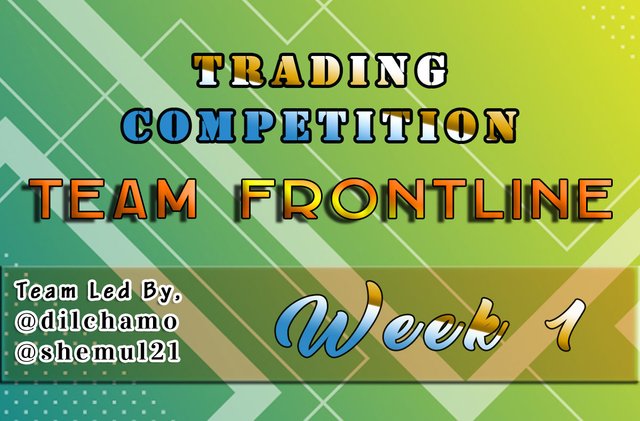 Hello steemians,
Here, I came up with interesting news today. This time crypto academy has organized a trading competition which All of you are cordially invited to participate. There are 5 teams. The team 1 is led by me @dilchamo and @shemul21 .
The team name is TEAM FRONTLINE . You can join our team and engage in trading and win surprising rewards.
I will explain the details of the competition step by step.

HOW SHOULD YOU PARTICIPATE THE COMPETITION

You can trade any coin/token (can be spot/contract/margin trading, etc.), and make a post of each one, you can trade every day and post every day, and the content should be as below:
---
IMPORTANT

Guide to fill the Google form

---
How does the team win?
The highest ratio = the number of profit transactions/the total number of transactions of the team
Rewards:
For the winning team, the top 3 users will get an extra 25% upvotes from sc01

We will guide you with the trading strategy and grade your posts.

You should be with a Reputation of 60 and a minimum SP of 300SP

Guidelines to join the Competition

EX: ADA/USDT Sell | S6W1 | Team Trading Contest Post for Team-Frontline

HOW TO JOIN THE TEAM FRONTLINE

If you have read and understood the information above and If you are willing to join my team and win smart rewards by trading you can trade and post about the trade using my team tag- #team-frontlines6w1 and join with me.
Please read the post carefully and get the idea of what exactly you should do in this contest
I Hope to work as a team and have fun in this Trading competition. Good Luck.

Cc: