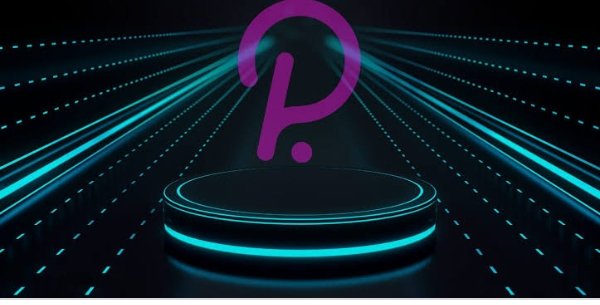 Source
Choose a platform or service belonging to the Polkadot Ecosystem (Polkadot not permitted) and make a detailed post, which must comply with the following aspects:

EXPLAIN IN YOUR OWN WORDS WHY YOU CHOSE IT AND WHY DO YOU THINK IT IS RELEVANT TO THE WORLD?

Firstly, the Polkadot ecosystem is a universal one that habours different kinds of Blockchain projects and as at 2021, the ecosystem already has over 350 projects being launched on the project and there are more projects yet to come.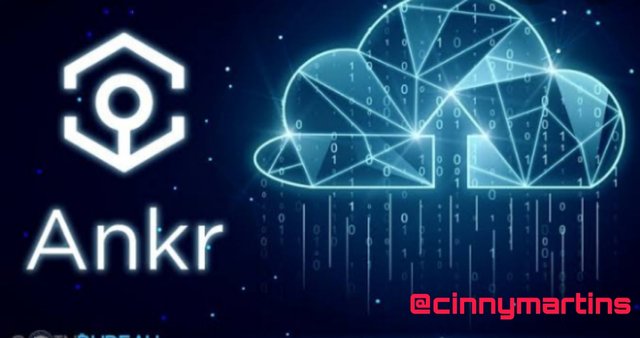 Source
For this operation, I choose to work with ANKR as one of the projects built on Polkadot. I'd like to say that ANKR was one of those cryptocurrencies that caught my fancy to the cryptocurrency world at first and one of the reasons I had to choose it for this task is because lately I have had sweet trading experiences with the said crypto. Moreso, the project is a very fundamental one and futuristic at that.
Just like every other coin being a native token of another network for instance, Ethereum has its Blockchain and Tron belongs to a particular Blockchain, and host of many others, ANKR is also a native token built on the ANKR network. More to this is the fact that ANKR is a DeFi platform on the polkadot Blockchain. This means that the platform is Decentralised and provides its users with a level of convinience.
One of the relevance of the project is that it tends to build a resource efficient framework within the Blockchain as well as a user friendly infrastructure for businesses possibly because it is a web3 compatible API so that the ongoing barrier to business adoption is being addressed through a novel Blockchain solution hence, decentralizing the internet to accommodate as many users as possible relying on cloud computing resources.
Through this medium, delivery of service is facilitated through the internet with tools and applications like networking, servers, softwares, databases, storage etc.
So, rather than storing files on a local hard drive, cloud-based storage ensures those files are being stored in a remote database.
In a nutshell, the importance of ANKR to the world is that the project encamp users with the capacity to work remotely with efficiency and speed, security, increased productivity and performance.

DESCRIPTION OF THE PROJECT AND ITS PLATFORM. (SCREENSHOTS NEEDED)

The ANKR project was launched in 2017 as a Blockchain-based DeFi infrastructure and web 3 platform that facilitates cross-chain Staking. The project was powered by ETH-based token and its main aim is to furnish easy access to webs and also increase efficiency in the Blockchain Blockchain foundation.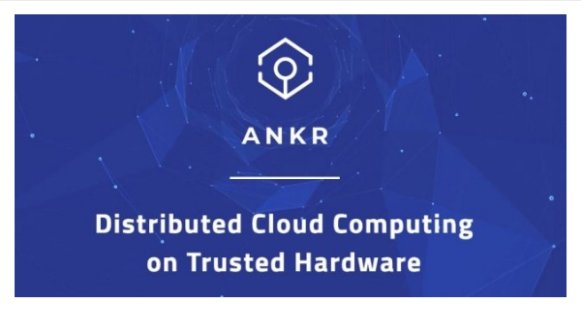 Image
Host of businesses around the globe are using cloud computing to increase deployment and maximize efficiency. ANKR is also a good computing platform gagded by the Blockchain. It is existence of the Blockchain that adds increased velocity, more inclusivity and transparency to the system.
The ANKR team believes that idle computing power can replace cloud service providers (CSPs) like IBM cloud, Microsoft Azure, Amazon's AWS. So, facilitating this idea, they went further to create a system where businesses and people worldwide can utilize idle computing power of others. Beyond this, ANKR went as far as providing an underlying base to power the internet of things as well as more emerging economies.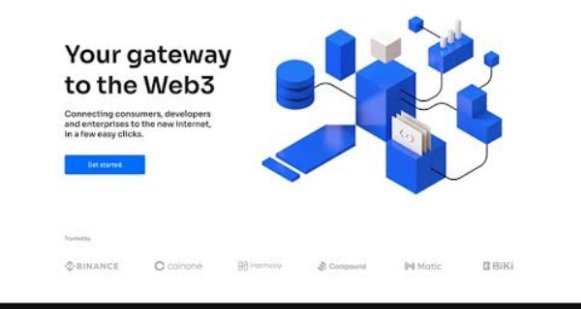 Image
ANKR is also a gateway to web-3 infrastructureand this come this seen with the increased speed at which consumers, businesses and developers are connected to the Internet.


Image
Lately, the ANKR development team has secured partnership with Matic network to improve supply usage and adoption of ANKR cloud computing services.

FUNCTIONALITIES AND REAL-LIFE APPLICATIONS. (SCREENSHOTS NEEDED)

Most of all, ANKR uses power of cloud computing to make available resources for people who may not know about node or be able to operate it. But the good thing about operating a nice is that it furnishes the highest level of security particularly while using systems based on the Blockchain.


Image
One of the difficulties associated with a node is that it requires a high level of skill to run it but the ANKR platform solved this by allowing other entities lend their computing resources to ANKR and they (ANKR) in turn provide these resources to parties who wish to operate a node. Afterwards, those who lend their computing resources are rewarded through the ANKR platform.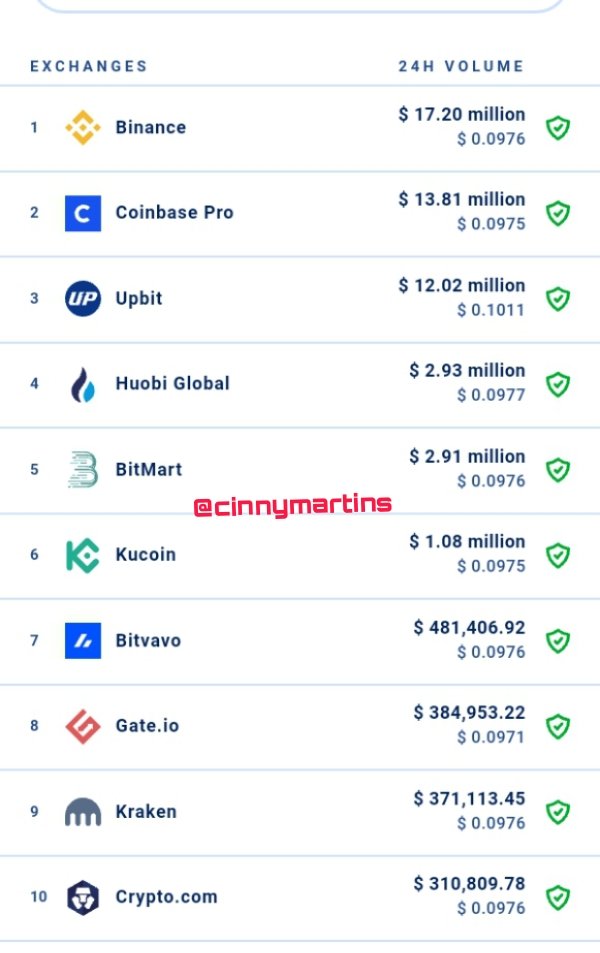 some Exchanges that launched ANKR
ANKR has been listed on major exchanges like binance, Huobi global, CoinTiger, Bother, coinbase and many more and so far, it has provided a boost to liquidity.
Moreso, ANKR is used as payment with the ANKR ecosystem. This is because it acts as a mechanism governing the platform. Hence, it would suffice to say that ANKR can be used to pay for actual services meaning it has properties that being it closer to money.
ANKR has tackled centralization across multiple enterprises by providing users a way of escape to Amazon fees and still enjoy a level of security and reliable cloud services.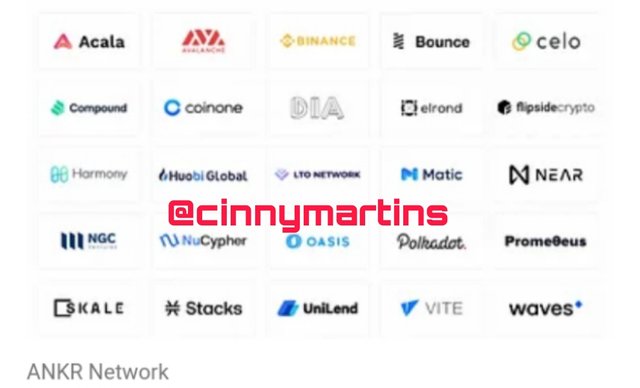 some ANKR network
One might ask how ANKR tables centralization?
When any of the Blockchain above in the image incorporates the ANKR platform, their nodes are boosted. It is these nodes scattered across that facilitates Decentralization. In turn, the influx of these nodes strengthens responsiveness and security in the network.

FUTURE DEVELOPMENT AND ASSOCIATED PROJECTS. (SCREENSHOTS NEEDED)

ANKR has so many plans and projects to be taken up in the nearest future and few of the associated projects are:
Making nodes available and staking more accessible: Due to high entry barriers, staking nodes are not always accessible for regular users. So, ANKR has therefore included in their mission to terminate those technical entry barriers by building easy node deployment applications which will enable even nin technical users to run any node of their choice. So, one of the intended projects of the platform is to deliver best experience for stalkers as well as provide API services for developers.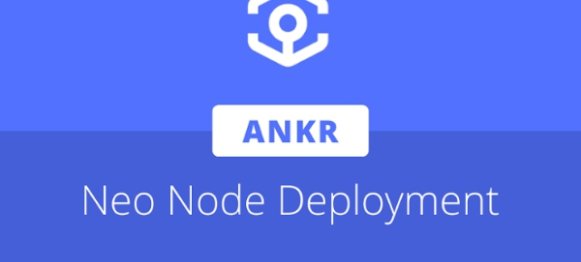 source
Integrate more DeFi products: The network seeks to boost their ecosystem by collaborating more with projects that complete their ecosystem with their DeFi services.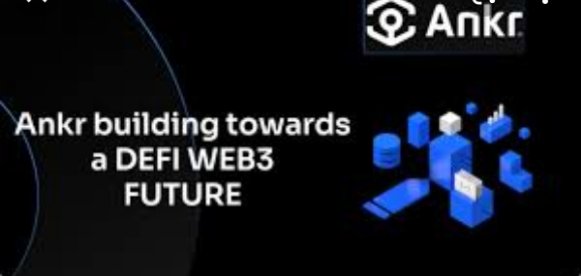 source
Expand Ethereum and polkadot based solutions: ETH being the most used Blockchain, the system expects it to attract more user and developer activity. So, the ANKR platform projects to work on their infrastructure for a one click deployment both for Ethereum and Polkadot nodes in the nearest future as well a expand their easy API access for developers to have best user experience.

source

MAKE A TECHNICAL ANALYSIS OF THE TOKEN OF THE SELECTED PLATFORM, THEN THROUGH YOUR VALIDATED EXCHANGE ACCOUNT MAKE THE PURCHASE OF THE TOKEN (15 USD AS A MINIMUM). SCREENSHOTS NEEDED AND AN EXPLANATION OF THE PROCEDURE ARE REQUIRED.

As at the time of writing, ANKR is worth $0.099 according to coinmarketcap and is ranking 113.
It has a market cap of $809,920,198 and a circulating supply of 8, 162,899,378 ANKR and a 24hr trading volume of $77,777,306.45.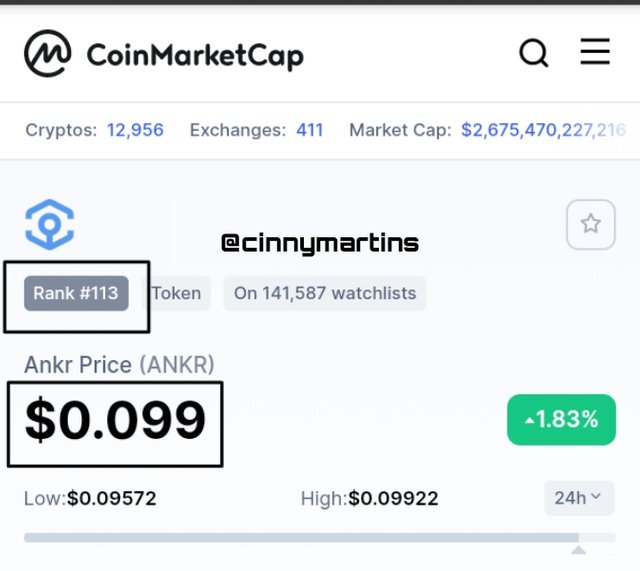 coinmarketcap platform
Here, we have a chart from Tradingview platform of ANKR/USDT running on a 4hours time frame and from what can be seen in the graph, the ANKR got to its Resistance level few hours ago at $0.11000 and its current price as at the day of writing according to Tradingview was $0.09888. This signifies there was a slight drop in the price of the token lately.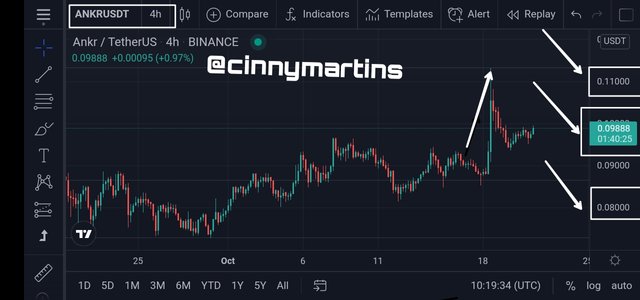 Tradingview platform
Then through your validated exchange account make the purchase of the token (15 USD as a minimum). Screenshots and an explanation of the procedure are required
For this operation, I choose to carry it out with my binance verified Exchange and I will be stating the procedures below.
Firstly, I logged into my binance exchange and from the homepage, I located the trade section and clicked on it.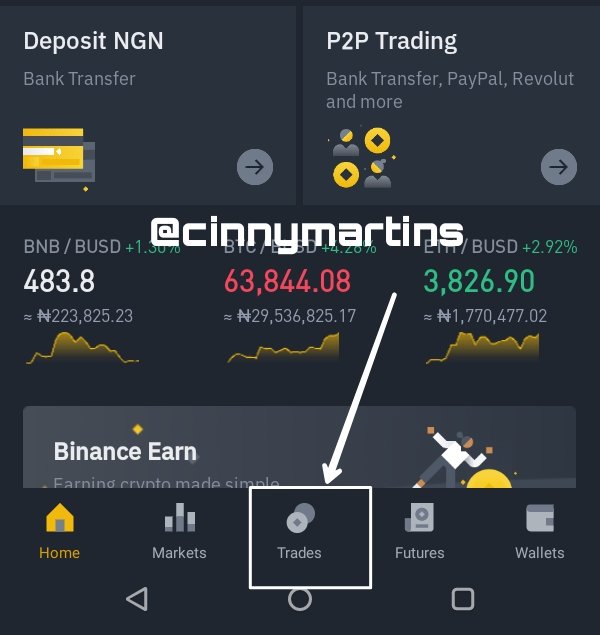 The trade page popped up and was on BTT/USDT as a result of my last trade so I had to click on the region where my arrow was pointing to search for the exact pair I wanted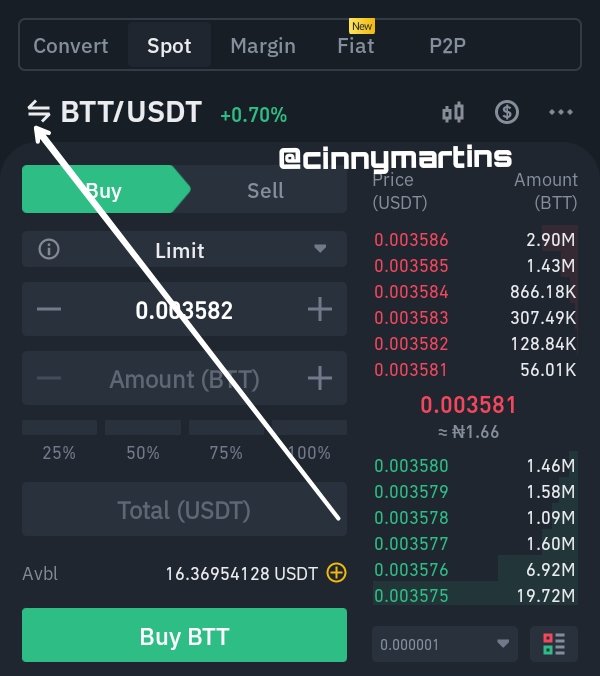 A search page appeared where in clicking on ANKR other pairs that matches with ANKR showed up and I selected the desired pair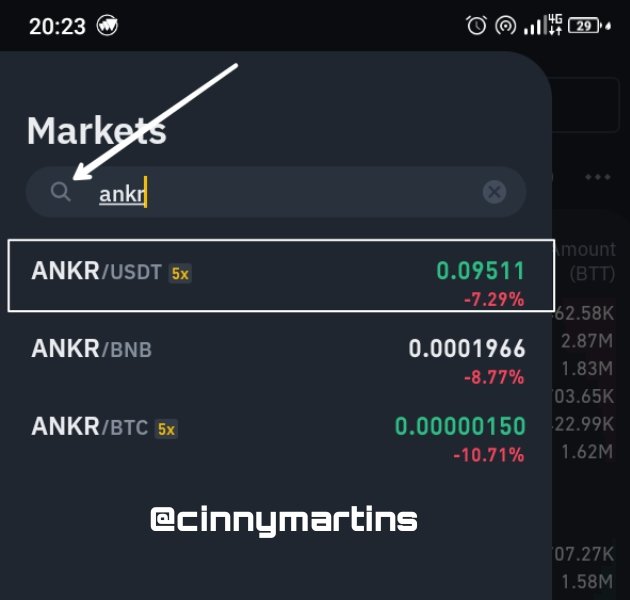 I placed my order relying on binance price which from which 16.36 USDT gave me 172.2 ANKR and then I clicked on buy.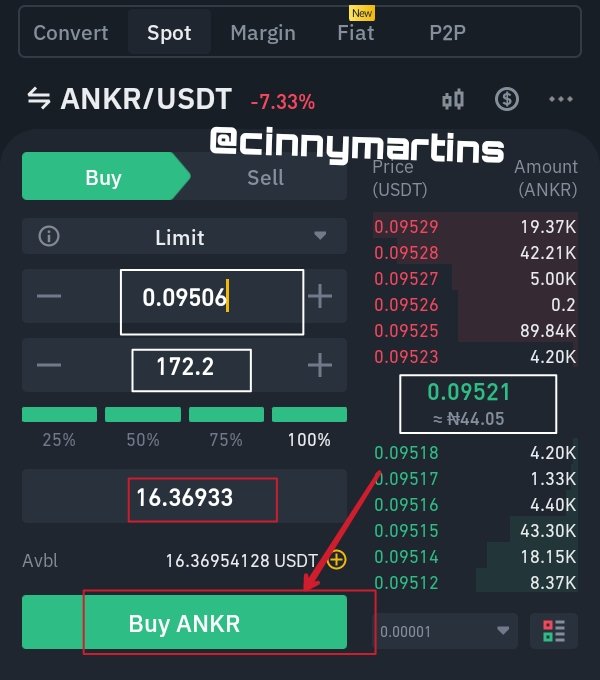 Here I have my order pending and waiting to be executed.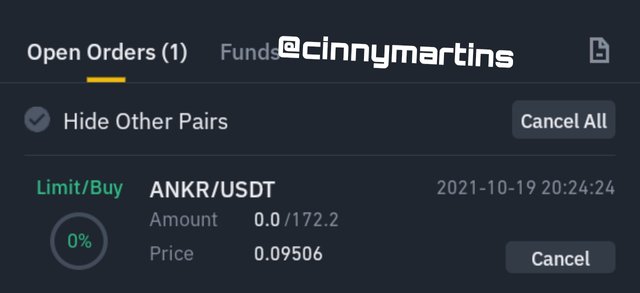 And here the details of my filled and executed order.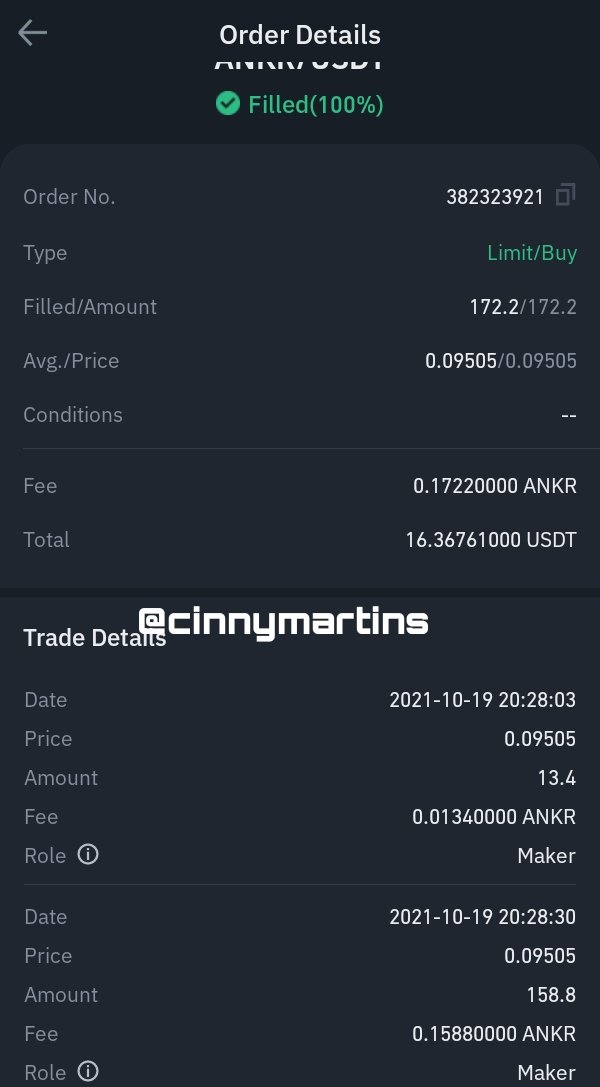 Reference
That is all for now.
Cc.
@allbert