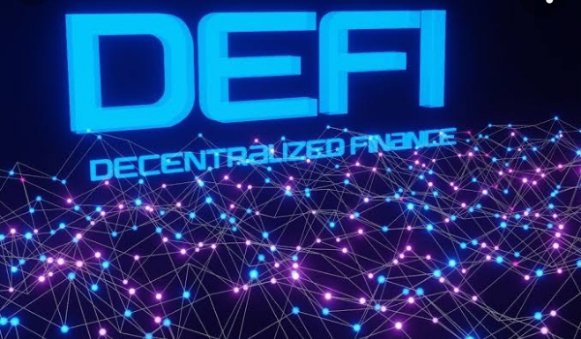 image source

IN YOUR OWN WORDS, EXPLAIN DeFi PRODUCTS AND HOW IT IS SHAPING THE PRESENT-DAY FINANCE.

In the simplest English, DeFi means Decentralised Finance. So, when we talk about Decentralization it simply points to a system that allows users across globe to participate in the Blockchain network Investing their funds in a system where they are allowed access and control without an intermediary. Now unlike what we have in a Centralised system where there are entities and top executives who solely take up the responsibility of controlling the system as well as administer user's transactions in their stead. While we run down, understand that the aim of cryptocurrency is to defeat Centralization.
Now, when we talk about DeFi products, we are simply referring to products, tools and applications in the field of finance that advances the technology world by creating a medium of exchange or offering service to users across the globe without necessarily needing a third party to Grace such transaction. Recently, the world has so much advanced technologically that various opportunities can be extracted from all spheres.
DeFi products was established to zero the trust element needed in the centralised technology where we need to have our finances under the custody of third party Who we don't even know just like what we have in CEX and other investment platform. Now Dencentralised finances made possible the creation of products and services while maintaining a reasonable level of decentralization in the system where users have little or no need of a third party and still having a deep sense of transparency and security which tends to lure greater number of users in becoming part of the ecosystem.
we have lots of DeFi projects scattered on the internet like uniswap that facilitates financial decentralization from whence users can lend finances, borrow finances and even earn reasonable interest and make purchases without a central authority and yet have a secured and safe transaction. In all, DeFi products are decentralized projects or platforms that renders financial services without a central authority administering or authorizing such transaction or service. And notably, the aim of building DeFi products is to enhance privacy in user's financial involvement as well as facilitate speed in the financial industry which would have been hindered by the existence of third parties and their protocols thereof.
The speed and height of security which DeFi products uses to offer its services can be attributed to smart contract. By virtue of it, transactions are quickly executed without any form of delay or error. Another exciting feature of DeFi is that users transactions are transparent and can be accessed by users across the globe and in the case of any erroneous transaction, the history of such transaction is being recorded and can be accessed over time.

[1b] EXPLAIN THE BENEFITS OF DeFi PRODUCTS TO CRYPTO USERS.

For this task there's need for me to reiterate some of the points i noted earlier in the previous number. Recall that I earlier wrote about the aim of cryptocurrency being to defeat centralization. Now we are going to outline the benefits of decentralized finance products to cryptocurrency user which include the following:
Transparency
All most every DeFi product i know have this similar feature of transparency. By this i mean to say that every transaction carried out in DeFi is recorded and can be accessed by users at every point in time.
Now the implication of this is that the crypto users who might have carried out one or two transactions on the blockchain can still fall back to those recorded transactions anytime any day in case of an error to rectify his transaction in the system.
0% Trust Element
In a Centralised system where the are top executives who administers users transactions in the system, users pass the hurdles of having to keep their assets under the custody of an entity whom they know nothing about but this is not so in a DeFi as users run their financial services having no need to trust any entity for the safety of their funds.
DeFi products are of great benefit to the cryptocurrency users on this note in that he has no need to trust any external entity relying on their services instead he renders such service all by himself.
Highly secured
The influx of new users in DeFi is as a result of the height of security it offers to users in the finance industry. This is made possible courtesy of cryptography which allows only authorized users access to the funds.
This is so important to the crypto user as he don't need to battle with any fear of loosing the funds in his account to hackers as long as his private keys are well secured.
Cost Effective
DeFi has its own way of boycotting so many rigorous processes as seen in a Centralised system which tends to reduce to costs of transaction in DeFi.
So, as much as users enjoy speed and security of funds and transaction, it also cost him less in a Decentralised Blockchain.
No third party
Far from what is seen in a Centralised system, crypto users need not be under the administration of entities who controls, administers or need authorization to confirm user's transactions instead, DeFi allows its users to control all their activities and since they have their private keys and wallet in their custody, they can control their transactions from anywhere around the world without authorization from intermediaries.
Multiple Services
There are countless products and services which can be implemented with DeFi such as DEX, staking, farming etc. With this, the crypto user is not limited to one service. So he can benefit from as many products and services as he wishes.
Accessibility and user-friendly
The Decentralised Blockchain allowing users around the world to participate wholesomely to the workings of the system points to its Accessibility and the system is designed in such a way that new crypto users can easily master it while offering their products and services.

DISCUSS ANY DEX PROJECT BUILT ON THE FOLLOWING NETWORK. - Binance smart chain. - Tron Blockchain

BAKERYSWAP
Bakeryswap is s DeFi project built on BSC which enables users to stake BAKE tokens and also trade special Non-fungible Tokens. It is a native token called BakeryToken or BAKE. This token is earned by staking liquidity pool tokens or BAKE token or even by providing liquidity to asset pairs. Bakeryswap is a project launched on the DeFi network which allow users tokenize their project and earn token in return while providing liquidity.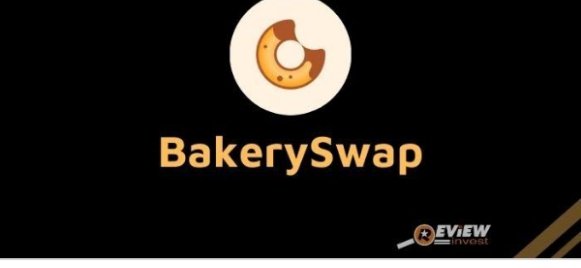 source
Originally, bakeryswap project was associated with ETH Blockchain up until its adoption on BSC which was driven by its faster transaction and reduced cost on every transaction. Bakeryswap has been the first automatic market maker (AMM) and NFT exchange on binance smart chain. Apart from having AMM trading, staking and other functionalities, bakeryswap also provide NFT trading market and Launchpad. The project has other exciting benefits like providing IDO services to other Decentralised projects with innovative awareness and unique planning.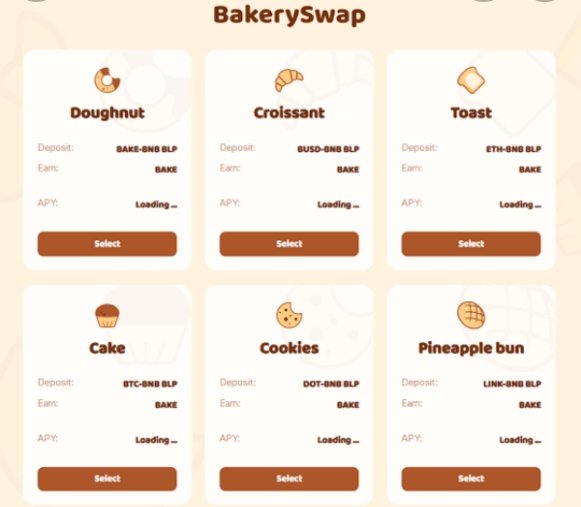 source
WHY BAKE?
Bakeryswap is a comprehensive DEX including liquidity farming, Launchpad, gamification, NFT+DeFi, NFT marketplace and many more. Currently, Bakeryswap is the largest NFT trading market as long as BSC is concerned having 5000 Nifties listed on its NFT supermarket. Bakeryswap is amongst the first four projects that the Binance Ecological development funds sponsors.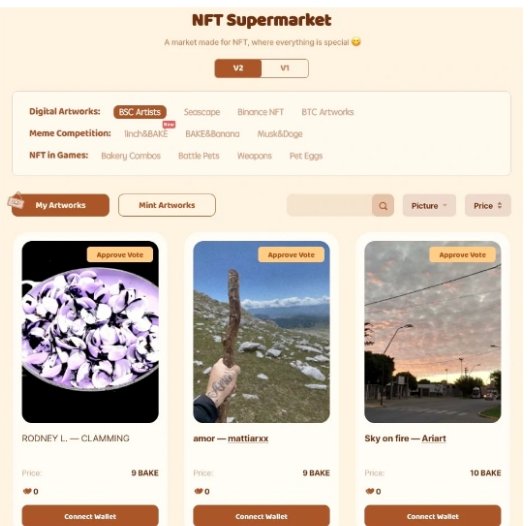 source
BAKE FUTURE
The project SWAP section has the aim of attracting high quality project to join their yield farming plan.

The team intend to leverage their advantage in product and center on building NFT market on BSC. Moreso, they are trying to develop more NFT products like mystery boxes game play, auction and many more.

Bakeryswap intends to combine liquidity protection which is a mechanism used to maintain equal relationship between the traders and the project.

The project intends to enhance a user friendly experience by optimizing data display and adding a personal data board.

Lastly, the project aims to simplify the process of launching new projects and creating series of smart contract.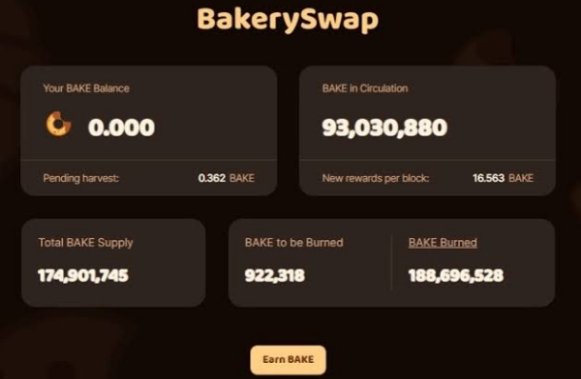 source
Currently, staking is available for Bakeryswap making NFT+DeFi possible. On Bakeryswap, users can stake tokens to earn NFT and the more staking you engage in, the more NFT you earn and the faster you will earn NFT. Bakeryswap can be accessed through wallets like Metamask and Trust wallet.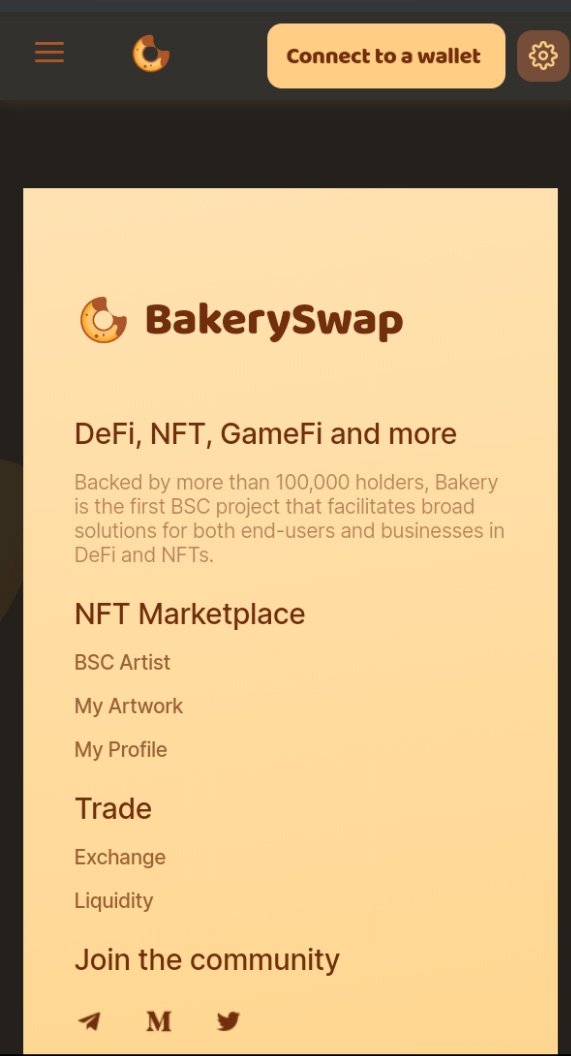 source
NFTs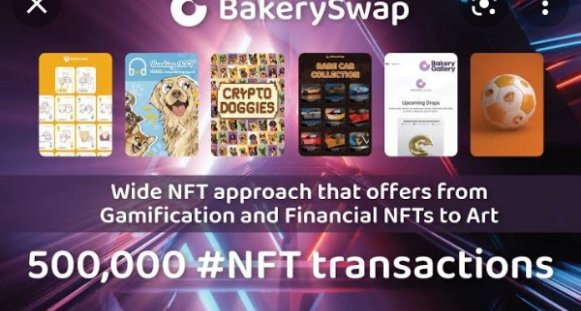 Bakeryswap is the first AMM+NFT project on BSC. The native BAKE token is used to create NFT which is used to farm BAKE. The Bakeryswap platform had NFT supermarket which allows artists convert their artwork to NFT through minting process and after which it is sold. Now, the user buys artwork using BAKE token at the supermarket.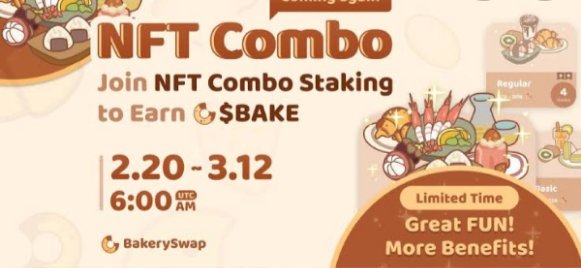 source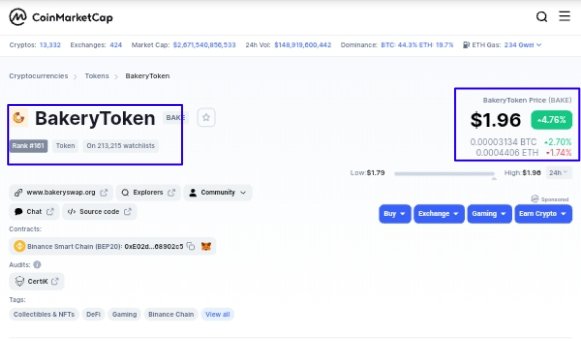 Here's the price of BAKE token and its rank from coinmarketcap.
WINk
This is a casino-bases Blockchain operating on Tron Blockchain if which its platform is user friendly having various casino games that is users enjoy. The platform basically supports English language and Arabic as its main language.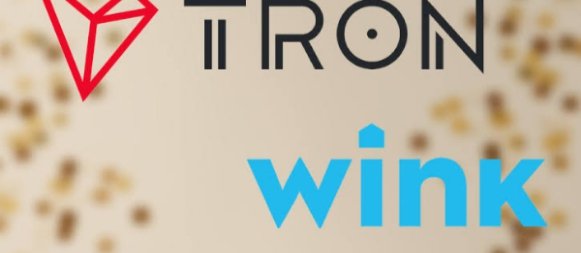 source
One good thing about the platform is that users need not be experts to play games on the wink platform and those users are eligible to be rewarded various cryptocurrencies like BTT or TRX just for playing games.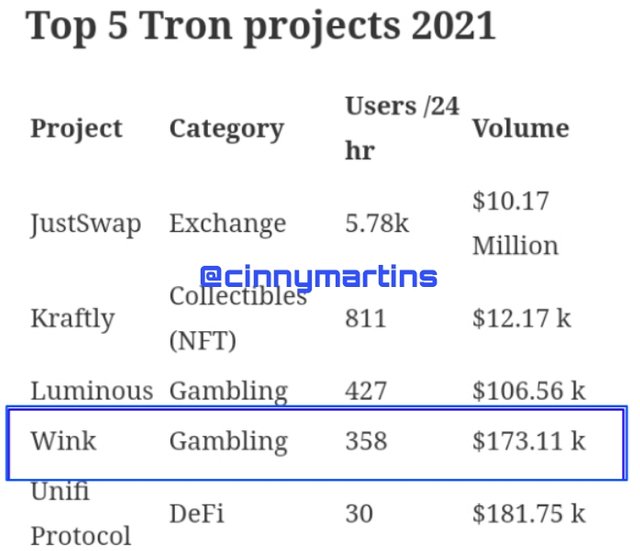 source
Here's a brief description of wink which is categorized as gambling and have $173.11k volume.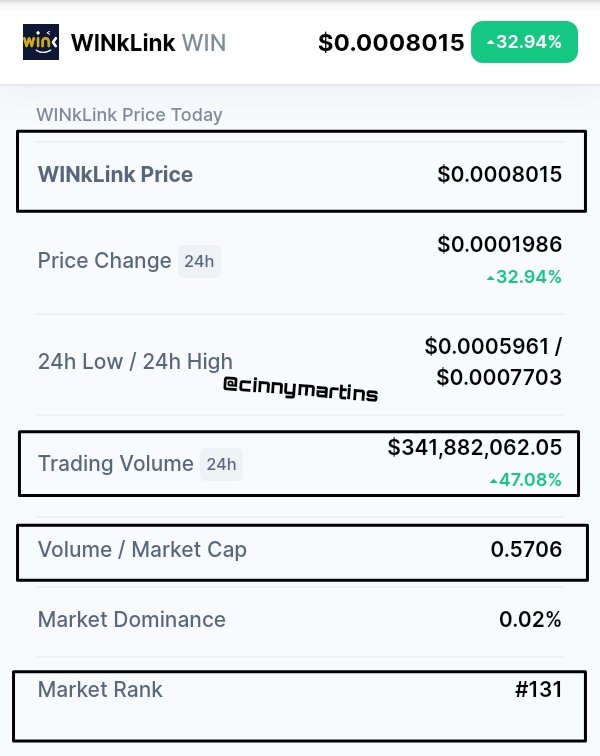 source
From coinmarketcap platform as at the day of writing,
the price of Wink token or WIN is $0.0008015
Trading volume is $341,882,062.05
Volume/market cap is 0.5706
Rank is 131 in coinmarketcap

IN THE DEX PROJECTS MENTIONED IN QUESTION 3, GIVE A DETAILED ILLUSTRATION OF HOW TO SWAP CRYPTOCURRENCIES BY SWAPPING ANY CRYPTO ASSET OF YOUR CHOICE. SHOW PROOF OF TRANSACTION FROM BLOCK EXPLORER. (SCREENSHOTS NEEDED)

For this task, I will be illustrating how to swap TRX to WBTT cryptocurrency using TronLink wallet and the steps to carry it out is illustrated below.
Firstly, I visited my TronLink wallet and from the homepage, I clicked on swap. Already I have 1 TRX stored in the wallet as you can see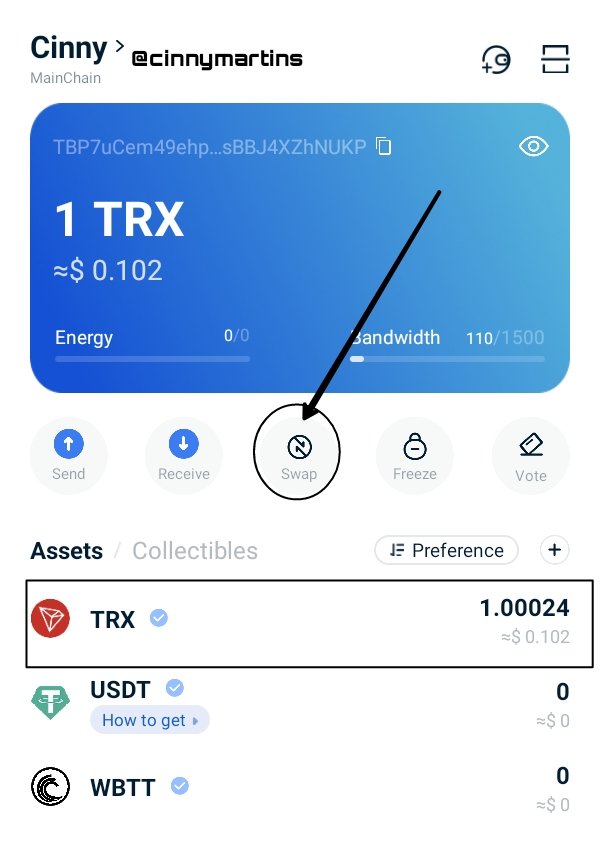 I was moved to another page still on TronLink wallet where I inputted the cryptocurrencies I wished to swap which was TRX to WBTT and I clicked on justswap which was the area where I circled.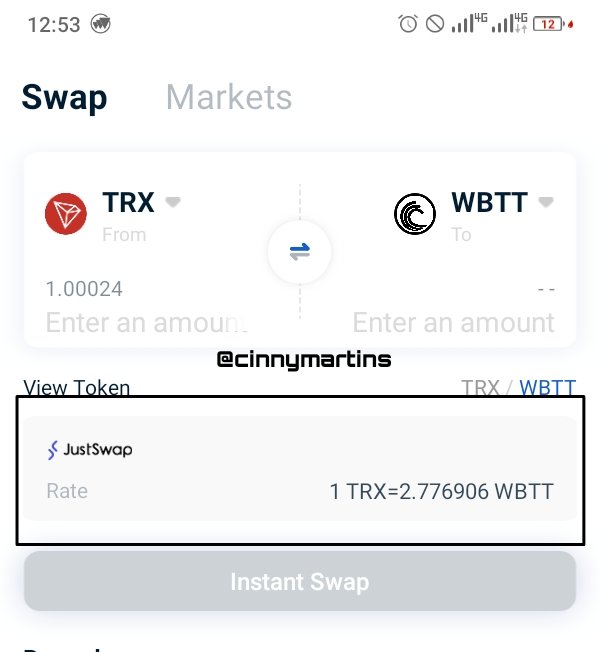 From what can be seen below, 1 TRX when swapped would give me above 24 WBTT and then I clicked on instant swap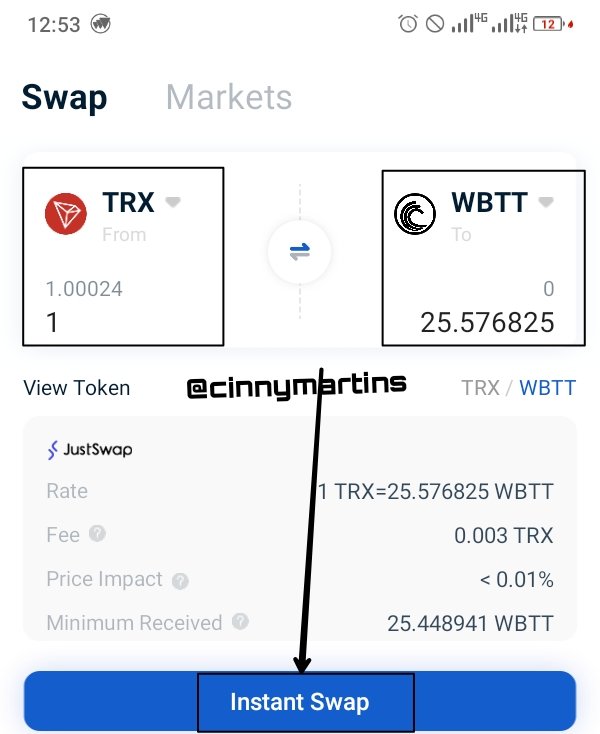 I was redirected to justswap website where I had to confirm my transaction details and the gas fee for running the transaction. I clicked swap.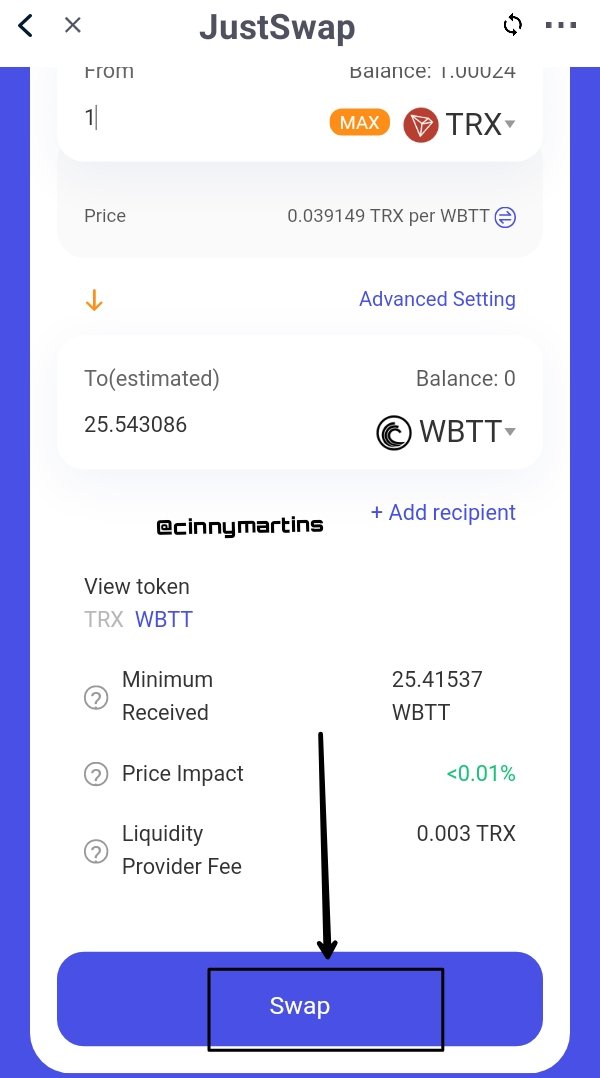 Now, I mini box popped up where I had to reconfirm my entry for clarity purpose.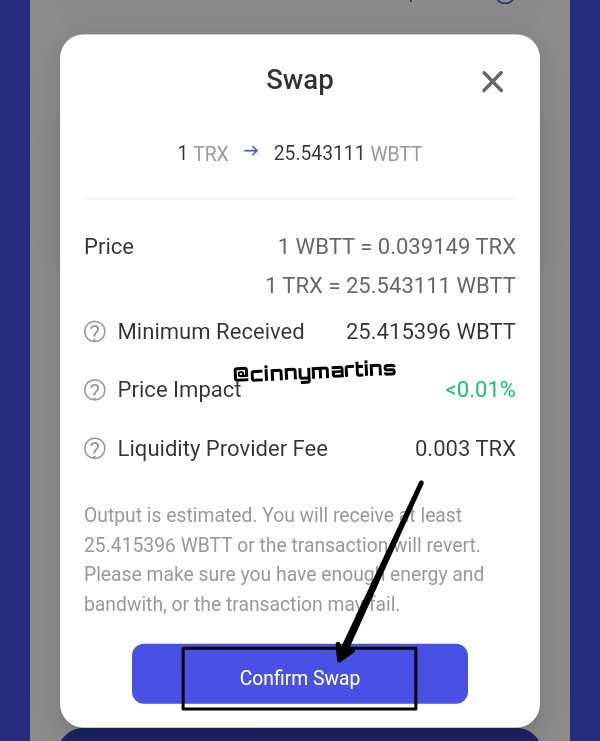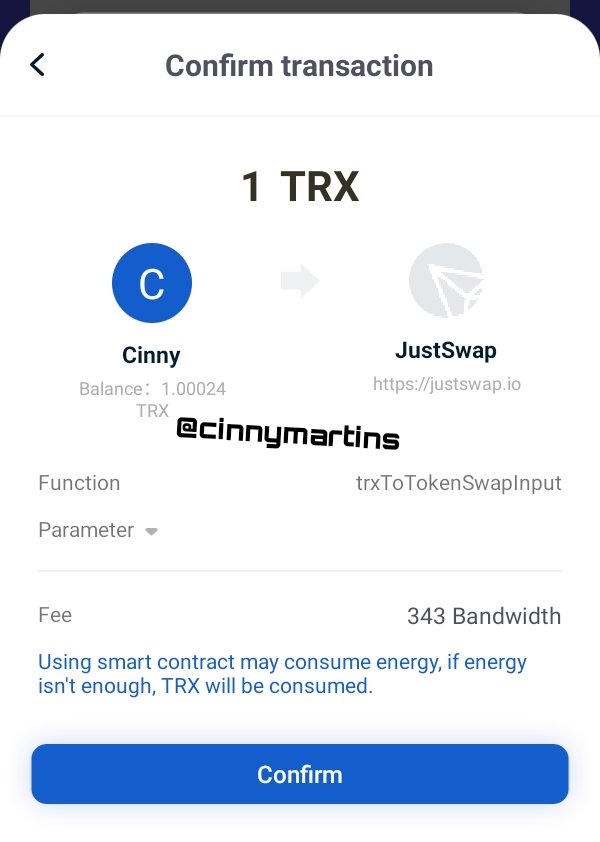 I had a complete swap from the website where it was confirmessfully ced that the transaction was succ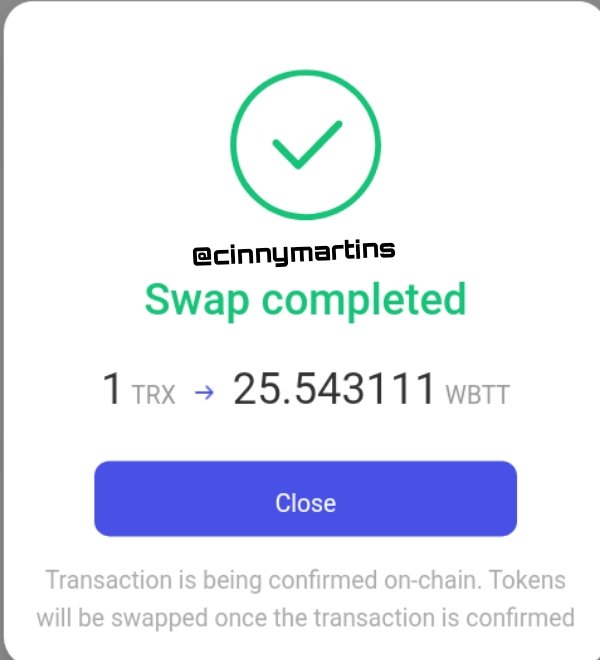 Here is the details of my transactions from Tronscan.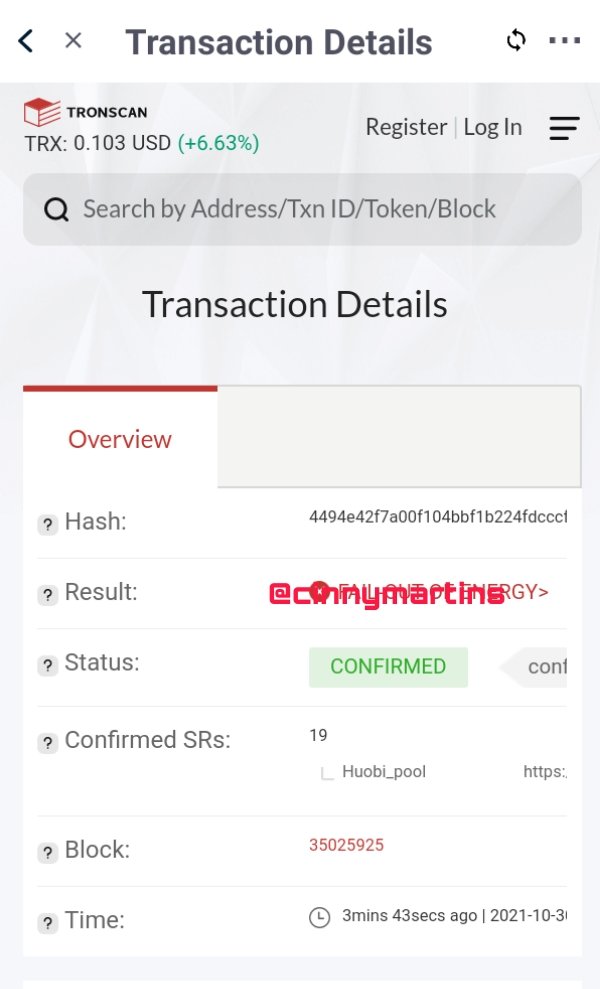 Cc.
@reminiscence01