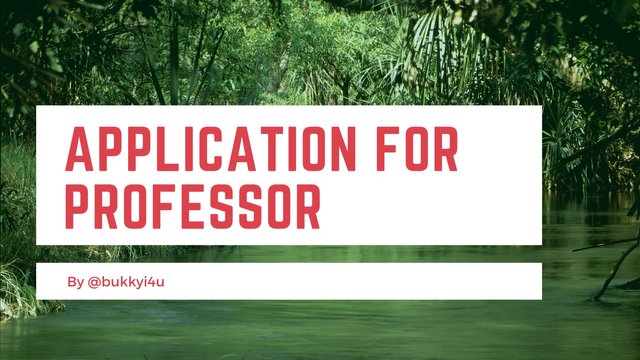 edited with Canva

In response to the offer made by @steemitblog, I humbly make my submission for the position of a Steemit Crypto Academy professor for the upcoming Season 5 below.
Note: this application is actually a resubmission of the application I had made earlier for the season 3 for which I was not successful. I hope I make it this time around.

MY EXPERIENCE WITH STEEM AND OTHER BLOCKCHAINS
My first contact with blockchain was in the year 2016 when I met a friend who was so enthusiastic about a novel technology called Bitcoin. He told me he had bought some coins with about 100,000 naira for each coin. Of course, about 5 years after that investment we all know what one Bitcoin is worth now as against its value as at then. Unfortunately, I didn't pick so much interest based on the fact that I was looking for an investment that will pay off immediately. So, I settled for the now defunct Mavrodi Mundial Movement (MMM) ponzi scheme. However, when Swisscoin came around, and after being compelled by the same friend, I decided to make some investment into it. Well, that particular concept never lasted though I had pulled my funds away from it a long time before I stopped hearing about it.
My next contact with blockchain technology happened when I came across a certain social media platform called Empowr whose concept was quite similar to that of Steemit with users' content being voted for real cash. However, the fact that the technology didn't seem so genuine to me made me exit earlier. In February, 2021 I came across a student named @davchi who introduced me to the steemit platform. I got so engrossed that I didn't waste any time registering. I began to participate in the Steemit Crypto Academy homeworks in the week 6 of the first season and got mentioned among the top picks by professors @stream4u and @sapwood in my very first week in the system. Having participated in the assignment tasks and understood cryptocurrency trading, I am now actively engaged in trading on Binance.

WHY I BELIEVE I'M FIT FOR THE JOB
First, I have come to develop a passion for cryptocurrency in general and have been addicted to the concept called Steemit Crypto Academy in particular. I have actively participated in the homework tasks right from the very first week I heard about the academy and have been severally mentioned among top picks many times. I do have a passion for teaching and have demonstrated this in how I take my time to research and write my submissions for the homework tasks. I have the ability to interact with students in real time and can access homeworks without bias. This is due to the fact that I have been engaged in teaching works both privately and publicly for about 5 years now.
I have also been a resource person in a crypto-related lesson centre in my school for about two months now. I focus more on introducing new comers into the concept and technology of cryptocurrency and blockchain. However, I believe that my major qualification for this job is the passion I have to impart much of what I have learnt to other people especially beginners even as my schoolmates now flock around me to gain some knowledge on technical analysis after seeing my performance in the Steemit Crypto Academy and much as I may not be able to prepare the future of cryptocurrency and blockchain for them, I can at least prepare them with practical knowledge that would be necessary for them to actively participate in the future of blockchain and cryptocurrency.

TOPICS I HOPE TO COVER IN THE FIRST 5 WEEKS
Week 1
How else but to start the first week with a basic introduction and lecture on the very basics of cryptocurrency? This will be aimed at making the students have a basic knowledge of the origin and meaning of the concept of cryptocurrencies.
1. The Basics Of Cryptocurrency
What is cryptocurrency?
The introduction and origin of cryptocurrency
The importance of cryptocurrency
The use cases for cryptocurrency
The future of cryptocurrencies
The assignment task would revolve around exploring their basic understanding and knowledge of cryptocurrencies.
Week 2
Having given the students a basic understanding of the origin, introduction and meaning of cryptocurrencies, it will be necessary to lecture them on the different types of cryptocurrency. I will take particular interest in the unique features of some selected important cryptocurrencies.
2. Types Of Cryptocurrency
What are the different types of cryptocurrency?
Unique features of different cryptocurrencies selected
Advantages of specific cryptocurrencies selected
Disadvantages of some selected cryptocurrencies
The use cases for some selected cryptocurrencies
The assignment task would revolve around doing some important fundamental analysis of a few selected popular and important coins with their specific and unique features as well as use cases.
Week 3
Having understood the meaning of cryptocurrencies and having gone through a few important types and examples, it will be expedient to introduce the concept of blockchain to the students in the third week of the course.
3. Blockchain Technology
What is blockchain technology?
The introduction of blockchain technology
The advantages of blockchain technology
The challenges associated with blockchain technology
The future of blockchain technology
The assignment task, at the end of the lecture, would revolve around exploring different blockchains as well as exploring the block records associated with them. It would also make the students draw out the unique features, advantages and challenges of each.
Week 4
In the fourth week of my lecture I would let the students in on the concept of cryptocurrency mining. This is to make them understand how cryptocurrencies can be generated and also how rewards can be earned through such a process.
4. Cryptocurrency Mining
What is cryptocurrency mining?
Types of mining methods for cryptocurrency
Importance and benefits of cryptocurrency mining
Challenges of cryptocurrency mining
The assignment task would focus on the different methods that can be used for the mining of different cryptocurrencies. Also, it would discuss the challenges of carbon emission in mining Bitcoin.
Week 5
Having introduced the concept of cryptocurrency to an appreciable extent, it would be necessary in the fifth week of the course to introduce the concept of cryptocurrency trading to the students. This would enable them to understand fundamental analysis, sentimental analysis and technical analysis for making better trading decisions.
5. Cryptocurrency Trading
What is cryptocurrency trading?
What are the benefits of cryptocurrency trading?
Technical analysis as a guide for trading cryptocurrencies
Fundamental analysis of cryptocurrencies as an important part of crypto trading
The assignment task would focus on making the students do researches on the benefits of cryptocurrency trading.

MY TOP 3 CRYPTO-RELATED POSTS
My top three crypto-related posts are listed below. Interestingly, they were also published on the Steemit Crypto Academy platform and had received 10/10 rating and/or mentioned to be among the top three in the various weeks they were submitted. They include:-
Steemit Crypto Academy [Beginners' Level] | Season 4 Week 1 Homework Submitted To Professor @awesononso| The Bid-Ask Spread | By @bukkyi4u
Steemit Crypto Academy / Season 4 / Week 1 / Intermediate Homework Submitted To Professor @imagen: NFT Games / By @bukkyi4u

Cc:
@steemitblog
@steemcurator01
@steemcurator02