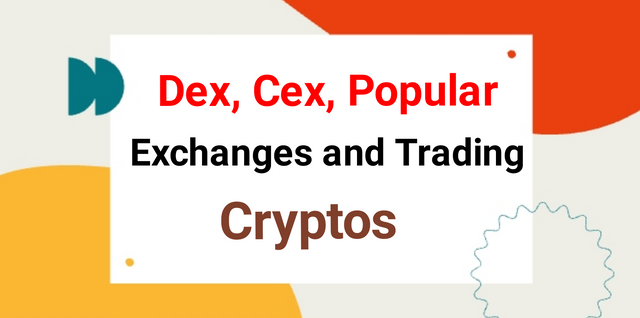 3-) Explain in your own words what an Exchange is. Differences between a Wallet and an Exchange. Mention the advantages and disadvantages of DEX and CEX. Have you used an Exchange before? Tell us about your experience.

What Is An Exchange
A cryptocurrency exchange which can also be known as a Digital Currency Exchange (DCE) is a business setup which makes it possible for its users to trade digital currencies or cryptocurrencies or exchange them for other assets. Such other assets can include other forms of digital currencies or assets as well as conventional fiat currencies or money. Different exchanges accept different modes of payment which can include wire transfers, credit cards or other forms of payments.
Forms of the cryptocurrency exchange can include the market maker type which features the bid-ask spread as a commission linked to every transaction which is charged for its services. It can also exist as a matching platform which would simply charge fees for every transaction completed on the platform. Important and very popular dedicated cryptocurrency exchanges like Coinbase and Binance make it possible for both deposits and withdrawals of cryptos to be done on their platform.
In the world of cryptocurrency trading, there are basically two forms of exchanges which include the Decentralized Exchanges (DEX) and Centralised Exchanges (CEX). Centralised Exchanges are cryptocurrency trading platforms that function in the form of trusted intermediaries or third parties in the trading of cryptocurrencies. They accept the deposit and act as the custodians who store the protected assets of users who carry out crypto trading on their platforms.
On the other hand, decentralised exchanges remove intermediaries such as middlemen thereby making their environment and transactions trustless. They operate as peer-to-peer platforms for trading of cryptocurrencies and the escrow service never holds the assets of users in custody. Atomic swaps and smart contracts are utilised for the enablement of transactions on these decentralized platforms.
However, decentralized exchanges are not as popular and widespread as their centralized counterparts. This amounts to a low level of liquidity for the decentralized exchanges even though they come with quite a huge number of benefits in terms of security of user's funds.

Differences Between A Wallet And An Exchange
Having explained a cryptocurrency exchange it is important to understand what a cryptocurrency wallet is. A cryptocurrency wallet is a device, a service, a program or a physical medium which makes it possible for the private and or public keys of cryptocurrency assets to be stored and retrieved when needed as a means of gaining access to the underlying assets in such mediums. It functions as a bank where fiat currencies can be deposited or kept.
Some key differences between cryptocurrency wallets and exchanges include:-
1). A wallet is useful for the storage and the management of cryptocurrencies while an exchange acts as a platform or medium through which purchases and sales of cryptos to other cryptos or to fiat currencies can be carried out.
2). The type of cryptocurrency wallet known as the Cold wallet makes it possible for cryptos to be stored even without having access to internet connection. However, cryptocurrency exchanges as trading platforms always require internet connection for their usage.
3). Losing access data to a cryptocurrency wallet means that a user may have lost all his crypto assets completely as the keys are cryptographically hashed and cannot be changed or even recovered when lost. On the other hand, cryptocurrency exchanges make it possible for accounts to be recovered in the case that the passwords linked to such accounts go missing.
4). In the case of cryptocurrency wallets assets that are stored are solely held in custody and owned by the user of the wallet. Exchanges on the other hand can be in two forms. In the centralised form of exchanges the asset is stored on the trading platform and 100% control of it may not be held by the owner as the assets have been left in the hands of the exchanges. The decentralized exchange on its own allows users to have a hundred percent control of the assets and do not serve as custodians of such cryptocurrencies.
5). Cryptocurrency wallets can be said to be more secure as it makes it possible for us to directly connect with the blockchain and enable such security measures as seed phrases and private keys. Conversely, cryptocurrency exchanges, especially the centralised ones, are prone to cyber attacks and the entire database is usually hosted on internet servers whose security could be compromised.
6). Different wallets could enable the addition of different blockchain networks for the deposit of funds and transactions with such funds an example being the metamask wallet that enables the Binance Smart Chain, Ethereum Network, etc. In cryptocurrency exchanges, it is only the crypto assets which are listed that can be transacted with; hence, we could find in the KuCoin Exchange, coins that cannot be obtained on Binance.

Advantages Of A Decentralized Exchange
Some examples of decentralized exchanges include Io, AirSwap, WavesDex, Uniswap, EtherDelta, Blocknet, JustSwap and Barterdex.
Some of the notable advantages include:-
Reduced risk of hacking:- Usually, assets are not transferred to the decentralized exchanges; this reduces the risk of users' assets being lost to hacking as the exchanges do not act as custodians of assets, thereby increasing security and safety of funds from theft.

Not allowing market manipulation:- It is not possible to manipulate the market with decentralized exchanges as the exchange of cryptocurrencies are usually on a peer-to-peer basis. This generally protects users from wash trading and fake trading volumes.

Ensuring anonymity:- Decentralized exchanges may not require users to undergo Know Your Customer (KYC) procedures or fill forms to that effect. This gives anonymity and privacy to the users.
Disadvantages Of A Decentralized Exchange
They do come with complexity:- The users of decentralized exchanges now have the duty of always remembering their passwords and keys linked to their crypto-asset wallet which cannot be recovered when lost. This is unlike centralised exchanges that offer account recovery processes.

They lack fiat payments:- It is not possible to trade fiat currencies for digital currencies on decentralized exchanges. This reduces the convenience users could get from such platforms.

Low levels of liquidity:- It is on record that 99% of crypto trading activities occur on centralised exchanges. This means that the majority of crypto trading volumes can be attributed to them with the inherent implication that the decentralized exchanges lack enough liquidity to fill large orders due to low trading volumes.

Advantages Of A Centralised Exchange
Some examples of centralised exchanges include GDAX, Poloniex, BitFinex, Coinbase, Gemini and Kraken.
Some of the notable advantages include:-
Reliability:- The centralized exchanges come with an additional layer of security that brings in reliable trading or transactions with crypto assets on such platforms.

User-friendliness:- Centralised exchanges come with a user interface which is very friendly even to beginner investors.
Disadvantages Of A Centralised Exchange
Transaction fees:- centralised exchanges often come with higher transaction fees linked to their services online peer-to-peer transactions and these fees can increase as the trading fully increases.

Risk of hacking:- On centralized exchanges, companies operate the platforms by hosting them on internet servers. Billions of crypto assets are always stored and this makes them prime targets by internet hackers and darknet operators. This increases the risk of hacking as they are hosted on the internet. Such an incident has been seen with the Mt.Gox which used to be the largest crypto exchange before over 850,000 bitcoins were lost to hackers.

The Binance Exchange
The Binance Exchange is a cryptocurrency trading platform that was established in Hong Kong back in 2017. It serves as a platform which enables trading on Bitcoin and altcoins as well. It lists more than 500 cryptocurrencies as well as other virtual coins which have been enabled for crypto to crypto trading. In 2018 China came up with strict regulations against crypto related businesses and it had to relocate its headquarters to Malta, EU.
Apart from primarily being known for effectively enabling trading between different cryptocurrency pairs, it is also noted for its lowest transaction fees with high liquidity. It has a native token called Binance Coin (BNB) and users who choose to pay transaction fees with this coin are given a discount. Interestingly, Binance is a combination of Bitcoin and Finance. The exchange claims to have a high level of security and safety with multi-clustered and multi-tier architecture which enables high processing throughput and claims to process about 1.4 million orders in a second.
Some Important Features On The Binance Exchange
There are a good number of interesting features on the Binance Exchange which define its usefulness. Some of these important features include:-
Buy Crypto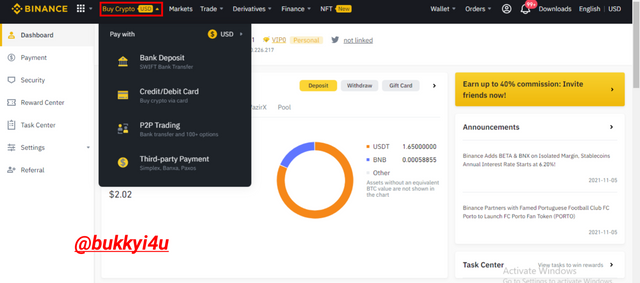 This is one of the important and prominent features of the exchange. From here you can purchase crypto from the exchange with the use of different options which can include Swift bank transfer and buying crypto through credit or debit card. Equally you can make use of the P2P trading platform to either sell or buy cryptos from other users on the platform with over 100 options available. Finally, there is the third-party payment system which enables Banxa, Simplex and Paxos as modes of payment for the purchase of crypto the exchange.
Markets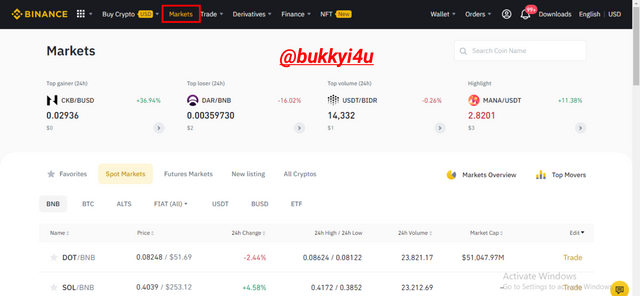 The market option or feature on the exchange is useful as all the trading pairs across the spot trading, futures trading options, including newly listed coins are displayed here for your selection. Important data like 24-hour change, 24-hour high and low, 24-hour volume as well as market cap are all displayed along the crypto pairs and once you select any you will be taken to the trading platform of the pair you have selected.
Trade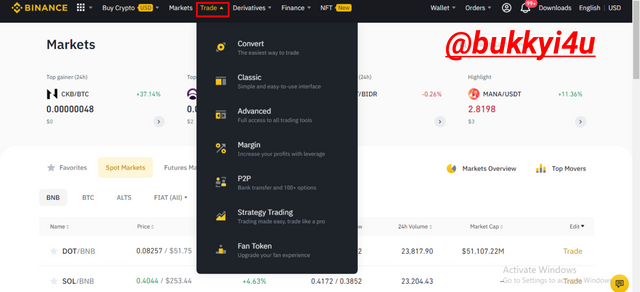 There is the trade feature on the platform. With this feature you can exchange your crypto asset or fiat currencies for any other. Usually, you will be redirected to the trading platform when you select any of the options available here. Among the options available in the trading feature include convert with which you can easily swap crypto assets at the best available price. There is also the classical and advanced trading feature, margin trading with leverage, P2P with bank transfers enabled together with fan token upgrades.
Finance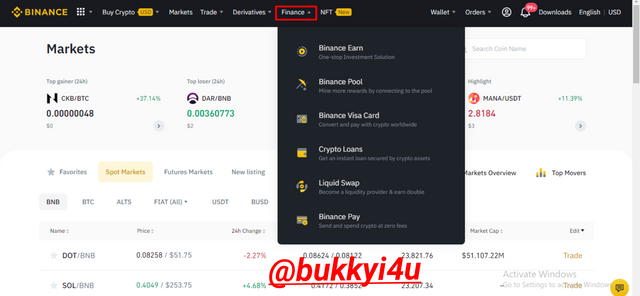 Under this option you will see other interesting features some of which can serve as additional ways of earning passive income on the platform. These include crypto loand, Binance pool, Binance Earn, liquid swap as well as such other features as Binance Visa Card for conversion and payment of cryptos worldwide and the Binance Pay for sending and spending crypto at zero fees.
Wallet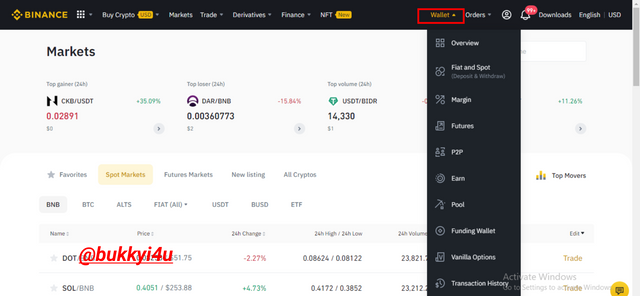 Furthermore, there is the wallet option and with this you can safely access your stored funds on the exchange. You can have an overview of your asset which would give you a total of all your crypto-assets spread across different wallets including spot, Futures and more. Under this place you can also separately view your assets across such other wallets as the margin, futures, P2P, spot, funding wallet, vanilla option and also have a view of your assets transaction history.

CONCLUSION

Cryptocurrency exchanges act as important platforms where the trading, conversion or exchange of crypto assets to other cryptos or even fiat currencies can take place. There are particularly two major types of cryptocurrency exchanges which include the centralised exchanges and decentralized exchanges. Both have their advantages. Majorly, the decentralized exchanges come with higher security but their centralised counterparts have higher level of liquidity.
Actually, it is important that one understands what he or she needs before adopting any cryptocurrency exchange. Equally, you should understand when to just settle for a cryptocurrency wallet as in the case where the intention is just to store a crypto asset and not to use such assets for trading purposes. One of the important cryptocurrency exchanges is the Binance cryptocurrency exchange which over the years has become the major exchange globally after the security breach of the MT.GOX crypto exchange.

Cc:
@dilchamo