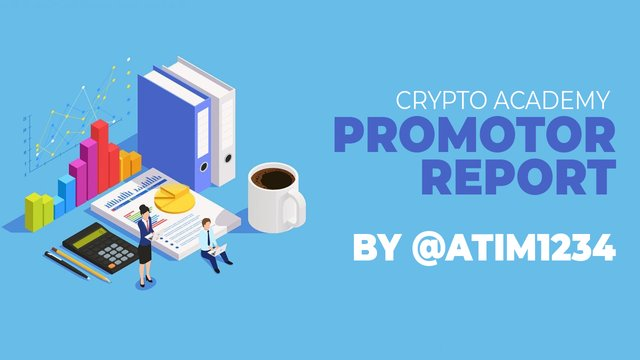 Hi all,
Sorry if I'm late in reporting My Activities as a Promoter. This time is my Report On Week 11. This time I focus more on increasing my guest participation, who have joined Steemit and are also serious about following the process in order to follow and complete tasks in the Steemit Crypto Academy Community. and this is the report that i can give this week.


I make sure that I am ready and Qualified to take Beginners Level Introductory Courses in the near future. Because currently he already has a reputation of 51 accounts, and 150 more Steem Power, this is because I lead him to be more active in steemit and pursue the requirements in order to take classes at Steemit Crypto Academy.

He is the second person, who is almost about to take a Class at the Steemit Crypto Academy, and he already has an account level of 51, and 136 STEEM POWER , this is still not enough for the SP Requirements, but at this time he is trying to catch up, by Continuing Achievement5.

But unfortunately, his Achievement Task 2 has not been verified, I hope @advhl and @fosucnow can help him : Achievement 5 Task 2 by @musafir.insp : Steemscan.com Review

He has Completed his Achievment4, and Has 119 STEEM POWER, but somehow he has not been active in the past few weeks, I have tried to contact him, but not yet get news from him.


He has already completed his Achievement 4, and most likely, after his Post Payout, he already Has 150m STEEM POWER

He has restarted the Achievement task, currently he has just been verified and will continue with Achievement3 in the near future.


This week I managed to get 2 guests from my results sharing the banner to Facebook, they are:
Unfortunately, they haven't had time to direct them to do their first post, probably in the near future.
I still can't do much strategy, except just do a little evaluation for my guests through the WhatsApp group I created, and I'm currently in the recovery process, and hopefully this week I can take responsibility and do my job well as a promoter. and I also share the banner for the Steemit Crypto Academy Community Campaign.
Thank you