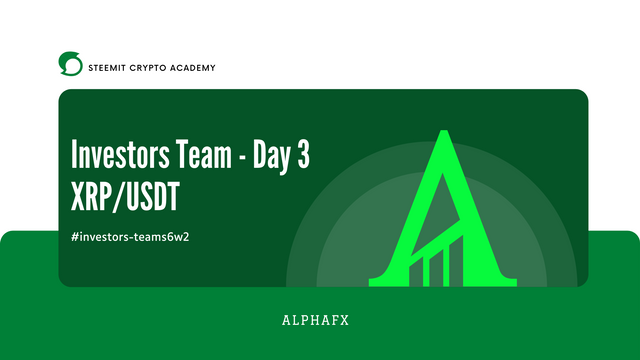 The Project
---
Ripple, RippleNet and XRP
---
The three above concepts are very individualistic but are all part of a whole system. XRP is a digital currency used on a digital payment platform, RippleNet, programmed using a distributed ledger database called XRP Ledger. Ripple is the company behind RippleNet and its operational activities are not blockchain based.
RippleNet payment platform is a real-time gross settlement (RTGS) system. RTGS sysems facilitate instant transactions globally. XRP is the cryptocurrency, native to the XRP Ledger. This does not limit the RippleNet to just XRP, you can transact using many other currencies.
While the idea behind the Ripple payment platform was first voiced in 2004 by Ryan Fugger, it wasn't until Jed McCaleb and Chris Larson took over the project in 2012 that Ripple began to be built (at the time, it was also called OpenCoin).
Why is XRP special?
---
Ripple designed XRP to be a faster, less costly, and more scalable alternative to both other digital assets and existing transactional financial systems.
The ledger is maintained by the XRP Community. Ripple as a company is an active member of this global community.. The XRP Ledger has a blocktime of 3-5 seconds, validators replace miners on this algorithm.
Tokenomics
---
As at time of writing, the CoinMarketCap ranking is #6. XRP has a market cap of $36,997,823,937 USD, a circulating supply of 47,949,281,138 XRP coins, and a max. supply of 100,000,000,000 XRP coins.

Analysis
---
Using my trusted system, EMA 48 and SMA 96 crossover, and the mobile support/resistance they offer, i decided to include multi-timeframe analysis and I entered the XRP futures market.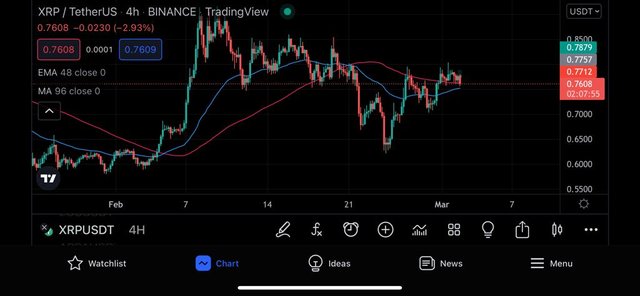 On the 4-hour chart I saw an impending break below price and a crossover, I suspected a sell.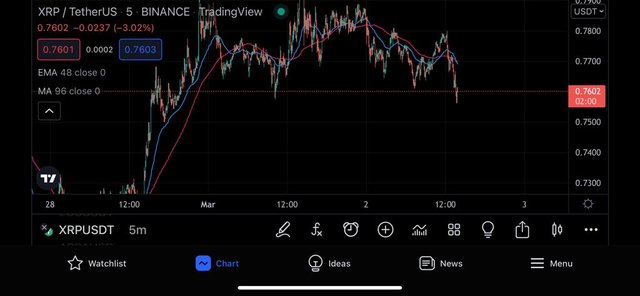 On the 5-minute chart, The confirmations were complete, MA trading above price, EMA trading above SMA after a crossover. Price broke neckline after a head and shoulders pattern and was retesting so I entered.

Trade
---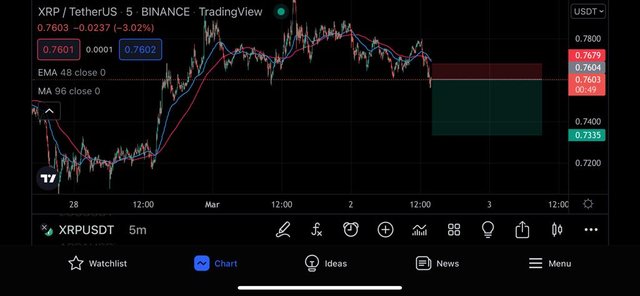 I opened the trade at the retest level. set my take profit and stop loss.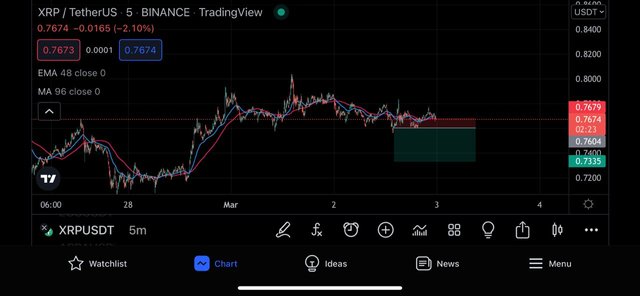 I got unlucky, the market was still maintaining its sideways trend and my stop-loss was not recorded before I turned off my mobile data. I turned my data on to a liquidation call. Thank God there was no serious money in the account and I learnt this lesson harmlessly.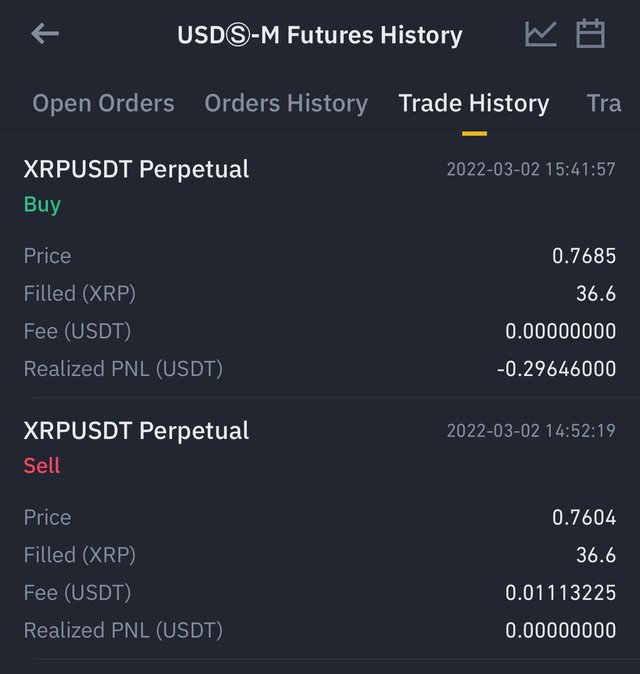 Trade Details
---
| PARAMETER | VALUES |
| --- | --- |
| Entry | 0.7604 |
| Take profit | 0.7335 (unsaved) |
| Stoploss | 0.7679 (unsaved) |
| risk to reward | 1:3.5 |
| Closing price | 0.7685 |
| profit/loss | -$0.29646 |

Conclusion
---
hiking out today with my classmates and friends cost me this trade. I was so busy, I did not monitor the trade. XRP is still ranging in the market and has not had a breakout yet, trading now is unwise. I wish I could trade it again to redeem myself of this horror (lol). Look forward to trading tomorrow.