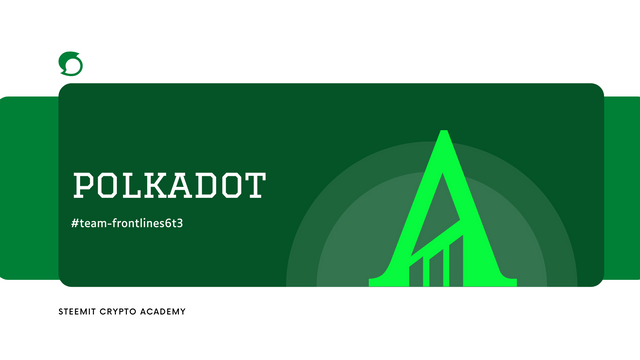 PROJECT NAME
---
POLKADOT
---
Polkadot is a decentralized multichain network that holds and provides security to a network of different blockchains thereby enabling interoperability by allowing the cross-chain exchange of data, tokens, or any asset type.
Polkadot which was founded by Dr. Gavin Wood, Robert Habermeier, and Peter Czaban is the most important web3 system which aims at enabling a fully decentralized user-friendly web.
The Polkadot Relay chain enables fully independent blockchains (private or public) to securely exchange data and transactions.
The Polkadot blockchain has its native token known as Dot which helps in the improvement of the system's security by serving as a governance token.
Users who stake the Dot token are given rights to decision making thus making the platform very much decentralized.
TOKENOMICS
---
| MARKET CAP | $20,134,507,818 |
| --- | --- |
| Current volume | $839,705,224 |
| CIRCULATING SUPPLY | 987,579,314.96 |
| TOTAL SUPPLY | 1,103,303,471 |
| CURRENT PRICE | $20.38 |
| RANK | 11 |

ANALYSIS
---
My technical analysis on the DOT|USD pair on the MT5 trading app started on a 1hr time frame where I observed the price to be at a dynamic resistance area just below the EMA.
The EMA which serves to identify dynamic support and resistance areas also serves to clearly show trend directions by ignoring minor price fluctuations thereby making clear the actual trend direction.
I also observed that the stochastic oscillator is already towards the overbought region which indicates a possible bearish price reversal or pullback.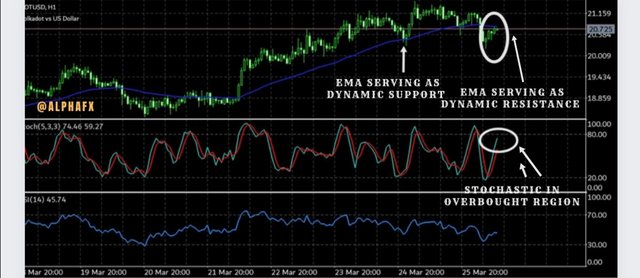 Screenshot from MT5 App
Being an intraday trader, I switched to a 15mins timeframe in search of a proper entry.
On the 15 mins price chart, I noticed that the price is not just at a dynamic resistance area but also at a horizontal resistance area with the stochastic being clearly in an overbought region.

The Trade

---

The above confluence makes a take a sell position with high hopes of a positive result.




Screenshot from MT5 App

---

My exit plans were taken by considering the support and resistance levels with my take-profit set just at the closest support and my stop-loss set a little above the current resistance in a risk to reward ratio of 1:2.

---




Screenshot from MT5 App

Trade Details

---

| PARAMETER | VALUES |
| --- | --- |
| Entry | 20.710 |
| Take profit | 20.448 |
| Stoploss | 20.84 |
| risk to reward | 1:1 |
| Closing price | 20.444 |
| profit/loss | $0.26 |

CONCLUSION

---

Scalping is a trading style that is very suitable for small capital traders like me and my ability to scalp profits has since improved due to the help of the SteemitCryptoAcademy.

Also, my ability to apply and interpret different indicators is something I am grateful to the SteemitCryptoAcademy for.