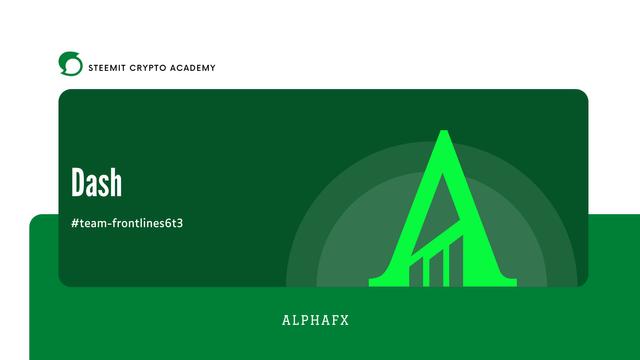 THE PROJECT
DASH
---
Dash is a decentralized cryptocurrency and blockchain network that aims at improving the rate of transaction and providing a more reduced transaction fee when compared to Bitcoin.
Dash wish was developed by two software engineers by the name Evan Duffield and Kyle Hagan in January 2014.
The project came as a fork of Litecoin and has since added interesting features such as a two-tier network with rewarded nodes and governance features. These features add additional privacy and security to the system.
Dash was originally referred to as Darkcoin in 2012 because it aimed at adding secrecy to Bitcoin.
TOKENOMICS
---
| MARKET CAP | $1,406,495,206 |
| --- | --- |
| CIRCULATING SUPPLY | 10,639,446.40 DASH |
| MAX SUPPLY | 18,900,000 |
| RANK | 69 |
| VOLUME | $424,174,587 |
| CURRENT PRICE | $132.15 |

ANALYSIS
My analysis in Dash was a simple one that is based on the support and resistance strategy.
I started by switching to a 1hr time frame on DSH|USD price chart in other to observe the market structure.
On the 1hr timeframe, I observed that the price is at the horizontal resistance area which indicates a possible price reversal or pullback.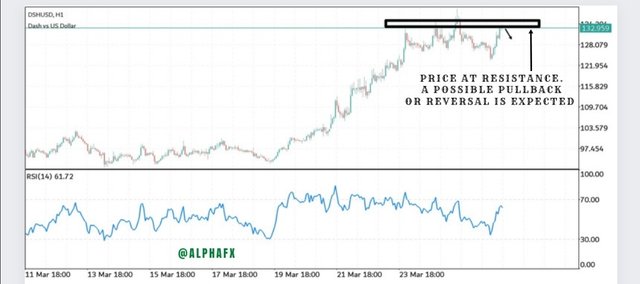 Screenshot from MT5 App
---
After my observations on a 1 hr timeframe of DSH|USD pair, I switched to a 15mins timeframe in other to spot a befitting entry which will help in the reduction of my stop-loss and thus manage my small capital as a scalper.
On a 15mins timeframe, I observed that the price is also at a horizontal resistance zone which indicates a bullish-to-bearish price reversal or pullback.
Also, looking at the added RSI indicator which is serving as a signal filter, it was seen to be at the overbought region (70 and above) which signals a bullish-to-bearish price reversal or pullback.

The Trade
The above observations served as confluence thereby signaling me to make a sell order which I did.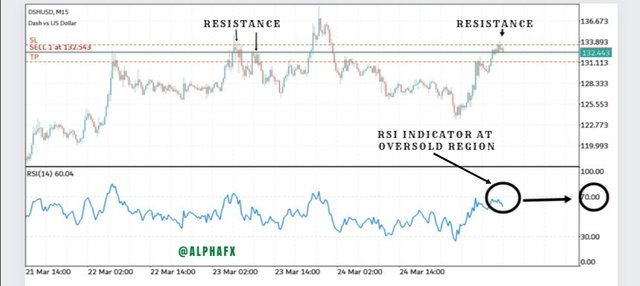 Screenshot from MT5 App
---
I monitored the trade for quite a long time to be sure that it is going as speculated.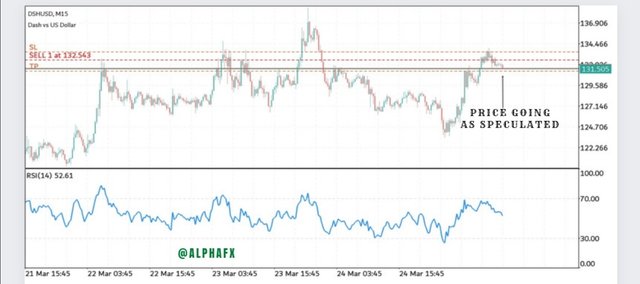 Screenshot from MT5 App
---
My exit position was taken into consideration of the support and resistance areas in which I placed my stop-loss just above the closest resistance and my take profit just at the closest support in a ratio of 1:1 as seen above.
---

Screenshot from MT5 App
Trade Details
---
| PARAMETER | VALUES |
| --- | --- |
| Entry | 132.543 |
| Take profit | 131.239 |
| Stoploss | 133.5 |
| risk to reward | 1:1 |
| Closing price | 131.237 |
| profit/loss | $1.31 |

CONCLUSION
Trading will always be fun for me as I have with the help of the SteemitCryptoAcademy learned a lot of ways in which trading can be made much simpler and easier.
As a scalper, I prefer trading with less complex indicators in other to avoid complications.
Also, using the RSI as a signal filter is very much efficient for a scalper because it is a leading indicator that identify signals and possible price change earlier before the actual change occurs. This helps in the reduction of stop-loss thus managing risk for a scalper.