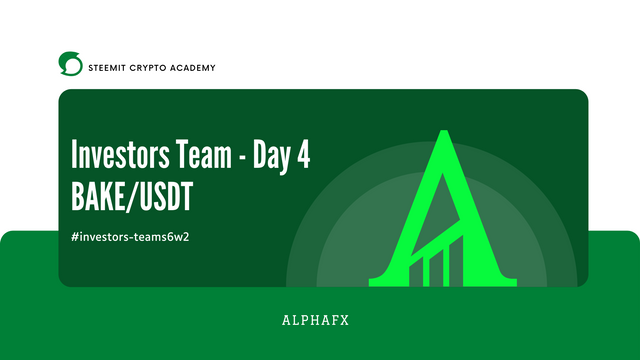 The Project
---
Bakery Token (BAKE)
---
Bake was launched in September 2020 by an anonymous group of developers. The BAKE token is the native token of the bakeryswap ecosystem. Investors provide liquidity and in turn earn BAKE, which allows them the power to vote and earn trading fees on the ecosystem.
BakerySwap protocol is a decentralized automated market-making (AMM) built on the Binance Smart Chain (BSC). This makes BAKE a Bep20 token.
To earn BAKE you need to invest liquidity into the pool, and BAKE holders have the right to vote and earn from fees. The BAKE rewards are offered in several liquidity pools like BTC, ETH, DOT, LINK, BUSD and BAKE versus BNB. The Bake-BNB pool however offers about x10 the reward that any other pool offers.
BakerySwap takes a 0.30% fee on transactions, 0.25% both this is given to liquidity providers.
Tokenomics
---
The current CoinMarketCap ranking at the time of writing this article is #360, and a market cap of $102,844,390 USD. Currently, It has a circulating supply of 193,529,485 BAKE coins and an unknown maximum supply.

Analysis
---
Of course today I used my working method from yesterday. MULTI-TIMEFRAME analysis with the 48 EMA and 96 SMA. Trading with the moving averages as mobile liquidity levels, trend indicators as well as reversal indicators (crossovers).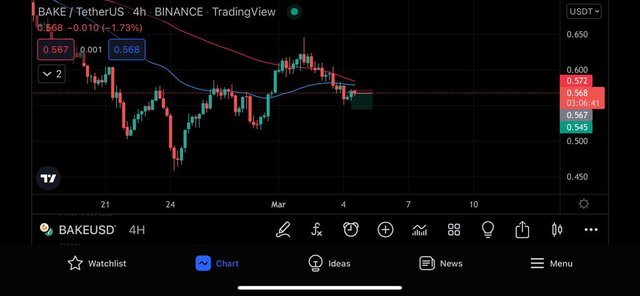 I first opened the 4-hour chart. Price was below MAs, SMA was trading close to price, and price had just used MAs as resistance. I took note of this: SELL SIGNAL 1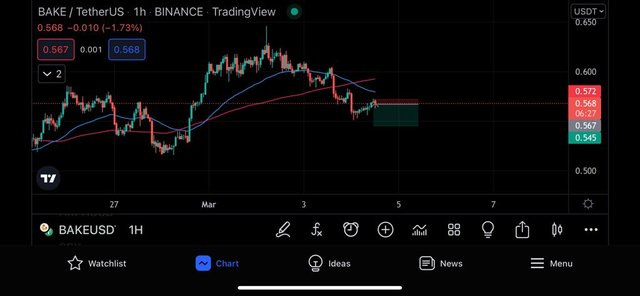 On the 1-hour chart I saw the exact same thing, except the crossover had just taken place, a good time to buy, I took note: SELL SIGNAL 2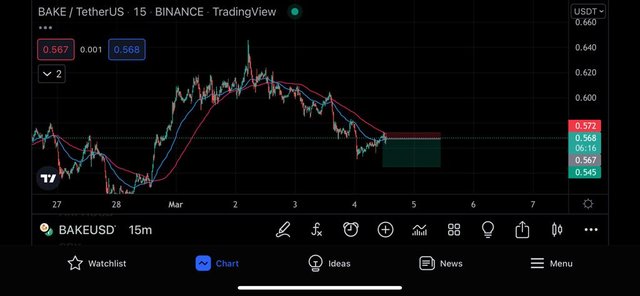 On the 15-minute timeframe, market was a replica of the 4-hour timeframe with more details, the MAs formed precise resistance for price: SELL SIGNAL 3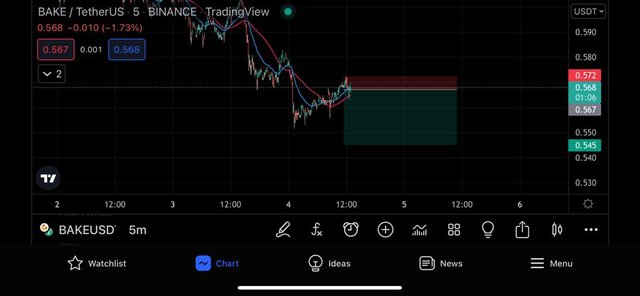 Finally, the 5 minute chart. The price was trading above the MAs, and the EMA was trading closer. There was even a bullish crossover. I took note: BUY SIGNAL 1
From my analysis, I had 3 sell signals vs 1 buy signal; I took my entry.

Trade
---
Of course I placed a sell trade.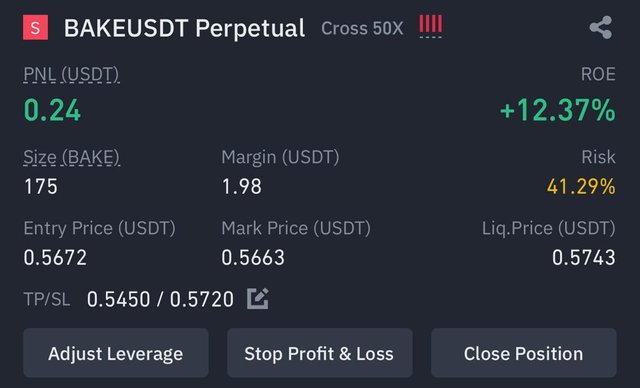 During the trade, about $1 in profit, i increased my position size, as you can see, my entry price changed from 0.5672 to 0.5651, increasing my take profit to 0.536 too.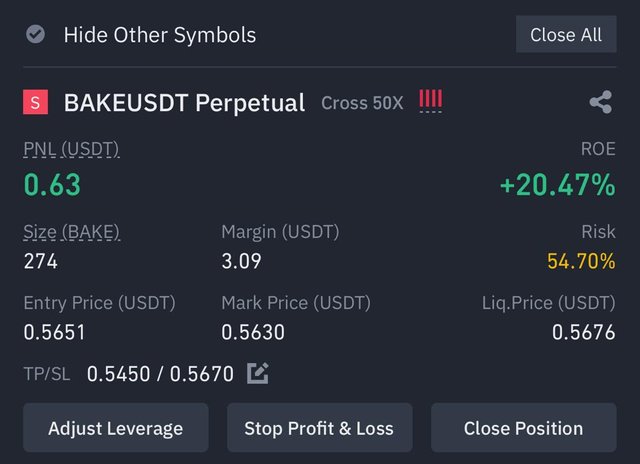 halfway to my take profit, i was called to work, unable to continue monitoring the trade, i closed with 90% profit, (actually 200, since i increased my position).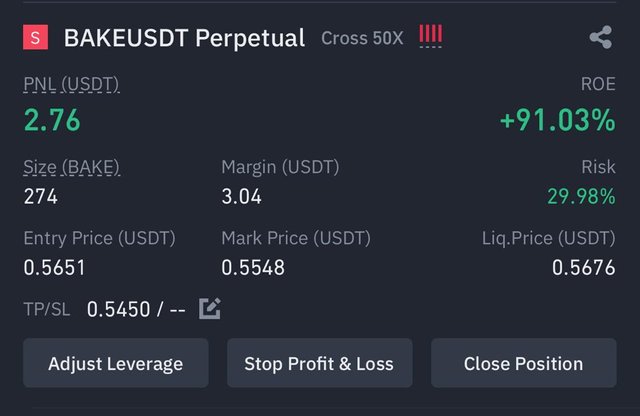 Price level.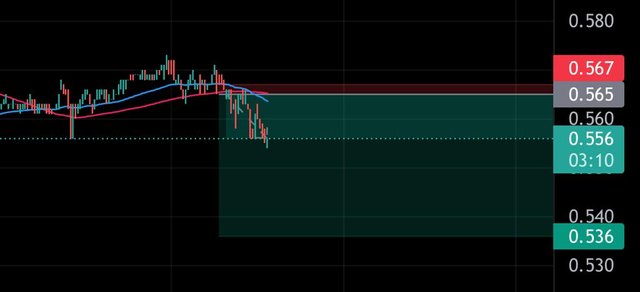 Trade results.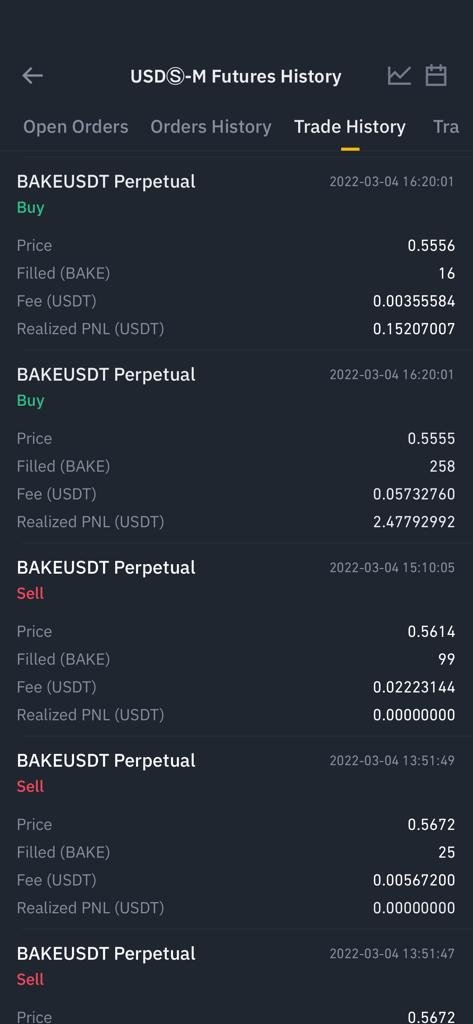 Trade Details
---
| PARAMETER | VALUES |
| --- | --- |
| Entry | 0.5672-0.5651 |
| Take profit | 0.545 to 0.536 |
| Stoploss | 0.572 |
| initial risk to reward | 1:4 |
| Closing price | 0.5555/0.5556 |
| profit/loss | $2.6+ |

Conclusion
---
Trading today was also fun! Almost 200%😌.I look forward to trading next time. I am however tired of the bearish market and cannot wait for recovery in the markets. These viable projects are suffering. Utility is wasting.