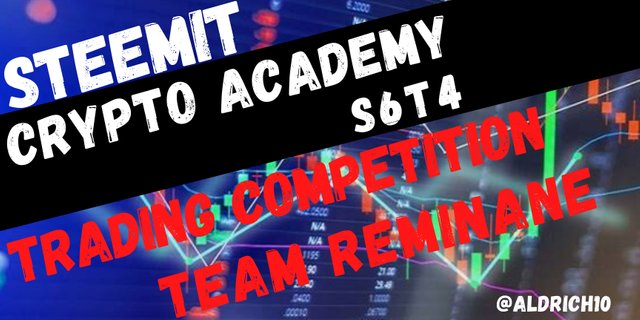 Introduction of the token and the exchange in which I am trading

REN coin is a platform that allows people to transfer different cryptocurrencies to different blockchains. Currently, REN allows users to transfer Bitcoin (BTC), Bitcoin Cash (BCH) and Zcash (ZEC) to the Ethereum (ETH) blockchain.
REN is the native token used in the Ren ecosystem. This token was officially released from early 2018 via ICO. Currently, REN runs on the Ethereum blockchain according to the ERC-20 standard.
To become Darknodes, users are required to deposit a certain amount of REN tokens. This is necessary to avoid identity theft on the Darknodes network.
REN also serves as a reward and payout mechanism across the Darknode network. Darknode holders will receive financial incentives in the form of REN tokens derived from RenVM user payments and other income.
The importance of the REN coin lies in the fact that, some of the top Defi projects currently are built on Ethereum, but there are many cryptocurrencies that do not use the Ethereum blockchain but have their own blockchain, such as Bitcoin. So Bitcoin holders will not be able to access those Defi projects. REN coin was born to solve this problem.
The REN token is a utility token used in the REN ecosystem. It has a fixed supply of 1 billion (1,000,000,000) tokens, and currently has 1,000,000,000 tokens in circulation. They are distributed as follows:
56.6%: Private Selling

8.6% : General Sales

19.9%: reserve fund

9.9% : development team and advisory team

5% : community and development partners

Where Can We Trade REN
The virtual currency REN is listed on several exchanges and of course in the near future there will be more exchanges that support REN. You can choose one of the exchanges below to buy and sell REN coins, so choose the one with large volume for higher liquidity. Below I will list the full list of exchanges that have REN coins:
In which, the Binance exchange accounts for more than 90% of the trading volume of REN coins, and it is also an exchange that I recommend everyone to use if there is a need to invest in Ren, you can buy and sell REN coins on Binance cheaply and safely.

Why am I optimistic about this token today

I am optimistic about the REN coin today because the market is in a downtrend and forms a double bottom pattern where this is a price reversal pattern, usually appears at the end of a downtrend and is getting ready to turn a downtrend into an uptrend. This means that when you see a double bottom, a bullish forecast is imminent. So most likely REN Coin will also experience an uptrend, basically I really believe the price will continue to rise.

Token Analysis

In trading this time I used the double bottom pattern, where the Double Bottom is a type of price reversal pattern, consisting of two consecutive lows that are approximately equal to the medium high in the middle.
Multiple archetypes (also known as Double Basic patterns, double archetypes) are widely used in technical analysis. This is a price reversal pattern, usually appearing at the end of a downtrend and preparing to turn a downtrend into an uptrend. This means that when you see a double bottom, a bullish forecast is imminent.
The double bottom pattern consists of two consecutive bottoms with almost the same value. And this pattern is formed from long-term trades, not short-term trades.
The first low is formed when the downtrend finds support. Then the price retraces until it finds resistance which we call the neckline.
During the second period, the price moved down towards the support created earlier by the first top. But failed to break it, instead recovered to the neckline and continued to climb sharply.
The following is a double bottom pattern. I am here using a 5 minute time frame because this is a short time trade. We can see price movements and how to determine the process of forming the REN/USDT currency pair pattern as follows: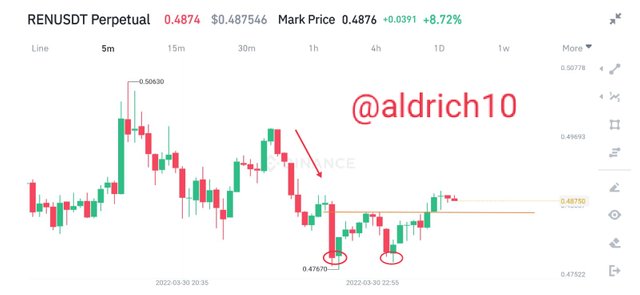 tradingview
We observe the chart that the price is in a downtrend. The market is moving very steadily then forming 2 bottoms with the same value. When connecting the 2 bottoms, it will form a resistance line.
After the first bottom, the buying and selling movement did not change much, the price remained stable between the two sides. But after the second bottom, the price jumped, the bulls dominated the market and the price broke the neckline.
When we see that the market has sufficient conditions to form a double bottom pattern and the price is starting to rise, we can enter a buy order.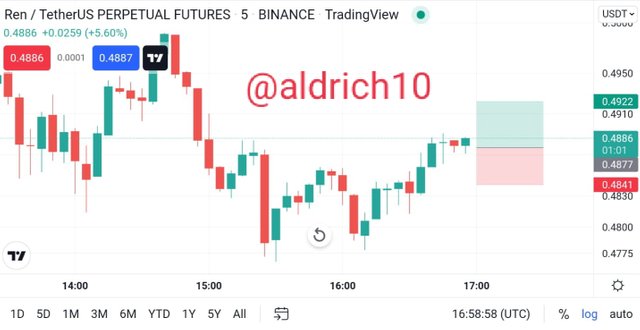 tradingview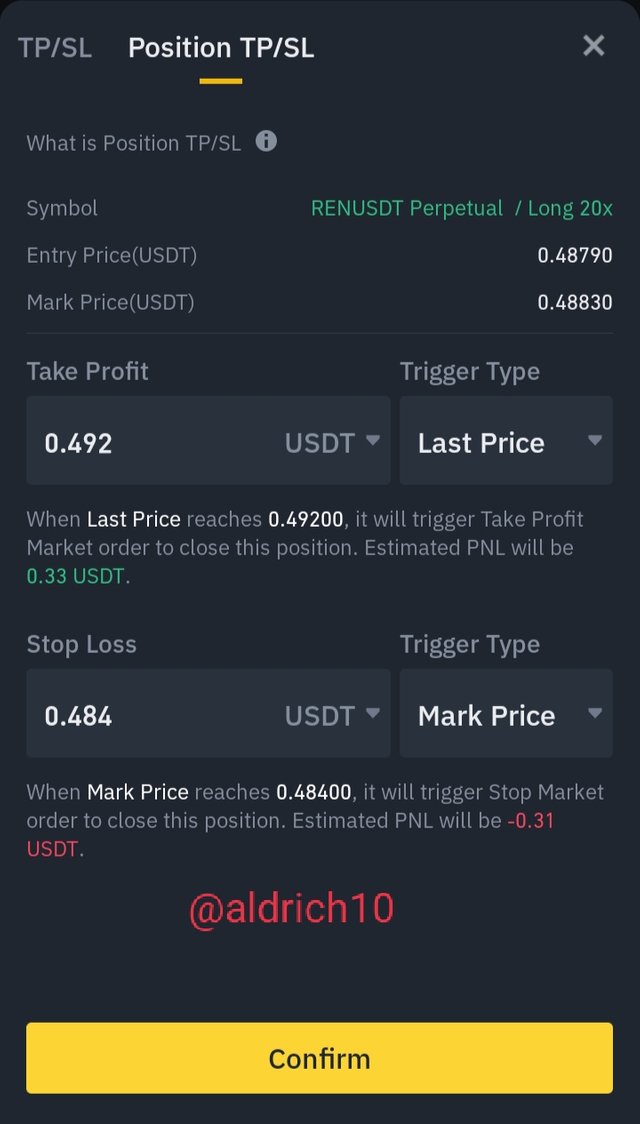 binance
Place a buy order when the price breaks the neckline slightly. That is, you will place at $ 0.48790

Stop loss i.e. $0.48400 . point

Take profit by being at $ 0.49200

Risk management 1:1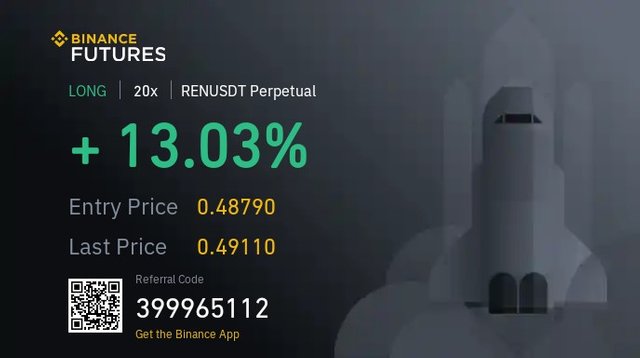 binance

Do you intend to keep it for a long time or when to sell it?

For now I will resell it because in doing this trade I use a short timeframe. In doing something like this we have a limit, namely liquidity, if this is fulfilled then everything we have will be lost. If we want to store assets for a long time and wait for prices to rise we can trade in the spot market.

Do you recommend everyone to buy or not?

REN has a huge influence in the Defi world, when it comes to breaking interoperability between blockchains. The only focus of the REN coin is that it is perfectly designed to transfer token value from one blockchain to another without compromising security or decentralization.
However, I'm also not here to recommend the coin to people because I'm just doing a simple analysis for short term trades. If you want to buy or invest in this REN coin in the right timeframe it is necessary to analyze it further for this coin.

CONCLUSION

In my trading, I went long on the REN/USDT coin with a time frame of 5 minutes and the capital I used was quite small and used 20x leverage so that the capital was bigger. By using this 20x leverage we can get more profits and the risk for loss is quite large, so we need to calculate losses and profits before entering a trade.