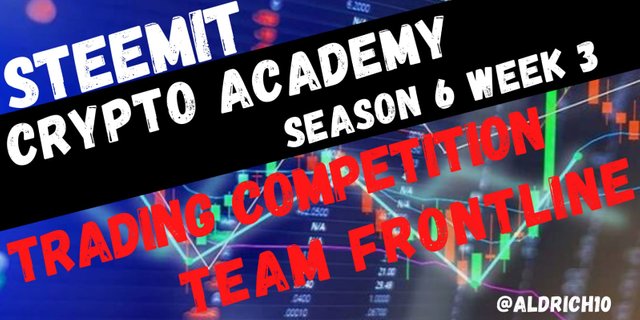 1. Introduction of the token and the exchange in which I am trading

---
A. Brief About GMT
---
GMT or Green Metaverse Token is STEPN's native governance token and has the following use cases:
Governance: Stake to participate in government, the longer the lockdown period, the higher the voting power.

Staking rewards: GMT stakeholders can choose to decide the distribution of staking rewards.

Protocol revenue accrual: GMT is burned to access in-app features, such as sneakers upgrades and printing of new sneakers.
Therefore, we must first know what STEPN is. STEPN itself is a health and fitness app for earning. Users equipped with the NFT sneaker can move outdoors to earn NFT tokens and rewards. STEPN has a built-in wallet, swap, marketplace, and rental system that allows non-crypto users to join STEPN. In addition, STEPN also has a dual token system, so it is not only the Green Metaverse Token GMT, but there is also a game token called the Green Satoshi Token (GST).
Back again to the GMT token, this token has just been launched on the Binance exchange platform, the price has increased very significantly after its launch. Because the initial GMT holders only needed to spend $0.01, but now the price has stabilized at $0.75 with an all time high of around $0.894. Developer STEPN has set a max supply that can be produced at 600,000,000.00 GMT, and currently only about 10% is in circulation, 24 hour volume at $554,904,808, with a market cap of $456,698.086.
---
B. Where Can We Trade GMT
---
Currently, the GMT token can be traded on several of the world's leading exchange platforms, including: Binance, Gate.io, KuCoin, Hotbit, Bitget, DigiFinex, BTCEX, and Tokocrypto.
Among the many platforms we can use to trade GMT, I chose the Binance platform. The reason is simple, the largest GMT trading volume occurs on binance and also binance is the number one exchange platform in the world.

2. Why am I optimistic about this token today

---
C. Why Am I Optimistic About GMT
---
GMT is a new cryptocurrency that has just been launched. In addition, the technology or features offered by STEPN are new in the cryptocurrency world, so this will certainly make the price of the STEPN project token soar. Usually, new tokens have a fairly high return, which has just happened to GMT tokens.
Maybe these are some of the reasons that made me so optimistic about GMT, besides I was a little late because I didn't have time to buy GMT tokens at the beginning of the launch to do HODL, but I only realized after the GMT price soared.
---
D. How Long Can it Rise
---
Just like other cryptocurrencies, GMT will also experience an uptrend, downtrend, and also sideways, so it is difficult to predict how long this coin can go up. However, since the first day of launch, the GMT price had soared high, then the price experienced a correction and even seemed to have broken through the previous support level, but during a retest the price managed to break through the support level again and then rise again. Until now, the price of GMT looks stable or is in a sideways direction.

3. Token Analysis

---
E. My Analysis
---
As I stated above, I didn't have time to buy the GMT coin at the start of the launch. So I only had time to trade when the market was experiencing a correction from an uptrend.
I use a very simple strategy, which is to use support and resistance levels for entry. More details can be seen in the graph below.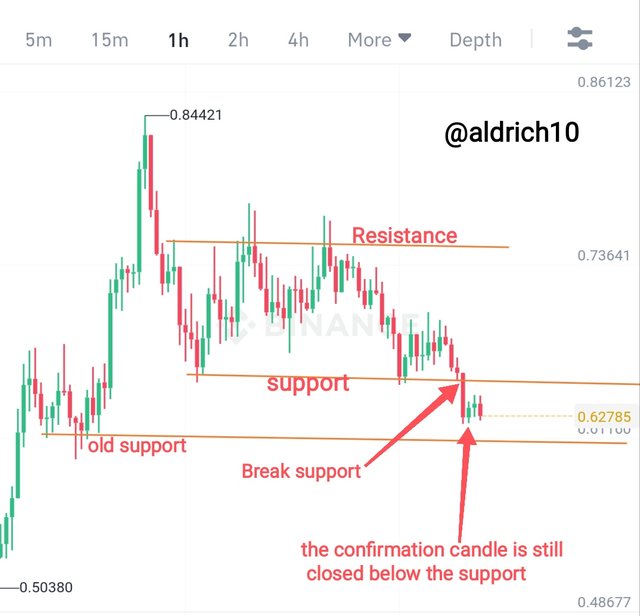 Chart from | Binance
In the chart above it can be seen that the price has broken the previous support level in the 1H time frame. After the price breaks the support level, the next candle serves as confirmation whether the breakout is successful or not. And it can be seen that the breakout was declared successful because the confirmation candle was still closed below the support level.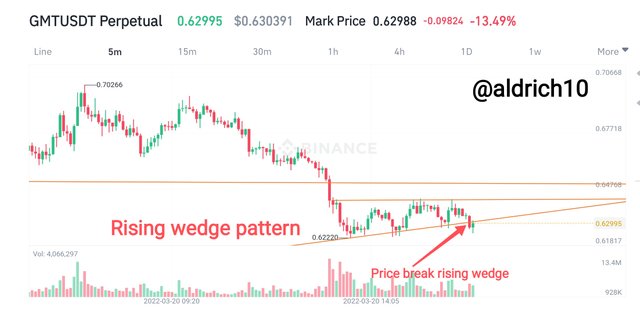 Chart from | Binance
Then I switched to the 5 minute time frame chart, here I found the rising wedge pattern. And again it seems that the price has broken below the rising wedge, I am again waiting for the confirmation candle. After seeing the confirmation candle also closed below it, I immediately made an entry.
---
F. Details Transaction
---
I immediately shorted the GMT coin, here I will use Binance Futures to execute the trade. And I also had time to do two entries, because the first entry didn't work out perfectly because the price immediately dropped, so I made the next entry.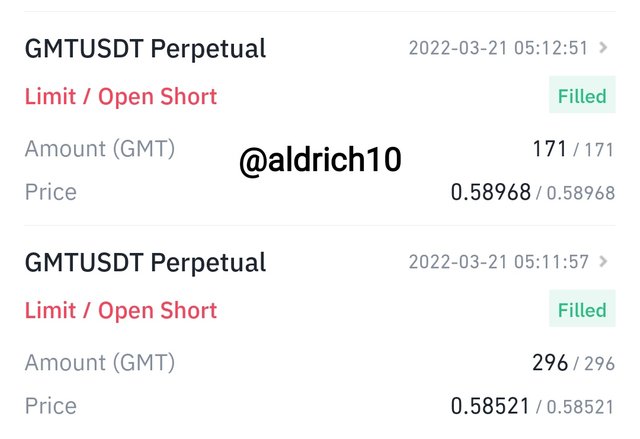 Transactions details | Binance
Of the two entries, I use a total of $ 10.5 with 20x leverage. Because I only do scalping, so I don't set the take profit too deep. I use 1:2 risk management, where I place my stop loss at $0.5915 and take profit at $0.57779

4. Do you intend to keep it for a long time or when to sell it?

This is a short futures trade, so I don't hold any GMT at all. Sometimes we use the spot market to make trades, where losses never really occur before we sell our coins. But in long/short trading, we can experience real losses when our predictions are wrong, and trying to hold the coin will increase the risk, because there is a liquidity limit.

5. Do you recommend everyone to buy or not?

No one can predict the price of GMT in the future, there is a possibility that the price will rise again and reach an all-time high because it is a very new coin. Also the new GMT circulation is about 10% of the total supply that will be produced. So it is very likely that the price of GMT will rise again.
But it all depends on you, because I haven't had time to analyze the fundamentals of the STEPN project. At first glance, if we see that the GMT coin is very likely to go up again, but I can't guarantee it.
If you believe in the project developed by STEPN and also for other reasons, then make a purchase now and HODL GMT. Once again I am firm, do a fundamental analysis first before investing. Because I personally hodl on GMT coins although not in large numbers.

Conclusion

Trading short or long on coins with high volatility can indeed make us profit quickly, but also carries a very large risk because the price will move sharply up or down. So we must use stop loss properly and correctly to analyze the losses that will occur.
I personally prefer to trade in high volatility markets because the price will move quickly than in slow moving markets. This is because I prefer to trade scalping.