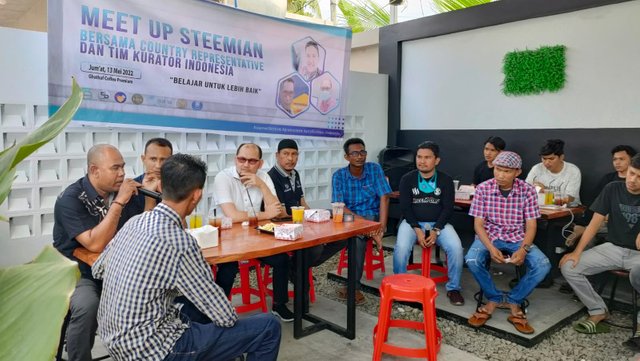 Ketika anda ingin menulis, apa yang ada di pikiran anda? Tentu awalnya anda akan berpikir apa yang harus saya tulis. Setelah anda tau apa yang akan anda tulis, pertanyaan selanjutnya bagaimana cara memulainya.
Saya yakin anda sejenak akan merenung memikirkan dan mempertimbangkan kalimat apa yang akan pertama sekali anda tulis. Jika anda sudah mendapatkannya dan memulai satu kalimat, kemungkinan besar kalimat-kalimat berikutnya akan muncul dengan mudah di pikiran anda yang selanjutnya anda transfer melalui tangan anda pada objek berupa kertas atau di manapun.
Banyak orang yang enggan menulis (termasuk anda) karena beranggapan bahwa dirinya tidak bisa menulis. Anggapan tersebut sebenarnya malah akan membuat orang tersebut tidak akan pernah melahirkan tulisan, karena anggapan itu akan menjadi sugesti bagi anda sendiri hingga anda terus terpaku pada pemikiran "Saya Tidak Bisa Menulis".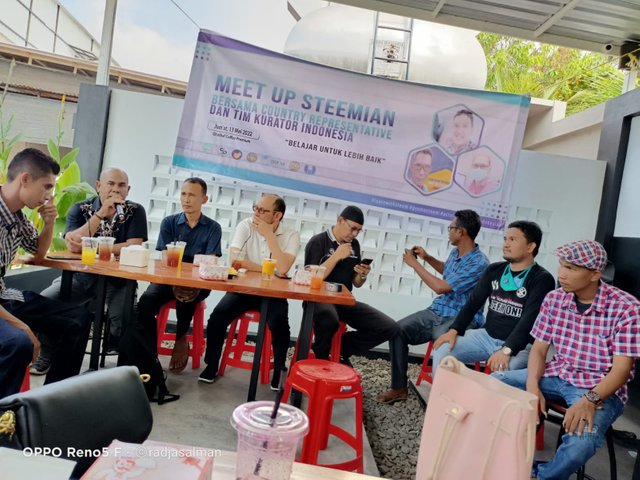 Pada Platform steemit sendiri, sering kita melihat seorang steemian selalu menuliskan hal yang sama setiap hari. Paling mudah mereka akan selalu menulis kegiatan yang dilakukan lakukan sehari-hari. Jika kita bertanya padanya kenapa anda tidak mencoba menulis topik yang lain? jawabannya adalah "Saya Tidak Bisa Menulis" –kembali lagi pada sugesti sesat pada diri sendiri-.
"TULISLAH HAL YANG SEDERHANA". Kalimat tersebut adalah kesimpulan penting yang saya ambil dari apa yang disampaikan oleh beberapa Country Refresentative dan Curator (yang terdiri dari @anroja, @irawandedy, @clen.civil, @harferri, @tucsond, dan @alee75) pada Meet Up yang diselenggarakan tadi sore dengan tema "Belajar Menjadi Lebih Baik".
Bagi saya kalimat yang menjadi kesimpulan tersebut sangat penting untuk menghilangkan anggapan "Saya Tidak Bisa Menulis" yang telah menjadi mindset bagi banyak kalangan, termasuk para steemian. Kenapa demikian?
Menulis di platform steemit tidak selalu harus berupa tulisan ilmiah. Kita tidak harus berpikir apakah kita akan mampu menghasilkan tulisan dengan segala hasil riset, bahasa ilmiah, dan segala kaidah penulisan sempurna -yang mungkin kita masih belum memahaminya-, yang semua itu hanya akan menjadi hambatan ketika ingin menulis.
Sebagai contoh yang pernah diterangkan oleh beberapa Country Refresentative dan Kurator adalah: Jika anda ingin menulis sebuah tulisan mengenai kesehatan, anda tidak harus mengetahui tentang sebuah penyakit secara mendetail. Anda juga tidak perlu memiliki ilmu kedokteran yang bisa menjelaskan efek yang bisa ditimbulkan oleh sebuah virus. Anda cukup menulis apa saja yang anda ketahui dan anda rasakan. Misalnya, anda meminum air putih ditambahkan Lemon di dalamnya, anda tidak harus mengetahui zat apa yang terkandung dalam buah Lemon, anda juga tidak perlu mempelajari bagaimana Lemon tersebut melakukan aktifitas kimia sehingga memberikan akibat pada tubuh anda. Lalu seperti apa yang baiknya anda tulis? Anda cukup menuliskan apa yang anda rasakan setelah anda mengkonsumsi air putih ditambah Lemon. Ya cukup itu saja sebagai sebuah gagasan anda untuk memulai tulisan tentang itu, dan selanjutnya kembangkan tulisan anda dengan baik dan sistematis.
Jika anda terbiasa untuk mencoba menulis hal-hal yang tidak biasa anda tulis dengan kunci "TULISLAH HAL YANG SEDERHANA" saya punya keyakinan besar kedepan anda akan menjadi penulis dengan segudang pengetahuan yang anda dapatkan dengan sendirinya. SELAMAT MENCOBA
-ENGLISH-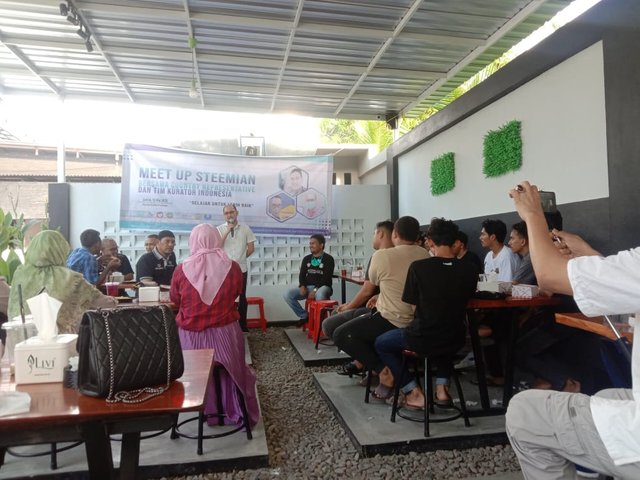 When you want to write, what comes to your mind? Of course, at first you will think, "What should I write?" Once you know what you are going to write, the next question is how to get started.
I'm sure you will ponder for a moment, think, and consider what sentence you will first write. If you've got it and started one sentence, chances are that the next sentence will easily pop up in your mind, which you then transfer through your hands to an object in the form of paper or anywhere else.
Many people are reluctant to write (including you) because they think that they can't. This assumption will actually make that person never give birth to writing, because that assumption will become a suggestion for yourself until you continue to be fixated on the thought "I can't write."
On the steemit platform itself, we often see a steemian always writing the same thing every day. The easiest way for them to remember the activities they do every day is to write them down. If we ask him, why don't you try writing another topic? The answer is "I Can't Write"—back again to the misguided suggestion to yourself.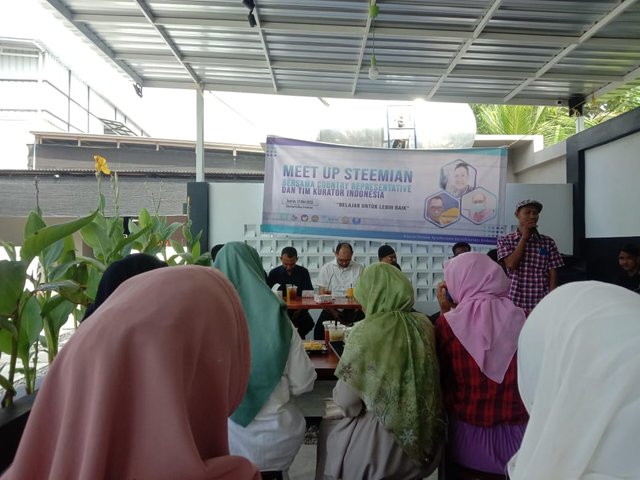 "WRITE SIMPLE THINGS". This sentence is an important conclusion that I draw from what was conveyed by several country representatives and curators (consisting of @anroja, @irawandedy, @clen.civil, @harferri, @tucsond, and @alee75) at the Meet Up which was held this afternoon. with the theme "Learning to be Better".
For me, the sentence that concludes is very important to eliminate the notion "I can't write", which has become a mindset for many people, including steemians. Why is that?
Writing on the steemit platform does not always have to be scientific writing. We don't have to think whether we will be able to produce writings with all the results of research, scientific language, and all the rules of perfect writing -which we may not yet understand-, all of which will only become obstacles when we want to write.
As an example that has been explained by several country representatives and curators is: If you want to write an article about health, you don't have to know about a disease in detail. You also don't need to have medical knowledge to explain the effects that a virus can have. You simply write what you know and feel. For example, if you drink water with lemon added to it, you don't have to know what substances are in the lemon, and you also don't need to learn how the lemon performs chemical activities so that it has an effect on your body. So what is the best way to write it? You simply write down what you feel after you consume water plus lemon. Yes, that's enough as an idea for you to start writing about it, and then develop your writing well and systematically.
If you are used to trying to write things that you are not used to, with the key "WRITE SIMPLE THINGS," I have great confidence that in the future you will become a writer with a wealth of knowledge that you have gotten by yourself. Good Luck