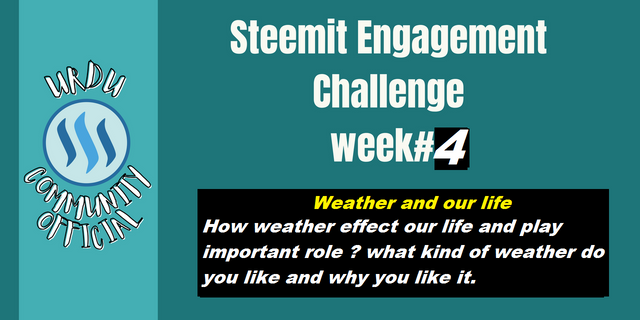 Hello & Assalam-o-Alaikum !
Today, Urdu Community is going to start the fourth contest of Steemit Enagement Challenge Season2 and before the announcement of the contest season 2 week 4 , Urdu Community is very grateful to all the steemit users who have fully participated in the third contest. Your participation lifts our spirits.
The team of Urdu Community is trying to make the contest easier and closer to life so that we can become a steemit family living in different countries and share the joys and sorrows of our lives with each other.The Urdu Community team hopes that you will all enjoy this fourth contest. Before starting the fourth contest, the Urdu community team is very grateful to all the steemit team for encouraging the Urdu community.
The following is the contest theme of fourth week Urdu Community. All the steemit members can participate in this contest without any limitations and restrictions

Contest Theme: Weather and our life
---
This is our fourth week (S2W4) contest theme season . Weather plays a very important role in our lives. Different countries of the world have different seasons due to being located in different continents geographically and the people of each country enjoy different seasons in different months in 365 days of the year.
That's how everyone likes different seasons. Some people migrate to warmer areas in cold weather and thus some people prefer cold areas in hot weather.
Every country and region has different customs in different seasons. With the change of seasons, the change of clothes according to the culture also adds to the beauty of the seasons. So in this week's contest we will talk about the weather, what kind of weather you like and why you like it.
But important point of the contest is that every participant will share its own experience, that he/she has faced in his own family,street, country and observed in global. original content is very much important.

Highlight the following topic/Points in this contest.
How weather effect our life and play important role ? what kind of weather do you like and why you like it.
What region do you live in? And what are the seasons in your region?
What is your favorite season And why do you like it?
Depending on the season in your region or country or city, which rituals are more celebrated?
What clothes and food do you like depending on the season(cultural reflection)?
Which season's fruit do you like and why?
Apart from you, which season do the people of your area prefer?
In which season does your area face more difficulties and what are those difficulties?
What is the special ritual associated with a particular season that people in your area have been waiting for all year?
If you want to write about the weather other than that, welcome. Your text should reflects your thoughts.
Requirement of the contest is that we need original thoughts that you have about above topic.

Mandatory Rules to Follow
Your article title should be Urdu community Contest / S2W4 – Title by @username.
Your post must be original, and free from any kind of plagiarism.
Your profile should be free from any kind of bot usage.
Subscribe to Urdu Community and follow the @Urdu-community official account.
You need to post your entry to the contest in the Urdu community.
The participation time is between Monday, June 27th, 2022, 00:00 UTC to Sunday, July 3, 2022, 23:59 UTC.
Invite three of your friends to the contest and add the link to your entry in the comment section of this post.
Plagiarism will not be tolerated moreover, they will be set disqualified from the contest.
Use copyrighted free images.
Add the tag #urducommunity-s2w4, #weather-s2w4 #country #club #steemexclusive and other relevant tags.
The article should be a minimum of 300-500 words you can write more.
The contest is open to everyone, all languages are warmly welcomed.

Grading of entries:
The grading of all the entries will be done according to this pattern, the more score you get the more support you will get.
| Post information | Status | Grades |
| --- | --- | --- |
| Steemexclusive | ✅ / ❌ | 1 |
| Plagiarism / Bot Free | ✅ / ❌ | 1 |
| 300 words/Source | ✅ / ❌ | 1 |
| Quality of Content | ✅ / ❌ | 3 |
| Club status | ✅ / ❌ | 2 |
| Markdowns | ✅ / ❌ | 2 |
| Total | | 10 |

---
Join Discord Group Urdu-Community
Join Whatapps Group :Urdu Community
Join our Facebook Group Facebook Urdu community

---
![image.png](

)
[***Subscribe URDU COMMUNITY***](https://steemit.com/trending/hive-104522)
###
[Quick Delegation Links]()
---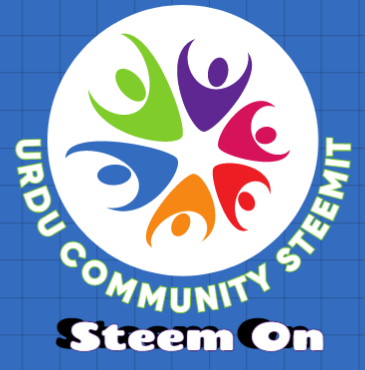 Subscribe URDU COMMUNITY
Our mission to promote Steemit in Urdu Community to all over the world
Stay together
Join the Urdu Community with more confidence.
Steem On