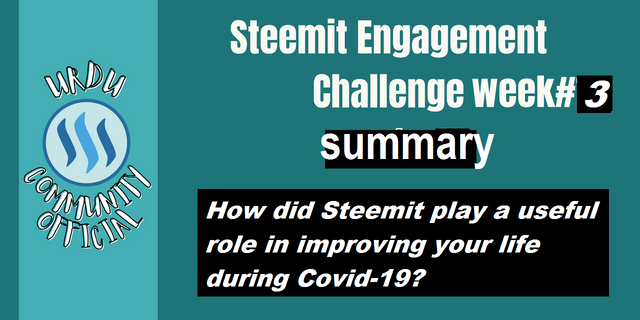 Hello & asalam o alikum!
---
Introduction
The third week of the contest has come to an end and a total of 64 people from different countries have participated in this contest. In the third week contest, it were asked about the difficulties encountered during covid-19 and we are very happy that 64 Steemit users joined this contest and shared their life experiences that they endured during covid-19.
We have come to the conclusion at the end of this contest that Covid-19 had wreaked havoc all over the world. The profession most affected by covid-19 was public business and employment. Millions lost their jobs because of covid-19 and did not have food or drink. Educational institutions were closed and the lockdown made it difficult or even impossible to travel from one place to another. People were longing to meet their loved ones.
Due to covid-19, inflation had reached its peak and the purchasing power of the people had run out. Some users wrote that there was a shortage of medicines and there was an emergency in the hospitals. If anyone extended a helping hand during the covid-19 epidemic, it was only steemit social media.
During covid-19 many steemit users were worried about the loss of their business but steemit blockchain alleviated their user's worries to a great extent and steemit gave them a new direction and prosperity when all avenues were closed a steemit It was a source of income.
By earning from steemit, people bought food items for their loved ones, bought medicines and thus steemit helped their user financially in every way. We asked the following questions in this contest and each users has tried their best according to their ability and experience to write the content about on give theme. We are very grateful to all the participating users.
---
Highlight the following topic/Points in this contest.
---
Covid-19 was an epidemic. What would you say about it? Explain in your own words.
What difficulties did you personally encounter during Covid-19?
How Steemit blockchain helped you during Covid-19 ?
How many people in your household were affected by Covid-19 disease and what was the condition?
How did Stemat keep you busy or rely on information when you were home locked during covid-19?
Did you sell steemit earing during covid-19 to reduce or eliminate the problems you face in your daily life?
Did steemit help other people besides you in your country, city during covid-19 global epidemic?
You informed people about steemit during covid-19 so that they too can get out of trouble by joining steemit.
What difficulties ,major issues,did you face during Covid-19's terrible disease and how did Steemit improve,support and help in your life during Covid-19 and other people around your city or country. (write own experience) ?

Grading Fourmula
Post information Status Grades
Steemexclusive ✅ / ❌ 1
Plagiarism / Bot Free ✅ / ❌ 1
300 words ✅ / ❌ 1
quality content✅ / ❌ 3
Club status ✅ / ❌ 2
Markdowns ✅ / ❌ 2
Total 10
The Urdu community team graded all the posts and accordingly awarded the total grade and the obtained grade along with the comments in the post. The Urdu Community Team has made every effort to check all the contest posts in time and grade them.
The Urdu community team has graded the post under the following grading formula. There was a total of one number for the #steemexclusive post. There was also a number for boot free.
Two marks were allotted for the markdown and thus two marks were allotted for the club while three and one marks were allotted for the quality post and the post of more than 300 words respectively. All posts are graded under this formula.

Statistics of the Participation
---
A total of 65 users have participated in this contest and three users have got grades 1 to 5 in total out of 65 and this constitutes 4.6% of the total entries. Grade 6 is ​​obtained by 2 participants. The number of Grade 7 users is 20 and it makes up 30.76%. The number of users getting grade 8 is 29 and it makes up 44.61% of the total number. Grade 9 to 9.9 has been achieved by total eleven participants and grade 9.6 to 10 . Overall all the participants have written very well and in the future all these articles will be helpful for those who want to write thesis or research article on social meida role during covid-19.
---
---

Top 3 nominations for the Week 2 Season 3
Urdu community team has chosen the Top 3 nominations for the Week 3 Season 2 in the community, these nominations post has selected based on given the rules in week 3 season 2 in all communities . engagements, participation and taking participate in all other 6 communities was the basic rule in selection also . There are a few post that got good grade but couldn't fulfill other requirements .below are 3 top post that got top position in week 3.
---
Many many congratulations to all the Top 3 winners of week 3, and the Urdu community is praying for all of you that all of you will be successful in your life and all of you will achieve all the life goals that you have in life. Many many congratulations to the first 3.

The Urdu community team is grateful to all of you who participated in the third contest of season 2 and your participation has encouraged us. We are grateful to all the members of our team especially @yousafharoonkhan and @jessica566 and @janemorane for checking all the entries in time and we were able to submit the comprehensive summary on time today. We hope that the team of Urdu Community will work hard like this and we hope that the steemit team will inspire our team. Thank you very much all of you.