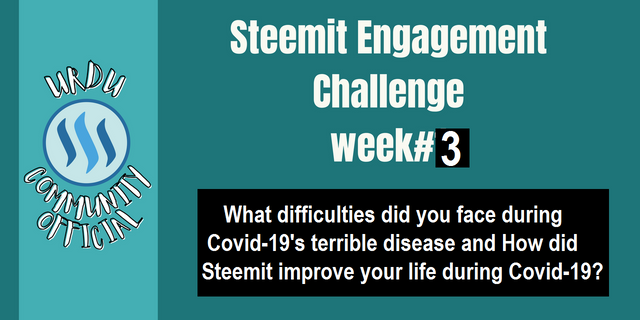 Hello & Assalam-o-Alaikum !
As you know, the contest of the second week of season two is coming to an end today and today the team of Urdu Community is going to start the Week 3 contest.
The Urdu Community team hopes that you will all like this third contest. The team of Urdu Community is trying to make the contest easier and closer to life so that we can become a steemit family living in different countries and share the joys and sorrows of our lives with each other. Before starting the third contest, the Urdu community team is very grateful to all the steemit team for encouraging the Urdu community.
The theme of this week's contest is very interesting and simple and we hope that all the steemit family will participate in this contest as well.The following is the contest theme of Second week Urdu Community. All the steemit members can participate in this contest without any limitations and restrictions

Contest Theme: Steemit & Covid-19
---
Covid-19 and Steemit Social media is our third week contest theme. We have to see in this contest how steemit blockchain helped its user financially and financially during covid-19 and when everyone around the world was worried and financially unstable. But at that time, how did the Steemit blockchain distribute happiness to its users? Because by covid-19, business, jobs were gone.
The world was locked down. Unemployment was on the rise in every country and during this time Steemit blockchain helped its users financially and created a ray of hope in their lives. Today we have to talk about this topic in our contest.What difficulties did you face during Covid-19's terrible disease and how did Steemit improve your life during Covid-19?
But important point of the contest is that every participant will share its own experience, that he/she has faced in his own family,street, country and observed in global. original content is very much important.


Highlight the following topic/Points in this contest.
---
Covid-19 was an epidemic. What would you say about it? Explain in your own words.

What difficulties did you personally encounter during Covid-19?

How Steemit blockchain helped you during Covid-19 ?

How many people in your household were affected by Covid-19 disease and what was the condition?

How did Stemat keep you busy or rely on information when you were home locked during covid-19?

Did you sell steemit earing during covid-19 to reduce or eliminate the problems you face in your daily life?

Did steemit help other people besides you in your country, city during covid-19 global epidemic?

You informed people about steemit during covid-19 so that they too can get out of trouble by joining steemit.

What difficulties ,major issues,did you face during Covid-19's terrible disease and how did Steemit improve,support and help in your life during Covid-19 and other people around your city or country. (write own experience) ?

Share your selfie holding the paper with the text I love you steemit for helping me during covid-19 and date The purpose of this selfie is that we can pay a great tribute to steemit for helping us during covid-19.
Requirement of the contest is that we need original thoughts that you have about above topic .


Mandatory Rules to Follow
Your article title should be Urdu community Contest / S2W3 – Title by @username.
Your post must be original, and free from any kind of plagiarism.
Your profile should be free from any kind of bot usage.
Subscribe to Urdu Community and follow the @Urdu-community official account.
You need to post your entry to the contest in the Urdu community.
The participation time is between Monday, June 20th, 2022, 00:00 UTC to Sunday, June 26th, 2022, 23:59 UTC.
Invite three of your friends to the contest and add the link to your entry in the comment section of this post.
Plagiarism will not be tolerated moreover, they will be set disqualified from the contest.
Use copyrighted free images.
Add the tag #urducommunity-s2w3, #steemitandcovid19-s2w3 #country #club #steemexclusive and other relevant tags.
The article should be a minimum of 300-500 words you can write more.
The contest is open to everyone, all languages are warmly welcomed.

Grading of entries:
The grading of all the entries will be done according to this pattern, the more score you get the more support you will get.
| Post information | Status | Grades |
| --- | --- | --- |
| Steemexclusive | ✅ / ❌ | 1 |
| Plagiarism / Bot Free | ✅ / ❌ | 1 |
| 300 words/Source | ✅ / ❌ | 1 |
| Quality of Content | ✅ / ❌ | 3 |
| Club status | ✅ / ❌ | 2 |
| Markdowns+Selfie | ✅ / ❌ | 1+1 |
| Total | | 10 |

Contest Reward
The top three entries of the contest will be rewarded with booming votes from the community.
| Rank | Prize |
| --- | --- |
| 1st place | 5 Steem |
| 2nd place | 3 Steem |
| 3rd place | 2 Steem |

---
Join Discord Group Urdu-Community
Join Whatapps Group :Urdu Community
Join our Facebook Group Facebook Urdu community

---

Subscribe URDU COMMUNITY
---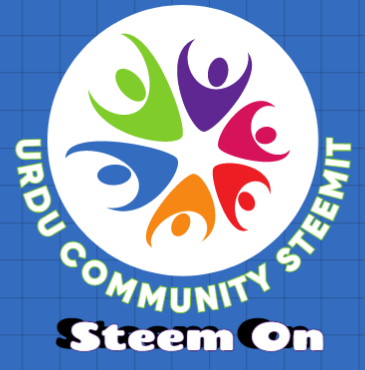 Subscribe URDU COMMUNITY
Our mission to promote Steemit in Urdu Community to all over the world
Stay together
Join the Urdu Community with more confidence.
Steem On