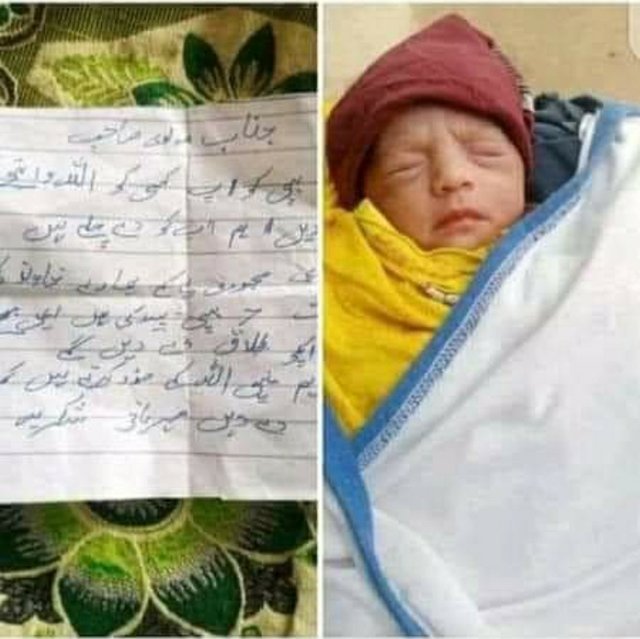 آج صبح ایک دلخراش واقعہ دیکھنے کو ملا
صبح 5:30 پر جب واک کے لیےگھر سے نکلا تو مرکزی مسجد اہلحدیث کنگن پور ضلع قصور میں قاری صاحب نے اعلان کیا کہ مسجد کے سامنے سے دو دن کی بچی ملی ہیے جس کے پاس ایک پرچی بھی پڑھی تھی جس پر لکھا تھا کہ میرے خاوند نے بولا ہے کہ اگر بچی پیدا ہوئی تو میں تمہیں طلاق دے دو گا.طلاق کے ڈر سے میں بچی کو چھوڑ کے جارہی ہوں. اسے کوئی بھی بےاولاد جوڑا لے جا سکتا ہیے. اعلان ہوتے ہی فورا کئ بےاولاد افراد مسجد پہنچ گئے. لیکن سب سے پہلے انے والی ایک عورت کو بچی دے دی گئی. کتنا بدبخت ہیے وہ مرد جس کو اللہ تعالیٰ نے اپنی رحمت سے نواز اور اس نے اس کی بےقدری کی. اولاد کی قدر ان لوگوں سے پوچھو جو صبح اس بچی کو لینے کے لیے ترس رہے تھے. میں سلام پیش کرتا ہوں اس بہین کو جو اپنے دل کے ٹوٹے کو خود سے جدا کر کے اس پتھر دل انسان کو پھر بھی اپنا مجازی خدا کا درجہ دے رہی ہیے.اے
اللہ اس بچی کے نصیب اچھے کرنا اس کی پرورش بہتر کرنا. امین
I saw a tragic incident this morning
At 5:30 in the morning, when he left home for a walk,
Qari Sahib in the main mosque of Ahle Hadith Kunganpur in Kasur district announced that a two-day-old girl had been found in front of the mosque with a slip of paper on which was written.
The husband has said that if the girl is born then I will divorce you.
I am leaving the girl for fear of divorce.
It can be carried by any childless couple.
As soon as the announcement was made, many childless people reached the mosque.
But a woman who came first was given a baby.
How miserable is the man whom Allah has blessed with His mercy and whom He has despised.
Ask the value of children to those who were longing to take this baby in the morning.
I salute the sister who has separated her broken heart from herself and is still giving the status of her virtual god to this stony hearted man. Amen