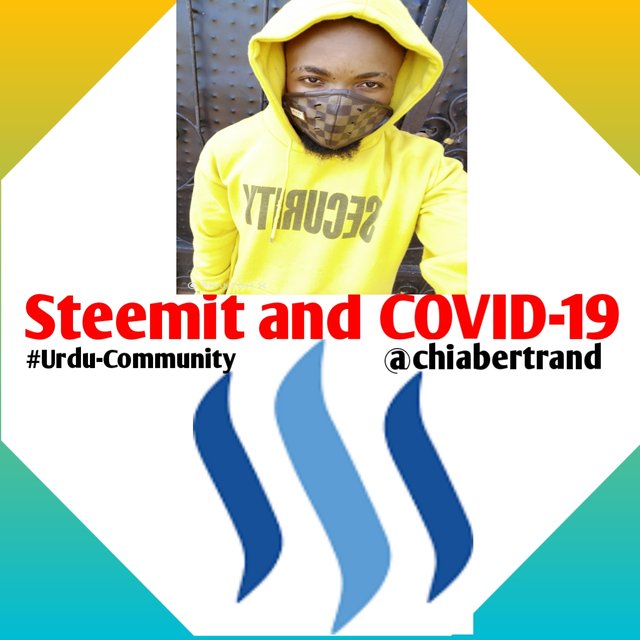 ---
---
Introduction
Hello 👋 my beautiful people of the Urdu Community, i hope y'all had a wandeful weekend. We are already into week3 of the engagement challenge which I am happy to be dropping down my week3 day1 challenge in this community today. The contest is talking about about Steemit and COVID-19. Without wasting any time, my entry goes thus

Covid-19 was an epidemic. What would you say about it? Explain in your own words.
COVID-19, in other words, Coronavirus is a pandemic disease which is caused by SARS-CoV-2 virus. It escalated in 2019 in China and ever since, it has spread all over the world. It is spread in several ways such as
When people are in close contact and interacting together when they are not protected like wearing facemasks. If one person is infected, the other person will have very high chances of being infected because it spread very fast because it can spread from an infected person's mouth or nose at any instance if any liquid particle live the mouth or nose

You can be infected if you mistakenly touch any part of your face like mouth, nose or eyes after shaking hands with an infected person.
The outbreak of COVID-19 was first reported China in Wuhan town on 31/12/2019 and ever since then USA has registered the highest number of case with over 85.1M infected case and over 1M death cases. This is really terrible 😔. I think we all have to fight against this deadly disease by protecting our selfs all the time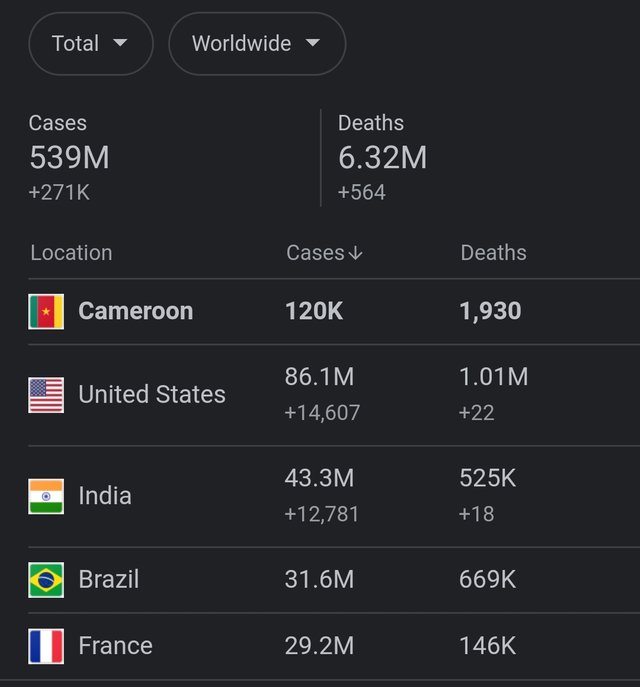 Screenshot From sourceWorldwide coronavirus stats
The above image shows the general statistics worldwide showing the total number of infected and death case across different countries
---
In Cameroon, this deadly disease haven't affected us that much as compared to other countries because we registered only a total number of infected case which is over 120k and the total number of deaths cases are 193. The COVID-19 have mostly been affecting a majority of older people here in my country. I am glad that my government have fought the disease so much and we are now gradually seeing less cases everyday as compared to last time. I saw a recently statistics today which shows that we haven't registered any infected case last week which is a good news to us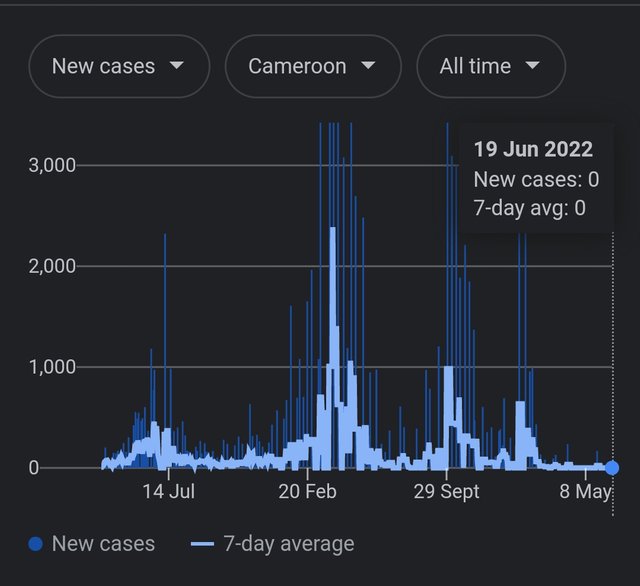 Screenshot From sourcecameroon coronavirus stats
The statistics above shows that we haven't registered any case in the last 1 week
---
What difficulties did you personally encounter during Covid-19?
This COVID-19 started like a joke because I couldn't believe it will ever reach Cameroon. I was a final year student in the University of Bamenda studying Mechanical Engineering, as days was passing by, studies became very difficult for us because classes where been suspended for some weeks and we did just online studies. We(I in particular) faced alot of problems at that time because most us had never attended online classes. So things were really tough that time in terms of studies for us and even our lectures
Another difficulties I encountered during COVID-19 outbreak in Cameroon was the use of facemask. I always fine it difficult in breading any time I wore it because it was my first time in my life to do such.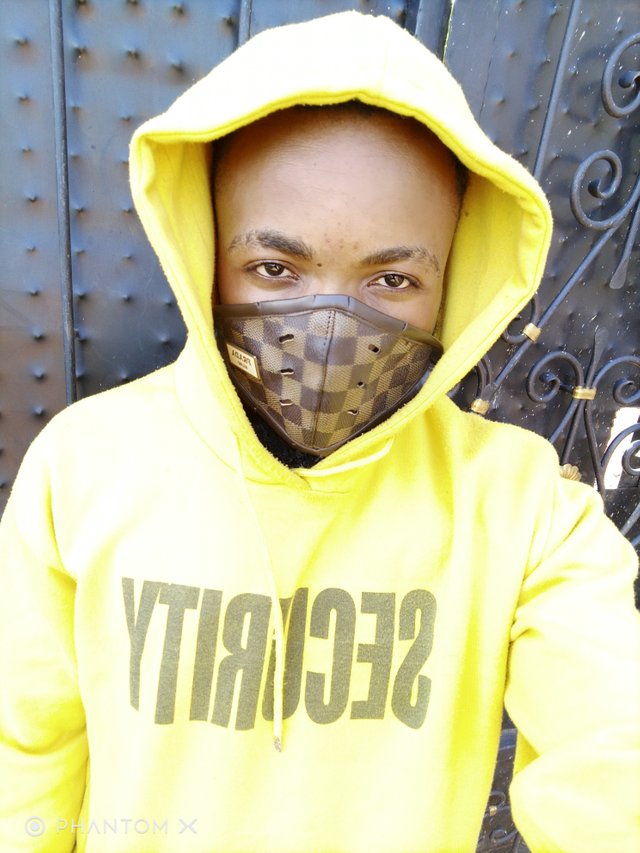 Me putting on facemask
There was a time the police control had to collect Money from me simply because I was not putting on a facemask which made me to be very angry because I didn't have any choice.
Another difficulties I face was the washing of hands with soap 🧼 and water then sanitizing it anyway you go, either in church, school, banks, meeting and Njangi houses. I am someone that hate to wash my hands without oiling it. So when ever I take my bath, I hate to touch water again. So this made life difficult for me
How Steemit blockchain helped you during Covid-19 ?
The major thing that steemit Blockchain have help me during this COVID-19 period is that it has made to to learn alot during this time most especially in the crypto academy as I was able to be participating in the academy back to back since season4 when I started participating in the crypto academy.
During this COVID-19 period, steemit Blockchain have been able to help me in learning many things such as reading, writing and creating quality contents. This is why I have been one of the the most active Steemian in my country Cameroon
Steemit have been able to help me during this COVID-19 period to take care of my self financially through the rewards I earned from this platform
How many people in your household were affected by Covid-19 disease and what was the condition?
Behold!! This is what I was furious about, because I prayed for the deadly viruses never to reach my household and behold, God answered my prayers and UpTo to today, we have never registered any COVID-19 case in my household.
We are taking good measures to prevent this virus at all cost so that it doesn't ever reach my household
How did Steemit keep you busy or rely on information when you were home locked during covid-19?
During lockdown of COVID-19, things became extremely very difficult for me because I couldn't longer visit my friends, I couldn't go to the market, church or field to play ball since there was a law passed by the government that they shouldn't be any social gathering again and people should be 1M apart when walking at the road side or talking.
They was no shake 🤝 of hands again, It was so boring because I could greet my friends only with my legs or we shake buttocks 🤣.
One of my best things in life is either watching football, playing it or listening to football ⚽⚽. So it was very hurrible that football was also suspended worldwide and even in my local quarta where I resides, football was also suspended. Can your imagine that 🤣🤣.
Now, the thing that steemit help me in keeping me busy and also giving me reliable information was that I spend all my time on the Blockchain all days and night and my boredom was reduced because I spend all days and nights reading a lot of information on people's articles which kept me happy and funky.
So it was difficult for me to over feel the boredom since I was entertained by the steemit Blockchain as I was constantly visiting it, chatting with friends via comments and replies which is what I am good at.
Did you sell steemit earing during covid-19 to reduce or eliminate the problems you face in your daily life?
YES YES and YES I sold some of my steemit earnings during that period because I faced alot of challenges. You know that when someone is Seating on one place, he will constantly be hungry and that's what happened to me. Seating at through out will require you to also be eating through out
So I had to withraw some of my STEEM earnings which I bought a lot of foodstuffs which I stocked all of them at home to be eating during the luckdown.
Did steemit help other people besides you in your country, city during covid-19 global epidemic?
YES
During the COVID-19 Period, I had to sell some of my STEEM earnings so that I could send the money to my precious grandma and my siblings in the village to also buy foodstuffs and stock at home since they are the people that gives me joy and the most important people in my life. So indeed, steemit also helped them alot
My friend with whom I was living with, steemit also helped him because he was benefiting from my earnings in Steemit
Again, I have alot of Steemit friends here in Bamenda such as @tenguhatanga, @monjuapollonia, and @echamroland whom steemit have helped them alot during this pandemic disease
Did You informed people about steemit during covid-19 so that they too can get out of trouble by joining steemit
YES
I did my best in informing alot people during the pandemic disease to join and I'm happy so many of them join, especially people like @tangwe-rene and @wyzcekunited who are extremely very active now. Others are active but not frequently and others are totally not longer active because of so many good reasons they have told me. However, they have promised me to be back soon as they are aspiring to come back stronger 💪
What difficulties ,major issues,did you face during Covid-19's terrible disease and how did Steemit improve,support and help in your life during Covid-19 and other people around your city or country. (write own experience) ?
Like I said, it was my final year in the University when COVID-19 breakout, it disturbed my studies so much that I didn't carried out my final year project very well. Since I was doing mechanical Engineering, my project topic was "Design and Realization Of A Column With Base Table Of A Bench Drilling Machine"
The highest people that faced difficulties during this pandemic disease where business men. We know that business men rely solely on their business before they can put food in their table. The situation was even worst for business people who did business in small scales. This made life difficult for them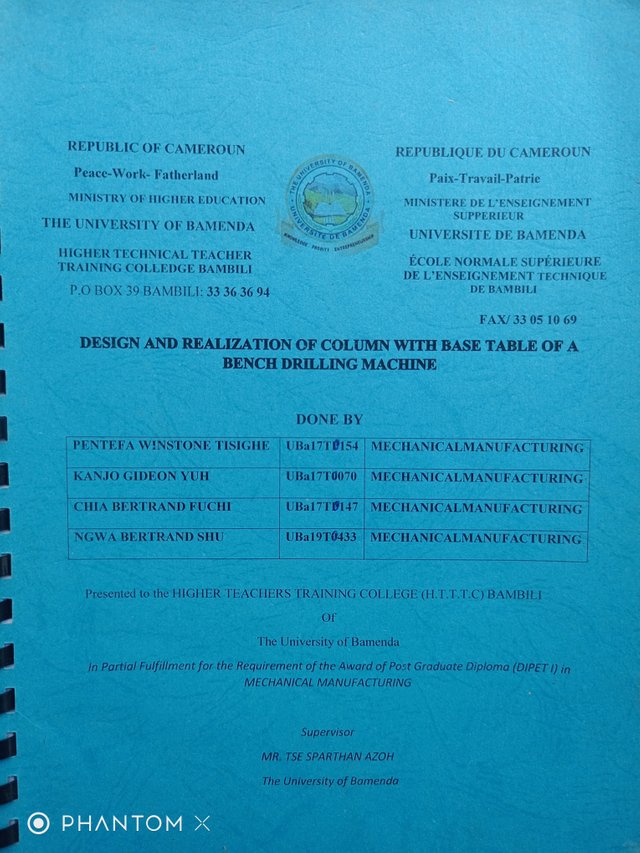 My Final year project
As you can see, we where four of us that was working on this project. It was difficult realizing this project because of the COVID-19 outbreak as some Mechanical parts where not found Im mechanical workshops because they where finish and boarders whew blocked form some time. So this caused a delayance before we could finally realized this project.
Due to this, we thank God that the school authorities had to proponed our defense because we couldn't realize our project so soon and other groups couldn't do theirs as well.
---
Share your selfie holding the paper with the text I love you steemit for helping me during covid-19 and date The purpose of this selfie is that we can pay a great tribute to steemit for helping us during covid-19.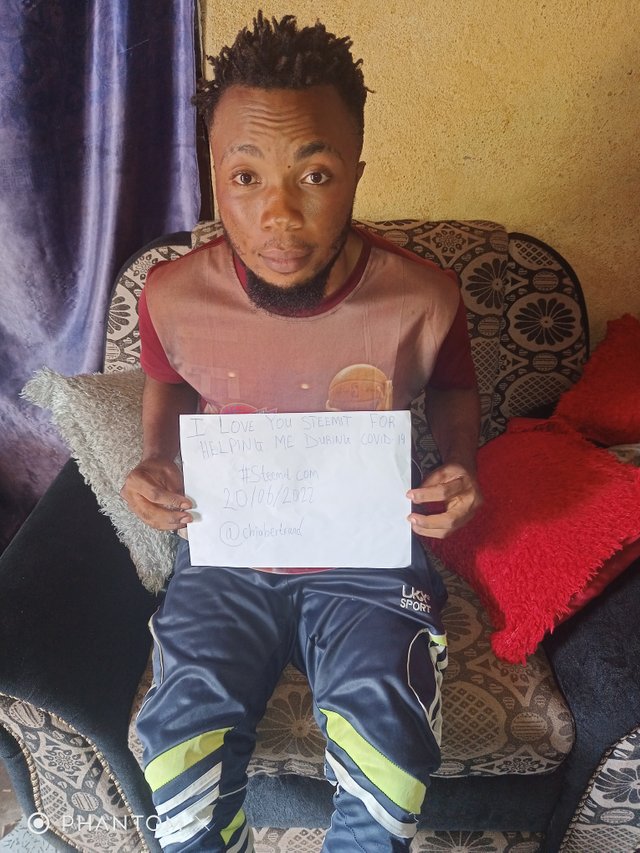 This is me

Conclusion

In conclusion, I am so happy for what steemit have done to me during this COVID-19 pandemic disease. I will forever be grateful to Steemit and I will live to be a Steemian all the days of my life because of the advantages and life time experience I have acquired in Steemit which is not just earning but also leaning
Thanks so much for your time everyone, I am inviting my fellow friends @tangwe-rene, @tenguhatanga, @wyzcekunited, @monjuapollonia, and @echamroland to come and participate in this amazing contest
My regards : @chiabertrand