Hey everyone!
Last week we offered promotion for newcomers in our [TeamOCD] announcement. We are happy to see the turnout and even more glad to see so many new users join Steem and actively post some amazing content not only about Gods Unchained but using Steem for other content as well. Immutability is important in this day and age and being able to earn rewards that aren't based on adrevenue and can't be removed because the advertisers don't like what you stand for is not something that occurs here. That's why platforms like Steem exist and we are glad more people are seeing the true power of blockchain and the freedom it gives its users.
Scroll to the end of the post for the winners of last week's Steem promotion and tell us what your GU name is in case you haven't so we know who to send Steem to!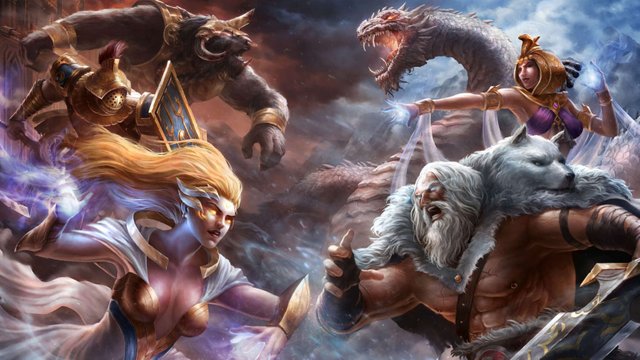 Weekend Tournament Steem Raffle!
Tomorrow at 1 PM GMT the weekend tournament begins. Unfortunately the Genesis Raffle tokens can't be earned anymore as the drawing is coming close on the 24th but during this time we are instead offering Steem for your battle victories!
How to participate
Join our Discord and request a Steem account in the #steem-accounts channel.
Post a screenshot in this post of your game client before the weekend tournament starts where we can see the amount of wins you have
Post a screenshot in a reply to your first comment of your game client when the weekend tournament ends so we can see how many wins you made
???
Earn Steem + Genesis Raffle tokens + Steem Power delegation :)
Prizes
Currently we are giving out these prizes (may grow over the weekend with possible new sponsors):
1000 STEEM shared among all participants per victory ( players that signed up through teamOCD's beta key will get 20% more )
3x 500 Steem Power Delegations for 3 months ( thanks to @pharesim )
1x 500 Steem Power Delegation fo 3 months ( thanks to @derangedvisions )
Random winner from all participants of 10,000 Genesis Raffle Tokens (Meteorite 4 headed hydra trinket - these raffle tokens can be still be sold and transferred as the raffle is drawn first on the 24th)
On top of all that we are also still actively curating posts tagged #godsunchained and/or #teamocd, check our announcement post for what kind of content we curate or ask in our Discord and promote your posts there in the #gu-posts channel! :)
---
Results from last promotion
29 Users signed up through our beta invite link last week, out of them 10 players had at least 1 win. Our original offer was 1 Steem per 10 wins but seeing as there were some that were so close with 29 wins and since Steem can easily be divisible we decided to give Steem per each win instead and on top of that double the rewards making it 0.2 Steem per win!
Please state your Steem usernames to receive your rewards! :)
---
If you have any questions feel free to ask here or in our Discord server in the Gods Unchained section, there's always someone around to respond.
Thanks for reading and good luck in the weekend tournament! :)