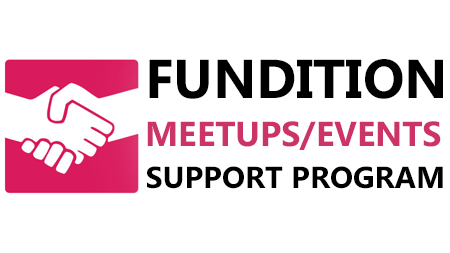 To encourage Steemians to run events and meetups that promote the Steem platform Fundition is launching a special support program.
Fundition is inviting organisers to submit proposals to gain financial support for their events.


This support will be to pay for items such as...
venue hire
audio-visual equipment hire
advertising
refreshments
---
Fundition will support events at three levels...
1. Local events for towns and cities - up to US $250
2. Regional events for states, provinces, regions - up to US $500
3. National events at country level - up to US $1000
---
These limits are not necessarily the amount of funding that a project will receive from Fundition, but rather the maximum that the project proposal should be bidding for to be considered for Fundition support.
If you are organising a Steem related meetup or event you should submit a project proposal through...
The project will then be reviewed by Fundition staff and if approved update posts on the project will then be eligible for upvotes from Fundition.
---
Making a proposal


To be considered for approval a project proposal should include...
The name of the event and proposed location and date.
The Steem account names of all organisers, including details of any experience they have of running similar events.
Details of who the event will be targeted at.
Details of how the event will be promoted, especially outside of Steem itself.
Details of the planned budget, including estimates or quotes for each budget item.
Details of how the event will be reviewed and evaluated after it has taken place.
The most important of these elements will be #4 and #5.
Fundition is particularly keen to support events that have an emphasis on external promotion and recruitment of new people to join the Steem blockchain.


The highest levels of support from Fundition will be given to those proposals that clearly demonstrate that they are promoting their events outside of Steem.
---
Fundition would suggest that organisers submit their proposals as far in advance as possible to give sufficient time to be able to submit enough progress update posts to gain maximum rewards.
Suggestions for posts could include...
Initial event announcement
Recruitment of fellow steemians to help with the event
Budget planning and additional fundraising
Visiting venues
Preparing advertising
Preparing social media campaigns
Run up to the event
The event itself
Review and evaluation of the event.
etc etc
If you need any help preparing your proposal please visit the Fundition Discord server...
Fundition will give priority to those event proposals that are submitted via a dedicated event Steem account.
---
If a project receives support from Fundition and subsequently does not go ahead, the project organisers will be expected to return the funds to Fundition. Failure to do so will mean the organisers will be barred from making future proposals to Fundition.
---
This Fundition Support Program is being run in conjunction with @pennsif and the Calendar of Steem Meetups & Events...

Start Building the Future Today with:

Join a community with heart based giving at its core