Small acts,
when multiplied with millions of people,
can change the world.
Diversity is one of the obvious things when it comes to humanity. In different areas of our magnificent planet, different people lead their lives and experience different problems. We smile and we cry, eat, drink, love, and have more in common than some would want to admit. Lifting people up with a helping hand goes a long way so we are happy to have this opportunity to share with you an interview with the founder of several projects aimed at helping people of Venezuela. Read it carefully and learn about why help is needed and in what form. Open your heart and show us what you are made of by donating and helping this cause.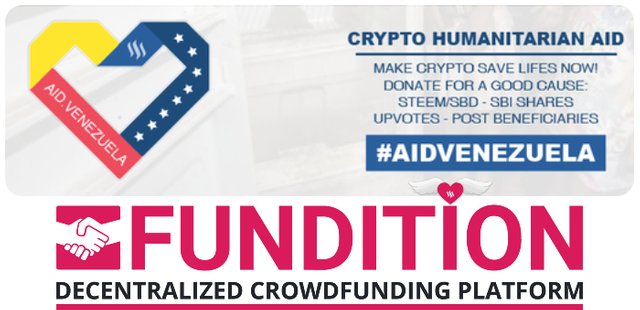 1. How did you first hear about Fundition and why did you decide to put your projects on the Fundition platform?
I found out about Fundition some time ago when I was looking for ways to crowdfund a project and then I ran into this platform. After that, I observed Pensif doing a podcast in the PAL community and got interested in learning about Fundition.
2. What is happening in Venezuela at the moment and when did the problems start?
What is happening in Venezuela is a problem mainly of economic scope framed by the bad governmental management of the government which has led to the macro of the population to be involved in a humanitarian crisis where hyperinflation and lack of supply increase every day affecting mainly food and health aspects.


In Venezuela, the monthly salary that 90% of the population earns is only $7-8 while the food basket (the average amount of food a family needs for a balanced diet in a month), is over $400 making a good diet impossible and leading in some cases to death from malnutrition.

Hugo Chávez Frías was the one who started this disaster. His policy applied various economic and social measures that were diminishing the wealth of our nation, coupled with a policy of expropriation of private companies and a gift of resources to neighboring countries in order to "strengthen" Latin American sovereignty.

Among them are the exchange control of 2003, the reform of the Central Bank of Venezuela in 2007, expropriation and nationalization of companies in 2007, fair prices law in 2011, massive dismissal of workers from Petróleos de Venezuela (PDVSA) in 2002 and the hydrocarbons law in 2007. These were the main changes that led international reserves to decrease in quantity and increase hyperinflation. After this, Chavez left an embezzled country in the hands of Nicolas Maduro, a poorly prepared person with a government cabinet that failed to counter the situation and applied many more absurd laws further devaluing the value of the currency and placing Venezuela on the list of countries with the worst unattended humanitarian crises in the world according to NRC reports and blaming the United States for its mismanagement.

The number of deaths due to malnutrition or lack of medicines continues to increase, as well as the number of newborns and people in hospitals who, not having the resources in the institutions or access to them, have lost their lives.

For the date of June 07, 2019 the general figures analyzed by the National Assembly of Venezuela give us an approximate total:

324000 children under 5 years of age with food vulnerability due to hyperinflation.
3500 Venezuelans at risk of dying from the suspension of the National Organ Procurement Program.
4500 renal patients have died due to the shortage of supplies.
6.7 million people are at food and nutritional risk.
11.8 million Venezuelans live on the monthly minimum wage (which covers only 5% of the basic food basket).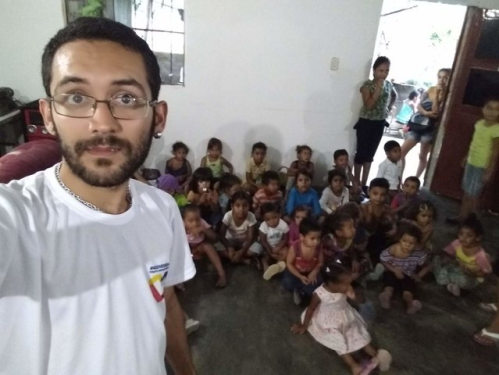 The number of children who died in the J.M de Los Ríos hospital increased to 7 in the hematology service alone, while the number of children at risk of dying from the same causes has risen to 26.
3. What is Aid Venezuela, what does it do and what does it represent?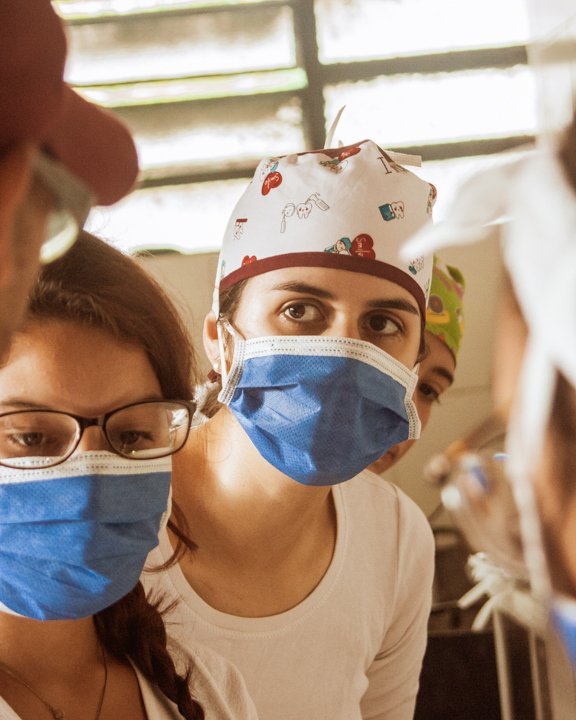 Aid Venezuela is born as a place in charge of attending specific cases of humanitarian aid to institutions of health, popular sectors of low resources or particular people. It is linked to foundations, projects, and community in the Bolivarian Republic of Venezuela. It monitors various cases, arrives with aid with the purpose of cushioning damage to the life of the citizens in this country to help them in their time of suffering.


Aid Venezuela is an independent organization that through crypto funding and international cooperation seeks to work to support people in Venezuela who motivated by the economic, political and social crisis, are living in situations of high risk in terms of nutrition, medical or basic inputs to survive.

Aid Venezuela represents a support to people and institutions in Venezuela that, due to the humanitarian crisis, do not have the necessary resources to address in real time situations of nutrition, health and basic inputs through the creation of links between crypto donors and Venezuelan foundations, projects, and communities that allow the sustainability of humanitarian aid activities.

4. How many projects have you done so far?
Through fundition, a total of 2 projects have been carried out with various updates, the first called Food for Life which seeks to provide food support to low-income communities with cases of malnutrition, and the second dedicated to the acquisition of medical equipment to serve the communities.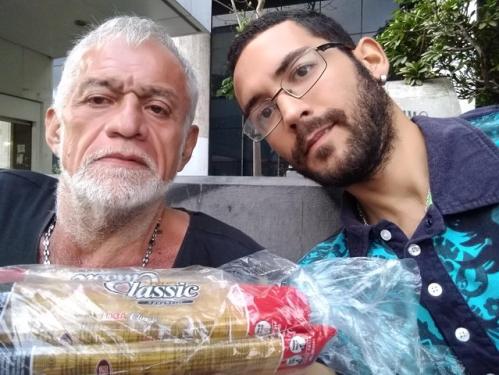 5. What is the latest project about?
The last project is called "Nutritional Screening support" and it sought to acquire medical equipment for the nutritional screening of the communities to be attended in future activities.


In the project, we have different people from different fields and thanks to the link with other foundations we were able to obtain the support of more than 10 nutritionists and students of the last semester of the same career. However, these nutritionists do not have personal equipment to carry out nutritional screening, so we saw the need to acquire equipment that will serve for these and future activities, consolidating, in turn, our project with medical equipment necessary to carry out the work and have a better organization when it comes to serving the communities and delimit the population.
6. What can people do other than donate to your project campaign?
There are many possibilities. Through steem blockchain we can receive votes, direct donations in STEEM/SBD, receive SBI Shares better known as steem basic incomes, can disseminate publications and can also receive delegated steem power. The last one is important since we sell our vote to smartsteem to receive daily rewards that we use to purchase food or medicines that are sent to communities or people in street situations.



We also have two lockers in the United States through which people can send medicines to Venezuela or any kind of support. Just have our shipping address and the desire to collaborate with any amount to make it possible for us to acquire them in our country. However, we do not recommend to send food because it is a very high cost of shipping for the amount of food you can send in a box.

The best thing is to contact us and receive a better explanation of how to send medicines or medical equipment.
7. What are your plans for the future?
Currently, the immediate plan is to consolidate ourselves as a registered foundation. We are working with a lawyer to do the necessary paperwork and acquire the registration with the prosecutor's office. This is to avoid any kind of problem when receiving external and internal donations.



We are also inviting several foundations and companies in the country to start their incursion in the Steem Blockchain. In this aspect, we hope one day to be the parent company that supports these foundations in their activities through donations in cryptocurrencies or votes but this is a job that requires patience and the confidence of investors in the blockchain and the work we are doing.
8. Is there anything you would like to say specifically to the people who are reading this, any message?
Well, first of all, thank you very much to everyone. The project is relatively new and has grown so much, I remember just having told Mr @r2cornell and he knew how to trust me and now there are many people watching everything we do.



Venezuela is not in its best situation, I personally have not known anything other than this misgovernment. I have not known for years what is an apple or a cereal, their costs are very high. I don't know what it's like to eat 3 times a day every day and I'm afraid of getting sick or that someone close has an accident because there are no resources to take care of it, however, we must always go ahead and survive but every time I watch the news, every time I visit a vulnerable area, a hospital, a house, or find out that one more child died of malnutrition I feel that I'm better off than they are and I feel I have to do something.


I know that many people seek to protect their investments or that many have had problems with projects they have supported, but to all of them, to everyone who has the possibility I invite you to believe and trust in this initiative. I faithfully believe that the steem blockchain has the power to make great changes and in my case, this has been demonstrated with the support that was given to many people in my country.

And PLEASE,
watch and share this video:

Spread your love with:

Join a community with heart based giving at its core