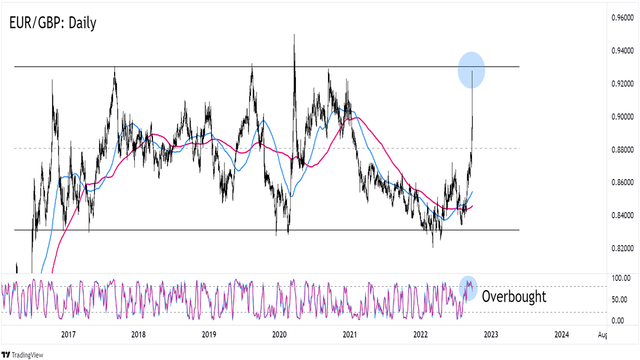 Forex Watchlist: EUR/GBP's Range Resistance Still Intact
Forex players have been hating on the British pound since Friday, in case you were too preoccupied with your equity portfolios.
See, the government announced a "mini-budget" plan that includes numerous tax cuts that will primarily be paid for by borrowing money from the public.
Not only are these tax cuts likely to increase inflation, but they will also push the government further into debt.
EUR/GBP was no exception to the general downward trend in GBP.
Before Friday, the pair was around the 8750 level, and Monday's volatility pushed the pair all the way up to the 9300 level.
Can GBP bears continue their upward trend?
It is important to note that the 9200–9300 region has served as resistance at least FIVE times since 2017.
In the meantime, the chart's Stochastic is flashing an overbought signal.
EUR/GBP could fall back to its mid-range levels of under 9000 if the appetite for GBP rises.
But don't rely too much on technical analysis!
Traders will likely continue to buy the "safe haven" EUR and sell GBP unless the Bank of England (BOE) or the government of the United Kingdom make a statement that changes the uncertain economic conditions.
EUR/GBP could break above its range resistance and head for areas of interest like 9500 if market sentiment does not change.