Hello my Dearest Foodies,
🌈Welcome to Fruits and Veggies Monday, the contest where rain or shine we are still guaranteed a rainbow of beautiful fruits and veggies!🌈
Happy Monday! I hope you are ready for another round of our weekly FRUITS AND VEGGIES MONDAY CONTEST.
As I already mentioned a few times, this week Wednesday I am having a Carpal Tunnel surgery on the left hand. There for, I will choose the winners on Tuesday, so I hope all the entries will be in by then. The contest will go on, I am just going to skip one or two Monday announcements, if I have to. Anyway, it's only a left hand this time, so it shouldn't be a big deal.
Katie @plantstoplanks wrote all about the new updates three weeks ago, but if you missed it, please read it HERE.
Big thanks to everyone for their contribution! @barbara-orenya, the wonderful artist and creator of the lovely Wonkies and all the generous curators 🍒 🍌🍑🌿🍍🍓🍇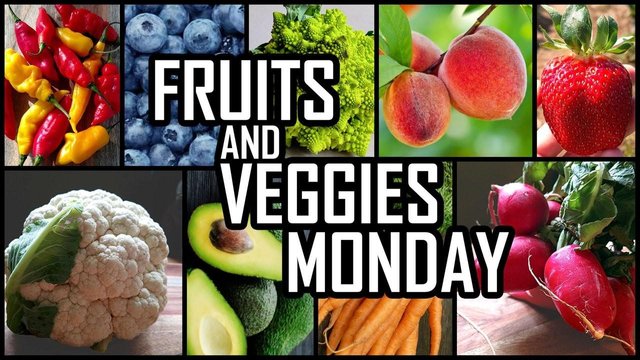 THE FIRST THREE PRIZES ARE:
1st PRIZE 3 SBI shares from @lenasveganliving
2nd PRIZE 2 SBI shares from @plantstoplanks
3rd PRIZE 1 SBI share from @vegansofsteemit
WONKIE AWARDS:
Healthiest Recipe
Best Presentation
Best Photography
Most Creative Recipe
Best Vegan Dessert
Best Traditional Veganized Recipe
Most Entertaining Entry
Most Educational Entry
Most Mouthwatering Entry
Most Beautiful Fruits & Veggies
THE RULES ARE:
FRUITS & VEGGIES MONDAY by @lenasveganliving
ALL ANIMAL PRODUCTS ARE PROHIBITED:
DAIRY, EGGS, FISH, SEAFOOD, MEAT
• Take and post at least 3 photos of fruits and vegetables. (It can be variety or just one kind from the garden, supermarket or anywhere you wish, PLANT BASED/VEGAN RECIPES ARE WELCOMED).
• One entry only!!!
• PLEASE MAKE SURE THE ENTRY IS 100% ORIGINAL CONTENT!!! (images and text)
• Text must be at least 100 words.
• Use hashtag #fruitsandveggiesmonday
• Mention the creator @lenasveganliving and the title FRUITS AND VEGGIES MONDAY
• Make sure you post your entry no later than Tuesday morning Toronto time.
For additional details on posting, check out the Cheat Sheet by @plantstoplanks
THANK YOU I LOOK FORWARD TO SEE YOUR WONDERFUL ENTRIES!
FOR RECIPES PLEASE VISIT MY Lena's Vegan Living Blog


|