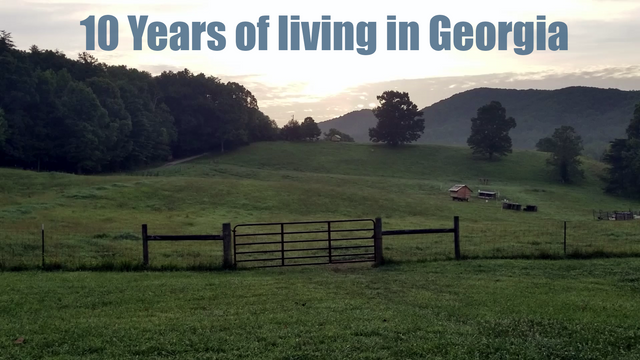 ---
It was a big change. Coming from an urban desert, but over time Ive really enjoyed my time in The South. I put together some clips of the last few years during my adventures in Georgia.
I have had the opportunity to visit local farms, and find quality produce that meets the needs of a healthy lifestyle. They even gave me free hay, it was old but I was able to grow Potatoes in it.
While out in the county, we come across dogs roaming the little roads. In this case this dog had an owner but its always funny seeing that.
Visiting the Cohutta Mountain range gave me views that was hard for my brain to process. So many trees, hundreds of thousands of tree tops if not millions. And hills going for as far as I could see into the haze. Giving the Blue Ridge mountains their names.
Fort Mountain State Park offered some of the most amazing views of the Appalachian Mountains that I have ever seen.
Living in a forest comes dealing with downed and sick trees, they make great mulch though. Using this mulch to stop erosion, lock in moisture and to feed live plants has been beneficial.
The furry and human friends ive made along the way. Many have joined me on Steem. Such as @activate.alpha @ibt @whangster79 @ryulincoln and others.
Crystals, minerals and just cool rocks ive found visiting Graves Mountain and the Diamond Hill Mine.
Building an archery and throwing knife log was alot of fun. Until @ryulincoln's Tomahawk Split it. The log was from a local fallen Pine tree. A co-worker gave it to me this piece of Pine.
Looking forward to what the next decade brings me and my friends. I still have many places in Georgia to visit. I got a great start on visiting over a dozen State Parks last year. Hoping 2020 Ill get to see many more. And bring my cameras and hopefully some friends along for the adventure.
Music by Aaron Lewis - Country Boy
If the video has trouble playing, please use my IPFS Gateway instead of D.tube's by following this link
---
Addresses below to help me buy better camera equipment and support me to travel to locations to do photo and video and overall great blogs in new places. I would be happy to list some of the contributors in my posts for donations that help me along the way.
| Coin | Address |
| --- | --- |
| BTC: | bc1qhfmvd2gywg4fvrgy2kkkkyqta0g86whkt7j8r7 |
| LTC: | ltc1qdyzm5cwgt8e2373prx67yye6y9ewk0l8jf3ys9 |
| DASH: | XkSqR5DxQL3wy4kNbjqDbgbMYNih3a7ZcM |
| ETH: | 0x045f409dAe14338669730078201888636B047DC3 |
| DOGE: | DSoekC21AKSZHAcV9vqR8yYefrh8XcX92Z |
| ZEN: | znW9mh62WDSCeBXxnVLCETMx59Ho446HJgq |
---
▶️ DTube
▶️ IPFS