COVID-19 / Cornonavirus-Warnung und Schutzmaßnahmen auf öffentlichen Monitoren in Wien (Wiener Westbahnhof).
Jetzt gibt es auch die ersten 4 Fälle in Bulgarien, das bisher davon verschont war.
In einem Forum habe ich folgende witzige Idee gelesen: Wenn alle 2 Wochen zu Hause bleiben würden, wären wir den Virus in 2 Wochen los.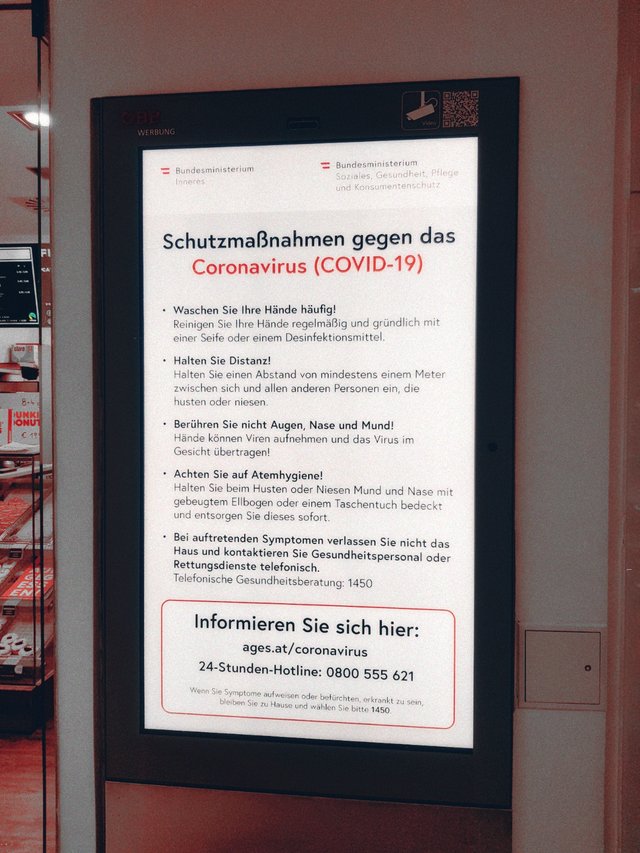 COVID-19 / Coronavirus-Schutzmaßnahmen, Wiener Westbahnhof, Österreich: Waschen Sie Ihre Hände häufig! Halten Sie Distanz! Berühren Sie nicht Augen, Nase und Mund! Achten Sie auf Atemhygiene! Bei auftretenden Symptomen verlassen Sie nicht das Haus und kontaktieren Sie Gesundheitspersonal oder Rettungsdienste telefonisch.
English
COVID-19 warning and protective measures on public monitors in Vienna (Vienna West station, Westbahnhof).
Now there are also the first 4 confirmed cases in Bulgaria, which has been spared so far.
In a forum I read the following funny idea: If everbody stayed at home for 2 weeks, we would get rid of the virus in 2 weeks.
Live your Secrets and Steem Prosper 🔥
Photo credit: @vikisecrets