[EN] deutsche Version weiter unten
With an annual budget of $500,000, the development of community-led projects will be supported in the future. Well, if that's not a house number!
In the announcement of steemitblog to read:
We invite you to give ideas and suggestions for what developments or changes you would like to see based on your experience on steemit.com. Your input will be highly valued and will be essential to the program.
Suggestions can be submitted until Saturday, October 15.
Here is my wish list for the frontend:
1.) Improve performance
Sometimes steemit.com is a real sleeper, two ways I can think of to improve it:
Manual or even automatic selection of RPC node.
Use requests based on @steemchiller's SDS server if they are faster than traditional API calls.
2.) New editor
Replace current editor, e.g. with Mavon Editor as @boylikegirl.wit has already done. Toast would be another candidate and in this list you can find more editors.
3.) Vote window
Display of current VP and expected vote value, predefined buttons for 25, 50, 75 and 100%.
4.) Posts as profile page
When clicking on a username, do not call the blog but the posts.


5.) Correct formatting for smartphones.
If a post contains longer codeblocks, the right margin is cut off.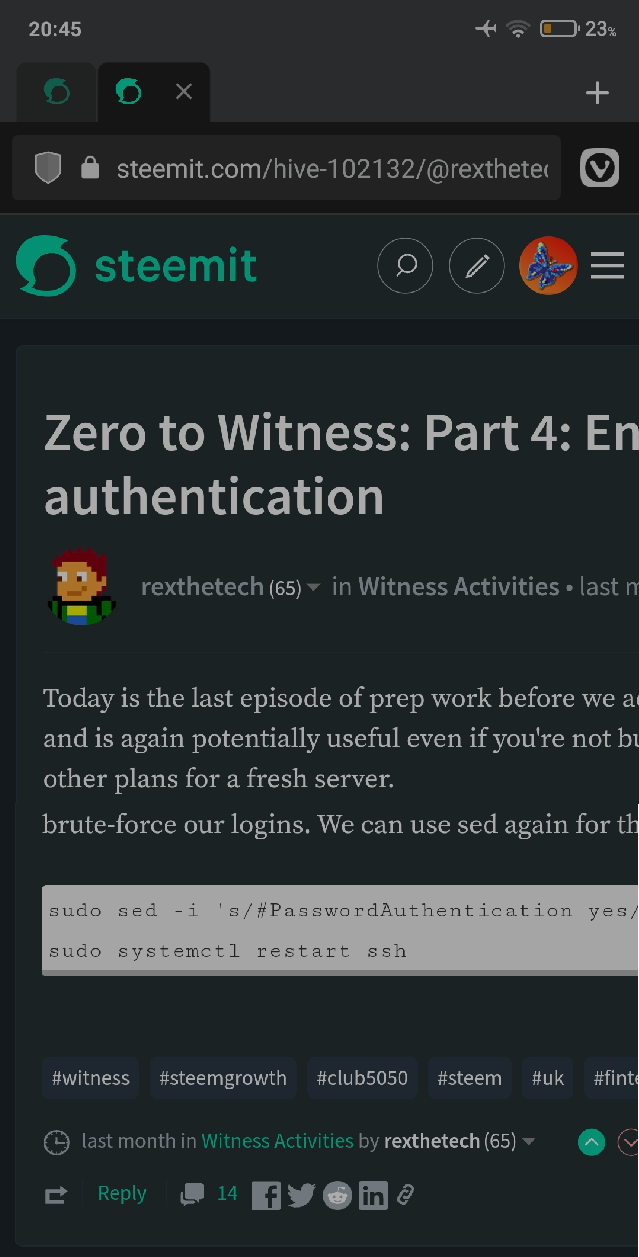 In addition, the notifications are difficult to read.


6.) Comments sorted by age.
Sort comments by age instead of trending by default. Optional, desired sorting can be set in the settings.
7.) Further development or new start
Basically, it would be worth considering whether the existing frontend should be developed further or better started from scratch. Fast, simple, functional, are three keywords that come to mind. And noble ;-)
8.) Colors and logo
Currently we have the green steemitlogo, this green is used among other things for links. Maybe with a new frontend the blue logo incl. defined colors could be used as a basis, looks more modern for my taste.
---
So, those were my suggestions. It would be really great if @steemitblog's initiative could get the ball rolling again.
I am very curious to see what happens next.


[DE]




Mit einem jährlichen Budget von $500.000 soll zukünftig die Entwicklung von gemeinschaftsgeführten Projekten gefördert werden. Na, wenn das keine Hausnummer ist!
In der Ankündigung von steemitblog zu Lesen:
Wir laden dich ein, Ideen und Vorschläge für Entwicklungen oder Änderungen zu machen, die du aufgrund deiner Erfahrungen mit steemit.com gerne sehen würdest. Deine Anregungen werden sehr geschätzt und sind für das Programm von großer Bedeutung.
Bis Samstag, den 15. Oktober können Vorschläge eingereicht werden.
Hier meine Wunschliste für das Frontend:
1.) Ladezeiten optimieren
Manchmal ist steemit.com eine echte Schlaftablette, zwei Möglichkeiten die mir zur Verbesserung einfallen:
Manuelle oder auch automatische Auswahl des RPC-Nodes.
Anfragen auf Basis von @steemchiller's SDS-Server verwenden, falls diese schneller als herkömmliche API-Aufrufe sind.
2.) Neuer Editor
Bisherigen Editor ersetzen, z.B. mit Mavon Editor wie es @boylikegirl.wit bereits umgesetzt hat. Toast wäre ein weiterer Kanditat und in dieser Liste finden sich noch weitere Editoren.
3.) Votefenster
Anzeige der aktuellen VP und des vorraussichtlichen Votewertes, vordefinierte Buttons für 25, 50, 75 und 100%.
4.) Posts als Profilseite
Bei Klick auf einen Usernamen nicht den Blog sondern die Posts aufrufen.


5.) Formatierung für Smartphones korrigieren
Enthält ein Post längere Codeblöcke, wird der rechte Rand abgeschnitten.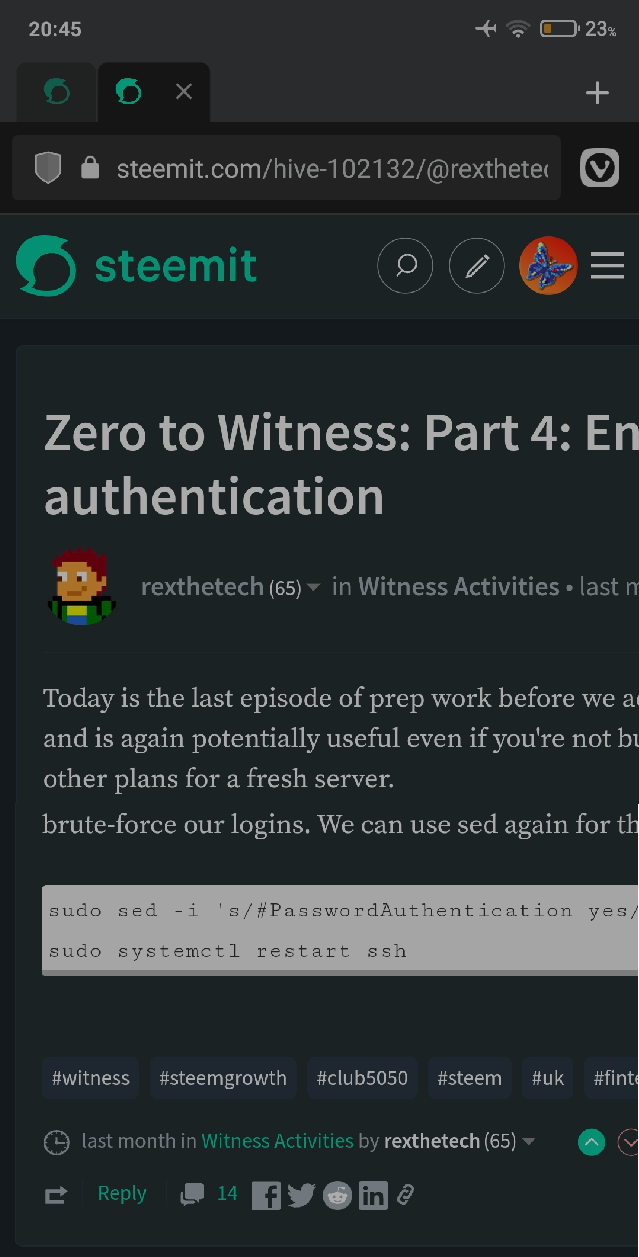 Außerdem sind die Notifications nur schwer zu lesen.


6.) Kommentare nach alter sortiert
Kommentare standardmäßig nicht mehr nach trending sondern nach age sortieren. Optional, gewünschte Sortierung in den Settings einstellbar.
7.) Weiterentwickeln oder Neubeginn
Grundsätzlich wäre zu überlegen, ob das bisherige Frontend weiterentwickelt werden soll oder besser von grundauf neu begonnen wird. Schnell, schlicht, funktional, sind drei Schlagworte die mir dazu einfallen. Und Edel ;-)
8.) Farben und Logo
Aktuell haben wir das grüne Steemitlogo, dieses grün wird im Frontend u.a. für Links verwendet. Vielleicht könnte bei einem neuen Frontend das blaue Logo inkl. definierter Farben als Grundlage verwendet werden, sieht für meinen Geschmack moderner aus.
---
So, das waren meine 8 Vorschläge. Es wäre wirklich super, wenn durch die Initiative von @steemitblog die Entwicklung wieder in Schwung kommt.
Ich bin sehr gespannt, wie sich die Dinge weiter entwickeln.