Leider waren die Shorts bereits geschlossen. Aber egal, die Rutsche geht weiter.
Do you remember?
https://steemit.com/cryptocurrencies/@cultus-forex/btc-usd-target-reached
Mit dem heutigen Bruch wurde der Weg erstmal der Weg Richtung 35 US$ vorbereitet.
Hier mein neues Shortsetup (wobei ich mir bei dem Rebound bis 40 K nicht sicher bin bei dem run)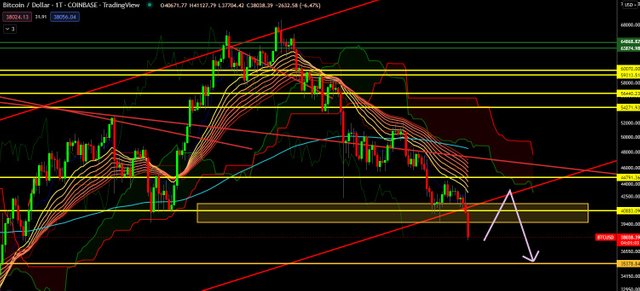 Aussichten:
Extrem Mies, eventuell bis 30 K US$ (Rutsche bis 35K am WE vorstellbar)

Disclaimer
This post contains affiliate links that help me educate myself.
If you make a purchase through one of these links, I will receive a commission. Certain decisions are not influenced by this.
Cryptocurrencies: buy/sell/trade
► FTX: https://ftx.com/#a=cultusforex
► Bittrex: https://tinyurl.com/y3628ckl
► Bitfinex: https://tinyurl.com/yc4blgny
► Bitpanda: https://tinyurl.com/y3a8s2xl
► Anycoindirect: https://tinyurl.com/yxm34stz
► Cryptopay: https://tinyurl.com/y5ov8nzr
► Coinbase: https://tinyurl.com/yef6rwa4
► Poloniex: https://tinyurl.com/ycs5nqtb