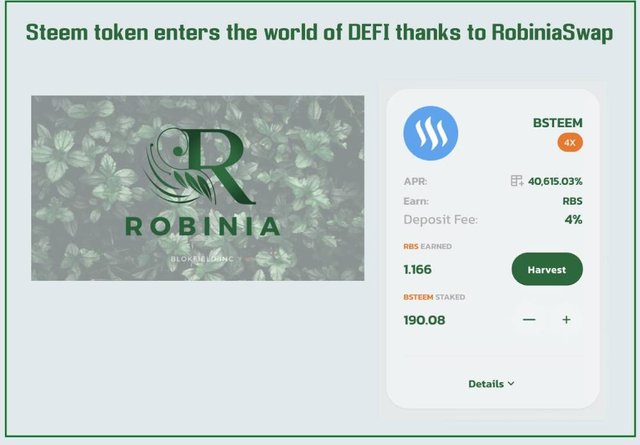 A new DEFI platform in Binance Smart Chain - RobiniaSwap
Another  DEFI platform on Binance Smart Chain launched recently, known as RobiniaSwap. The team behind RobinaSwap is Blokfield.INC, who have associations with Steem Blockchain and HDAC (RIZON Platform) Blockchain.  Blokfield.INC is a steem witness under steem account @roadofrich and this team is also a validator of the HDAC (RIZON Platform) Blockchain. More details will be available in the about us page of RobinaSwap.
Steem token can staked in BSteem pool to earn RBS rewards in RobiniaSwap
RobinaSwap, is a yield farming and AMM dex, that has a cross-chain bridge that currently supports the Steem and HDAC Blockchain, allowing for native cryptos of these two Blockchains to be transferred to the Binance Smart Chain Network configured metamask. Once Steem from Steemit Blockchain is transferred to Metamask, the Steem becomes wrapped BSteem and can be used in DEFI platform RobiniaSwap.
This BSteem can be put in the BSteem yield farming pool to earn RobiniaSwap's native tokens RBS.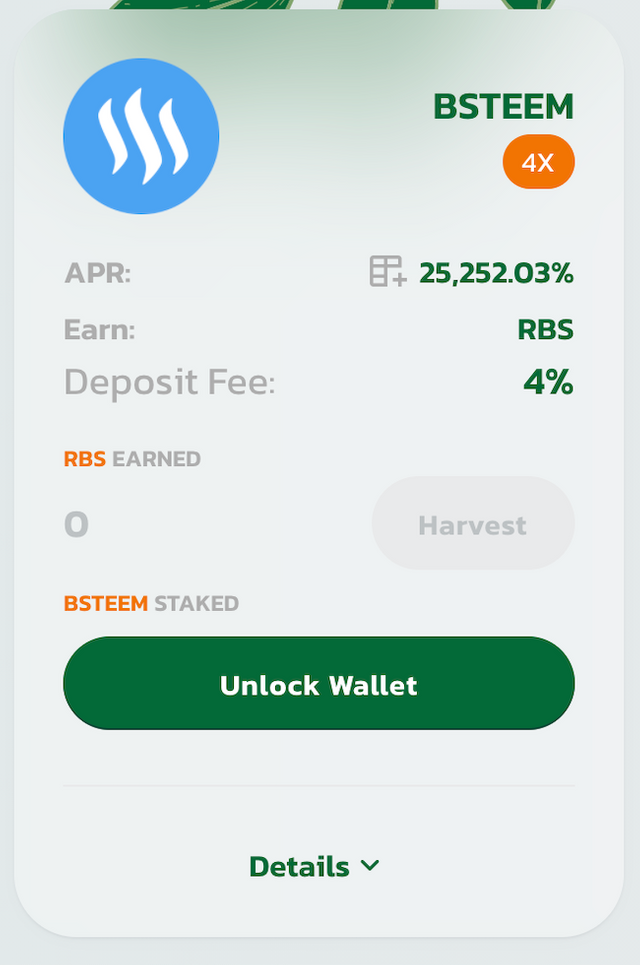 Now, let's see how this can be done.  
First connect your  Metamask wallet to RobiniaSwap.

If you don't know how to do this @josevas217 has made a video on this.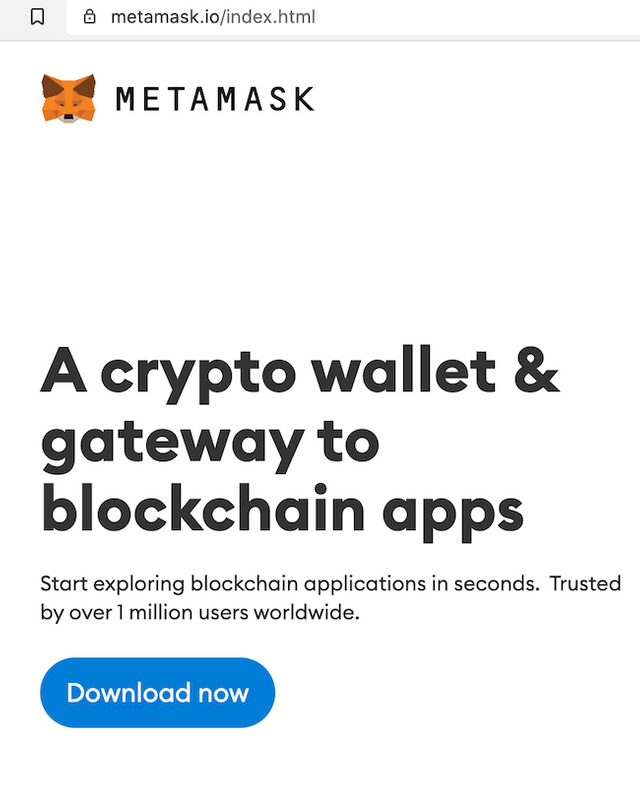 Download Metamask only from its original website - https://metamask.io/
Be sure to download metamask only from metamask's original site and not any phishing or fake sites. 

I suggest you use the firefox or brave browser and not google chrome for privacy reasons. However, Brave browser may not be supported by many DEFI sites, so better also have metamask installed in firefox.

2. Transfer Steem to your Binance Smart Chain Metamask wallet
Once you have connected your Metamask wallet to RabiniaSwap platform, go to RobiniaSwap's bridge page by clicking the Bridge menu on the left side on RobiniaSwap's homepage, this will take you to RobiniaSwap's bridge site - https://bridge.robiniaswap.com/.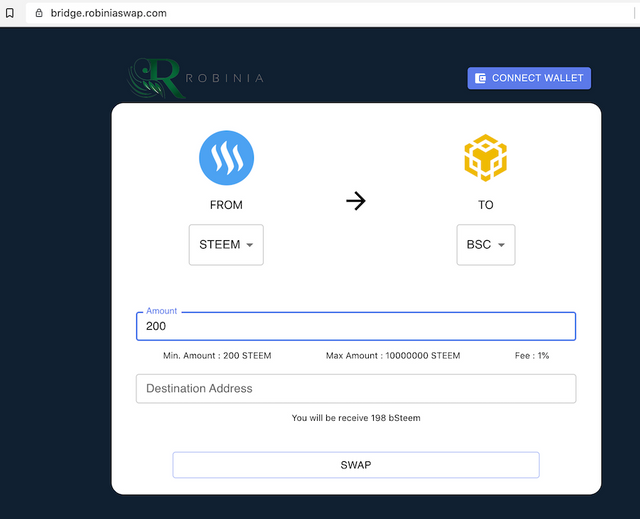 Use RobiniaSwap's Bridge to transfer Steem from Steem Blockchain to Binance Smart Chian Network
Sign permission to transfer your Steem using Steem Keychain
Ensure that your Metamask wallet is connected and that your browser has the Steem Keychain extension installed. I downloaded the Steem Keychain extension from the chrome web store with this link onto my browser just for this purpose of transferring my liquid Steem to metamask.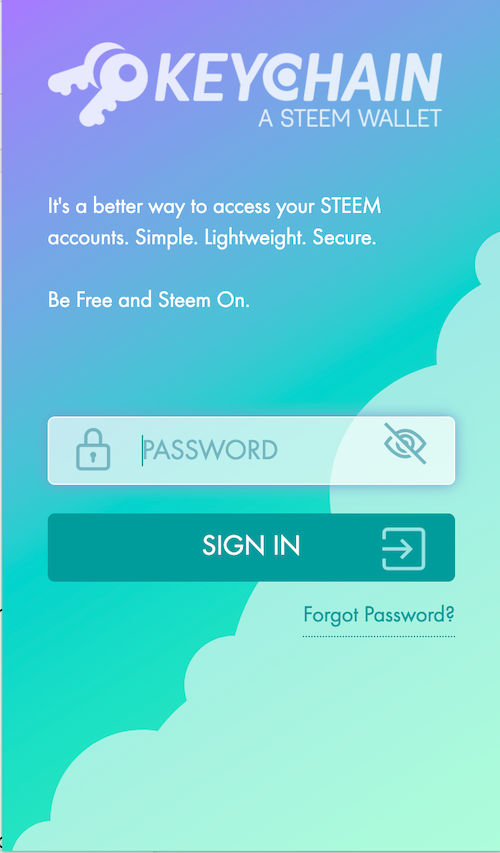 Steem Keychain
Steem Keychain is required to sign transactions instead of typing those long private and active posting keys when signing transactions in Steem. Once you install Steem Keys, input your Steem Private posting key and Steem Active posting key into  Steem Keys. Once this is done one can sign transactions easily using Steem Keychain. 
To input these keys in Steem Keychain, after installation go to settings and click on Manage Account tab which will have the provision to input your various keys of steem into the Steem Keychain wallet.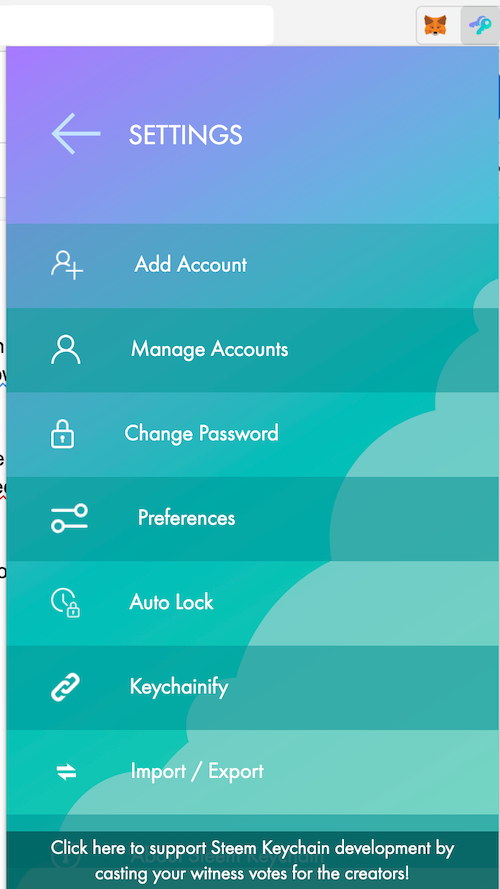 Now, you can sign and give permission to send your Steem from your Steem wallet to Metamask using the Steem Keychain.

Confirm the Steem transfer from Steem Blockchain to your Metamask wallet address that is configured to Binance Smart Chain.
Be aware that there is a minimum quota of 200 Steem required to transfer Steem from Steem Blockchain to Binance  Smart Chain Network. There is a 1% fee charged for this bridge transaction also.
If your transactions are successful, you will have BSteem in your metamask wallet.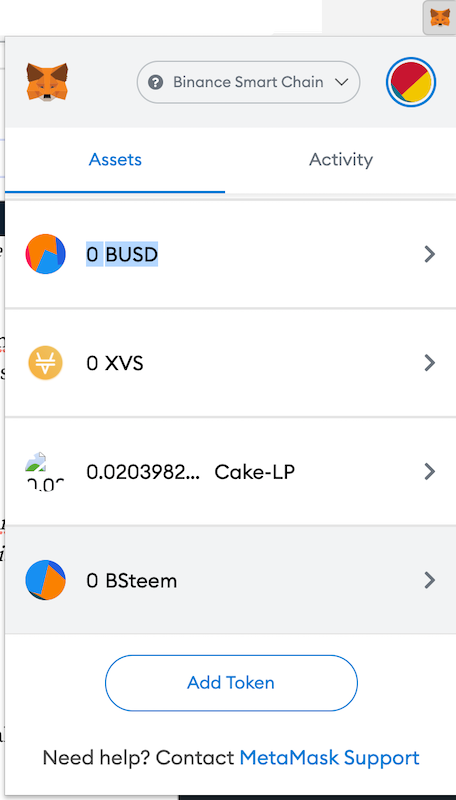 If the BSteem token is not visible in the Metamask wallet you may need to manually add it as a custom token. Please educate yourself on all this, here is a link https://metamask.zendesk.com/hc/en-us/articles/360015489031-How-to-add-unlisted-tokens-custom-tokens-in-MetaMask


3. Deposit your BSteem from metamask to BSteem pool in RobiniaSwap
Now that BSteem tokens are on your Binance Smart Chain configured Metamask wallet, you can deposit these BSteem tokens on RobiniaSwap's BSteem  farm pool. Go to the pools page, clicking on pools button on the menu bar on the left, you would reach this page >>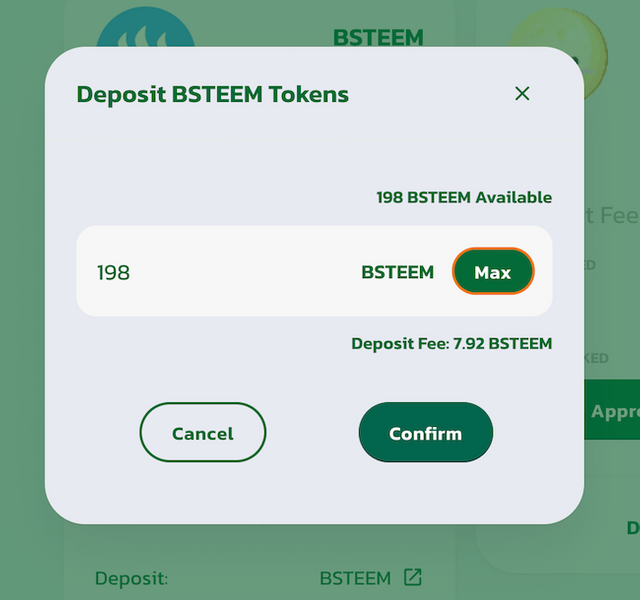 Now, find the BSteem pool, click on the Approve Contract button, enter the amount of BSteem you want to deposit in the BSteem pool then confirm the transaction.
Note that there is a 4% fee for depositing BSteem in the pool.
Congratulations, now you will be rewarded with RBS tokens for staking your BSteem in the pool.
Emission rate of RBS, the native token of RobiniaSwap

RobiniaSwap kick starts its launch with a emission rate of 5 RBS tokens per Block which will keep decreasing daily till an emission rate of 0.5 is reached after 32 days. After this emission rate would be decided through Governance votes.
Tokenomics of RobiniaSwap is designed to bring value to the Steem Blockchain
Here I end my first post on RobiniaSwap. This DEFI platform is very relevant to all those part of the Steem ecosystem, because RobianSwap will function to bring value to Steem Blockchain, because a lot of tokens of RBS that would be burned will to be used to buy back Steem and mint Tron and SBD tokens using Steem Blockchain.
Disclaimer - These are my novice impressions of Robinia Swap, everyone should do their own research before putting their money on any DEFI product. My article is not investment advice.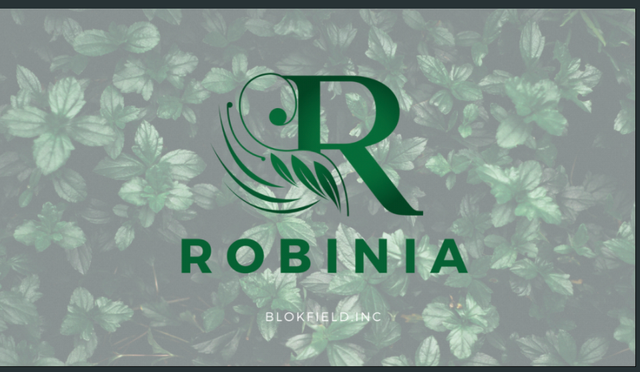 Website - https://robiniaswap.com/
Twitter - https://twitter.com/robiniaswap
Documentation - https://blokfield.gitbook.io/robinia/