---
✨ SEVENGERS Assembling Again ✨
---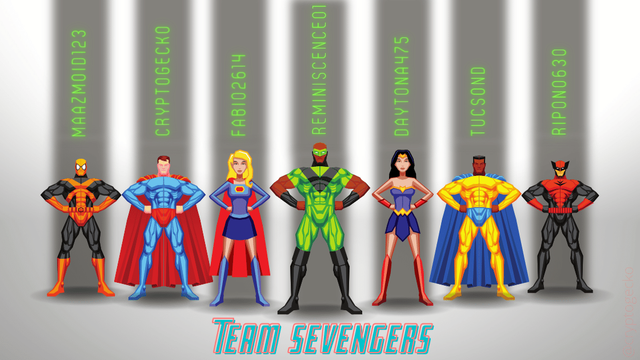 Source: Canva
---
Namaste Steem Family,
---
Our team would like to extend our warm regards once again to the Steemit team (@steemitblog) and thank them for providing us with this great opportunity again to participate in the application round for the curator application for the next month (July).
Having worked on Steemit as a team of experienced curators for around four months, our team has acquired a great deal of experience, as well as being knowledgeable of how to assist and respond to authors' queries and support their quality content. It is our pride to submit our application once again to be considered for the curation process for the following month, as our team is one of the most experienced and talented curatorial teams out there.
---
Application for the Curation Team
---
The team is assembled by seven individuals who are exceptionally talented, motivated, and professionally qualified. All members of the team have experience working on their own behalf in the fields that we intend to curate.
---
Which of the six themes above your team would like to curate for.
---
All of our team members either work in the academic area or are well acquainted with the academic environment, so we want to apply for the Learn With Steem theme again. The positive development of human civilization is dependent on the teaching and learning of the people, which is one of the most important jobs that contribute to the socio-economic development of individuals. Our team is made up of a number of teachers, and people who are engaged in teaching-related activities on a consistent basis.
---
Details of the team members (nationality, languages, time active on Steem, #club status).
---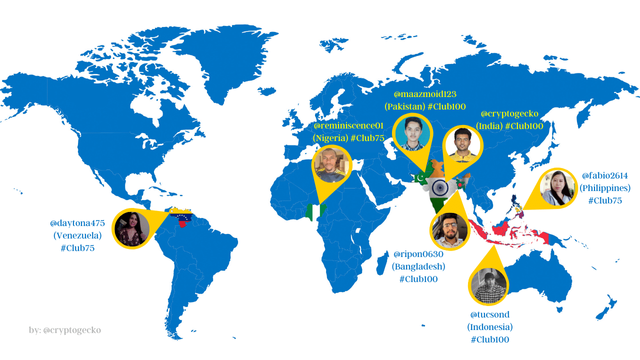 Source: Canva
You can see in the following map a summary of the demographics of the members of our team from all around the world with some highlights. Taking a closer look, you can see that members of our team come from seven different countries and three different continents.
The team consists of @reminiscence01 (Nigeria), @cryptogecko (India), @tucsond (Indonesia), @maazmoid123 (Pakistan), @ripon0630 (Bangladesh), @daytona475 (Venezuela), and @fabio2614 (Philippines).
Continuing our tradition, we have assigned @reminiscence01 the position of Team Leader once again. After our team is selected, he will be taking over the post.
We cover a wide range of languages including English, Hindi, Tagalog, Bahasa Indonesia, Igbo, Spanish, Twi, Gonja, Dagbani, Bengali, Urdu, Punjabi, and Gujarati. When authors in our theme use different languages, we will use a translator to help understand the content, as we know that the Steemit ecosystem is populated with a wide range of languages.
Note: In the infographic image below, the red inner circle around the profile picture shows the morning (AM) time, and the yellow outer circle shows the afternoon (PM) time.
---

Source: Canva
Cryptogecko's Interest/Expertise: Teaching, Programming. Design, Marketing, Photography, Science.
---

Source: Canva
Tucsond's Interest/Expertise: Science, Computing, Statistics, Cryptography, Finance, Photography, Art.
---

Source: Canva
Reminiscence01's Interest/Expertise: Engineering, Sciences, Computing, Statistics, Cryptography, Finance.
---

Source: Canva
Ripon0630's Interest/Expertise: Freelancing, Digital Marketing, Teaching, Blogging/Writing.
---

Source: Canva
Maazmoid123's Interest/Expertise: Administration, Crypto, Aviation, Supply Chain, Management, IT, Excel.
---

Source: Canva
Fabio2614's Interest/Expertise: Writing, Art of Living, Mathematics.
---

Source: Canva
Daytona475's Interest/Expertise: Computer Science, Design, Marketing, Statistics, Cryptography, Photography, Art.
---
---
Information regarding any administrative post held by the team members, if any
---
Why would your team make a good curation team?
---
Our team consists of a combination of engineers, scientists, and teachers, all of whom possess practical expertise relevant to our application, including those that are related to the theme we are pursuing. The members of our team believe that it is important to implement the best support and guidance mechanisms for authors who write within our theme and that it is our responsibility to recognize valuable contributions made within our theme.
Our goal is to recognize and support active authors and commenters that comment regularly and are constructive, in addition to being compliant with all of the established initiatives such as #club5050, #club75, and #club100. This means that we are going to give priority to authors that post valuable content in our theme but also spend time engaging with other posts on our platform, which is the basis for any successful social media platform.
---
Anything special about how your team will do curation to ensure the widest reach?
---
Definitely, we will take suitable steps before rewarding posts in our theme that conform to our requirements and are made following our guidelines. As a team, we will also coordinate the work schedule so that the workload is as organized and efficient as possible, thereby ensuring a broader scope of coverage.
The following section includes all of the points and methods that we take into account when curating and we recommend that you carefully read through them.
We will ensure that the posts made under the theme are of high quality, contain original content, and add value to the ecosystem, providing relevant information.
Another thing we will be looking for in the posts is that they have been formatted properly to look appealing
We will make sure they have completed the achievement-4 assignment so that they understand the importance of properly formatting their posts.
We'll make sure the language used is accurate, appropriate, and consistent
There will be no curating of posts that contain less than 300 words
We will ensure that the tags used are relevant to the content being displayed
The #club5050, #club75, #club100, and #steemexclusive tags are going to be given priority in the curation process
Plagiarism is not tolerated in the Steemit ecosystem, so we will be certain that the content is free of plagiarism and we will ensure that anything that is not the author's work will be properly cited to give credit to the real author.
It is our responsibility to make sure the title of the article is clear and engaging, and that the images in the article are of good quality and are sourced from copyright-free websites.
We will focus primarily on curating members who belong to at least #Club5050
---
How your team will ensure your team will not vote for any posts with plagiarized content.
---
We start by reviewing each citation that appears in the publication. It is important to give a proper reference for each and to provide a direct link to the original author. As soon as a plagiarism detection program detects even a small percentage of plagiarism, the link is verified to determine whether or not it comes from the original author. In the event that it is a work belonging to the author, then there is no plagiarism involved. If it has been published elsewhere, it will not be considered #steemexclusive. Additionally, if it is not an original work of the author, we can evaluate the material by comparing the words, looking for if the sentences have been spun to create a new sentence.
In the event of a high percentage of plagiarism and the source originating from another web page, the author must be notified in a precise comment, and we will be mentioning the account that is in charge of combating plagiarism on the website. The purpose of doing this is so that we can be able to verify if in fact it is plagiarism and to take appropriate measures.
---
Our good works speak for us as "Learn with Steem" curators. Team SEVENGERS will be delighted to be given this opportunity once again.
Best Regards,
Team SEVENGERS