Dear @steemitblog,
I would like to say thanks for giving us another opportunity to contribute to this amazing platform. I believe, with the reinstatement of Community Curators there will be an increase in the sense of communityship among Steemians specially Authors. They will experience the responsibility and learn the importance of curating the right content which complies with Proof of Brain.
It would be good to be in the curators' shoes for once. Many of us are/ were already curating in their respective regions and communities but this idea of making diverse teams will open new horizons of teamwork across the globe.
Application for Curators' Team
---
I have formed a diverse yet wonderful team with six other valuable and hardworking Steemians. We would like to apply for the curators' team.
Which of the five themes above they would like to curate for.
We would like to curate for the theme:
Life and Humanity
which includes The Diary Game, Act of Kindness and Charity.
---
Details of the team members (nationality, languages, time active on Steem, #club status).
Here are the members of the curators' team, The Optimum Seven.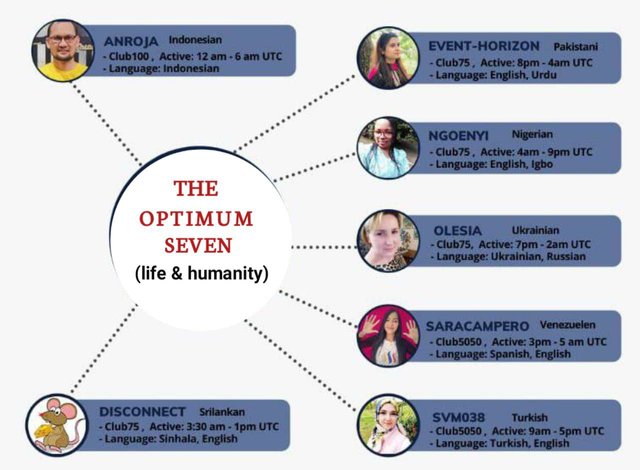 ---


Why they would make a good curation team.
---
We believe that we can make an excellent curation team because we have formed a very diverse team in terms of nationalities, languages and communities.
We are seven people (@anroja, @disconnect, @event-horizon, @ngoenyi, @olesia, @saracamepro, @svm038) from seven different countries (Indonesia, Srilanka, Pakistan, Nigeria, Ukraine, Venezuela, Turkey) who can cover six major regions on Steemit (South East Asia, South Asia, Africa, Latin America, East Europe, North Asia).

Together we can cover nine languages - English, Indonesian, Sinhala, Urdu, Igbo, Russian, Ukrainian, Spanish and Turkish. which are most commonly used by users.

Almost all of us are admins or moderators of eleven communities - Steam SEA , Steemit Pakistan, Steemkids, Steem Alive , Promo Steem, SteemWomen Club, Steem BRU, Steem Venezuela, Steemit Turkiye, Steem Amal, Steem Foods.

We all are part of different charity projects of Steem like Steem Amal , Skids-charity , Womenclubcharity , SF-charity so we can easily curate relevant content.

Anything special about how they will do their curation to ensure the widest reach.
---
We have a sound plan to ensure the widest reach. As it will be the tag curation so we will make coverage schedules like:
ngoenyi - 00:00 - 04:00
anroja - 04:00 - 08:00
olesia - 08:00 - 12:00
event-horizon 12:00 - 16:00
svm038 16:00 - 20:00
saracampero 20:00 - 00:00
disconnect 00:00 - 04:00
This will ensure that maximum posts are covered. If one team member faces unfamiliar language, he/she can use the translator or take help of the relevant team member. I think we are at advantage here because we know almost all major languages used on Steemit.
We also have @disconnect in our team. The special skill that disconnect has is that of being everywhere. He moves around and that means, we will readily go around in search of publications in our assisted theme.
This strategy will work in an optimal way ensuring the widest reach and avoiding the double work.
We will also make sure that no user gets votes more than twice per week in order to reach more unique authors.
This is our preliminary plan. If we get the curatorship then we will workout this plan in detail and make necessary changes.

How they will ensure they will not vote for any posts with plagiarized content.
---
We will prefer to check posts of Verified Users.

We will preferably curate only those posts which have comments of community mods with some particular checks like Plagiarism, Bid-Bots, Club status, Steem-exclusive etc.

We will use anti-plagiarism tools specially for the blog posts which are not posted in any community.

Regards,
event-horizon