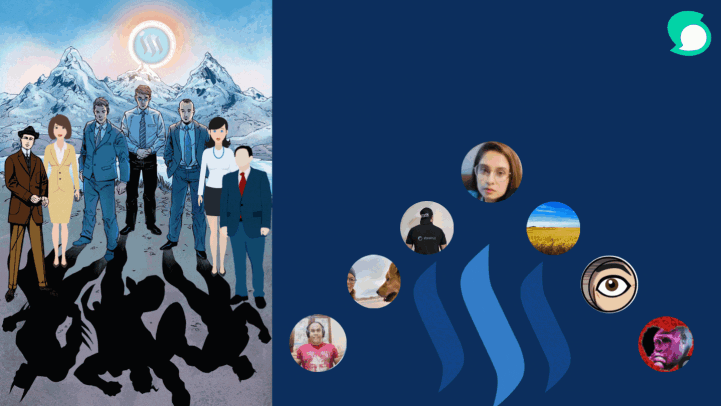 Dear Steemit community, dear Steemit team,
after some thoughts and discussions within our established IAT team, we have decided to apply as community curators for the topic "Lifestyle" after two successful months!
Thoughts? Discussions? Yes, of course! On the one hand, we think that a change of the team would be okay, because other users should also experience what good curating (read, control, decide, vote) means. On the other hand we think: "If it ain't broke, don't fix it."
Source
The Team
Due to other commitments, unfortunately @willeusz has decided to step aside for this month's application and instead of hurriedly trying to replace him, we have opted to apply for the month of June as a team of six - working together to take up the "travel" challenge with it being a topic that we're all interested in.
Our team consists of six loyal, honest and experienced Steemians:
@alee75 (Indonesia) club100
@chriddi (Germany) club100
@event-horizon (Pakistan) club75
@o1eh (Ukraine) club75
@the-gorilla (UK) club100
@whyshy (Turkey) club100
We are all very active and engaged in different communities - as diligent authors, curators, mods or admins. Moreover, each of us is responsible for different projects that have the potential to advance the platform, to keep Steemit attractive.
Of course, we all regularly power up our rewards. Most of us are in #club100 out of conviction and not because we feel forced or want to "secure" high rewards. We are convinced that a community can only grow and become strong together. Only if you power up, can you also support others. The community itself is responsible for growth!
If you want to learn more about us, please have a look at our previous application. In there we also shared personal experiences with curating via the sc08 account.
The Successes
We are not lone wolves - we work perfectly together! We support each other e.g. by substituting when a user is unavailable, by working together on our reports and correcting them and especially by discussing "cases of doubt".
We search all posts of the hashtags food, garden, health, leisure, lifestyle, sport(s), travel and their subcategories, not bound to specific communities. We are helped by a well-organized system - no good post that meets all requirements can be overlooked.
Thanks to the tool of @the-gorilla (@coding-gorilla) we can recognize the club status of a user with one click. At the same time, we never tire of educating authors about their possible misuse of hashtags. We are very grateful that the Steemit team has confirmed the validity of our work with this tool.
We spread our votes a lot. This week, for example, we distributed 124 upvotes to 106 authors. So there is no particular accumulation or even favoritism of individuals! To ensure this, we use a program developed by @the-gorilla.
Many users have stopped tagging the sc accounts or our private accounts because we were able to convince them that it's unnecessary and we pay attention to them without this approach.
Plagiarism has become infrequent in "our" tags - If we catch somebody, we address it head-on. And we think that we are good at this - thanks to @endingplagiarsm we have even found texts stolen from the voice track of videos.
We have noticed that the quality of posts has improved in "our" tags since we became a curation team.
And Now?
We believe that we have achieved a great deal as a team. We have fought "battles" that others would have to start again or might choose not to have. We know the tricks of many users who no longer even try to sneak a vote with us and above all, we are convinced that we can find quality on the platform efficiently. At the same time, diving for gems has become much faster than when we started, thanks to some routine, very good organization and structure.
Yes, we want to continue to do our part to improve and grow this blockchain and would be very happy if you all trust us once again!

Warm regards,
IAT - International A-Team

---
---
---
2022-05-24
---
---