---
Curator Team Application For My Life Team
---
Greetings from The Awakening Seven!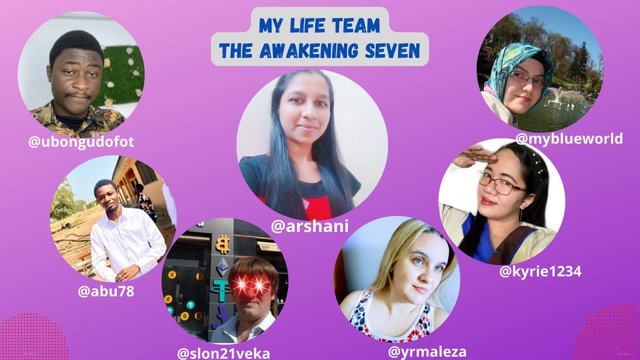 The image was created with canva by @abu78.
We are happy to present you the Curation Application for My Life Team in this article. We were more interested in creating a team for this by looking at the team that curated recently. When I saw how they do it efficiently and responsibly, Our team members wanted to join a curation team to curate My Life Team.
Our team of 7 members chose to apply for My Life Team under the themes of the Diary Game, acts of kindness, my town in ten pics, news & charity. I now turn to presenting the details of the members of our team.
---
Details of My team members
---
As a team that presents quality content from different communities within steemit, our team members actively play their roles in the following communities.
| Member | Community & Role |
| --- | --- |
| @abu78 | Admin & Founder of Steem Health Style , Active Member of Steem Skillshare , STEEM FOR BETTERLIFE & Steem Ghana |
| @arshani | Active Member of SteemFoods , SteemWomenclub & Steem Skillshare |
| @kyrie1234 | Active Member of Steemit Philippines , SteemFoods & SteemWomenclub |
| @myblueworld | Active member of Steemit Turkey , Steem Travelers , Steem kids & Steem Family |
| @slon21veka | Admin & Contests Manager of SteemitContest , Admin of STEEM/BRUMK |
| @ubongudofot | Nigerian Journalist MOD in HOT NEWS Community , WSP Nigerian Leader in STEEM FOR BETTERLIFE |
| @yrmaleza | Mod & Contest Creator of RECREATIVE STEEM , Active Member of STARS OF STEEM , Steem Venezuela & Scouts |
When our team curates for 7 days, we assign one member per day. There will be curation under themes of #thediarygame, #actsofkindness, #mytownintenpics, #news & #charity. There, our team members selected the following day with tag where they could spend most of their time.
---
We would make a good curation team
---
• Users presenting content in steemit,it can include different languages, so team members can easily translate them as members who speak different languages from different countries, which is a great way to select quality content.
• The team is familiar with the My Life theme as it presents content related to the theme. By curating such articles they can identify the most creative authors.
• Our team has experienced members who distribute positive content both long and short term. When presenting content in a variety of languages, they can understand articles using a translator who can translate when needed.
---
We would do our curation to ensure the wildest reach
---
• Our team members are from 7 countries and speak 9 languages. It will be useful for all of us to understand the articles easily.
• Team members can easily cover a wide range due to the diversity of countries like Argentina, Ghana, Philippines, Nigeria, Sri Lanka, Ukraine, & Turkey.
• We expect to curate about 25-30 posts a day. As quality content grows, the number of articles curated can exceed 30.
• Depending on the variety of content from the Curator account, we are obligated to use between 30% - 60% voting percentage.
Before curating contents, we will first study the following points.
• We will check the club status of the users who own all the articles curated, namely club5050, club75 & club100 and vote for them. At least quality content that is not club5050, sadly we have to ignore it.
• In addition, we curate at least 250 words in the content. It's important to select the top seven quality content, so every article we curate will be checked for at least 250 words.
• We make sure to curate only bot free articles. Please note that non-existent articles will not be used for curate.
• We always strive to provide our support to all users who have verified achievement 1 in the Newcomers community.
---
We would not vote any plagiarized content
---
• We would make sure that we curate only #steemexclusive and plagiarised free contents, and that the images in each articles are properly checked through Image plagiarism tool like Reverse Image, etc to avoid curating plagiarised Image. We would give attention to owned Images or Image from the Internet which is properly sourced inline with the steemit rules.
We look forward to following all of the above during the curation month. We identify quality and creative content through our curation account and work to extend our support to more people. And we in the curation team are all committed to doing our job properly, responsibly following the considerations.
Best Regards!
The Awakening Seven.
Thank you!