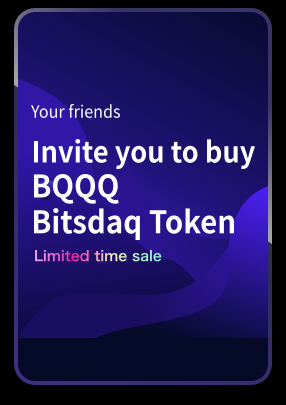 BQQQ is another exchange but it is not an ordinary exchange. They are Bittrex partner, Bitsdaq platform aims to reach cryptocurrency customers across the Asia region. To get bonus during IEO register with this link >
Bitsdaq bonus
Minimal amount to participate is 1000$
More about Bitsdaq:
Website: https://bitsdaq.com
Bitsdaq is bittrex partner, you can find link to Bittrex announcement here https://bittrex.zendesk.com/hc/en-us/articles/360001493326-Bitsdaq-Launching-Asian-Digital-Asset-Trading-Platform-Powered-by-Bittrex
Ohheymatty Review:
https://youtu.be/7ok8iSgZXvA
MonoIco review:
https://www.monoico.com/bitsdaq/
CryptoDiffer Review:
https://cryptodiffer.com/bitsdaq-ico
Bitsdaq Major Highlights
Bitsdaq is the official partner exchange of Bittrex for Asian Markets and Canada and no. 3 in traffic among all exchanges with 3M or more registred users.
NGC invested in private sale round 1 which is closed now.
Best thing is IEO is planned in Jun with a price higher than that of private sale price. As far as i know Bitsdaq is the only project who is taking care of private investors this way and protecting their price.
4 Bitsdaq is going to laumch its own IEO platform as well and very similar to Binance there will be a lottery system and requirement of holding BQQQ tokens which can seriously increase demand and inflate price. We all have seen BNB achieving an all time high now with such demand.
If you want to support me register on Binance using my link :-)