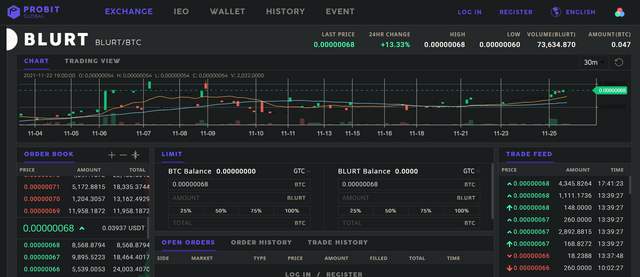 Src - PROBIT
»»————-————-——-—- ༺❀༻ -———-————-————-««
Blurt is is a social media platform built on top of a blockchain which uses a proof of stake protocol and it has the Blurt token used to incentivize content creators in many niche and categories. The token now is targeting to reach the 5 cent target price and basically beyond.
Users must have the said token so that they can use it to upvote posts and comments to appreciate the value of the content whether it maybe an "instagram quality" post, a DIY blog, music, photography, poems, arts, crypto currency news and or technical analysis, a chat entry which sometimes get a good rating, philosophy, personal blogs and stories, vlogs, and or anything you can think of under the sun, if it is a unique niche then you can share it with the community and meet like-minded people that you can start friendship with and be with you in your experience within the blurt community.
In the community we do encourage each other to use the platform as intended, to get social, chat, and share what we have that we can offer and at the same time incentivize others that give value in the whole of the community.
Then of course with any other type of groups or forums we have to abide by the basic rules like avoiding spamming, plagiarism, trolling, death threats and similar because it is frowned upon even in other social media platforms. You might do a violation and you will be reminded and guided so you can correct your mistakes but if you persist then you will not get the support that you need and will just be ignored which will waste your time and effort.
In this community you will receive your earnings if you are a content creator intact and whole aside from your earning from the curation rewards because we do not have a mechanism called downvotes. But if you do not want to make a blog you can just curate and earn with curation rewards.
Also, #BLURT platform had partnered Readyplayer.me with @gemstate so users from here can make and use their 3D Avatars (which can be changed anytime) to any Metaverse augmented (AR) environments which will definitely enhance the user experience. Read more of the details HERE
Buy Blurt Tokens


Register at Probit Here
Let's Celebrate By Listening To Hetty & the Jazzato Band singing Tu Vuo' Fa' L'Americano
Src - YouTube
Fₒᵣ Yₒᵤᵣ Tᵢₘₑ RₑₐꞲᵢₙɕ Tₕᵢₛ...
︵‿︵ʚ˚̣̣̣͙ɞ・❉・ ʚ˚̣̣̣͙‿︵ 𝔖𝔭𝔢𝔠𝔦𝔞𝔩 𝔗𝔥𝔞𝔫𝔨𝔰 𝔗𝔬 𝔜𝔬𝔲‿︵˚̣̣̣͙ɞ・❉・ ʚ˚̣̣̣͙ɞ‿︵‿







»»————-————-——-—- ༺❀༻-———-————-————-««




C0ME 0N Y0!─=≡Σ((( つ•̀ω•́)つLET'S GO!







▂▅▇█▓▒░ ⎛⎝(•̀ ‿•)⎠⎞░▒▓█▇▅▂







Nᵒᵗᵉ: ᴾʰᵒᵗᵒˢ ᴬʳᵉ ᴹᶦⁿᵉ ᵁⁿˡᵉˢˢ ˢᵗᵃᵗᵉᵈ ᴼᵗʰᵉʳʷᶦˢᵉ•