Be careful with long positions!
Technically and fundamentally (new Covid mutation) we are now (for now) in a bear market.
Who is looking for a short entry, finds this with relatively minimal risk at around 57. 000 USD.
With further bad news, the downward movement could lead us to about 50 K USD where we also find the 200 EMA in the daily chart.
(see screenshot)


up to date on the hour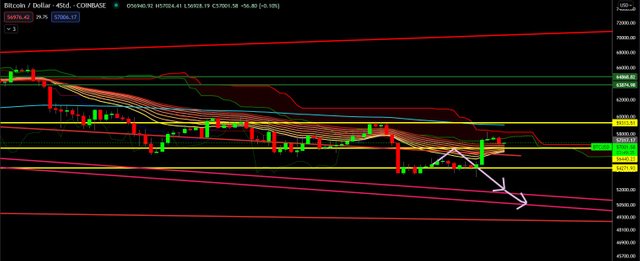 Disclaimer
This post contains affiliate links that help me educate myself.
If you make a purchase through one of these links, I will receive a commission. Certain decisions are not influenced by this.
Cryptocurrencies: buy/sell/trade
► FTX: https://ftx.com/#a=cultusforex
► Bittrex: https://tinyurl.com/y3628ckl
► Bitfinex: https://tinyurl.com/yc4blgny
► Bitpanda: https://tinyurl.com/y3a8s2xl
► Anycoindirect: https://tinyurl.com/yxm34stz
► Cryptopay: https://tinyurl.com/y5ov8nzr
► Coinbase: https://tinyurl.com/yef6rwa4